What is Product Information Management (PIM) Software?
Product information management (PIM) software manages customer-facing product data across marketing and distribution channels. The content covered includes pricing details, technical specifications, written documents, image graphics, video files, and other materials relevant to advertising the products. This data can then be used to organize products into different categories based on price or other characteristics.
In addition to categorizing products, PIM software can improve data on all sales channels. After you classify products, optimize the content and include multiple file types to fill out your product description.
PIM systems are primarily used by eCommerce businesses, though they can be used to organize internal product data for traditional retailers as well. However, modern PIM can be used by marketers on social media platforms such as Facebook and Instagram to boost sales through online advertising. Amongst retailers, PIM software is used by both business-to-consumer (B2C) and business-to-business (B2B) businesses.
Product Information Management Software Features
Media or digital asset management (MAM/DAM): Control all digital media elements of your product data, including documents, images, videos, audio files, content, and more
Data unification: Combine different file types into a single location to use as product data
Master data management (MDM): Ensure all site and advertising content is consistent and product information is accurate across all shared platforms and for cross media publishing (CMP)
Data governance: Double-check all product content is compliant with Internet regulations and legal requirements
Quality control: Create contingency plans to address problematic data errors such as duplication; protect data quality as it is shared across different websites and platforms
Content syndication: Make all content on your website republishable by other channels and platforms
Version control: Also known as source control, make changes to the base software code on your website to implement large-scale changes
Search engine: Allow front-end site users to search or filter content on your website to find products or services
Omnichannel publishing: Build targeted ad campaigns across various online platforms to reach a wider audience
Social media engagement analytics: Get data on how many users are engaging with multichannel advertising across various social media platforms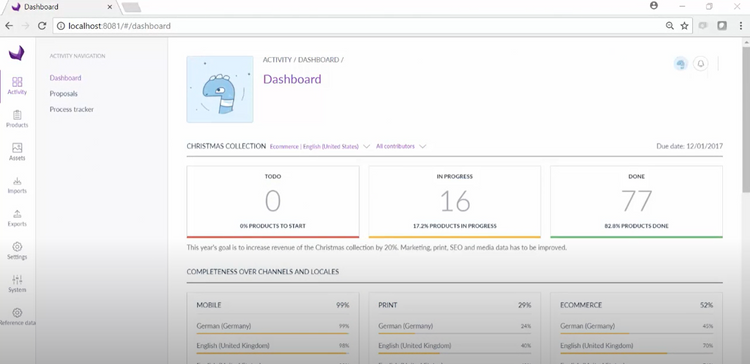 Best PIM Software Benefits
Using a PIM software can provide your business with many benefits. Just a few include:
Manage More Product Data
A major benefit of product information management software is the ability to share more data than ever before with customers. Previously, basic content management systems (CMS) are fine for smaller eCommerce sites with a limited inventory, yet these are not adequate for retailers with larger product catalogs. The more products you have, the greater the need to share additional structured data with potential customers.
PIM systems manage the following data types:
Pricing details
Technical specifications
Written documents
Image graphics
Interactive presentations
Audio and video files
All of these digital assets can improve your chance at completing a sale by making customers more informed about what your products or services have to offer. For example, a recorded product demonstration can showcase all the ways the product can be used to a prospective customer. If they were on the fence about the purchase, having video evidence of how useful the product is may convince them to go ahead with the purchase.
Provide an Easier Customer Experience
Whether you operate a traditional brick-and-mortar store or an entirely online eCommerce site, customer satisfaction is key for business. And a customer who cannot find a product easily is likely to move on to another business to fulfill their needs. Utilizing a search bar or filtering feature on your website makes it easier for customers to find the exact products they're looking for. A PIM system can organize product information into searchable categories.
Selling to a global audience? Product information management software includes tools to automate translation processes. Localizing basic content and technical specifications can improve your chances of gaining international customers no matter the point of sale.
Keep Your Branding Consistent
One of the biggest challenges of eCommerce is keeping all your product information consistent, especially if data is being republished on other platforms. Trying to keep track of manual changes on all platforms can easily lead to human error. A mistake in one ad, such as an incorrect list price, can lead to accusations of false advertising from potential customers. And using a PIM system can keep your messaging consistent between online and traditional print media, including product catalogs.
Through version control and master data management (MDM) applications offered by PIM, you can keep your messaging consistent for cross media publishing (CMP). Change the price or technical specifications on the website and the changes will carry over automatically to other published listings. With a centralized PIM solution, it's easier to update your catalog than ever before.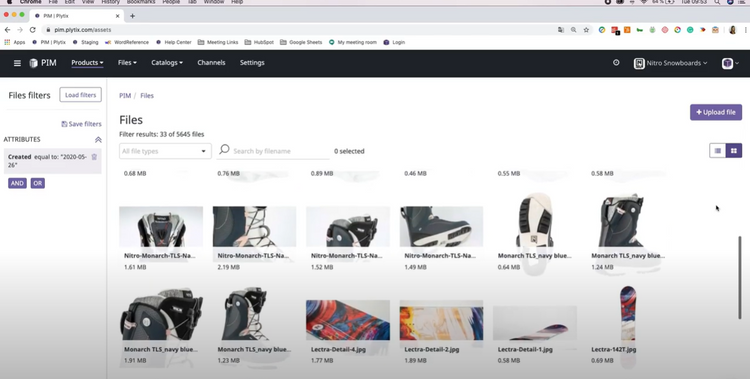 Bigger Online Outreach
Like multichannel eCommerce software, PIM systems help you advertise products to a wider audience online. Various social media platforms offer sales opportunities in addition to marketing outreach. With master data management (MDM) tools, you can ensure ads on every platform are the same as those on your own website.
Quality control measures, including data governance, also protects your business from violating international regulations. For example, if you are trying to sell products in another country, you'll need to be aware of regulations surrounding cross-border data sharing. This can vary by country, so using a PIM system will help you remain compliant as you do B2B and B2C business.
PIM Deployment Options
PIM systems can be deployed on-premise or on Cloud platforms. The deployment model you use will depend on several factors. For example, on-premise solutions are installed on-site, which greatly adds security to your product data. This is ideal for more traditional storefronts operating a localized product database for limited eCommerce sales.
Cloud-based PIM systems can be accessed from any mobile device with Internet access, making this beneficial for making real-time changes to product data. This is useful for any eCommerce business which sells to a global audience across different time zones. However, the cost for web-based deployment is often based on how much data storage you require.
Additionally, hybrid deployment models are available. These deployment options offer the best of on-prem and web-based solutions. Store more data with added security while still maintaining instant accessibility. And make sure your PIM system is compatible with additional tools, such as ERP software.