The best real estate development software includes:
Procore
Sage 300 Construction and Real Estate
Northspyre
But which one will work best for your business? Real estate development projects are complex and require efficient project management to ensure success. As a real estate developer or project manager, choosing the right software can make a big difference in managing your projects effectively.
We've evaluated a handful of options on the market, and have deemed that the best options will provide comprehensive project management capabilities, including budgeting and financial tracking, automated workflows and collaboration features, and customizable reporting and analytics features. After researching and comparing 20+ options, here are our top picks for the best real estate development software:
1

Procore

With strong project management features, Procore has gained popularity in recent years due to being one of the most comprehensive tools for development.

The project management features, user-friendly interface, integration with other software, customizable reporting, and collaboration and communication features make Procore a powerful tool for real estate development projects. Compared to other top options in the market, Procore stands out as an all-in-one solution that covers all aspects of project management, making it an efficient choice for real estate developers and project managers.
Comprehensive project management: Includes scheduling, budgeting, team collaboration, and document management
User-friendly interface: The intuitive and easy to use user interface, such as the dashboard, provides an overview of all ongoing projects and tasks, allowing project managers to quickly identify potential issues and take action. Mobile applications all team members to access project information and collaborate on-the-go.
Integration with other software: Software applications such as AutoCAD and Revit can integrate into Procore. This will streamline workflows and reduce the need for manual data entry.
Customizable reporting: Customizable reports allow project managers to tailor towards their specific needs. Reports will includes project performance data on budget, schedule, and progress.
Collaboration and communication: Share project information, track changes, and communication in real-time.



What We Like
User-friendly interface
Integration with AutoCAD and Revit
Customizable reporting
What We Don't Like
Custom pricing model means limited price data available.
Learning curve for new users means training is required
Overview
Price Range: $$$
Starting Price: $375/month
Client OS: Web
Deployment: Cloud Hosted
2

Sage 300 Construction and Real Estate

A combination of financial management and project management let Sage 300 Construction and Real Estate stand out as a solid choice for real estate developers. The integration with other software, mobile accessibility, and customizable reporting make it a powerful tool all sized projects.

Sage 300 Construction and Real Estate is a comprehensive solution for project and financial management, making it ideal for real estate developers and project managers. Its financial tools cover accounts payable, receivable, general ledger, and job cost accounting, aiding in informed decision-making.

The software's project management capabilities include scheduling, document management, and job costing, facilitating proactive issue identification and resolution. Sage 300 integrates with common tools like AutoCAD and Microsoft Project. Its mobile accessibility ensures on-the-go collaboration, and its customizable reporting allows for tailored insights on budget, progress, and more.



What We Like
Strong financial management features
Robust project management tools
Mobile accessibility
Overview
Price Range: $$$
Client OS: Windows
Deployment: Cloud or On-Premises
3

Northspyre

Compared to other real estate development software options, Northspyre stands out by being an "intelligence platform" that empowers real estate development teams to more accurately predict outcomes on complex projects.

Northspyre boasts a user-friendly interface, automated workflows, and robust reporting and analytics, making it a top choice for real estate developers and project managers. Its standout features include detailed project budgeting, real-time expense tracking, and cost forecasting.

The platform facilitates real-time team collaboration, automates routine tasks like contract creation, and offers customizable reports on budget, schedule, and progress. These insights help identify and address potential issues, optimizing project outcomes and minimizing risks.






What We Like
Project budgeting and tracking
Automated workflows
Predictive analytics
Overview
Client OS: Web
Deployment: Cloud Hosted
What is Real Estate Development Software?
Real estate development software helps developers, architects, and contractors with the important decision-making behind every property acquisition and construction project. These solutions help to organize important legal documents, generate comprehensive bids for speculative development, and manage existing development projects.
This software further improves real estate development business processes by handling the more technical aspects of financing, such as forecasting a potential project budget during a proposal. Automating these tasks can greatly increase the efficiency of completing a bid and getting started on a project.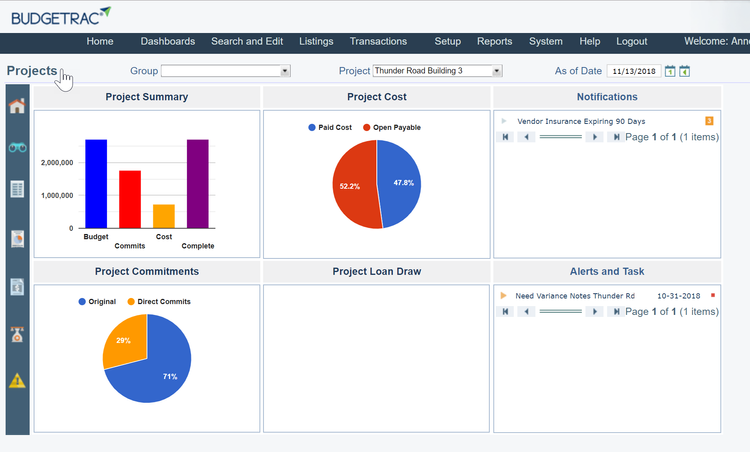 Features of Real Estate Development Software
Bid management: Create new project bids using set templates, control when and how they are sent, compile past bids based on success rates
Project management: Coordinate the execution of project tasks such as initial planning, employee scheduling and time tracking, along with resource allocation, purchase, and delivery
Reporting: generate customized reports for each project or proposal to maintain accurate records on every development
Budgeting and forecasting: Manage the finances of every project, from initial bid estimates all the way through final construction or sale; forecast for each individual project's budget in advance to avoid overspending
Document management: Every real estate deal comes with tons of paperwork, both physical and electronic; manage each document, duplicate, and triplicate with secure and organized storage
Benefit #1: Managing Complicated Workflow
The first benefit of real estate development software is the ability to manage your existing workflow and streamline future projects. Automating services can drastically reduce paperwork and make it easier to find specific files related to development deals or bids.
Bid management tools allow you to keep tabs on new and existing proposals your company created. Custom templates give you the ability to set a consistent format for each type of outgoing bid, improving your chances of success with a concise, well-designed proposal every time.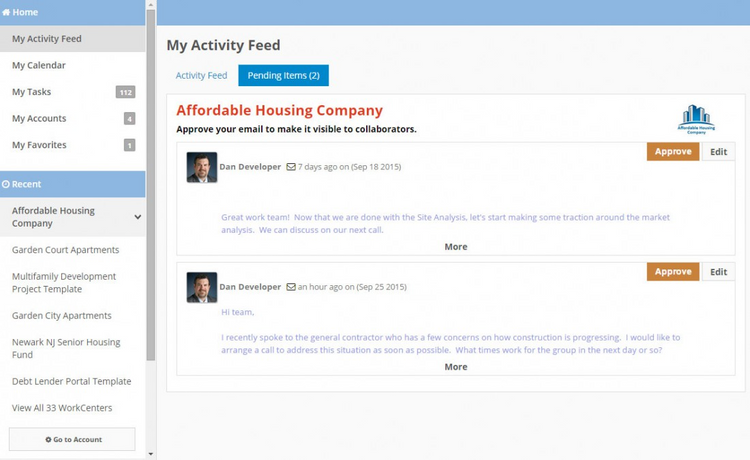 Benefit #2: Maintaining Legal Compliance
The development industry is full of compliance and legal requirements. Every new construction site must be managed by a licensed contractor, every design must come from a certified architect, even ceremonially breaking ground requires a permit. Keeping track of all the necessary licenses before beginning development can be a daunting task. Fortunately, real estate development software includes modules for managing official documentation.
Document management modules compile existing documents with new documentation as it is made. Store electronic copies of bid proposals, licenses, bill of materials, invoices, and more in one easily accessible location. Whether installed on-premises or hosted on the Cloud, the documents can be retrieved whenever necessary.
Benefit #3: Reducing Human Error
The amount of paperwork necessary for speculative development is no laughing matter. As mentioned before, there are plenty of legal documents along with bids, proposals, architectural sketches, and more to keep on hand for the duration of the project. Managing accounts with Excel spreadsheets is suitable for some small businesses. However, it can lead to costly human error when dealing with larger transactions of a growing developer.
Real estate development software automates important business processes, greatly reducing the possibility of error. And streamlining the tasks can cut down on time, further benefiting your bottom line.
Cost of Real Estate Development Software
The cost of real estate development software ranges from $15/month to $130/month. The price of an all-in-one real estate development software can vary based on factors like company size and number of users. These two variables are among the most important when planning out a budget for this software.
Additionally, pricing depends on whether you implement an on-premise or Cloud-hosted management software. A web-based solution provides some benefits, such as increased accessibility, though requires monthly or annual payments compared to a single, one-time fee for a perpetual license.
Some one-time perpetual license fees, which offer unlimited users, are $30,000 while others are $395. There are real estate development software options available for every budget.