What is Request for Proposal (RFP) Software?
Request for proposal (RFP) software, sometimes referred to as request for quote (RFQ) or proposal management software, handles all the documentation created during the business proposal process. Valuable to countless industries, this software streamlines operations from the designing custom templates to sending the bid all the way through to the final due date.
The RFP process is generally the same regardless of industry:
A company categorizes the materials, products, or services (requirements) necessary to conduct business
The company (the "buyer") perform outreach to various vendors (the "seller") for proposals to fulfill these requirements
The sellers bid on their ability to provide the required services or materials
The buyer accepts a bid
The winning proposal is turned into a contract and business begins between the buyer and seller
RFP automation can greatly cut down on response times for reviewing, editing, and accepting contracts, making this software valuable to all sides of the proposal process. Proposal managers interested in bringing in new business can enjoy clearer communication and more efficient responses when using RFP software.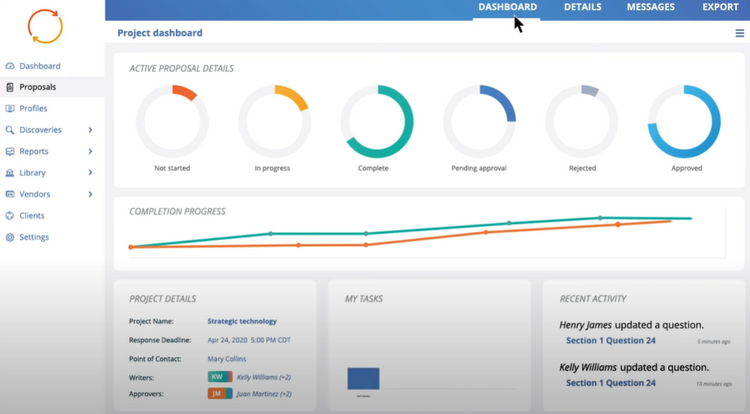 Features of RFP Software
Requirements management: Determine which tasks are necessary for a proposal moving forward to ensure they are performed in accordance with project requirements
Template generator: Create custom templates for all your future contracts and proposals
Document management: Create proposal documents which can be edited and shared by others; track all document changes throughout the proposal lifecycle
Content management: Control all relevant content related to a proposal, for example, images, PDFs, videos, and other media in a content library
Bid management: Keep tabs on all active and in-progress proposals in your project pipeline
Response management: Track responses on all proposals, bids, and contracts
Data imports and exports: Bring in new data and share existing data from your knowledge library; coordinate data exchanges between clients and collaborators
Progress tracking: Determine how a proposal is progressing based on custom metrics, i.e. e-signature collection
Due date tracking: use automated reminders and notifications to ensure everyone is aware of upcoming project deadlines
Contract management: Keep detailed records of in-progress and finished contracts in a secure, accessible location; allow for negotiation, signing, and renewal of contracts
Best RFP Software Benefits
RFP software provides many advantages to businesses looking to streamline their operations. Just a few of the benefits include:
Create Better Proposals
The main benefit of implementing an RFP software at your business is the ability to create better proposals faster than ever before. Custom templates allow you to design proposal documents to fit your exact needs on every project, greatly expediting the process. Submitting a new bid will take a fraction of the time when you can simply enter all variables into an existing template format.
High quality, polished proposals can be the difference between an accepted bid and a failed one. In order to increase the likelihood of a response, a professional looking proposal makes all the difference. And with content management tools, you can build up your proposal with additional media, such as images and videos for a full presentation.
Finally, editing an existing proposal with RFP software is practically possible in real-time thanks to document management tools. Meet with a potential client, listen to their requirements, and instantly make those changes to your bid.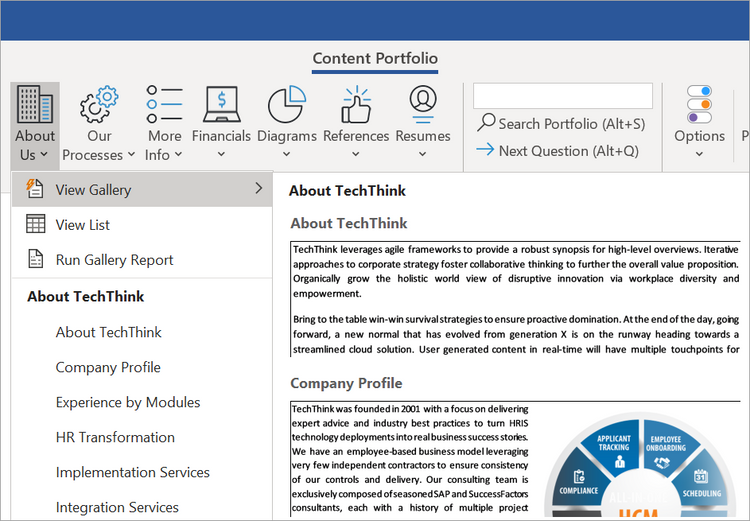 Stay Ahead of Deadlines
RFP response is another important element of this software. It's unfortunately common for bids to sit unread in a pile while potential partners review their options. RFP software works around these delays by providing various tools for big management and progress tracking. Working together, these can show exactly what stage a proposal is in and what is needed before a response can happen.
Automated notifications act as reminders when a due date is approaching. These can be set based on progress tracking as well, meaning custom alerts can go out based on what requirements the project still needs. Automating the RFP process lets you spend less time on follow ups and more time on actual work.
Analyze Past Contracts for Better Deals
Once a project is completed, the finished contract can go into your knowledge library to set an example for future proposals and bids. You can also analyze the success rate of various submissions, providing you insight into the potential of new proposals.
Additionally, the ability to track contract changes lets you see what the most common adjusts are to specific types of contracts. For example, you may find certain contracts with contractors require certain wording in order to be accepted. With this knowledge, you can be sure to include that specific language in your future construction-related proposals from the start, instead of scrambling to rewrite and submit a new bid later.
Finally, tracked changes provide you protection in the form of an audit trail. If there are any questions about the scope of a project, requirements met, or timelines, you can consult records with RFP software. Integration with contract lifecycle management (CLM) solutions can further improve your proposal process.
RFP by Industry
While many industries utilize proposals, there are some which are more reliant on the RFP system than others. These include but are not limited to:
Legal
Finance
Healthcare
Government
Construction
Manufacturing
Procurement
Whatever your industry, RFP can help your business automate the proposal process from start to finish. And any company which creates quotes along with proposals can benefit from an RFP software. Depending on your exact needs, there may be overlapping elements between RPF systems and configure, price, quote (CPQ) software. Both are designed for increasing efficiency when creating potential business deals. Some all-in-one RFP systems even incorporate CPQ tools directly in order to create a fully comprehensive software.