What is Roofing Software?
Roofing software is used by roofing contractors primarily for putting together accurate estimates, scheduling jobs, and managing work orders. Roofing companies need to organize jobs by type - whether it's a repair or new installation, as well as ensure the right materials are on hand to get the job done on time.
The software also facilitates customer management. For example, when you install a new roof you'll have a record of manufacturer warranties and materials used for the installation. When repairs are needed down the road, you'll be able to quickly pull up the job information to see if the work is covered under warranty and what materials you need for the repair.
Core Features of Roofing Software
| Feature | Description |
| --- | --- |
| Estimating | Create estimates of equipment, labor, and material costs to do a job. |
| Scheduling | Assign individuals or teams to a job along with equipment and resources needed. |
| Construction Inventory Management | Monitor inventory counts of materials or consumable parts used for a roofing project to avoid running out of supplies. |
| Roofing CRM | Manage customer contact information and work order history. Followup with special offers for related services to increase sales. |
| Core Accounting | Track vendor payments, payments received from customers, and employee wages. View reports on job profitability for each roofing project. |
Roofing Estimating and Invoicing
Roofing software uses the costs of labor, equipment, and materials needed to complete a project to create an accurate estimate. In order to not only bring in more jobs, but also increase your ROI, your estimates need to be as accurate as possible. Low estimates will anger customers if you unexpectedly raise the price later while high estimates will cause you to lose out on potential jobs.
When the estimate is approved, you can convert the estimate into an invoice and send an electronic copy directly to the customer. For smaller roof repair jobs, you can accept credit card payments at the job site. For larger jobs and new roof installations, customers can pay in monthly installments through a customer portal.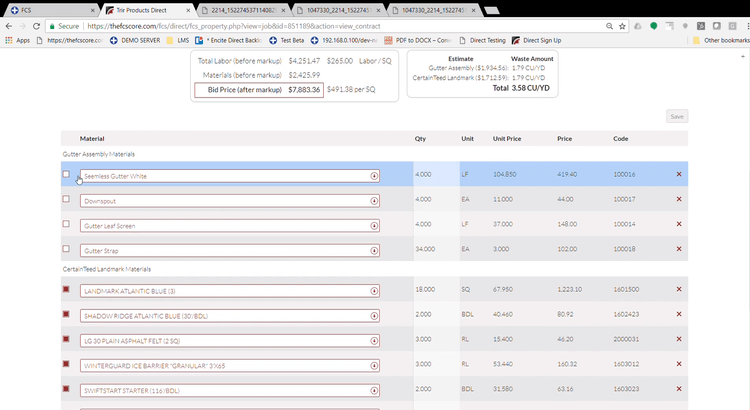 Scheduling with Roofing Software
Roofing software makes it easy to assign teams, equipment, and materials to specific jobs. You will be alerted if there are scheduling conflicts or resource allocation issues to keep every project moving along smoothly.
Specialized views are available including Gantt charts, calendar views, and map plots so you can see when and where members of a team are currently working. As tasks are completed, you'll be able to see updates in real-time. Customers can view the updates to track the project's progress and be alerted if any unexpected setbacks occur that might cause delays.
Team members scheduled to a particular job will be able to review project notes, attach photos to the project page, and review documentation associated with the project.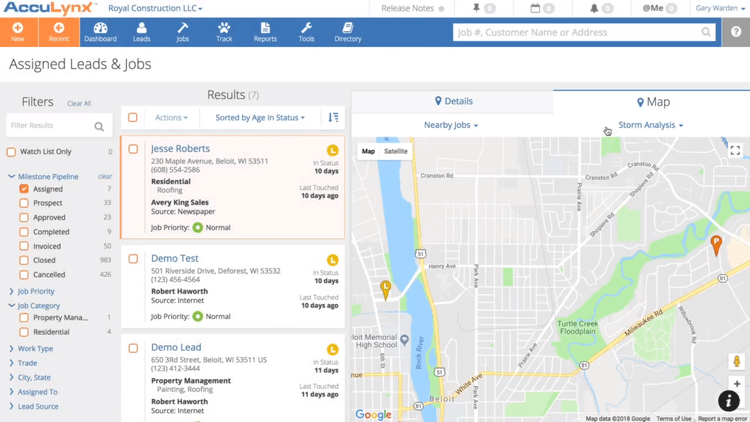 Drone Roofing Inspection and Aerial Measurements
Roofers are using drone footage to take aerial measurements and perform roof inspections. You can use the drone to take images and upload the photos to your software program to get a closer look without setting foot on the roof.