What Is Appointment Scheduling Software?
Appointment scheduling software helps businesses book, reschedule, cancel and charge for doctors' appointments, dog groomings, sales calls, or whatever else. It allows clients to select the types of appointments/services they want, how and when they pay, and how they are reminded of their scheduled engagements.
Appointment scheduling systems cut down on scheduling issues, like double-bookings, last-minute cancelations and the amount of time businesses spend managing appointments every day. They are especially valuable for small businesses, which might not have the time and resources to spend on administrative duties. Appointment scheduling solutions also help staff focus their energy in the right direction and give clients better experiences from start to finish.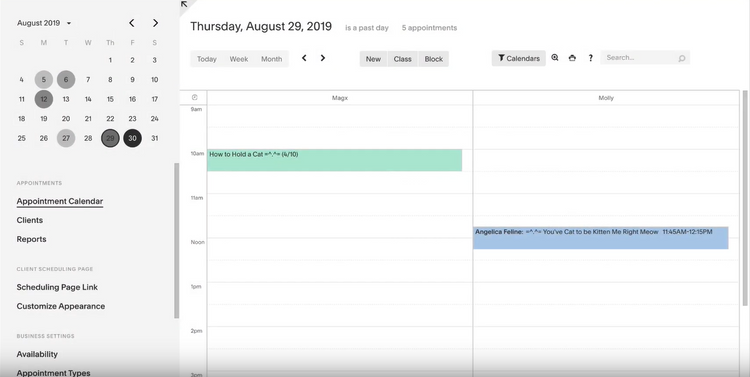 Features of Appointment Scheduling Software
Online Scheduling: Clients will be able to easily book and update appointments whenever they want, on their own.
Prepayment: Clients can pay in full for their appointment upfront, or you can ask for a deposit upon booking.
Automated alerts: Set up appointment alerts on a predetermined schedule, rather than doing it on your own. These alerts avoid human error, which raises administrative efficiency as well as client satisfaction. These alerts also lower no-show rates and help manage staff.
Integration: Sync calendars, marketing campaigns, payment services, online meeting apps, CRM, accounting, social media, lead generation, and more.
Branding: Insert branding into confirmation emails, automated alerts, the scheduling module and more. Some software lets you embed the scheduling software within your own site as opposed to opening a new window, creating a simpler user experience and increasing brand awareness. Other appointment services will remove their own branding at certain tiers, maximizing exposure.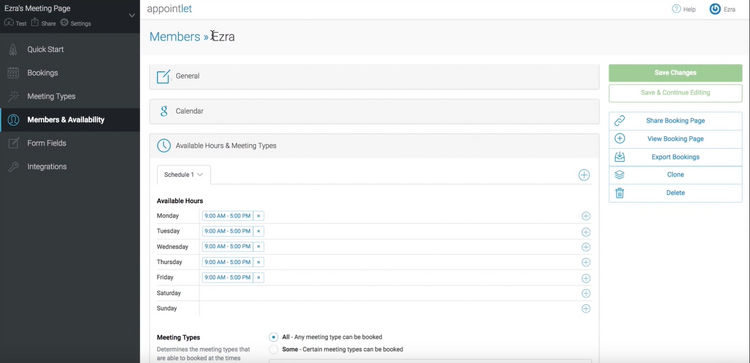 Benefits of Appointment Scheduling Software
Appointment scheduling software helps both clients and businesses. Imagine your hairstylist answering the phone and booking appointments during your haircut. With that responsibility out of the way, your haircut will go faster and be more pleasant. That's good for maintaining positive client relationships, and it also frees up time to squeeze in more clients and services. And there are additional, clever appointment scheduling tools that generate revenue and reduce over-staffing.
24/7 and Customizable Online Scheduling
Scheduling is a pain for all parties involved, and customizable online scheduling can make things easier for everyone. Clients can book and update online appointments whenever they want and search for availability for certain services or individuals. Clients often prefer this method, as opposed to having to call during certain times and cross-references availability with the person on the other line.
Businesses can customize how long certain services will take, how long they need to set up and break down and determine pricing and availability,. Those services will only be available for appointment booking when the entirety of the service can be complete, which avoids appointments bleeding into one another.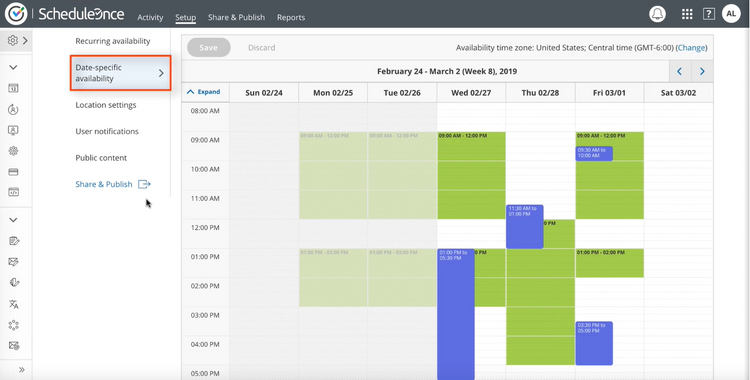 Increase Revenue and Decrease Waste with Automated Alerts
Studies show that using automated reminders (phone, email and text) reduces no-shows, raises revenue, and increases a staff's production throughout the day. Phone calls, emails, and SMS (Short Message Service) Text Messages are all effective tools, but they each have their own strengths.
A combination of automated email, text and/or phone messages can help ensure the customer is adequately reminded of their upcoming appointment. One example could be sending an email confirmation upon booking, an email reminder a week before an appointment, a phone call two days before the appointment, and then a text message the day before and/or the morning of would be very successful.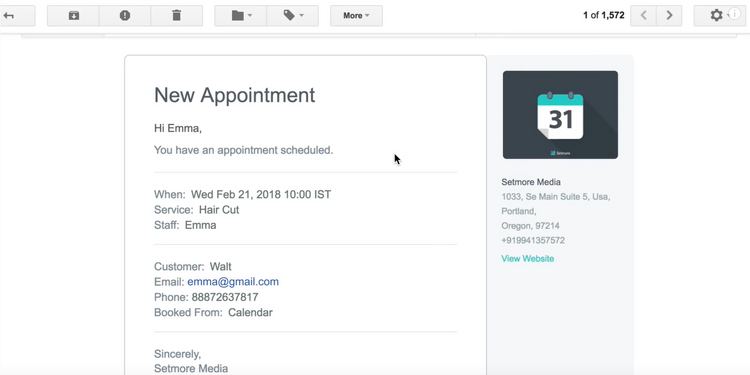 Prepayment and Refunds For Online Bookings
While getting paid upfront is obviously great for businesses, it also helps clients. They can select their online booking, pay at their convenience, show up for the appointment, and then just leave when it ends.
Businesses can set up lots of variations on payment and refunds. You could, for instance, set up a non-refundable deposit upon booking and have the client complete the rest of the payment at the end of the service. Alternatively, you can ask for the entirety of the payment upfront, or you can wait until the appointment is over to collect payment/generate an invoice. Some software will let you update pricing for certain time slots, to let you run a flash sale for the appointment time of a last-second cancelation, for example.
Some other perks of pre-payment are that businesses can verify credit cards, pre-authorize certain charges and put holds on cards.
You can also control if, how and when clients can cancel or reschedule an appointment. And then you can process a refund and send an automated confirmation email/text from a single service. You can also cancel an appointment on your end, which would produce a refund and a confirmation message. Some services will let you cancel certain individuals from a class, for instance, and then re-open their slots for online booking.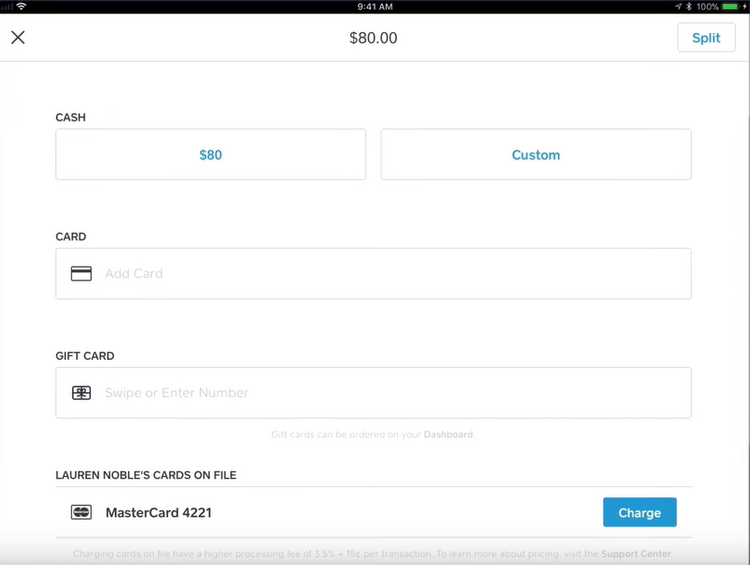 Maximize Your Time
Certain functions of appointment scheduling software can help you minimize gaps in scheduling or even make your business appear busier than it is.
These capabilities look at currently booked time slots and only show appointments available for before and after those times. This gives flexibility to clients, but will lessen the dead time between appointments.
Businesses can also hide certain time slots to make their availability seem less open, generating a false sense of demand. This is similar to a coffee shop putting a few dollars and coins in the tip jar to encourage others to leave tips.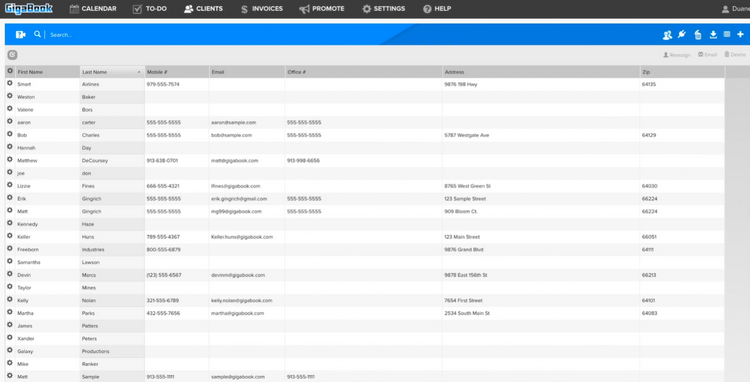 Types of Appointment Scheduling Software
Appointment scheduling software has uses among a wide variety of industries. They work for first-time clients, recurring appointments, deal seekers and more. Some software are designed for certain industries, while others can handle a wide variety.
Healthcare
Effective medical appointment scheduling software (also known as "healthcare appointment scheduling software") is crucial in any doctor's office, hospital, clinic, dental office, veterinary facility, and any other medical services. The scalability and customization of these tools help patients choose from various locations, doctors, and services. And some higher-tiered services will guarantee HIPAA compliance + BAA.
Effective scheduling, alerts and reminders are not just important for healthcare providers, they are also critical to patients' health. These tools lead to more patients getting treatment and healthcare workers being able to spend more time and energy on patient care.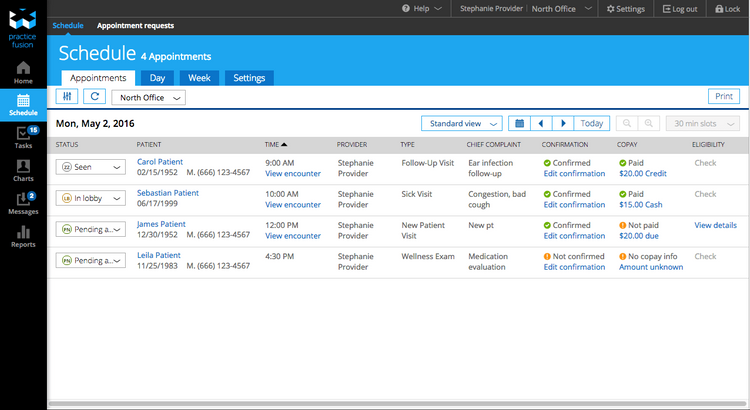 Salon
Salon scheduling software will allow your clients to select their appointment by stylist, type of service, time/date, location and more. You can customize what options clients see at which points throughout the process, and then most software will automatically show or hide certain time slots based on the client's choices.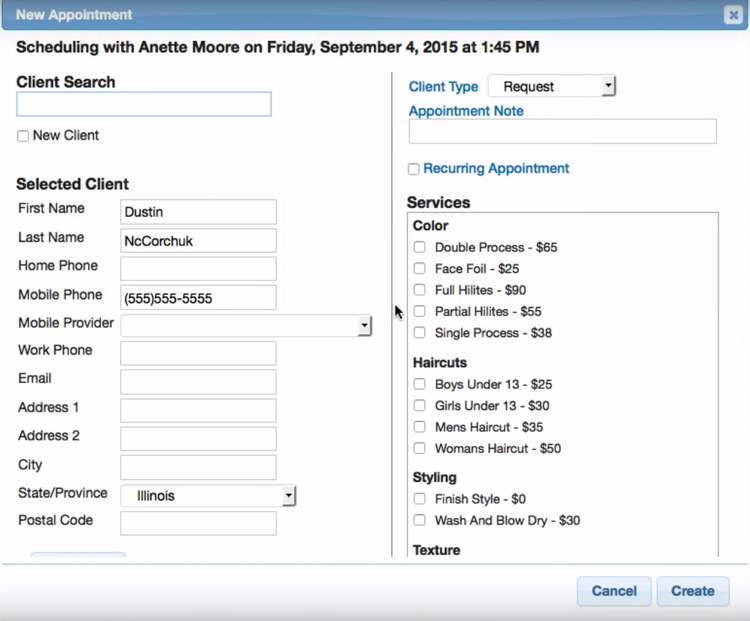 Automotive
Many repair shops have multiple locations, varied mechanic availability, and limited space. Online appointment software will let clients know when to drop off their car for certain services, by certain mechanics, at certain locations. And it will keep each bay in use, with the ability to squeeze in a quick oil change in between larger projects. This will lead to quicker service and help keep lots from overflowing.
What Kind of Buyer Are You?
From one-person shops to large staffs across multiple locations, most services allow you to manage multiple users, multiple services, multiple locations and more. Some services allow you to scale by adding more users, more teams or both.
Small Business
The flexibility of different small business appointment scheduling software plans and tiers are extremely useful for small businesses, where time and money are in high demand. Most appointment scheduling software for small businesses provides three to five tiers, with incrementally more services and features as cost goes up. So scaling for growth and contraction are fairly simple, especially with the ability to sign up with a monthly contract. Almost all of the services, though, do give discounts if you sign up for an entire year of service, rather than going month-to-month.
Enterprise
The biggest benefit with an enterprise appointment scheduling software account is getting a dedicated account manager or coordinator. Lower tiers do come with "priority" support staff, but an account manager is useful in solving in-depth and highly specific issues at a quicker pace. Many services do not give pricing guides at the enterprise level, as cost will depend on the level of customization and scalability a business needs.
Appointment Scheduling Software Pricing Guide
Most appointment scheduling services offer several tiers of service that add more features, number of users, integrations, customization, and support as the price increases. Most charge on a monthly basis but offer discounts for annual plans. The base rates for the paid services start at $8/month but can get up to $50/month.
Some services, like Square Appointments, whether paid or free, will take a commission on the appointment booking charge and/or take a flat rate per charge. And the prices rise as you move up the tiers and as features and users are added.
Be sure to check the specifics of each tier from different services to see which service and tier will be right for you and your team.
Free Appointment Scheduling Software
What are the advantages and disadvantages of free appointment schedulin software?
What Can They Do?
Free appointment scheduling software works best for a single individual, running out of a single office, offering a single or very few services. Most free versions will send automated reminder emails to clients, but they often do not include SMS text. 10to8 offers a popular free service, as it does include SMS, gives access to two users and includes online and phone support.
What Can't They Do?
Most free appointment scheduling software will cap how many online bookings you can make per month, while most paid tiers do not have a limit. Some services, like Calendly, allow unlimited bookings; but they limit other features. The free tiers will cap things like the number of users allowed, the number of calendar integrations, the locations clients can select, the type of payments they will accept, the amount of customer support, and more. No free service will have all of the features, but there could be one that fits your needs.
There are only a few open-source appointment scheduling software, and they all require some web service with limited downloadable content.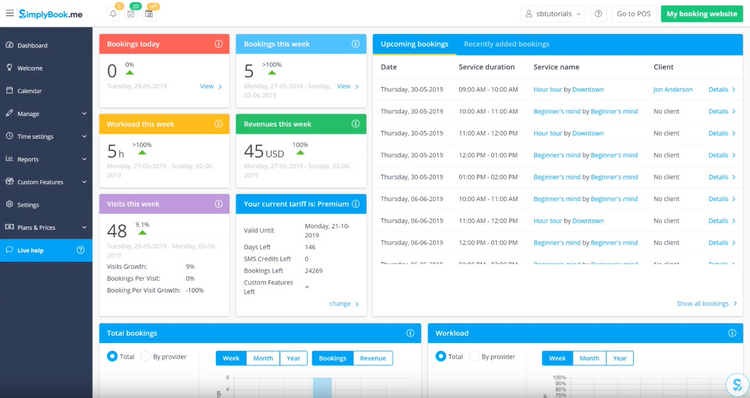 Common Appointment Scheduling Software Integrations
Most appointment scheduling software will integrate with a number of additional tools your business may use in their daily operations. They may not integrate with all of your applications and existing software, but many will do what they can to provide you with a fully-integrated office
Appointment scheduling services integrates well within existing social media presences, like Facebook, Instagram, Pinterest, and Twitter. Clients can book appointments through a link from an Instagram post or through a module on a Facebook page. Social media integration is especially important for small businesses that, for example, do not have their own website but do have a Facebook page. And social media offers some of the best free and paid advertising available, so clients can find and book appointments through budget-friendly marketing campaigns.
Payment Software
Most scheduling software are compatible with payment services like Stripe, Square, PayPal, Apple Pay, and more. It's rare to find one which functions with them all, so deciding on scheduling software might depend on your existing payment software or vice versa.
Accounting
Many appointment scheduling software will integrate with accounting software tools such as QuickBooks, Xero and FreshBooks. If your appointment scheduling software has an integrated pre-payment feature, integration with accounting software will also aid in sending quotes and generating invoices. These integrations will make sure your books are consistent and error-free.
Calendar Sync
Appointment scheduling software integrates seamlessly with most existing office calendars. These software services automatically generate online appointment availability based on a business' calendar through Microsoft Outlook calendar, Office 365, Google Calendar, Apple Calendar, and many others.