What is Church Management Software?
Faith-based organizations often utilize church management software (ChMS)* in order to streamline day-to-day church administration operations and offer planning tools to meet long-term goals. Daily tasks like organizing member directories can be balanced right alongside fundraising event planning through a single, easy-to-use software.
An all-in-one ChMS offers a user-friendly way to automate many of your church administrative tasks. Church management systems offer ways to create member databases, organize online giving campaigns, and plan community events with the assistance of volunteers. And additional modules, such as a website builder, can be added to match your specific church needs.
Note: While these solutions are called "church management software", they can be used by any place of worship with similar needs (volunteer and member management, fundraising, communications), such as synagogues, mosques, temples, and so on.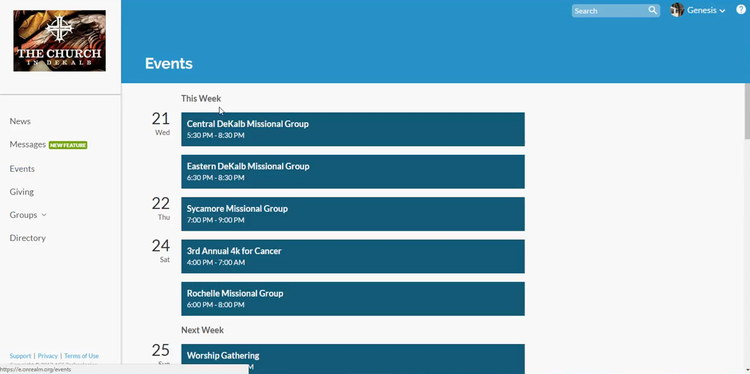 Church Management Software Features
Membership management: Keep accurate records on members of your faith-based organization, such as contact information; define official membership requirements
Attendance tracking: Track which church members are attending faith services or are participating in other events
Child check-in modules: Mark which children have attended Sunday school classes, preschool, or daycare; allow parents and guardians to know what classes or events their children attend
Communication tools: Use mass email marketing, text messages, or traditional direct mail to perform church-based outreach with your parishioners
Donation management: Organize online donations, in-person tithing, and other forms of giving your church receives; correctly allocate corporate donations, matched gifts, and any other source of contributions
Fundraising: Raise money, keep track of donations, connect with donors, and use automation to maximize outreach and marketing campaigns
Campaign reporting: Put together custom reports on donations, pledges and other sources of church funding; Use data-driven analysis to measure fundraising performance and campaign success
Event planning: Organize and host charitable events, such as in-person fundraisers or awareness campaigns
Event calendar: Schedule upcoming events on an accessible online calendar; list past events and share updates
Volunteer management: Recruit, track, and monitor potential volunteers for services and events
Best Church Management Software Benefits
With church management software, your organization can improve in a lot of ways. Get started now to optimize your services in more ways than one!
Organize Membership and Attendance Records
Gone are the days of an old church member directory kept in a binder. Instead, most organizations have adopted online membership management systems to keep contact information as up-to-date as possible. In fact, a user-friendly member portal can allow your congregation to change their own membership details at any time.
A majority of church income comes from member contributions or tithes, so a method for tracking donations is needed to measure weekly, monthly, quarterly, or annual giving. Not only does this allow you to give annual giving statements to givers for their tax reporting purposes, but it also helps keep your financial records as accurate as possible.
Additionally, simple attendance modules allow you to track who has and hasn't been coming to scheduled events. For instance, a grief counseling support group for parishioners who have suffered the loss of a loved one can use attendance records to identify anyone who may need additional outreach. And child check-in can reassure teachers and parents alike that kids are dropped off at the right class or daycare.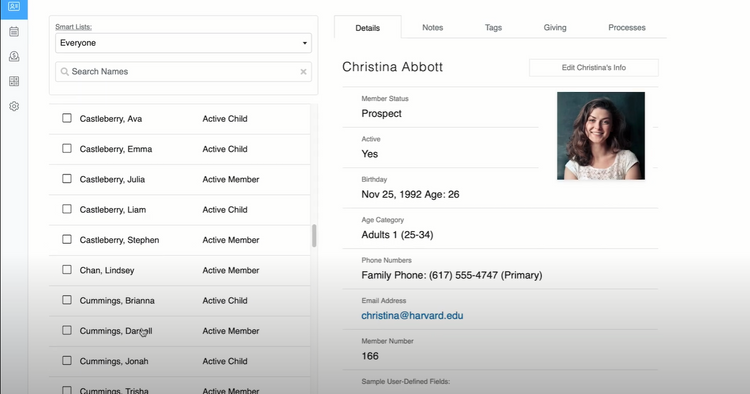 Improve and Increase Online Giving
In the wake of COVID-19, many faith-based organizations have turned to online services to stay connected. Unfortunately, this has reduced opportunities for in-person charitable giving and tithes. An increase in online giving has helped many churches keep their doors open and support the less fortunate in their communities through virtual fundraising. Church management software offers the tools necessary for places of worship to start accepting funds entirely online.
Faith-based organizations can be classified as either for-profit or nonprofit, depending on how they are funded. All types require some degree of accounting in order to perform basic bookkeeping when it comes to accepting donations, paying employees, or dispensing charitable funds. While some church management solutions with accounting functionality are available, integration with a separate church accounting software can help you manage funding raised from online giving.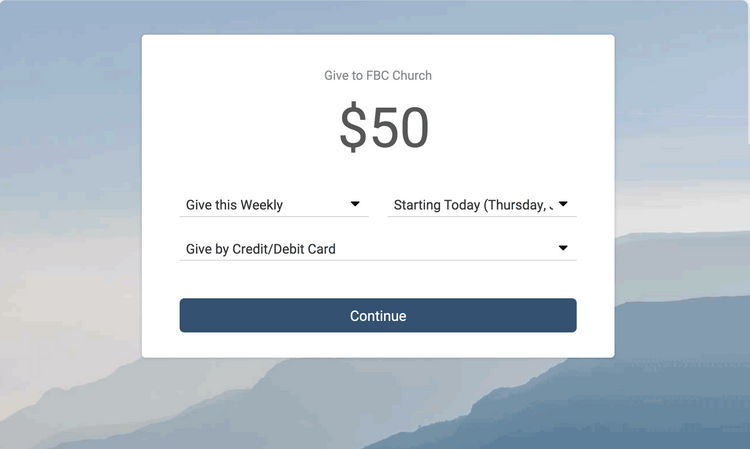 Make Marketing Campaigns
Traditional and online marketing can help your flock grow faster than ever before. Online communication tools allow you to curate your mailing lists, so you can contact individual members, small groups of volunteers, or your entire congregation based on your church needs. ChMS modules also offer user-friendly templates for sending consistent messages to your subscribers. For instance, you can schedule a weekly or monthly newsletter to be sent to your entire congregation without having to start from scratch every single time. Or automate follow-up emails to potential new members based on their communication preferences.
Finally, mobile apps compatible with iOS and Android devices can offer member portals for on-the-go access to giving campaigns and volunteer opportunities. For younger members of the congregation who are more accustomed to using social media and other technology daily, this can increase their response rates and engagement. In particular, using text giving (soliciting donations through text messages) is an incredibly easy way to increase online giving without in-person events.
Church Management Software Pricing
Large churches with thousands of parishioners and small churches with a few dozen families will have vastly different software needs, not to mention budgets. Fortunately, there are church management solutions built for every budget. Monthly subscription costs typically depend on the size of your faith-based organization, such as the number of members or locations. Larger congregations or mega churches will generally pay more than small parishes.
On average, ChMS software costs anywhere from $10 to $79 per month. However, many free trials are available for churches on a budget, or those wanting to test out a few different options. If satisfied, going from the free church management software to the full version is easy. Some are even completely free for churches with limited users or members, though many have monthly subscriptions to cover additional services. Different sized churches can all find the right SaaS solution for their budget.