What is Donor Management Software?
Donor management software makes it possible for nonprofit organizations (NPOs) to manage, track, and execute strategies to engage and retain donations. Donations are a vital component of any NPO, and software enables users to take more control over their donor database. By tracking and analyzing a donor's transaction or communication history, donor management software helps create targeted email marketing campaigns to encourage online donations.
With the right donor management software, NPOs can make it easy for any number of users or volunteers to take advantage of powerful donation tools. Automated data mining and conversion makes it easy to analyze canvassing trends to identify areas of success and opportunity. And with powerful communication tools like email campaigns, mail-merged thank-you letters, and financial contribution statements, staying in touch with donors is easier than ever before.
Features of Donor Management Software
| Feature | Description |
| --- | --- |
| Customizable Donor Profiles | Allows you to create any custom field of information you feel would be beneficial to track, such as contact information, gift sizes, date of last gift, campaigns contributed to, payment methods, recent communication efforts, and more. |
| Dashboard Views | Shows a complete overview of your data that will show ongoing trends on donation pages and allow for better decision making in future campaigns. |
| Prospect Research Integrations | Import prospect lists and turn it into internal data in your donor management program. This will help identify areas to target and prospects that need to be worked. |
| Matching Gift Searches | Cross-check a donor's place of employment to identify any employment gift matching opportunities. |
| Mailing Lists Management | Create a direct mail campaign or an email campaign by utilizing donor information which can encourage crowdfunding and peer-to-peer fundraising efforts. |
| Document Management | Share documents with your team regarding specific donations, contribution campaigns, or specific trends that may be noticed over time. |
| Online Fundraising | Link a donation page with your company website to accept pledges and donations online. Additional capabilities include allowing donors to register for fundraising events and send reminders about upcoming events. |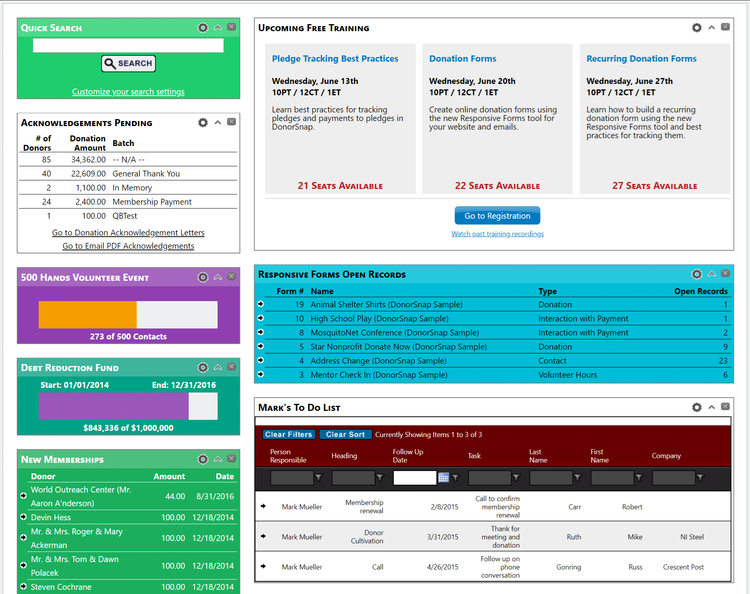 Key Donor Management Platform Benefits
NPOs depend on affordable software solutions to manage, improve, and maintain fundraising efforts. Here are some key benefits donor management software offers its users:
Comprehensive donor record and contact management: Acting like a customer relationship management (CRM) solution, donor management software allows NPOs to manage all donor contact records to ensure information is complete and up to date. Data from a variety of different spreadsheet or database sources can be imported and combined by reporting tools, making it easy to remove or merge duplicate entries, quickly search through names and addresses, and add wealth and philanthropy ratings. Donor management software can also directly link individuals, highlighting their relationships and affiliations.
Better donor communication: Donor management software can turn your donor database into a comprehensive communications platform. Email integrations with popular solutions like Constant Contact make it easy to send acknowledgement letters in batches, distribute contribution statements, and share online fundraising campaigns. Messaging capabilities also make it possible to import data from Excel, generate mailing labels, mail merge letters, and identify and merge duplicate entries.
Improved donor analysis: Powerful data management tools in donor management software enable NPOs to use complex logic queries to get the most out of any donor database. By maximizing a donor database's capabilities to track complete donation history and every possible point of contact, NPOs can identify metrics that make it easy to improve outreach. For example, database queries can be used to pinpoint donors who haven't given in a set period of time, identify people who have attended events but have not given, or assess donors who usually give but haven't yet made an annual donation.
Easy form creation: Whether it's to gather contact information, recruit volunteers, or solicit and receive donations, donor management software lets NPOs easily create responsive web forms from templates which can be shared through email and social media links.
Tracking, allocating, and managing volunteer work hours: Many NPOs depend on the generosity of volunteers to help carry out administrative and fundraising tasks. Donor management software helps volunteer workers build a database of donors, assign work, and track their complete work history.
Increased accuracy: For NPOs, donor management software can act as a centralized hub for all donor-related activities. Any number of separate databases, spreadsheet, address books, and payment systems can be linked in one common system to track donors. Doing so can greatly improve accuracy and transparency throughout the donation process, reducing human error.
What Type of Software Does Your Organization Need?
The best donor management software for your organization depends on the size of your NPO operation. While every NPO needs a set of tools to manage and track donations and donors, not every organization needs a larger, more comprehensive standalone solution:
Startup or small NPOs may want to consider donor management software which integrates with existing solutions that many small businesses use, such as QuickBooks.
Medium-sized NPOs with a fair number of volunteers and donors should consider donor management solutions that make it easier to parse larger donor databases for better management of donation tracking.
Large or enterprise-level NPOs should embrace complete donor and volunteer management solutions to track large numbers of volunteers, donors, and events, coupled with cloud-based features to enable access and management on-the-go from your mobile device.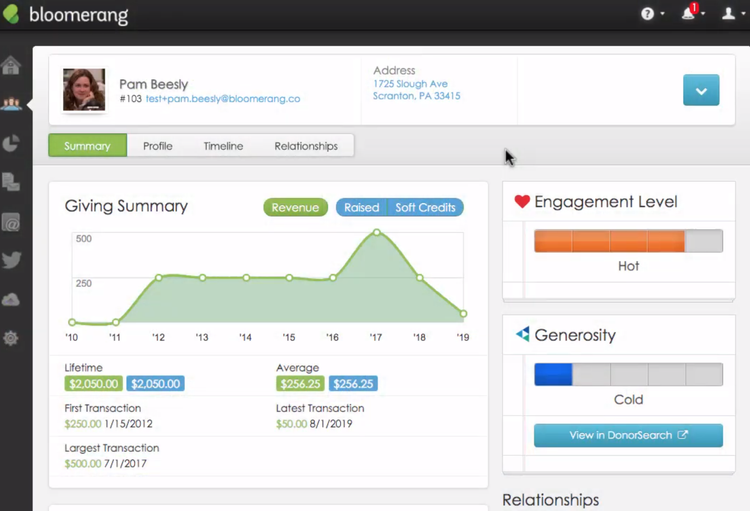 Donor Management Software Pricing
Another factor when selecting a donor management system is your organization's budget. SaaS subscriptions are available for as low as $9 per month while others are $200 per user per month. Others charge annually to keep costs down throughout the year. The more users you have, whether they're employees or volunteers, the more expensive software will be.
Fortunately, there are free options available. Some products are free to use for smaller organizations while others have paid features for additional functionality. Those may depend on the size of your organization or how much you receive in donations weekly, monthly, or annually.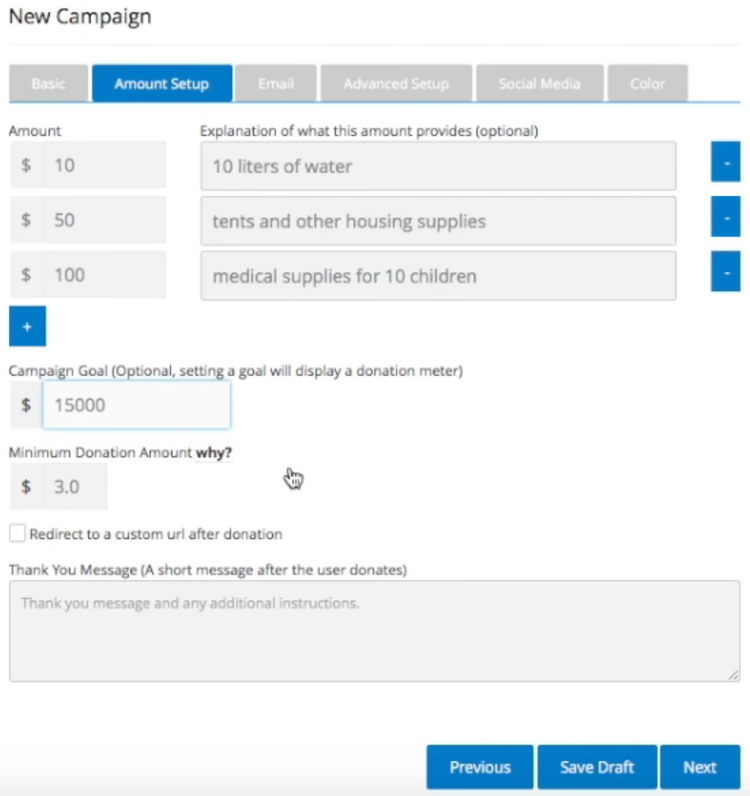 Does QuickBooks have Donor Management Tools?
QuickBooks software does not have a specific donor management tool included in its base package. Instead, QuickBooks itself recommends looking into more robust systems for donor management, especially if you anticipate tracking each donor touchpoint and not just each donation. Some basic fundraising platforms will have basic donor management features, which could negate the need for a complete donor management tool.
The bottom line is if your nonprofit has a deep donor base, a large employee pool, and a more involved marketing plan for peer-to-peer fundraising, you'll be better suited using an actual donor management system.
Common Pain Paints of Donor Management
One common pain point for many NPOs is the cost of adopting new donor management software. As many nonprofits run on tight budgets, large investments in new solutions can prove to be costly and potentially unaffordable. While many cloud-based solutions are more affordable and make it easier to account for recurring software costs with subscription pricing, it's important for any NPO to choose a solution that best suits their budget.
Ensuring ease of use is another important pain point for donor management software. Because many NPOs depend on volunteer labor, user-friendly donor management software is essential for organizations to make the most of their donor database. Whether it's through an intuitive user interface, comprehensive and easy to understand training documentation, or included technical support, donor management software that's easy for volunteers to use can help reduce errors, improve data security, and maximize productivity when building donor relationships.
Donor Management Trends
While nonprofit organizations have a different purpose than for-profit businesses focused on returning value to their shareholders, that doesn't mean they're not responsible for managing complex and intricate financial scenarios. Nonprofit organizations must have the right tools in place to properly manage their financial matters, from grants to recurring gifts.
Here are some of the latest market trends donation management software developers have taken into consideration when crafting their solutions: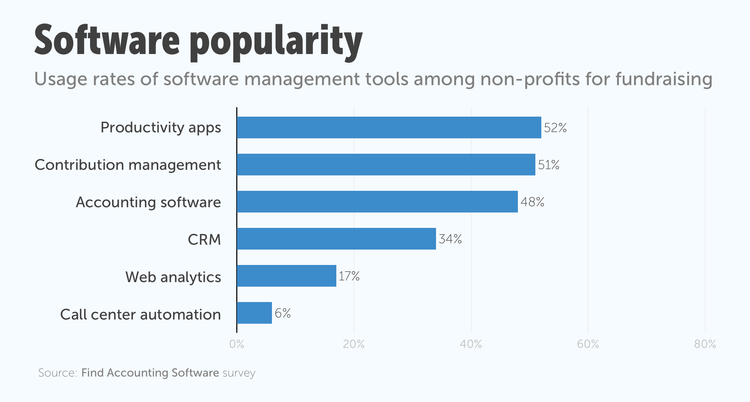 51% of nonprofits already use a donor/contribution management software: We asked fundraisers to share with us which software tools they used (shown above). We found fundraisers rely on three main types of software tools above others for managing their efforts: productivity apps, contribution management, and general accounting software.
Online fundraising: Raising money online has become a popular and convenient way of soliciting funds from donors. Fundraising software makes it easy to share social media links to campaigns for donations, process payments, and automate recurring gifts.
Cloud-based software: Many donor management software platforms are now being offered as a cloud-based software as a service (SaaS). Donor data stored with SaaS software can often be accessed anywhere, enabled through a web browser or a variety of desktop and mobile apps. Cloud-based donor management software is often accompanied by a recurring subscription price, charged annually or monthly, making it easy to account for technology costs on an ongoing basis.