Donor management software helps manage, track, and execute fundraising strategies to engage and retain donations for your nonprofit organization. These systems make it easy to manage a donor database, analyze and assess donations, process payments, track events and fundraising campaigns, and streamline your NPO's administrative tasks.
If you're a nonprofit, donations from your benefactors keep your organization running, enabling critical research, greater public awareness for your advocacy, and the ability to share life-changing gifts.
We've compiled a list of top donor management systems from our independent research and review process to help you find the best solution for your organization:
1

DonorSnap - Best Online

Why We Chose It: One popular piece of donor management software is DonorSnap, a cloud-based solution available through an affordable monthly subscription fee. DonorSnap gives NPOs complete control over their donor database, making it easy to quickly manage and reach out to thousands of donors in an instant. In addition to standard features like pledge tracking, donation entry and acknowledgment, and comprehensive reporting, DonorSnap also offers direct integration with QuickBooks for enhanced accounting and fundraising capabilities.

DonorSnap pricing starts at $39 per month. A tiered price list allows you to customize costs based on the number of donor contacts being tracked.
2

Bloomerang - Best for Small Nonprofits

Why We Chose It: Bloomerang is an online donor management software solution that is advertised specifically for small to mid-sized nonprofits. The system empowers organizations to improve donor engagement and donor retention. Bloomerang features interactive dashboards, giving summaries, constituent timelines, email communication tools, and more. Integrating your website with Bloomerang allows you to provide online giving with custom donor forms, as well as online event registration.

Bloomerang offers a free version for very small nonprofits that need to store up to 250 records. Paid plans start at $79 per month for both small, growing nonprofits and larger organizations.
3

Servant Keeper - Best for Churches

Why We Chose It: Servant Keeper is a nonprofit software solution designed specifically for churches. This solution includes donor and membership management, event management, sacrament tracking, child check-in and security, real-time reporting, and more. Servant Keeper gives ministries strong donor and contribution tracking.

Churches can choose from on-premises or cloud-based solutions. Servant Keeper also has a few apps for mobile devices including Mobile Ministry, Attendance, Member Profiles, Online Office, and Online Directory. All Servant Keeper packages start at $299 upfront minimum. The cloud-based solutions start at $10 per month with unlimited users. Locally hosted solutions are an additional $50 per computer.

Note: Additional church accounting software options are available for faith-based organizations.
4

Donorbox - Best for Free

Why We Chose It: Donorbox is a fundraising tool that allows organizations to collect payments through an online donation form embedded on your website or via a popup widget. Donors can choose from a variety of payment methods including credit cards, PayPal, ACH Transfers, Apple Pay, and Google Pay.

Donorbox is free for nonprofits with less than $1,000 per month in raised donations. For organizations that collect more, payment plans start at $45 per month. Stripe and PayPal payment processing fees will be incurred for any plan.
5

Blackbaud Raiser's Edge NXT

Why We Chose It: *Blackbaud Raiser's Edge NXT is a fundraising software with donor management capabilities. The cloud-based platform provides accessibility to users from anywhere and on any device.

Cultivation tools, smart recommendations, data enrichment services, email campaigns, and integrated multichannel techniques all enable nonprofits to effectively identify growth opportunities, engage with supporters, and optimize their fundraising efforts. Moreover, its analytics and reporting capabilities help organizations make data-driven decisions, enhancing donor retention and acquisition efforts.
6

Little Green Light

Why We Chose It: Little Green Light is a donor and customer relationship management solution. To meet the low operating costs of NPOs, the monthly subscription plans are based on the total number of constituents, allowing organizations to scale their usage as they grow. This pricing flexibility can be particularly appealing to smaller nonprofits or those on a tight budget.

Custom report generation allows organizations to tailor their reporting needs, while the Flex Importer feature simplifies data imports, making it versatile for various data sources. Additionally, Little Green Light's integration with essential web-based services such as PayPal, Wufoo, MailChimp, and Constant Contact enhances its utility for nonprofit operations.
7

Neon CRM

Why We Chose It: Neon CRM is a CRM intended for nonprofit organizations. The inclusion of workflow automation and smart deduplication, which can significantly reduce manual data entry and maintenance, allow organizations to allocate more time and resources to their core mission.

The software also offers flexible pricing options, making it accessible to organizations of various sizes and budgets, starting as low as $99 per month for the Essentials Light package. There are also higher cost plans which offer additional functionality.
8

Bonterra Guided Fundraising

Why We Chose It: Donorbox, formerly Network for Good, is a one-stop solution for nonprofits looking to streamline their operations. Omni-channel marketing tools support all kinds of digital fundraising campaigns.

The many donor management features, including smart donor databases, custom contact profiles, and effective communication tools, empower organizations to build stronger donor relationships. The integrated fundraising, event management, and reporting capabilities help organizations make data-driven decisions.
9

DonorPerfect

Why We Chose It: DonorPerfect is an adaptable and cost-effective donor management solution. One notable advantage we found is the high level of customization, allowing screens, fields, and reports to meet the specific needs of an organization. This flexibility ensures NPOs can have a tailored solution while benefiting from the simplicity of a ready-to-install system.

DonorPerfect offers a range of pricing plans, making it accessible to organizations of varying sizes and budgets, starting as low as $99 per month for the Lite plan with 1,000 records. However, the need for additional add-ons might make GiveSmart too expensive for smaller nonprofits.
10

GiveSmart

Why We Chose It: GiveSmart is a fundraising and donor management solution with features like mobile bidding, text-to-donate, and live event streaming. This flexibility enables nonprofits to enhance their fundraising events and create interactive and exciting experiences for donors and supporters.

GiveSmart supports virtual and hybrid fundraising events, making it adaptable to various fundraising needs and situations. The payment processing integrations, including options like Apple Pay and PayPal, simplify giving for donors.
What is Donor Management Software?
Donor management software makes it possible for nonprofit organizations (NPOs) to manage, track, and execute strategies to engage and retain donations. Donations are a vital component of any NPO, and software enables users to take more control over their donor database. By tracking and analyzing a donor's transaction or communication history, donor management software helps create targeted email marketing campaigns to encourage online donations, in-person attendance at fundraisers, and more ways of giving.
With the right donor management software, NPOs can make it easy for any number of users or volunteers to take advantage of powerful donation tools. Analyze canvassing trends to identify areas of success and opportunity in fundraising. And with powerful communication tools like email campaigns, mail-merged letters, and financial contribution statements, staying in touch with donors is easier than ever before.
What to Look for in Donor Management Systems
| Feature | Description |
| --- | --- |
| Customizable Donor Profiles | Create any custom field of information you feel would be beneficial to track, such as contact information, gift sizes, date of last gift, campaigns contributed to, payment methods, recent communication efforts, and more. |
| Dashboard Views | Gain a complete overview of your data that will show ongoing trends on donation pages and allow for better decision making in future campaigns. |
| Prospect Research Integrations | Import prospect lists and turn it into internal data in your donor management program. This will help identify areas to target and prospects that need to be worked. |
| Matching Gift Searches | Cross-check a donor's place of employment to identify any employment gift matching opportunities. |
| Mailing Lists Management | Create a direct mail campaign or an email campaign by utilizing donor information which can encourage crowdfunding and peer-to-peer fundraising efforts. |
| Document Management | Share documents with your team regarding specific donations, contribution campaigns, or specific trends that may be noticed over time. |
| Online Fundraising | Link a donation page with your company website to accept pledges and donations online. Additional capabilities include allowing donors to register for fundraising events and send reminders about upcoming events. |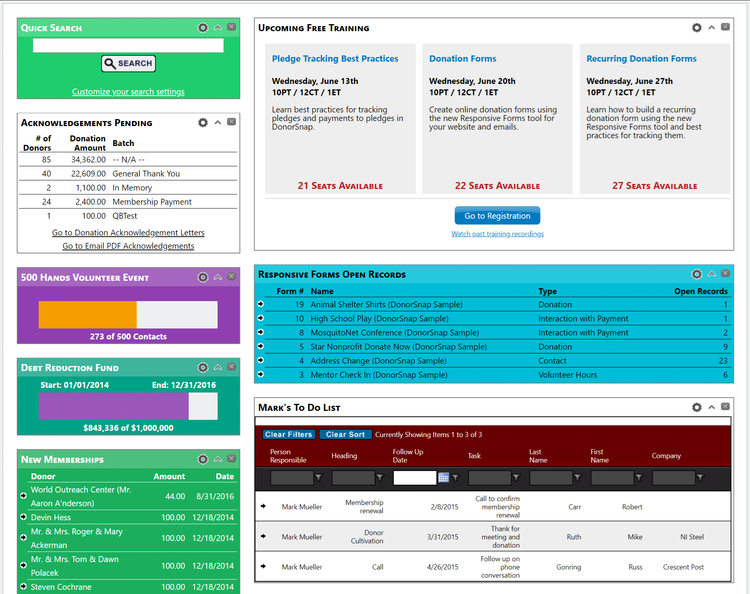 Key Donor Management Platform Benefits
Ever wonder how to keep track of donors? Need a way to contact your past volunteers? NPOs depend on affordable software solutions to manage, improve, and maintain all sorts of fundraising efforts.
Here are some key benefits donor management software offers its users:
Comprehensive contact management: Acting like a customer relationship management (CRM) solution, donor management software allows NPOs to manage all donor contact records to ensure information is complete and up to date. Data from a variety of different spreadsheet or database sources can be imported and combined by reporting tools, making it easy to remove or merge duplicate entries, search names and addresses, and more. Nonprofit CRM can also directly link individuals, highlighting their relationships and affiliations.
Better donor communication: Donor management software can turn your donor database into a full communications platform. Email integrations with popular solutions like Constant Contact send acknowledgement letters in batches, distribute contribution statements, and share online fundraising campaigns. Messaging capabilities also make it possible to import data from Excel, generate mailing labels, mail merge letters, and fix duplicate entries.
Improved donor analysis: Use complex logic queries to get the most out of any donor database. NPO software can identify metrics like donation history to improve outreach
Easy form creation: Whether it's to gather contact information, recruit volunteers, or solicit and receive donations, donor management software lets NPOs easily create responsive web forms from templates which can be shared through email and social media links.
Tracking, allocating, and managing volunteer work hours: Many NPOs depend on the generosity of volunteers to help carry out administrative and fundraising tasks. Donor management software helps volunteer workers perform their tasks.
Increased accuracy: Create a centralized hub for all donor-related activities. Any number of separate databases, spreadsheet, address books, and payment systems can be linked in one common system to track donors. Doing so can greatly improve accuracy and transparency throughout the donation process, reducing human error.
What Type of Software Fits Your Organization?
The best donor management software for your organization depends on the size of your NPO operation. While every NPO needs a set of tools to manage and track donations and donors, not every organization needs a larger, more comprehensive standalone solution:
Startup or small NPOs may want to consider donor management software which integrates with existing solutions that many small businesses use, such as QuickBooks.
Medium-sized NPOs with a fair number of volunteers and donors should consider solutions that make it easier to parse growing donor databases for better management of donation tracking.
Large or enterprise-level NPOs should embrace complete donor and volunteer management solutions to track large numbers of volunteers, donors, and events, coupled with cloud-based features to enable access and management on-the-go from your mobile device.
Many fundraising platforms have basic donor features, which could negate the need for a standalone donor management tool. However, if your nonprofit wants to record the long-time giving history of the donor base, encourage monthly donations, and use a more involved marketing plan for peer-to-peer fundraising, you're better off with a dedicated donor management system.
Does QuickBooks have Donor Management Tools?
QuickBooks software does not have a specific donor management tool included in its base package. Instead, QuickBooks recommends looking into more other systems, especially if you anticipate tracking each donor touchpoint and not just each donation.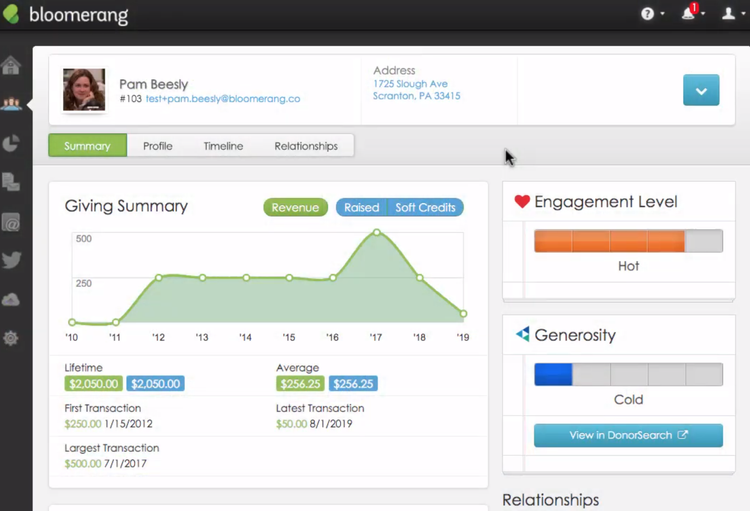 How Much Does Donor Management Software Cost?
One common issue for many NPOs is the cost of adopting new donor management software. As many nonprofits run on tight budgets, large investments in new solutions can prove to be costly and potentially unaffordable. Cloud-based solutions are becoming more affordable through subscription pricing.
It's no surprise most NPOs prefer low cost options. SaaS subscriptions are available for as little as $9 per month while others are $200 per user per month. Some charge annually to keep operational costs down throughout the year. The more users you have, whether they're employees, volunteers, or the donors themselves, the more expensive software will be.
Fortunately, there are several free options available. Some products are free-to-use for startups or smaller organizations while others have paid features for additional functionality. Actual costs may depend on the size of your organization or how much you receive in donations weekly, monthly, or annually.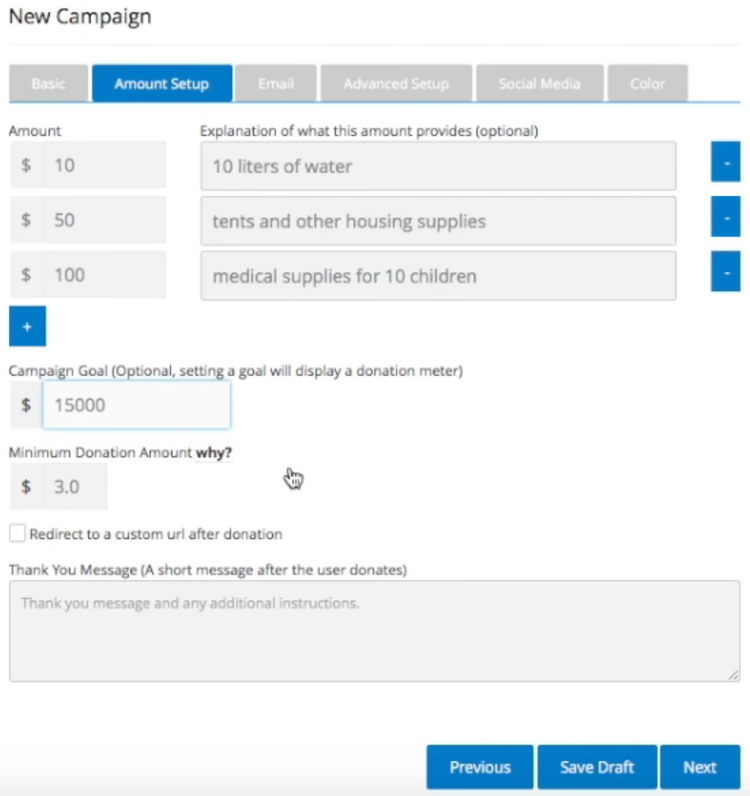 Current Donor Management Trends
While nonprofit organizations have a different purpose than for-profit businesses focused on returning value to their shareholders, that doesn't mean they're not responsible for managing complex and intricate financial scenarios. Nonprofit organizations must have the right tools in place to properly manage their financial matters, from grants to recurring gifts.
One of our surveys identified the latest market trends of donation management software: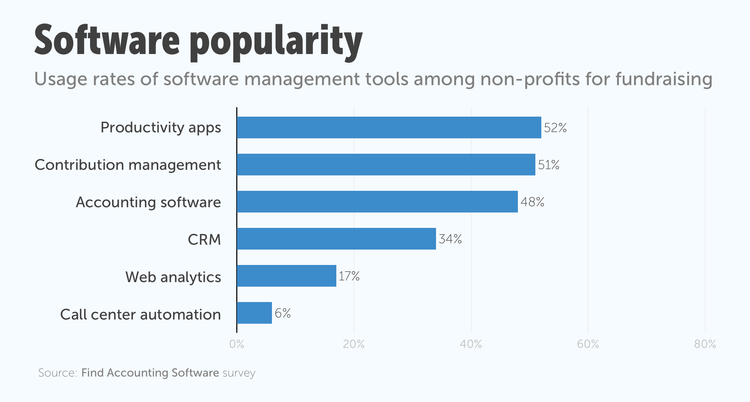 51% of nonprofits already use a donor/contribution management software: Fundraisers rely on three main types of software tools above others for managing their efforts: productivity apps, contribution management, and general accounting software.
Online fundraising: Raising money online has become a popular and convenient way of soliciting funds from donors. Fundraising software makes it easy to share social media links to campaigns for donations, process payments, and automate recurring gifts.
Cloud-based software: Many donor management software platforms are now being offered as a cloud-based software as a service (SaaS). Donor data stored with SaaS software, charged annually or monthly, can often be accessed anywhere, enabled through a web browser or a variety of desktop and mobile apps.
Mobile giving apps: Remote access now means apps are making it more convenient for donors to give from their phones. Dedicated apps available through the Apple or Android app stores can increase potential giving.