What Is Fundraising Software?
Fundraising software applications allow for tracking the acquisition of donor contributions and for facilitating related communication and data management tasks. A subtype of nonprofit software, fundraising platforms are a critical IT resource for nonprofit organizations which depend on the continued support of contributors to deliver resources and services.
How much more could your organization do if you could double the donations of each donor? What about tripling that amount? Utilizing software to improve your fundraising efforts can be the start of finding out what a difference your organization can really make. Important functionalities of fundraising software include the following:
Reduction of the workload associated with fundraising tasks via automation of repetitive tasks such as emailing donation solicitations and managing recurring payments and gifts
Increased per donor giving rates based on the coordination of optimal follow-up and audience targeted messaging
Improved rates of secondary contributions from donors based on increased ability to continue communication with contributors, even through peer-to-peer fundraising or crowdfunding campaigns
Start meeting your fundraising goals and increasing your outreach with all-in-one fundraising software.
Features of Fundraising Software
| Feature | Description |
| --- | --- |
| Donor database | Personalized donor profiles provide the ability to track contact and transactional/communication histories with donors and prospective donors, allowing for improved fundraising and better reporting |
| Membership tracking | Support member registration access to specified privileges, often as a result of one-time or subscription payment, auction bid, gift programs, or other form of donation |
| Credit card processing | Allow for donation payments via credit card or other cashless methods to increase fundraising totals |
| Contact management | Contact or constituent relationship management allows for information about contacts and communication/events histories related to contacts to be entered into a centralized management system |
| Events tracking | Support for event scheduling (such as calendaring and ticketing) can be important for nonprofits who drive fundraising through special event activities |
| Volunteer management | Volunteer management functionality provides database features to track individual time commitments , work history, qualifications, and other details about those helping your NPO |
| Email template management | The ability to create, store, and edit fundraising email templates can help refine the effectiveness of donor communication and create efficiencies by preventing individual fundraisers from having to craft custom messages from scratch in common situations |
| Online donation portal | Virtual fundraising and donation portals provide another access point for potential donors, providing a means of increasing fundraising revenues by tapping into new channels for fundraising |
| Matching contributions tracking | Corporate matching services offer another means of increasing per-donor giving rates |
| Campaign management | Organize campaigns from start to finish, anticipating results and using real-time data to measure milestones |
| Fundraising/campaign tracking | Gather data and report on analytics to identify which fundraising activities have yielded the best results, enabling refinement of ongoing fundraising efforts |
Best Fundraising Software Benefits
Software allows you to keep your efforts focused on the people you serve rather than the donors who give. At times, organizations make fundraising overly complicated, standing in the way of raising funds and serving your cause. Fundraising should be fun, simple, and managed efficiently. Through specialized software, this can be possible for the smallest NPOs to large nonprofits:
Simplify Your Fundraising Efforts
If an organization wants to know where they are with their giving and how much they owe, this should be a simple thing to report. With the right fundraising software, find out who is paying your organization, how much and when. Fundraising software can help nonprofits streamline important reporting capabilities in order to:
Track gifts, pledges, soft credits, matching gifts, in-kind donations, grants, corporate sponsorships, and memberships.
Create reports for your internal tax purposes as well as providing donor statements for donors' tax purposes as well.
Fundraising software can be used for after-the-fact reports and provide valuable information on past successes before your new fundraising efforts even begin. Some software can even help identify the key demographics of your donating community. Demographic insights allow you to predict probable donors so you can target your efforts accordingly. This can greatly improve the success of your fundraising campaigns.
Multiple standalone products are available for your nonprofit needs. Fundraising systems have accounting interfaces that can make it easy to transfer transactions directly to your accounting system.
Save Time and Money by Streamlining Your Processes
Running a nonprofit involves all the hassle of a for-profit business with razor-thin budget margins. Paying excessive platform fees for different software solutions can take away valuable resources from your advocacy work. The fundraising software you choose should pay for itself by increasing donations, freeing up time by increasing operational efficiency and improving donor satisfaction. With the right software, every letter, email, phone call, activity, donation, campaign, event registration, survey, volunteer, relationship, and more are tracked in one place.
Efficient nonprofit fundraising combines a realistic development plan with appropriate staffing and the financial and technical resources needed to achieve your plan. Fundraising applications let you control your entire fundraising process from goal setting to achievement. Donor focused fundraising strategies can be easy to implement and track with the right solution.
Go Virtual with Online Fundraising Software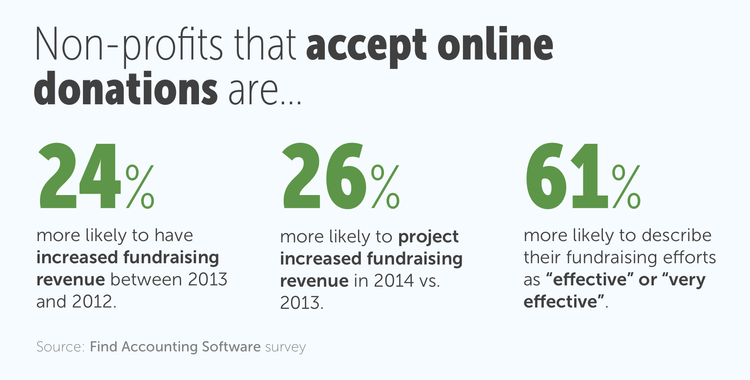 The Internet has truly transformed the way nonprofits operate. Event fundraising isn't enough when social media and communication tools allow anyone access to online donation pages. Whether it's connecting with constituents and building awareness for your cause or processing online donations, your organization has a large amount of online tools available to you.
Process donation and registration transactions via your website.
Set up programs for recurring gifts and credit/debit card payments.
Use online event management features for collaborative efforts between staff and volunteers.
Link your system with social networking tools.
Does your organization host fundraising events? Fundraising solutions can even include functionality designed to help organize and optimize the results from events such as galas, silent auctions, balls, tournaments, luncheons, conferences, and meetings.
Get comprehensive, template-based registration forms customizable to your events.
Automate emails generated for invitations, registration, donation acknowledgments, etc.
Solicit and manage volunteers (select locations, assignments and individual tasks)
Copy, clone and revise event details from year to year.
Report on all participants and sponsorship history across all events.
Compare with Donor Management Software
These types of software categories can be used interchangeably in conversation, but hold different meanings in practice. Fundraising software helps you acquire donations through communication and campaigns, while donor management software is more of an industry-specific CRM tool that can record necessary data about a donor (giving history, amount of gifts, personal details). In short, donor management software can also be referred to as a nonprofit CRM.
In comparison, the goal of fundraising software is to increase funds raised. The best fundraising tools will give donors access to a portal to fill out details and submit donations. They will also organize marketing campaigns and events intended to bring in donations from new and existing donors.
A specific donor management software can be thought of more as a customer relationship management (CRM) tool, intended to build and strengthen the relationship of members, volunteers, and donors. However, this is usually accomplished through organizing easy ways for donors to contribute online or in-person at events.
Due to the similarity between the solutions, fundraising software and donor management software can be thought of as providing the same capabilities. There are times where one may be more appropriate than another, depending on the exact nature of your nonprofit organization.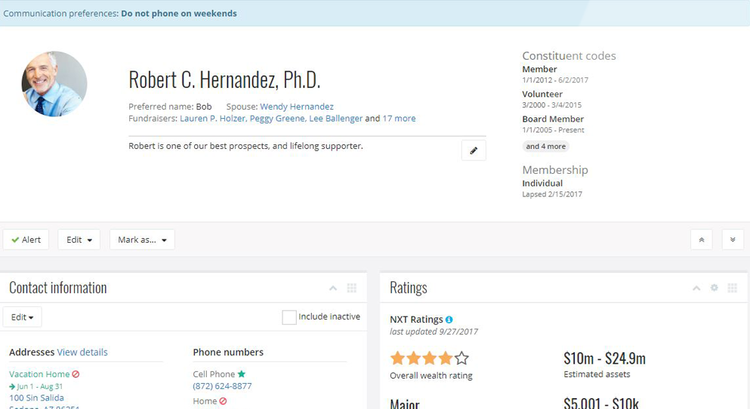 Is QuickBooks an Acceptable Fundraising Software Alternative?
All versions of QuickBooks (such as QuickBooks Online) can be used by nonprofits. QuickBooks markets itself as being a viable choice for your nonprofit accounting software needs, to provide commonly used functions such as fund accounting, donor management, and specialized reporting.
QuickBooks allows you to accept donations via credit/debit card, bank transfer, cash, or check. QuickBooks also has mobile applications available that would allow a user to process one of these transactions from their mobile device.
A potential downside of using QuickBooks Pro as a fundraising software is that it's not specifically developed as nonprofit accounting software. Because of this, donations need to be recorded as invoices made out to the donor's name and paid in full. You could record a pledge by opening up an invoice and setting a due date for it (the date you expect the pledge to be fulfilled). However, this may cause your accounting process to not be as straightforward as you like, leading you to look elsewhere for a solution that was developed with nonprofits in mind.
As QuickBooks is one of the most popular accounting software solutions, many fundraising software solutions offer integration with the platform as an add-on. Solutions such as DonorPerfect allow you to record fundraising and donation efforts in their software and send data back to QuickBooks to eliminate double data entry and give more of a complete audit trail.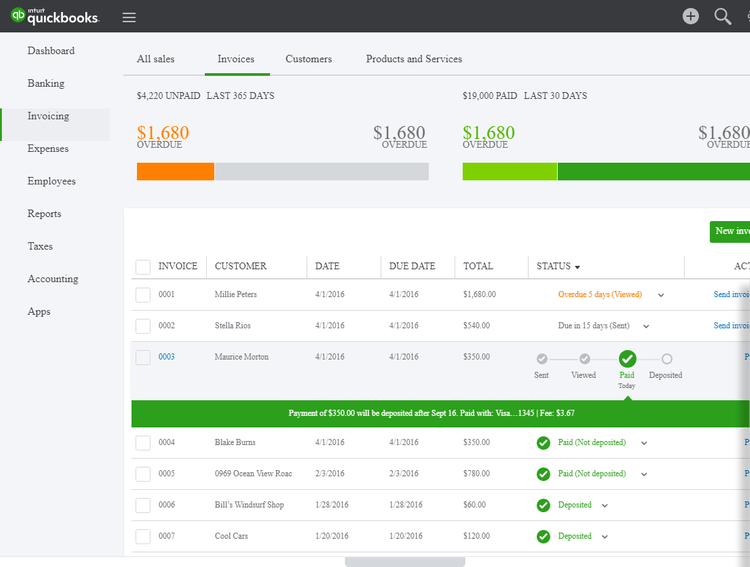 Pain Points Solved With Fundraising Software
Fundraising software solves many challenges your nonprofit faces, including:
Low Donor Engagement
Some fundraising campaigns will run year-round while others will run at certain times of the year. Nonprofits need to understand that all donors give for different reasons and give in different quantities at different intervals of the year. The best way to nurture this relationship is by contacting the donor when they are ready to hear from you. Being able to time your fundraising campaigns accurately will help save your organization time and effort trying to engage donors who are not ready to give. It will also not put any unneeded strain on the relationship to ensure that the relationship that you've developed with your donor will be one that lasts for years.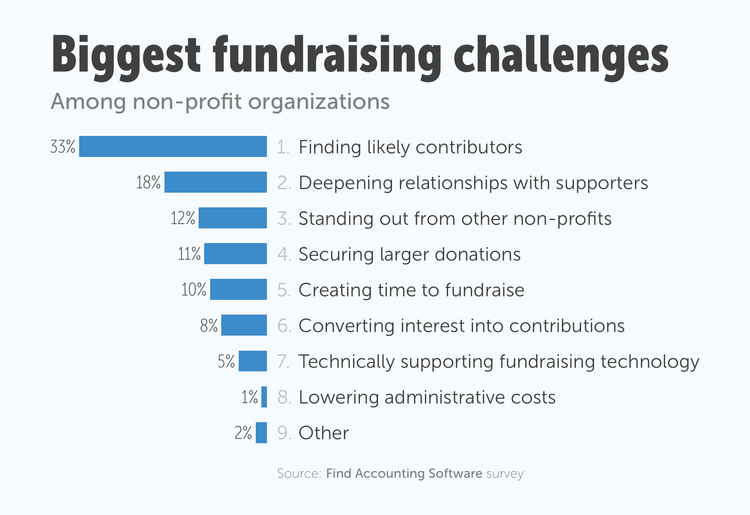 Retaining Donors
One of Blackbaud's more recent Charitable Giving Reports (from 2016) found that the average donor retention rate for first-year donors ranges from 21-29%, depending on the platform they used to give on. This means that for every 10 new donors your organization acquires via fundraising efforts, only 2 to 3 of them will return next year to continue giving. Fundraising software developers have been taking strides to help companies better nurture their relationships and to help retain donors.
Acquiring Necessary Technology
Our Fundraising Technology Trends Survey found that while 4 out of 5 fundraisers felt that technology leads to increased success, only 1 in 3 admitted to having the tools they needed to implement a path to that success.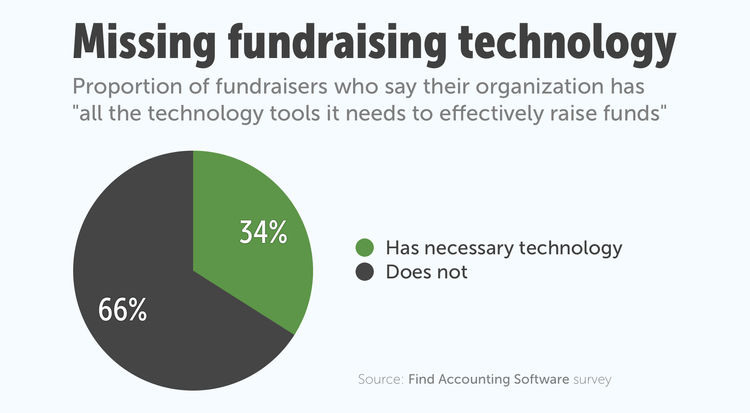 Market Trends of Fundraising Software
Some of the top trends in the world of fundraising software include:
Online Fundraising
The 2018 Charitable Giving Report from Blackbaud found that since 2016, online giving has grown 17%, with the average online gift rising as well. 24% of all online transactions were made with a mobile device. Fundraising software that provides an organization with the ability to have donors pay online and even via their mobile device should have a net positive on your charitable goals.
Monthly Giving Programs
While the donor retention rate for first-year donors may range from 21-29% (mentioned above), repeat donor retention rate is at 60-70%. Implementing a monthly giving program can increase this figure as high as 85-90%. Donors with limited income may find the ability to pay small amounts monthly as convenient and less of a strain on their budget as opposed to one lump sum at year-end. Fundraising software that can plan mailers or email reminders for monthly giving (or even automatic payment each month) will retain donors more often than companies who do not implement these practices.
Innovative Web Technology
In a discussion we had with 13 marketing experts, we observed how technology is improving fundraising. Some of the key takeaways were how experts are trying to reach new donors in new places (via social media), tell stories more vividly (through video), and make giving easier for contributors (through mobile giving).