What Is Nonprofit Software?
Nonprofit software consists of applications intended to help automate day to day administrative processes in a nonprofit setting, such as advocacy groups or charitable institutions. These all-in-one solutions include tasks such as accounting, donor management and fundraising, volunteer management, and membership management.
For NPOs, using an industry-specific solution to account for donors and donations, fundraising operations, gifts, membership and other sources of funding is crucial to staying organized. It also lets you keep track of any and all personnel involved with your organization, whether it be members, volunteers, donors, or your own employees.
Key Features of Nonprofit Software
Communication tools: Use email marketing, text messages, or traditional direct mail to perform nonprofit outreach.
Fundraising: Raise money, keep track of donations, connect with donors, and use automation to maximize outreach and marketing campaigns.
Campaign management : Execute highly targeted digital marketing plans. Enables the creation of custom campaigns to link together online donations and physical donations in a single system.
Campaign reporting: Put together custom reports to account for donations, grants, pledges and other sources of funding. Includes data-driven analysis to measure fundraising performance, donor retention, and historical fundraising campaign success.
Donation management: Tracks donations and pledges made by donors through fundraising campaigns. Anticipate inbound donations; process recurring donations with ACH or credit card payments; organize corporate donations, matched gifts, and any other source of contributions.
Contact and donor management: Keep records on past donors to streamline communication and potentially increase retention rates.
Event planning: Organize and host charitable events, such as in-person fundraisers or awareness campaigns.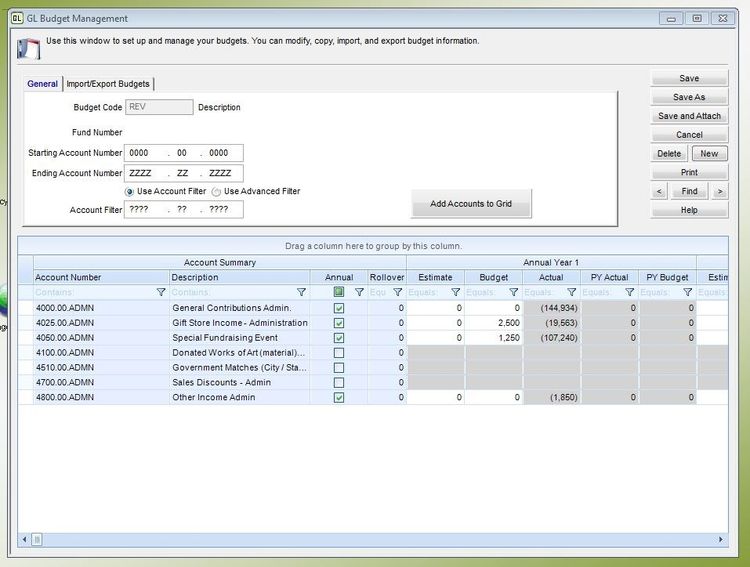 Additional Capabilities of Fundraising Software
Donor database
Membership and subscription management
Direct mail and email marketing campaign coordination
Contributions management demographic analytics
Pledge and grant management
Support for recurring giving
Matching gift/donation management
Peer-to-peer fundraising tools
Fundraising event management
Donation forms and templates
Best Nonprofit Software Pricing Options
Nonprofit organizations are always trying to reduce or eliminate as many traditional business expenses as possible in order to spend more of their limited funds on the mission itself. As a result, it's no surprise most NPOs prefer free software options.
Realistically, you'll be hard pressed to find a free nonprofit software solution capable of proper donation tracking or membership/volunteer management without downsides. Most "free" options are just trials or basic versions of paid options, meant to bring customers in. However, a combination of these tools could let a nonprofit decide which are worth their paid counterparts. Fortunately, many solutions are relatively inexpensive, depending on exactly what features your organization requires.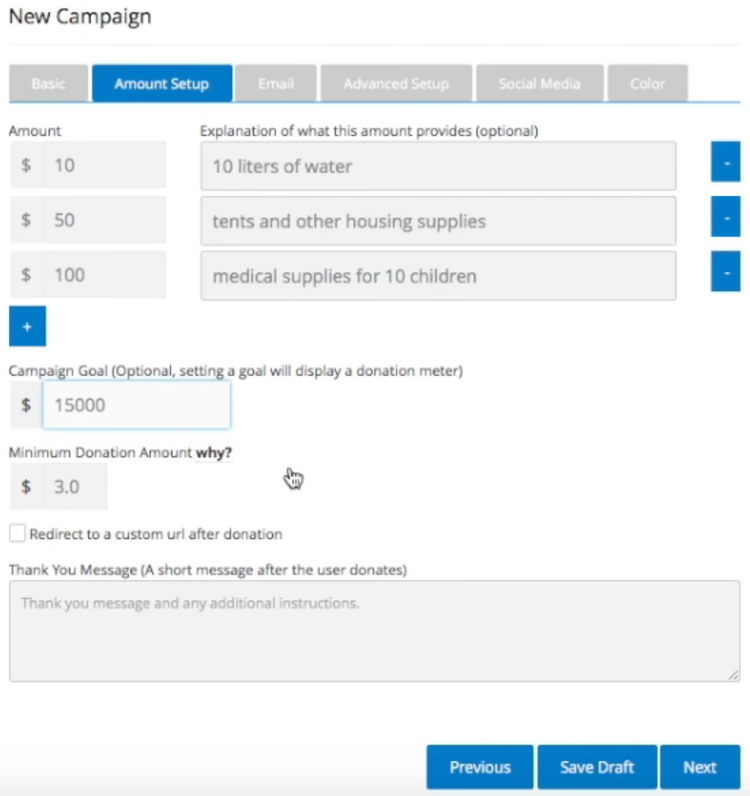 There are many other software solutions designed to assist nonprofit organizations. Some include:
Nonprofit Accounting Software
Accounting software used in a nonprofit primarily manages the funds and grants received by tracking how much money has been donated or spent. It can also be used to better allocate donations received from fundraising campaigns.
Most nonprofit accounting software is created with the purpose of being easy to use, as many nonprofits may not have a full-time accounting department on hand. Most don't have the time or the luxury to be trained in a very complex system, instead using Excel or similar programs for manually tracking money. Fund accounting software options exist with the purpose of furthering your organization's mission by properly using available funds.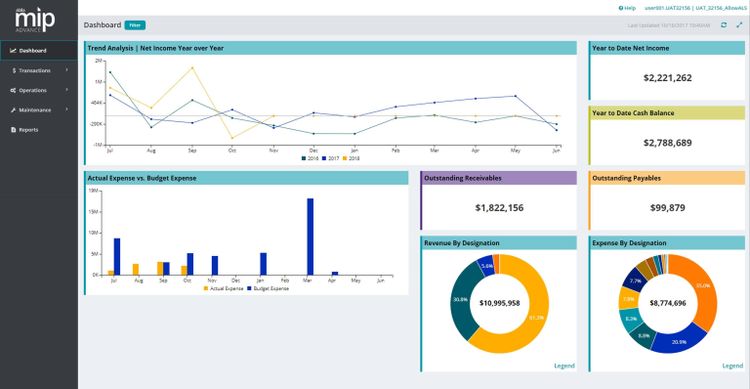 Nonprofit Donation and Fundraising Software
Fundraising software tracks the acquisition of donor contributions, manages donor relationships, and can be used for facilitating related communication and data management tasks. The goal is to maximize outreach through online marketing trends or in-person charitable events to increase funding as much as possible with minimal expenses.
Donation management software is similar, in that it tracks monetary and other gifts from donors. However, it also processes recurring donations made through bank accounts or credit card payments.
Nonprofit Fundraising Technology Trends
Technology has revolutionized nonprofit operations in a variety of ways. For starters, communication tools and customizable email templates allow nonprofits to reach out to more donors than ever before in an instant. And online donation pages allow donors to set recurring donations whenever they want, instead of waiting for annual pledge drives or in-person fundraising events.
In 2014, our Fundraising Technology Trends Survey found 4 in 5 nonprofits know technology is the key to success yet only 1 in 3 had the tools needed to be effective. Today, Gen Z makes up over a quarter of the population and now accounts for 40% of all consumers. This generation prefers to consume online activity almost exclusively on mobile devices. Grabbing their attention will require engaging content through the social media channels they are already using, such as Instagram. Your organization should also ensure you have an appropriate mobile platform for crowdfunding donations.
Nonprofit Volunteer, Member, and Donor Databases
Anything that helps your organization stay organized when it comes to people-to-people relationships will fall under a nonprofit database and membership software. One could think of these solutions as being nonprofit CRMs since nonprofits are primarily looking to track metrics on 3 distinct types of people:
Donors
Members
Volunteers
Donor profiles will need to be tracked in a database to analyze which campaigns they give to, manage communications between them and the organization, and provide the appropriate tax forms to them at year end.
Member databases act as a way to grow your membership programs. Similar to how memberships are managed in a professional association, membership databases provide constituent relationship management and track member information, communication efforts with members, help keep members engaged, and give members access to their account. Fees can be managed in a straight-forward manner and members can sign up for in-demand volunteer spots or help organize fundraising campaigns.
Volunteer databases should store information such as contact info, release forms, hours worked, availability, and past experiences. The goal of storing all this needed information will be to provide real-time reports to see which individuals are having the most level of success, or perhaps look at which events have drawn the most interest from volunteers, donors, or members.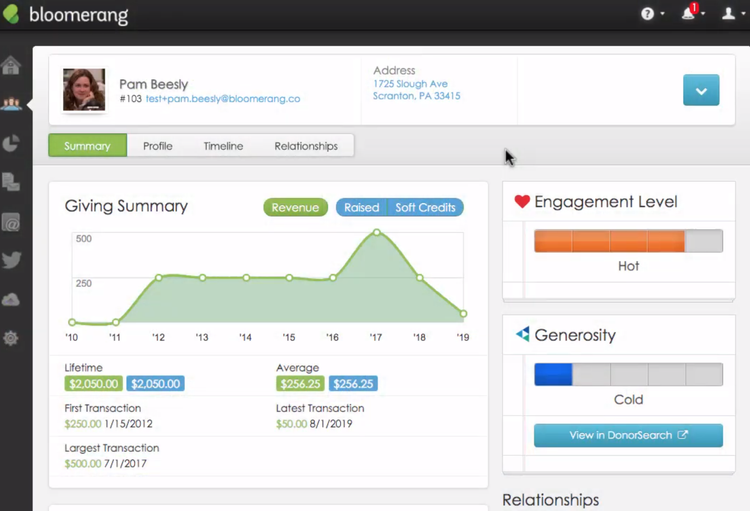 Online and Cloud-based Nonprofit Software
A recent survey of nonprofit organizations in the market for software found the following bits of information pertaining to deployment preferences:
21 percent of buyers are seeking better features, including mobile and online fundraising capabilities such as crowdfunding. Modern nonprofit accounting software can help build custom fundraising campaigns similar to ecommerce sites that can account for all online giving by managing digital and mobile donations, which can't be easily integrated with many legacy systems.
23 percent of NPOs would like to move to a cloud-based software solution. Cloud software enables organizations to keep all of their online and accessible through any web browser while reducing costs. Because cloud solutions are offered on a subscription basis, the software allows for lower upfront pricing and a predictable ongoing cost structure that enables better long-term budgeting.