What Is Document Management Software?
Document management software (DMS) helps organizations digitally receive, maintain, and archive their files, documents, and data. Among many other uses, document management systems allow organizations to customize templates and generate new documents; put metatags on documents for easy indexing, search and retrieval; add security and access features for certain documents, individuals and teams; and share documents internally and externally.
Documents and data can be stored through local servers or through servers provided by the software. And then users can import and export data in a variety of ways. They can move files from one digital space to another. Or they can scan in paper documents to be translated into readable, searchable, digital text. Users can also download their digital data to print out or digitally store locally in order to work with documents outside of the document management software.
Users can access documents at any time, from anywhere, with cloud-based document management software. All the information is secure and backed up by the document management software, along with an additional back-up server in case of emergencies. So all users can just focus on their responsibilities instead of time-consuming and error-prone administrative work.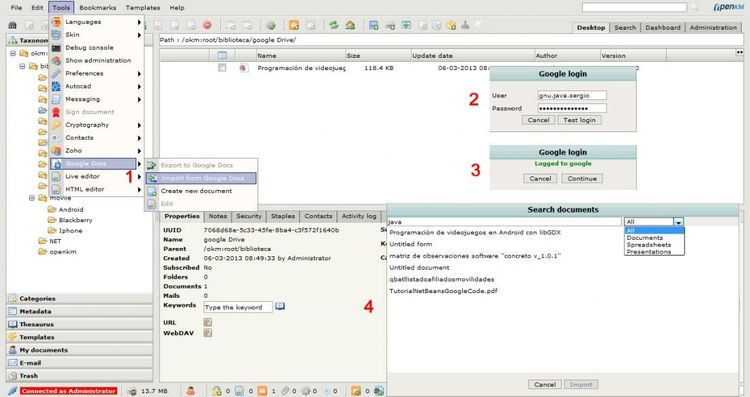 Features of Document Management Software
File Storage: Use internal or third-party servers to store documents, files, and other data. Many software include disaster storage, as well, with back-ups on multiple servers in multiple locations.
File Sharing: Pull together multiple different document systems into one comprehensive resource by bringing together files, images, forms, spreadsheets, video, audio, and other document types. Find and combine assets from different teams and departments to create final documents. Allow customizable access for different users and teams. And create easy ways to pass documents from one user to another.
Indexing: Classify documents through metatags for easy organization and search. Tag documents by keywords, users, clients, dates, document codes, and more.
Version Control: Save, restore, and view multiple versions of the same document. This is also known as "versioning." Compare versions side-by-side or reference who made what changes to which version and when.
Check-In/Check-Out: Make users check-in to modify a document and check-out when they are finished. Users can view who has worked on the document in the past and who is currently working on it, if anyone. This reduces multiple users working on the same document at once and creating redundant work.
Security: Secure documents by deciding who can view and/or modify documents. Require passwords and customize the necessary password complexity. Add two-factor authentication or security questions. Only allow documents to be accessed during certain time periods. And/or only allow certain IP addresses to access certain documents.
Full-Text Search: Allow users to search for documents by subjects, keywords, other users, clients, date, and other customizable factors.
OCR: Use Optical Character Recognition (OCR) to transfer any kind of document/text into machine-encoded text. OCR also lets users search for keywords on documents simply scanned and saved into the system. And OCR can automatically pull relevant data off of one document and insert it into the appropriate areas of another. This speeds up and automates things like quotes, invoices, human resources forms, and contracts.
Governance: Assign automated actions tied to files, teams, or dates. Have files auto-delete after some time, move to a certain user, or get sent to the archive, among other actions. Allow documents to be edited only during certain time frames.
eSignatures: Allow electronic signatures on documents by authorized users. This can be used by both internal staff and external clients.
Audit Trail: View a complete history of each document. See which users viewed, shared, and/or revised each document. See what kinds of actions were made, at what times, on which dates.
Workflow: Automate the movement of documents through a pre-built workflow. Once a user completes their action on a document, the document will move on to the next user to approve, share, archive, or more.
Downloads and Physical Storage: The files, documents, and data uploaded onto the document management software belongs to the users, so approved users will be able to download their information onto a local drive. This helps organizations create necessary back-up files locally and lets users work on documents offline.
Data Validation: Create rules for different types of documents, and have the document management system check for errors, missing content, and inconsistencies, like missing signatures, misspelled names, or formatting issues. It will flag the issues and help you correct them.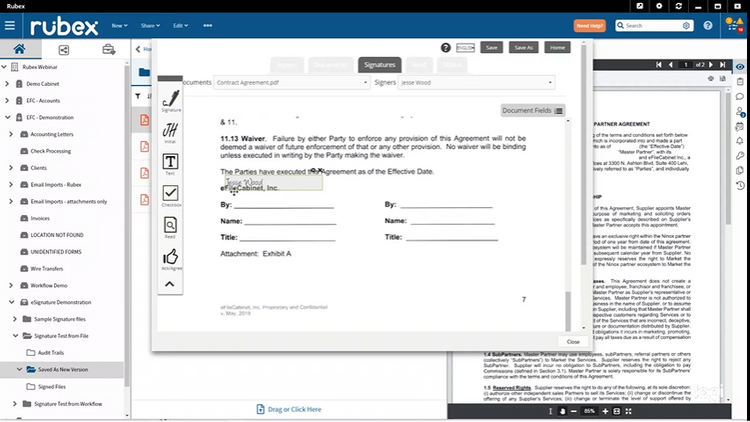 Benefits of Document Management Software
Document management software saves time and space. Without the need to find physical files, users can focus on the main priorities in their work; and clutter is decreased while usable space is increased. DMS helps organizations retrieve and share documents almost instantly with easy search tools. That leads to both more satisfied customers and less frustrated users.
Document management systems aid collaboration by inviting multiple people to work on the same document at once or within a system, without having to be in the same room together. And users can leave feedback directly on documents, instead of users having to cross-reference between something like an email and the document.
Document management software has similarities with an enterprise content management software (ECM). Both DMS and ECM are important information technology tools, as they organize, secure, and store data. They help organizations go paperless and aid the productivity of their workforces. DMS, though, is more of a "file cabinet," whereas ECM is more of a "digital assistant." Document management software is more focused on organizing, retrieving, sharing, and storing documents throughout their life cycles. While enterprise content management software uses and combines those documents with other applications, guiding content through pre-determined business and application processes.
File sharing and collaboration are more efficient with document management software. Teams can assign workflows and hierarchies to documents so that when one person completes their work, it automatically gets sent on to the next person to work on or for approval. That person will get a notification of the document, which eases communication. And then if a question comes up or a revision needs to be made, the document can be sent back down the line, with the notes on the document, for the previous person to address.
Administrators can assign checklists to documents, to guide users through their work, remind them of deadlines, and ensure documents are created in consistent and approved manners. Administrators can decide, also, if just one person can work on a document at a time or if teams can work on a document at once. Working one person at a time aids in workflow and accountability. While shared access to documents promotes communication, innovation, and teamwork.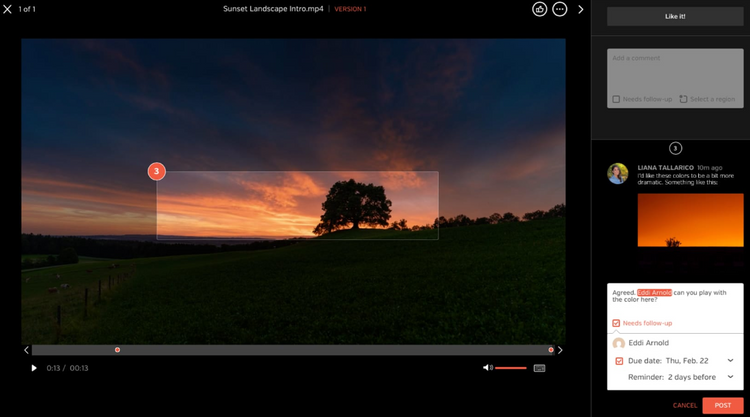 Security And Access
Document management software makes sure to stay compliant with General Data Protection Regulation (GDPR), which helps secure documents, maintain audit trails, retain appropriate data, and more. DMS use powerful encryptions, password protections, two-factor authorizations, and other tools to make sure data can only be accessed by the appropriate people at the appropriate times.
Document management systems allow administrators to manage documents and access internally, as well as externally. Administors can assign user email addresses or user ID's to documents, which only allow those people to access the documents. They can also assign who can edit a document, who can view it, and who can share it. And documents will store who accessed and/or changed a document, which raises accountability and makes audits simpler.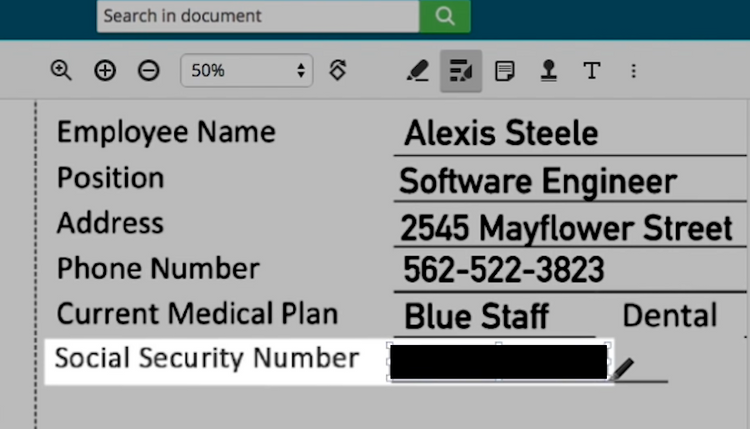 Transfer Paper Documents Into Digital Ones
Most document management solutions have ways to convert paper documents into digital, searchable, editable, machine-encoded text. Simple imaging just creates a digital image of a document. What you scan is what is stored. But that does not help organizations go totally paperless.
To help go paperless, many document management software have OCR that allows you to scan in documents to convert handwritten, typewritten, or printed text into machine-encoded text. OCR will also scan non-machine encoded digital files (like certain PDF and other electronic file types) and turn that into machine-encoded text. Once in the system, you can search, copy-paste, and/or edit that document. You can also set up your software to import specific data from the document. Track the original as version one and then each edited version going forward.
For instance, a bank teller gathers all of the paperwork for a transaction, (checks, deposit ticket, etc) and scans those through a scanner. The scanner reads the information on the check and fills certain fields in the software. This allows them to easily total the checks in the deposit but also keeps an image of the transaction in the event of discrepancies. After being verified by another department, those checks are destroyed. The customer is able to access those transactions through their online banking system.
Integration With ERP
Many software companies specialize in creating document management systems but do not have the expertise to create financial management or ERP software. However, they do have the ability to integrate their document management system with your current system. This allows you to purchase a solution that was specifically designed by experts in document management but still allows you to access and store documents easily alongside and integrated with your ERP system.
Host Data Locally or on The Cloud
Document management systems require a large amount of digital space to store all of the documents. In addition to wanting their electronic documents, files, templates, and other assets available for use, many organizations are required to adhere to stringent archiving regulations. This can be done with a company's internal storage. Or it can be done by using the storage space hosted by the document management software, also known as "cloud storage."
With a locally installed solution, you are purchasing the software outright and hosting it on-premise. This will give you access to the software at all times, whether online off offline; and your data can be housed on-site. But you will have to store the data on your own, or you will have to contract your data storage to a third-party vendor. Installations also require large up-front costs, while many cloud-based DMS charge on a monthly or yearly subscription.
On the other hand, having the software and storage hosted through the cloud reduces local storage and maintenance. And having a subscription allows for quick changes to access to features and services, as opposed to having updates done manually on the locally-installed software. This also allows users to operate on and change their own devices and computers, whether Microsoft, Mac, or otherwise. On a locally-installed software, all users would need to use the predetermined operating system.
Mobile Access
Cloud-based document management software allows users to access documents from outside the office, whether in home offices or on smartphones and other mobile devices, with a simple log-in and/or mobile app. And from outside the office, users can request documents, upload files, get notifications, and more. Document management software helps users conduct business from all necessary and available locations.
What Kind of Business Are You?
Every business will be using more and more digital documents, files, data, and assets moving forward. Even if a business wants to keep everything physical, it can't rely on their vendors, clients, or other third-parties feeling the same way. So whether a business is just starting out or a multinational corporation, easy access to documents, as well as efficient communication and document sharinginternally and externallywill be critical to success.
Small Business
With limited time and resources, small businesses can use document management software to focus resources on productive, revenue-generating work instead of administrative tasks. It also saves space by not needing physical file cabinets and having the document management software store the business' documents for them. And flexible pricing structures lets businesses add and subtract features and users as they grow.
Mid-Sized Business
With larger organizations, redundant work can become a problem. So instead of two different users working on the same document at once, use the check-in and check-out feature to make sure everyone can see who is working on a particular document at a certain time. In addition, document management software will log who worked on what, at what time, and what they did. That will help with audit logging, as well, for internal use and third-party access.
Enterprise
Enterprise organizations send and receive an incredible amount of data every day, and they need a way to automate the organization of that data. Companies can organize data by team, location, client, department, keywords, and much more. And when necessary documents are not immediately available, requesting, sending, and granting access to documents is simple.
You can assign workflows and rules to documents, to have them automatically move through your organization in a pre-determined and consistent manner. And no matter how many personnel or locations an organization acquires, document management software gives the same access to all users from a single, centralized system.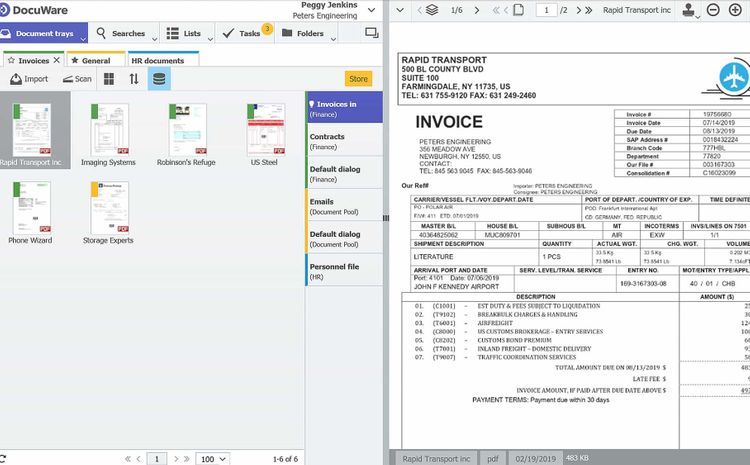 Industries Served
Document management solutions are necessary for just about any organization. With so many electronic documents being shared within various internal teams and with clients and vendors, organizations need a system to store and retrieve that information. And with proper organization, users can find what they need easily and instantly, instead of physically storing files and having staff members track down, scan, transcribe, fax, email, and re-file documents.
And different industries come with different rules, regulations, and compliance around document creation and retention. The best document management software are constantly updating their compliances to make sure organizations are following the rules without any extra effort.
Construction
Construction firms can track contracts, change orders, draw requests, and other project-specific information that helps construction projects follow their critical path method (CPM) schedules. They can also grant specific, limited access to documents to vendors, contractors, designers and other third parties. And with multiple building sites and teams to manage, it helps to have all documents available from any location, within a single, centralized system.
Healthcare
Healthcare organizations can track medical records through HIPAA-compliant document management systems. These document management solutions help improve patient care, as documents are easier to share, and doctors get real-time access to the most up-to-date information.
It also helps healthcare organizations by capturing patient, health, insurance, and payment information at the very beginning. All of that information is stored, added to, and updated through subsequent patient visits.
Law Firms
Legal teams can save custom templates for things like summons, complaints, sets of discovery, and contracts. And firms can look back at successful or unsuccessful documents to add and remove language, precedents, strategies, and more to most effectively close their matters. And if any changes prove worse than the original, teams can easily retrieve more successful, past versions.
Government And Education
Document management software is necessary and useful for the public sector, education, and nonprofits. Government organizations, from small municipalities to federal agencies, need access to things like social security numbers, business licenses, tax statutes, and plenty more. And they need to securely and efficiently store and retrieve that data for extremely long periods of time. Going paperless keeps files from being misplaced, lets users retrieve some data/documents for themselves (for example, a basic W4), and secures them with encryptions.
In education, document management systems help with both administrative and education tasks. Schools can store things like transcripts, student information/records, the minutes for school board meetings, and teachers' salaries. But teachers can also use the software to store assets and templates for their lessons plans. Teachers can adjust and compare different versions of tests, projects, and schedules from one year to the next. And students can upload documents onto these systems, so teachers can access and store them.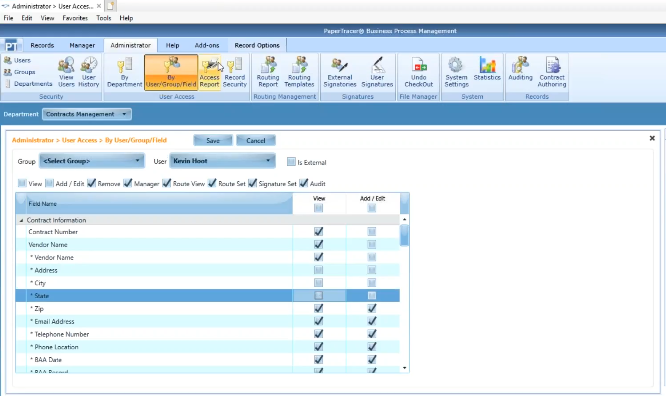 Document Management Software Pricing
Document management software is priced in a few different ways. You can pay on a subscription basis, with single, flat fees per month. Or you can pay a flat fee per user per month. You can also pay for the service as a one-time licensing fee, and that fee can cover an individual user or an entire organization. And the prices of most services rise as the number of users, amount of storage, and types of features also rise.
Flat monthly rates for document management software start at $12/month and can get up to $79/month or higher. And monthly rates per user start at $4/month/user and can rise to $15/month/user or higher. As for licensing fees, Optix by Mindwrap, for instance, charges a one-time fee of $5000.
And many document management systems will customize their pricing, giving you a quote for the number of users, features, and storage needed.