What Is Legal Document Management Software?
Legal Document Management Software (Legal DMS) combines case management with document management. Legal document management systems help legal practices generate, search, edit, and archive documents and data of all kinds.
Legal DMS help organizations store and share documents internally, but they can also be accessed by outside parties. Users can add the email addresses of clients, vendors, opposing counsel, and more, granting them access to certain documents or certain parts of certain documents. Legal document management solutions also include portals for guests to upload documents to the organization's system. Those documents will be tagged by the entity that sent them, the dates they were sent, etc.
Many legal document management systems will also help organizations create documents. Users can create and edit templates, generate invoices, pull from vast libraries of public forms, and more. Moving forward, all legal practices—from small law practices to international law firms to corporate legal departments—will need fast, easy, and robust legal documents management systems to succeed.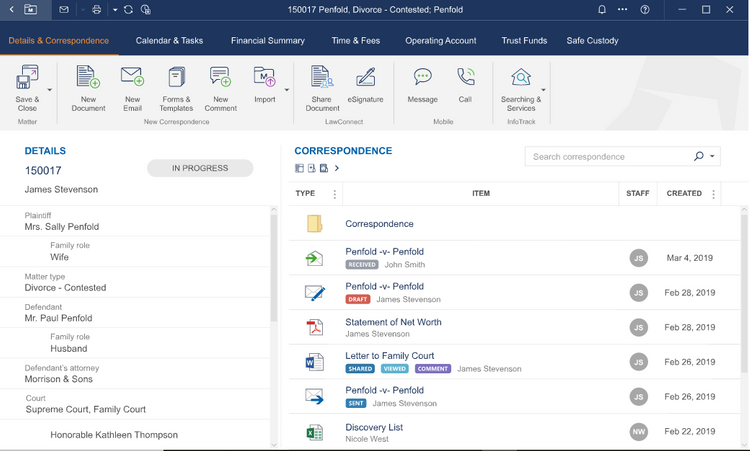 Legal Document Management Software Features
File Storage: Use internal or third-party servers to store documents, files, and other data. Many software include disaster storage, as well, with back-ups on multiple servers in multiple locations. Most legal document management software offer storage as a part of their services.
Advanced Search Tools: Allow users to search for documents by subjects, keywords, other users, clients, date, and other customizable factors. Easily find emails, contracts, discovery, precedents, court forms, and much more.
Metadata and Indexing: Classify documents through metatags for easy organization and search. Tag documents by keywords, users, clients, dates, document codes, and more. These tools can also be used to auto-tag incoming documents and emails.
Imaging and Optical Character Recognition (OCR): Scan in documents with imaging technology to store digitally. And use OCR technology to turn printed or handwritten documents into machine-encoded text documents. This way, handwritten and other documents can be more easily read, searched, copy-and-pasted, and edited. And OCR can automatically pull relevant data off of one document and insert it into the appropriate regions of another. This automates things like quotes, invoices, human resources forms, and contracts.
Version Control: Save, restore, and view multiple versions of the same document. This is also known as "versioning." Compare versions side-by-side or reference who made what changes to which version and when.
Governance: Assign automated actions tied to files, teams, or dates. Have files auto-delete after some time, move to a certain user, or get sent to archive, among other actions. Allow documents to be edited only during certain time frames.
Security and Access Control: Secure documents by deciding who can view and/or modify documents. Require passwords and customize the necessary password complexity. Add two-factor authentication or security questions. Only allow documents to be accessed during certain time periods. And/or only allow certain IP addresses to access certain documents.
Audit Trails: View a complete history of each document. See which users viewed, shared, and/or revised each document. See what kinds of actions were made, at what times, on which dates.
Automated Court Forms Library: Many legal document management software will host a library of court forms and other public legal documents. Search by state, subject
eSignatures: Allow electronic signatures on documents by authorized users. This can be used by both internal staff and external clients.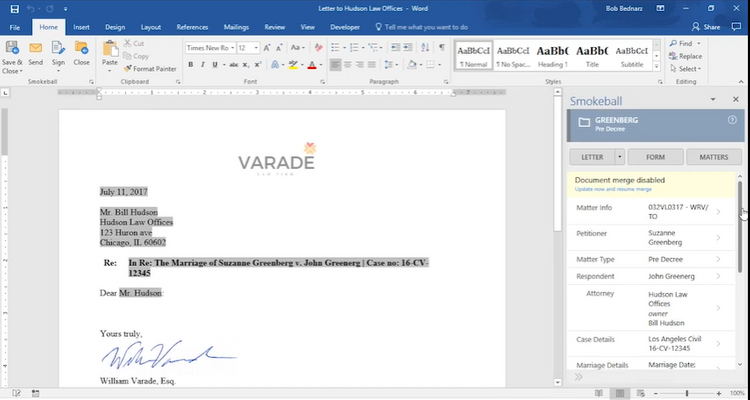 Benefits of Legal Document Management Software
Legal DMS helps law firms keep matters up-to-date and with all of the necessary information close by. Legal practices can create specific templates and workflows for attorneys, paralegals, and other staff to follow for certain types of cases and matters. Those workflows and templates can be revise and adapted from case to case, making improvements when possible. And if a change does not lead to improvement, legal DMS save previous versions of documents and workflows, leading to easily picking up where you had left off.
Another great benefit of a centralized document management system is creating continuity and consistency within an organization. Documents, workflows, approvals, revisions, invoicing, and archiving can be customized to most firms' needs. And keeping documents ready and available, where they are expected to be, saves time, increases efficiency, and improves customer satisfaction.
Increase Efficiency
Check-in and check-out tools, versioning systems, and audit histories help law firms avoid redundant work and correct mistakes. Legal DMS can put check-in and check-out tools on particular documents. That way, everyone can see who is working on a document at a particular time, and it avoids having two people
Attach to-do lists, workflows, and task managers to documents to help them move along customizable paths throughout an organization. Once a task is completed, the document will move along to the next person and/or task. If the document needs approval or edits, that document—along with the edits—will be sent back down the line. As approvals and tasks get completed, documents will automatically move along their life cycles. Each unique version of each document can be saved for side-by-side comparisons, training purposes, and general reference.
And as a document moves from one user to another, the new user will get a notification that it has arrived. This saves reduces communication errors, and it keeps the document in the same, centralized location for easy retrieval.
Convert Hard Copy Paper to Digital Documents
Many documents and files do come fully searchable, copy-and-paste-able, and editable (this is also known as "machine-encoded text"). Many documents, though, are simply uploaded as images of handwritten documents or copies of PDF files. Simple imaging like that just creates an electronic version of a document. Taking those images and turning them into machine-encoded text not only makes those documents more searchable and useful, but it also helps organizations go paperless. To do that, you need Optical Character Recognition (OCR).
OCR can scan non-machine encoded digital files (like PDFs, scanned-in documents, and other electronic file types) and turn their content into machine-encoded text. Once in the system, you can search, copy-paste, and/or edit those documents. You can also set up your software to only import specific data from the document, which helps save storage space and digital clutter. Log the original file as version one for future reference, and then you can make changes to that document, logging each edit as a new version.
Templates and File Generation
Not only does legal document management software help store documents, but it also helps create them. Create templates for certain documents, contracts, complaints, invoices, budgets or whatever else; and have the document management software auto-populate relevant regions like client information, case numbers, billing numbers, and more.
Attorneys can save different versions of similar complaints and compare them to one another. If one version is more successful than the other, they can continue using the strategies, precedents, and language from one complaint to the next. Simply save the template and populate the appropriate fields as each case file comes in.
Access Control
Sharing information is important, but so is data security. Administrators can decide who can view a document, who can share a document, who can edit the document, and more. Administrators can add even more security, with things like password protecting documents, redacting information, and putting time frames on when documents can be accessed.
The same access controls for internal use can be used for external use. Many legal document management software have portals for guest users, as well. Let clients upload documents to your system, and send out unique links for clients to view access-controlled document folders.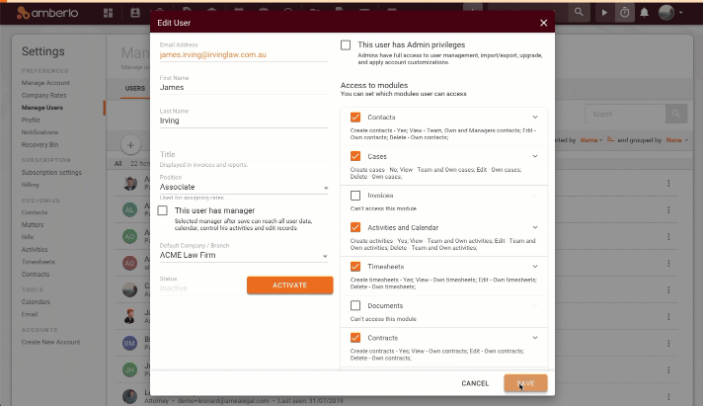 Mobile Access
With cloud-based legal document management software, users can access, upload, and edit documents from wherever they are, at any time. This helps users in the field, whether that's visiting a client or in court. And communication tools within legal document management systems let users ask for documents, instead of searching for themselves. Spend more time on the actual work, and then receive a notification when the relevant document is sent to you.
Pricing for Legal Document Management Software
Legal document management software is priced in a variety of ways, with flexibility for legal practices of all sizes. Some legal DMS charge by one-time licensing fees, monthly subscriptions, monthly subscriptions per users, storage size fees, and more.
And many legal document management software are included with case management software and practice management software. Or the legal document management software can be added on to those software, at additional costs.
Legal document management software can start at $15/month/user and go up to $250/month and higher. There are some free legal document management software, with limited users, storage space, and/or features.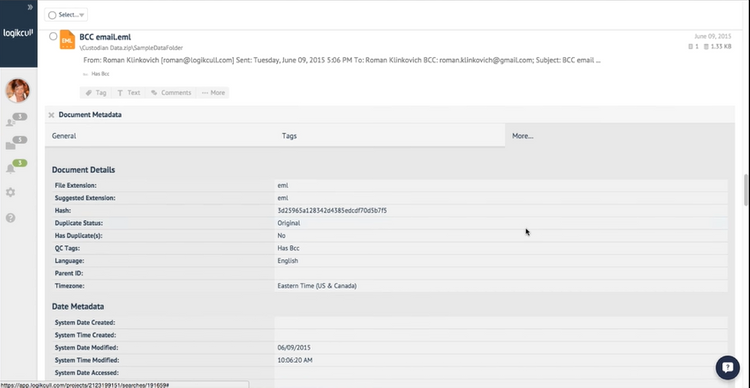 Legal Document Management Integrations
Many legal document management systems integrate well with legal practice management software and case management software, as well as other apps and tools. Legal DMS will read emails and automatically give them metatags based on the case mentioned, client names, and more. That will help users search for and retrieve that email in the future. Legal DMS will also integrate with scheduling software, accounting software, billing software, appointment scheduling software, and more.
Case Management Software
Legal case management software helps legal professionals manage schedules, billable hours, documents, invoices, and other matter-related assets throughout a case. So many case management systems come with built-in document management software. But most legal document management software integrate with case management software and legal practice management software, so if a case management or practice management system doesn't have the document management features you need, you can always add another service to fill those gaps, as opposed to purchasing and retraining on a completely new software.
Legal Accounting and Billing Software
Many legal DMS integrate with legal accounting and legal billing software, making things like audits and invoicing simpler for both users and clients. Legal DMS have check-in and check-out tools, letting attorneys know how long they worked on a particular document; and that information will be stored on the document for future reference.
Linking legal DMS and legal accounting software can make things like invoicing simpler. Create templates for different types of invoices, and have the accounting software auto-populate names, dates, numbers, and other information.
Email
Legal document management systems integrate with existing email services to better manage file sharing and communications. Assign email addresses to certain cases or clients, and . Legal DMS can also use technology to scan a document once it's been uploaded, and assign it metatags based on case numbers, clients, key words, and more.