What is Employee Scheduling Software?
Employee scheduling software is a program that automates the creation of work schedules for hourly employees. Employee scheduling software ensures all shifts are covered to meet the demand of your business. Many systems can also keep track of labor costs in real-time to ensure you're not going over your budget, lets employees clock in and out, and post schedules online for employees to easily view.
Employee scheduling software is designed to reduce time spent creating schedules via manual methods, which will free up your time for other business activities. It will optimize schedules so the most productive employees are working during peak times. It can also save your organization money by ensuring all needed times are covered without putting any staff into overtime.
Many of the best employee scheduling software options will improve your human resources and payroll process by providing timesheets, as well as tracking vacation and sick time.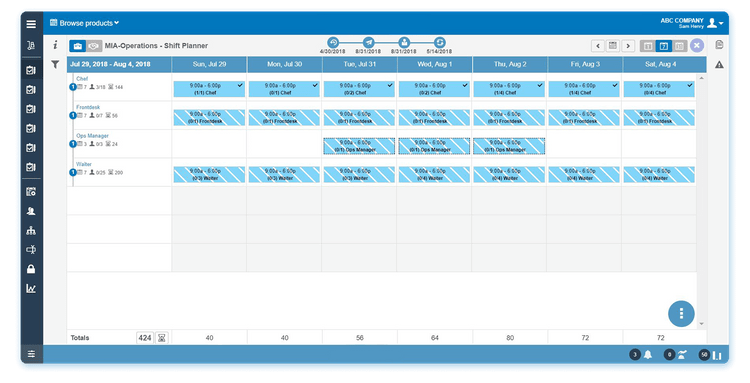 Features of Employee Scheduling Software
Scheduling: Build optimized and compliant employee schedules that fit with your employee's availability. Align shifts to fit your demand and fit overtime rules. Auto-fill open shifts to reduce fatigue.
Time and Attendance Tracking: Let employees clock-in and out from the web-based program or via a mobile device. Ensure employees are clocked in during scheduled shifts. Prevent employees from clocking-in outside of scheduled hours. Review and process time cards for payroll purposes.
Team Communication: Group notifications and alerts can help your staff know when shifts need to be filled due to employee absences and planned time off.
Schedule Sharing: Post schedules to employees immediately via text, email, and mobile devices.
Change/Request Management: Manage shift trading and shift changes between your team members. Approve or deny employees request for time off.
Mobile Access: Let employees view their schedules from a portal on their mobile Android or iOS device. Mobile users can swap shifts, submit requests for time off, pick up shifts, and more.
Reporting: Discover business metrics within your organization to create data-driven schedules that can handle your business needs. Implement demand and forecast based scheduling to optimize your schedule.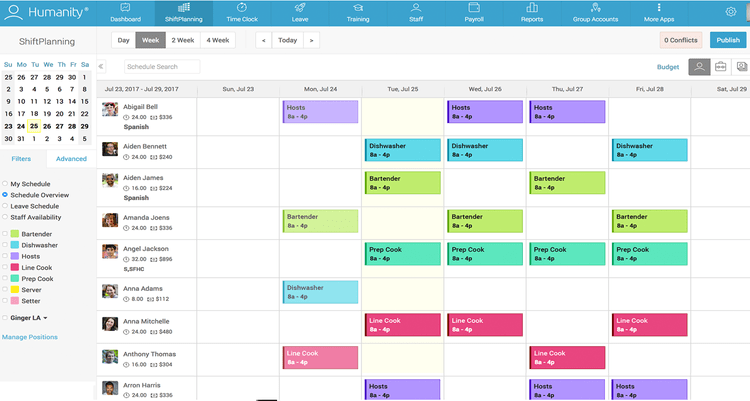 Benefits of Employee Scheduling Software
Any business that deals with hourly employees can benefit from an employee scheduling system. Whether you're a retail business trying to ensure coverage for Black Friday, a hospital trying to fill a shift for a sick employee, or a restaurant looking for additional help for a catering event, an employee scheduling software has a wide variety of benefits to help your business succeed.
Increase efficiency and productivity.
Employee scheduling solutions will lessen the time spent creating schedules and dealing with potential conflicts. Many business managers can understand the headache caused when trying to fill a last-minute void in the schedule. Employee scheduling software helps automate this entire process, leaving more time for you to focus on operations.
Automated scheduling capabilities help save time from manual methods, which means more time can be spent being productive in other areas rather than scratching your head over how to fix a scheduling conflict.
Employees that have the ability to trade shifts, or easily adjust their availability, will be able to work schedules that they desire, which can make an employee more productive by putting them into a better mindset.
Forecast workload.
Many employees prefer to have their work schedules ahead of time. Employers alike want to know what labor costs may be for certain days. If you are planning on a higher volume of business and need a higher than usual staff level, automated scheduling capabilities can ensure you're properly covered with qualified employees.
Employee scheduling software will help determine your most busy times and ensure you're not treating any special days/weeks as business-as-usual, but instead, prepare for what is to come.
Simplify HR processes.
Automated scheduling goes hand in hand with an electronic time clock system, and keeping time cards for each employee. This information can easily be imported into any HRMS or payroll solution to calculate pay for employees, saving time on having to manually enter in timesheets.
Employee Scheduling via Mobile Apps
Using mobile apps for employee scheduling means employees and managers will have 24/7 access to their schedule. Managers can easily put in requests for someone to cover a shift, and employees can be notified instantly, rather than relying on them to come talk to someone in-person.
Employees benefit the most from a mobile employee scheduling software, as it gives them the flexibility to view their schedule, request shift trades, communicate their availability to managers, and make time-off requests.
Managers can ensure notifications are set up to everyone in your organization can be messaged about important issues or just a few targeted people.
Whether using an iPhone or Android device, mobile functionality will help connect managers and employees to ensure your schedule runs as efficiently as possible.
Online Employee Scheduling Software
Many employee scheduling software operates as Software-as-a-Service (SaaS), or in the cloud. These web-based employee scheduling solutions run directly in a web browser, meaning they can operate on any Windows or Mac O/S device that has a web browser.
Online employee scheduling software lets you improve your communication. Key features include viewing schedules online and automatic staff notifications.
Online systems provide the benefit of being able to be accessed no matter where you are. No longer do you have to be at your work computer in order to view upcoming schedules. Employees also do not need to call in and ask someone to check a schedule for them, as all of the information is made easily available through the online portal.
Online employee scheduling solutions are generally believed to be more affordable. Many offer a "pay as you go" approach, meaning that you pay a monthly subscription-cost with no commitments. Some software vendors may offer discounts if you choose bulk-pricing (such as paying for a year in advance).
Industry-Specific Employee Scheduling Software
Scheduling your employees accurately is a need many industries have, meaning many companies can make a generic employee scheduling software work for them. However, certain industries find a stronger desire to have accurate schedules due to increased workloads during peak hours, high rates of turnover, and frequent requests to trade shifts.
Restaurant Employee Scheduling Software
Employee scheduling software for restaurants is designed to help reduce labor cost and ensure labor compliance. The restaurant industry is one that deals with unique peak times, as they will experience a rush of customers at specific parts of the day, and need to ensure they have proper availability during these peak times.
Restaurant employee scheduling software can help you stagger employee start times, so that the beginning of some employees shifts matches up with the tail-end of other employees, creating a cluster of scheduled employees able to assist during rush hour.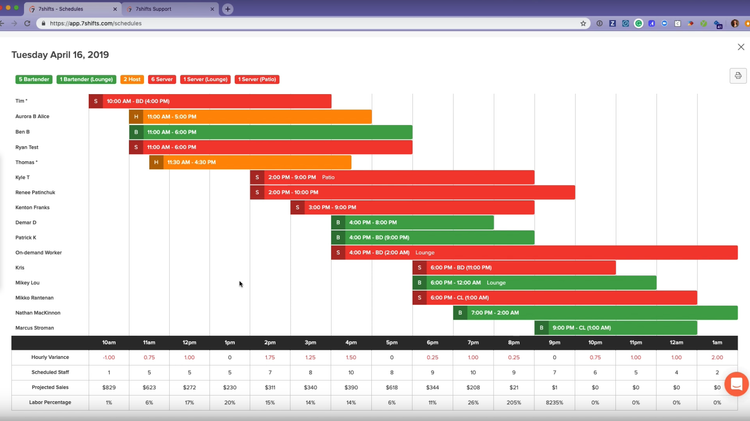 Construction Employee Scheduling Software
Construction and contracting businesses need to manage remote workers on multiple job sites. Managing crews at multiple job sites can be overwhelming, especially in an industry with razor-thin margins. Because of this, properly scheduling your workers can be the difference between a job being profitable or not.
Construction employee scheduling software (sometimes referred to as "construction worker scheduling software") lets you monitor where team members are at all times, making the process of managing jobs at multiple sites less stressful. It also can let project managers enter the requirements for each job to ensure the right workers are picked for specific jobs.
Construction employee scheduling software has features unique to the industry. These features help pick up where a generic employee scheduling software may be falling short. Examples of these functionalities include:
Creating job schedules for each job site
Change assigned crews to job sites to ensure the project is meeting any deadlines
Improve job billing accuracy by billing time for workers who move from site to site
Improved bidding accuracy with better scheduling forecasts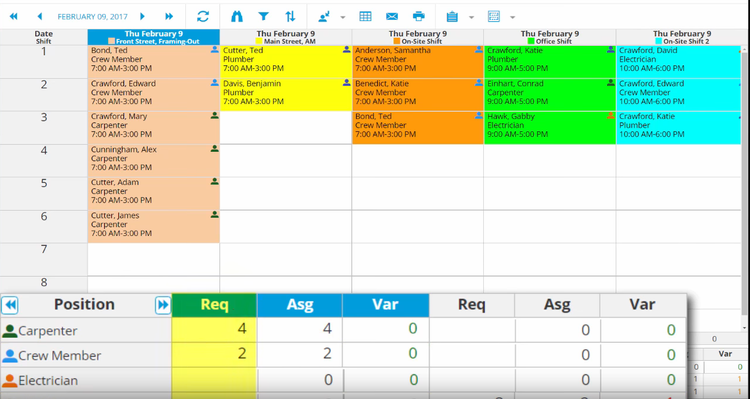 Free Employee Scheduling Software
Using a free employee scheduling software is a great way to determine how complicated of a scheduling process you need:
Do employees need to access their schedule via a mobile app?
Do you need tasks assignments on your schedule?
How far out do you need to schedule in advance?
Many businesses looking to take better control over their employee scheduling may start with a manual process such as a spreadsheet. These methods can be very time-consuming, and even a simple scheduling tool can save as much as 8 hours a week in confusing shift assignments, swapping shifts between employees, and more.
Most employee scheduling systems will offer free trials of their products, but only for a limited period of time (usually 14-days). These free trials are great ways to see if a solution will be a fit for your business over a long period of time. Many customers are unsure if they'll need a certain piece of functionality included with a paid version until they get experience trying a program out.
Many online employee scheduling software, due to their "pay as you go" approach, will let you downgrade and upgrade at will, meaning you can easily change to a less expensive version if you find yourself not taking advantage of certain features. But for those looking for a truly free option (not just a trial), we've compiled a list of some of the top free employee scheduling tools available:
ZoomShift is a cloud-based employee scheduling platform designed for restaurants, food services, retail, and hourly employees. Their interface is very modern and easy to use.
The forever free plan of ZoomShift, "Essentials", has no restrictions on employee counts. However, they charge ($2-4/employee/month) for feature upgrades like payroll reports, time-off management, and overtime warnings. All upgraded plans have a free 14-day trial.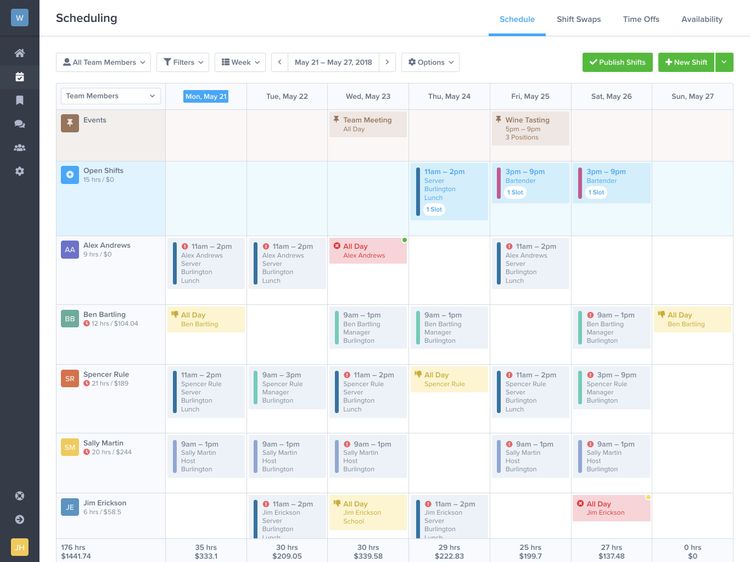 2

Homebase

Homebase is a web-based solution that provides employee scheduling in addition to timesheets, a time clock for punching in and out, and a hiring (onboarding) functionality. HomeBase provides drag-and-drop capabilities that help you forecast labor costs as you go, and will let you send schedules to your team via the mobile app, email, or text.

The free version of Homebase (Basic) is only free for one location, but it will give access to an unlimited number of employees. Homebase will charge $16/month on upwards for additional functionalities, such as GPS timeclock, permissions capabilities, early clock-in prevention, and auto-scheduling functionality. All paid plans include a 14-day free trial.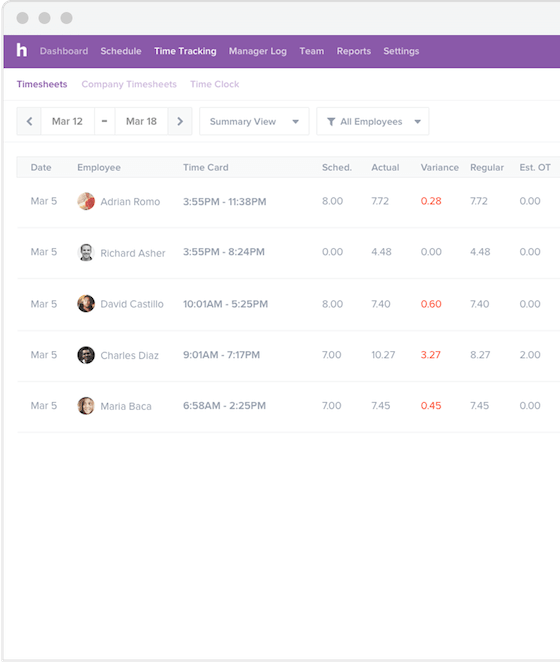 3

When I Work

When I Work is a free scheduling and time tracking software that relies heavily on the use of their free mobile app. The iPhone and Android capability let employees check schedules from anywhere, and lets you post schedules as far as 10 days out. Their software includes a free online scheduler, team messaging and included customer support.

When initially signing up for When I Work, it will remain forever free for up to 75 users. Paid versions of When I Work start at $1.50/user/month and will provide additional functionality, such as the ability to schedule out farther than 10 days, assign tasks to employees, or manage attendance.