Time clocks have been an important part of businesses since they were first invented in the late 1880s. Since then, companies across every industry have been constantly looking for ways to streamline the punch in/out process for their employees. One of the major successes has been the advent of virtual time clocks run by software.
What is Time Clock Software?
Online time clock software provides a virtual way for employers to track when workers punch in and out. Used as an alternative to manual time recorders, punch kiosks, and clock card machines, most companies have transitioned to electronic time clocks in order to speed up punch in/out processes, tracking employee time, and calculate payroll compensation.
Often included as part of a full time tracking software, the standalone option is ideal for companies looking to simplify their clock in/out method. Time clocks also form an integral part of time and attendance tracking systems for businesses of all sizes. Some full human resource (HR) software even includes time clock modules along with scheduling tools. Yet the standalone time clock software, being scaled down, is much easier to install and far more affordable, especially for small businesses and startups. It can also prove invaluable to large enterprises looking for a consistent method for all employees to electronically punch in and out each day.
Features of Time Clock Software
Online punch card: Use digital punch cards which are tied to each user and cannot be lost like their physical counterparts
Timesheet management: Collect all punch card information onto digital timesheets
Self-service employee portals: Allow employees to log-in to the digital time clock from self-service portals on any device instead of physical time clock stations
Mobile app: Create accessible self-service employee portals compatible with mobile devices like smartphones and tablets for remote clock-in; apps are usually compatible with both iOS and Android operating systems
Sick leave and vacation tracking: Account for both long- and short-term employee absences from work
Biometric recognition methods: Use fingerprint or ocular scanners to track employee time on secure projects; use GPS or photo features to determine employees locations in real-time
Payroll integration: Coordinate electronic time cards and payroll systems to automatically calculate wages based on hourly or salaried rates
Analytic reporting: Review employee hours, leave, and vacation time to build better schedules or anticipate time off requests
Best Time Clock Software Benefits
There are many benefits to adding a time clock to your company's operations. Learn how using digital clock in and clock out procedures can improve your business:
More Efficient Punch In and Out Procedures
In the early days of punch cards, employees had to line up and wait to get their punch card at a shared clock card machine for the day. This led to long delays when entire shifts were trying to clock in or out at the same time. An employee who arrived promptly on time would find themselves punching in late simply because of lines. Electronic time cards remove this limitation, allowing workers to access virtual punch stations and clock in whenever they actually arrive.
Self-service portals and mobile apps let workers clock in or out remotely. Mobile apps even let them punch their electronic time card anywhere, anytime. This is particularly useful for any company which frequently has employees working remotely or in the field can benefit from this, as it saves the workers from taking a trip back to the office just to clock out. With an app, they can punch out and head home as soon as they are done for the day.
Automated Timesheets
With workers using electronic time cards, it's easy to compile that data into virtual timesheets. HR departments can then collect this hourly info in real-time to check which employees are clocking in and out correctly. That data can then automatically work with integrated payroll software to calculate wages more efficiently and accurately than ever before.
One issue with letting employees control their own punch card is the possibility of human error. All it takes is one distracted moment to forget about clocking out or starting the day without punching in first. Of course, these electronic time cards and timesheets can still be manually changed in the event of user error. No more scrambling for erasers or struggling with Wite-Out. Just delete and add the new times without any fuss.
User-friendly time clock systems can integrate with employee scheduling software to fully automate all your processes involving time cards and timesheets. Team members can track their own hours, report lunches or breaks, request time details, and more through a digital time clock software.
Ensure Correct Payroll
One advantage of using time clock software is knowing exactly how many hours each employee has logged, down to the minute or second. Depending on your company pay structure, this can be the difference between spending hours manually calculating employee compensation based on work hours and automating the whole payroll process each pay period. If you work with a third-party payroll provider, you can submit digital punches online rather than sending over paper copies of physical time cards for review.
Additionally, online time clocks can synchronize with the Internet to ensure the correct time is shown. Old-fashioned time recorders and punch machines can slow down or speed up without regular maintenance, leading to inaccurate time cards from this unofficial flex time. An online timekeeping system doesn't need this physical maintenance to stay on-time, saving your business valuable time and money.
Time clocks even work for salaried employee tracking, as they can confirm when workers were in and when they were absent for any reason. Any approved paid time off (PTO) requests can be accounted for automatically when reviewing reported employee absences against time accruals. Correct payroll from time clock tracking can lead to more accurate budgets for labor costs in the future.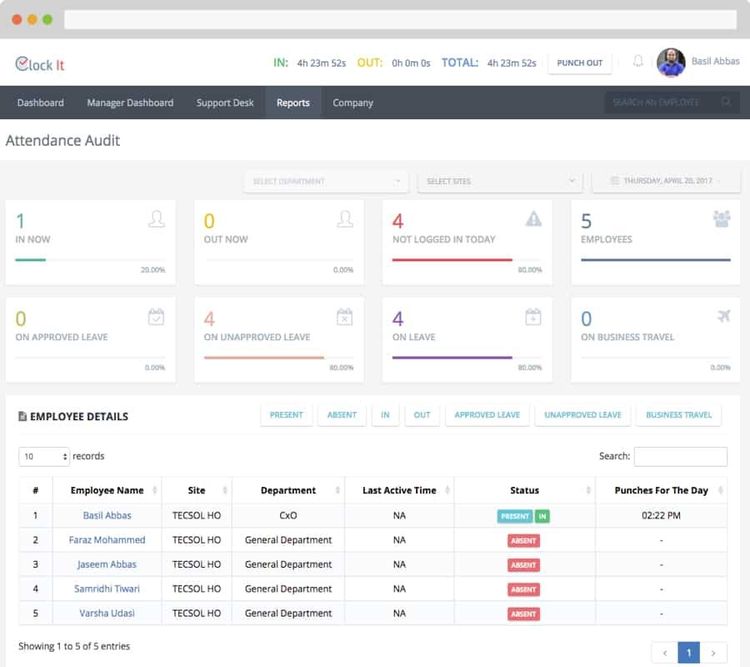 Reduce Lost Time and Productivity
Time theft is a major concern for businesses, particularly if employees are not working where they can be constantly monitored. Due to a drastic increase in work-from-home opportunities in the wake of COVID-19, more businesses are turning to remote time clock systems to help track employee productivity. For anyone who is regularly out of the office, on location, or working from home, biometric tracking is one way to encourage productivity.
Some mobile time clock systems have GPS tracking photo features, so employees have to snap a picture of themselves at set times to prove they are where they're supposed to be when they're on the clock. Others have thumb readers on-site to ensure the right person is clocking in or out and not having someone else falsely enter their information, also known as buddy punching.
For instance, an employee might try to regularly take long lunches by asking a subordinate coworker to punch them back in before they get back to the office. This "buddy punching" seems harmless, but in the long run those extra minutes out significantly add up and cost the company. And in the event of an emergency, such as a fire or other scenario requiring the office to be evacuated, it can cause confusion since the system would show a remote worker was supposed to be in when they weren't. By using biometrics, only the employee at lunch can log themselves back into the time clock. With fewer long lunches, your employees can increase their productivity and reduce the possibility of mistakes.
Time Clock Software Pricing
A lot of employee time clock apps are available for free, at least to start. Additional features or adding more employees can cause the cost to go up. Generally, the pricing plans are based on how many total employees will be using the system to punch in and out or how many administrative users there are. For these products, the price ranges from $1 per employee per month or $199 per user per month. Other plans are based on a flat fee no matter how many employees you have, such as those which offer a perpetual license for continual use.
Since time clock solutions are significantly scaled back compared to full HR systems, many offer add-ons for additional costs. Others can integrate with full-scale:
Whether you just need to track time or want to build a full employee management system, it's easy to start with affordable time clock software.