What is Hotel Management Software?
Hotel management software is a property management system for the hospitality industry. From tiny boutique hotels to international resorts, this solution provides occupancy tracking, staff scheduling, and hotel accounting like room rate calculation and billing information.
Hotel management systems are unique because they balance guest and staff services. Use this single solution for all sorts of tasks like tracking mini-bar purchases, adjusting housekeeping schedules, or updating room prices across multiple channels. These abilities allow you to streamline day-to-day tasks without neglecting long-term goals.
Hotels operating restaurants, spas, entertainment venues, and convention centers can use management software to coordinate between each different branch of their business. Your front office can stay in control of every aspect of your hotel thanks to all-in-one hotel management software.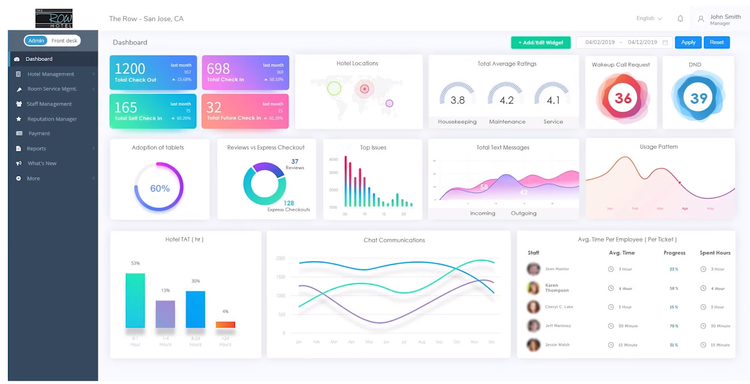 Hotel Management Software Features
Booking Engines: Create an easy-to-use field for online booking requests. Manage incoming reservations and modify existing ones. User-friendly for guests and front office staff.
Occupancy Rates: The system tracks how many guests are on-property at any given time. Review the current day rate and look ahead at future occupancy.
Departures and Arrivals: Track incoming arrivals against outgoing departures. Prevent overbooking and vacancies with accurate room reporting.
Digital Key Lock Automation: Activate and deactivate key cards as rooms are changed over.
Room Rate Calculation: Accurately display room prices and automate package rates.
Room Service Charges and Meal Plans: Monitor charges per room or individual guest for better revenue management.
Credit Card Processing: Process credit card transactions and reduce point of sale fraud.
Food, Entertainment, and Travel Reservations: Offer better guest services by scheduling reservations between different restaurants, conferences, entertainment venues, or travel agencies.
Cleaning Service and Maintenance Requests: Send and receive housekeeping requests to a central computer or mobile device. Use two-way communication to track maintenance requests.
Inventory Management: Maintain stock of hotel industry staples like soap, shampoo, and coffee. Minibar management systems specifically track individual room inventories.
GDS and Channel Manager: Use a Global Distribution Systems to transmit room inventory to booking sites and travel agencies. Change prices simultaneously on all online channels.
Benefits of Hotel Management Software
The main benefits of using an all-in-one hotel management software:
Automated Check-In and Check-Out Processes
One of the biggest tools provided by hotel management software is automated check-in/check-out. Track arrivals, departures, and occupancy rates from a real-time dashboard to stay on top of your hotel's needs. Improve guest experience by getting everyone into their prepared rooms sooner.
Housekeepers need to know when rooms are vacant so they can get in and clean before new guests check in. Automating the process lets housekeepers work more efficiently by skipping occupied rooms
Overbooking is a major problem for hoteliers, in part because direct booking sites allow multiple users to schedule reservations at the same time. By getting accurate occupancy in real-time, you can prevent double-booking a room and avoid turning guests away when there's limited vacancies.
Easier Staff Scheduling and Payroll
Hotel operations employ a lot of people. Hospitality software also provides scheduling modules for all of your staff departments. Easily cover all shifts for front desk, concierge, housekeeping, custodial, and recreation by using a single application. Staff can use mobile versions of the software to request vacation, swap shifts, or call in sick.
Manage payroll with software to avoid payment errors. The system can track individual hours worked and then calculate taxes specific to your state.
Coordinate Between Multiple Properties
If your resort has multiple buildings, conference centers, restaurants, bars, or entertainment, you'll need hotel management software to coordinate between different departments to ensure guests have the best experience possible. Manage room changes, restaurant reservations, and other adjustments from a single application.
GDS and channel management software allows for standardized coordination whenever you update pricing or room availability. For example, various travel agents and booking sites allow guests to reserve their rooms without having to contact your hotel. Each of these sites uses their own formatting for the reservation fields. GDS eliminates the confusion caused by these different booking methods. A guest can arrange their trip on Expedia or Tripadvisor at the correct rates without causing problems for your booking system.
Did a guest use the mini-bar or enjoy a movie? Hotel management software alerts you to any additional room charges needed before you deliver the final bill. Or track comped amenities to ensure your hotel stays above the bottom line.
For example, if you upgrade a newlywed couple from a pool-side room to an ocean-view, that change can be recorded in their guest profile.
If your hotel is part of a franchise you can use hotel management software to track loyalty programs across multiple locations.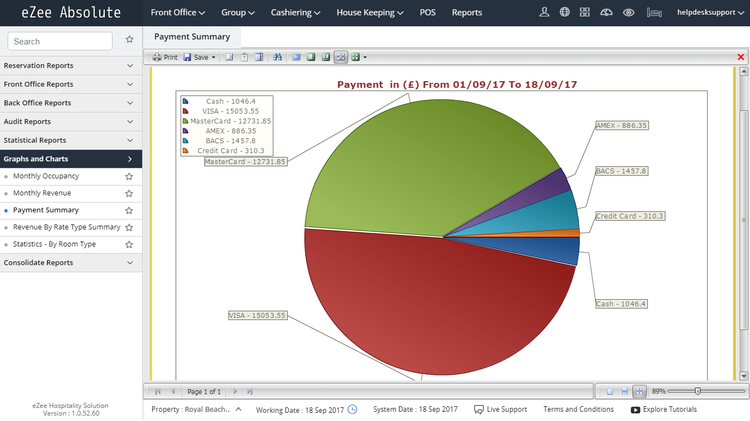 Pricing Guide for Hotel Management Software
The starting price for subscription-based hotel management software is as low as $50/month. Saas solutions provide Cloud-based hosting so data is accessible from mobile devices like smartphones and tablets. For one user, this is $600 per year. Setup fees for training and implementation are additional.
Perpetual license costs for hotel management software begins at $300. This does not include implementation and staff training. Some software systems charge on a per room, unit, or building basis.
What Does Your Hotel Need?
The hotel property management software you need will depend on your business. The amount of rooms you have, whether you have a restaurant or bar onsite, and the size of your staff will all determine what scope of software you should get.
Bed & Breakfast: any rental property with 4-11 rooms, generally located within a refurbished residence, may be affiliated with an AirBNB. Basic accounting software and online booking engine may be all you need.
Hostel: a rental property with dormitory-style rooms and shared facilities like kitchens and bathrooms. GDS and channel management are popular for reaching international customers.
Boutique Hotel: any hotel with 100 rooms, these small hotels may focus on providing a themed experience. As a result of their specialized services they usually focus on specific software like minibar management.
Hotel: the average independent hotel has 100 rooms, more than boutiques and B&B but fewer than large resorts.
Resort: any hotel with thousands of rooms, multi-room suites, or multiple buildings on a single premises, may be connected to a conference center. Popular software for resorts offers streamlined cleaning and maintenance requests.
Multi-Location Hotel Chain: any group of hotels owned by a single hospitality business, may have guest houses, cabins or bungalows for vacation rentals. Chains usually need the most comprehensive software options to cover all their needs.
Smaller hotels like boutiques and B&Bs may be able to get by with a limited scope software which covers the basics of payroll, scheduling, and occupancy. Larger hotels and chains will need to get comprehensive software to maximize as many features as possible.