What is Rental Property Management Software?
Rental property management software combines common needs like rent collection, accounting, and maintenance requests into one system.
Rental property management software automates repetitive activities like rent payment collection, late fee additions, and obtaining lease renewal signatures. Advanced systems feature tenant portals and revenue management.
Cost of Rental Property Management Software
Pricing is typically based on the number of managed units. Additional charges include per rent payment transaction fees, per screening fees, and one-time setup fees.
A lower-cost option like 123Landlord has a Basic plan that starts at $7 per month. The Basic plan includes 1 user, 5 tenants, and 5 properties. All plans from 123Landlord feature work order management modules, and tenant and property reports.

A higher-cost option like Property Matrix starts at $350 per month with the Standard plan. The Standard plan includes 250 units with an additional cost of $1.50 per unit. More advanced features like ACH payments, e-Signatures, or mobile apps are in the Ultimate or Enterprise plan.
Free Rental Property Management Software
Some rental property management tools are marketed as free, but be wary of hidden charges. Free software is rarely free - someone will be paying for something. Systems marketed as free typically have transaction charges. Your tenants could also be getting data mined for marketing purposes. Free software usually has bare minimum features and is intended to get users in the door, only to advertise paid features.
Examples of free rental property management software include:
QuickBooks for Rental Property Management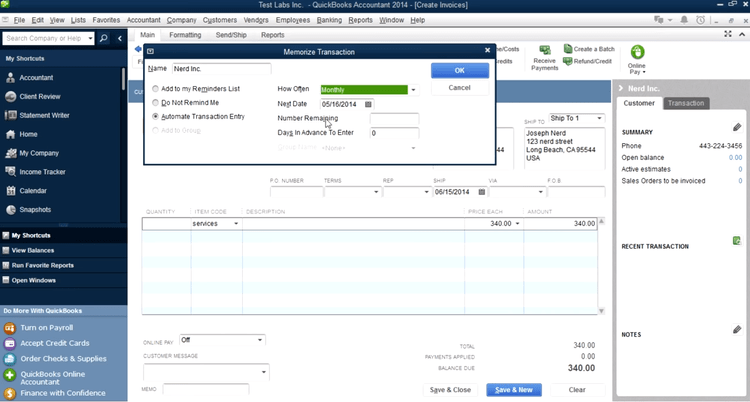 QuickBooks is great for handling accounting and recurring billing. To set up QuickBooks for renting, list your property as a customer and tenants as sub customers. The sub customers will contain rent invoices and current balance information.
QuickBooks won't help with work orders, tenant tracking, or other specialized property management features.
If you want to keep QuickBooks as your primary accounting solution and find something that can handle these additional functionalities, look for a solution that will integrate with it.
Common Features of Rental Property Management Software
Rent Collection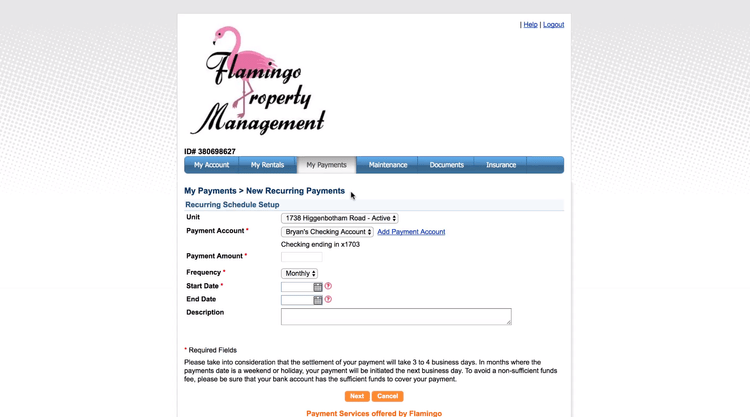 Recurring billing is complicated when handled manually. You have to collect and keep track of payments from multiple renters at one time.
Rental property management software handles the rent collection process for you:
Tenants receive automated payment reminders.
Payments are made online through ACH transfer.
Late fees are automatically added as needed.
Extra charges can be added to monthly bills for pet rent, storage lockers, or parking spaces.
Work Order Management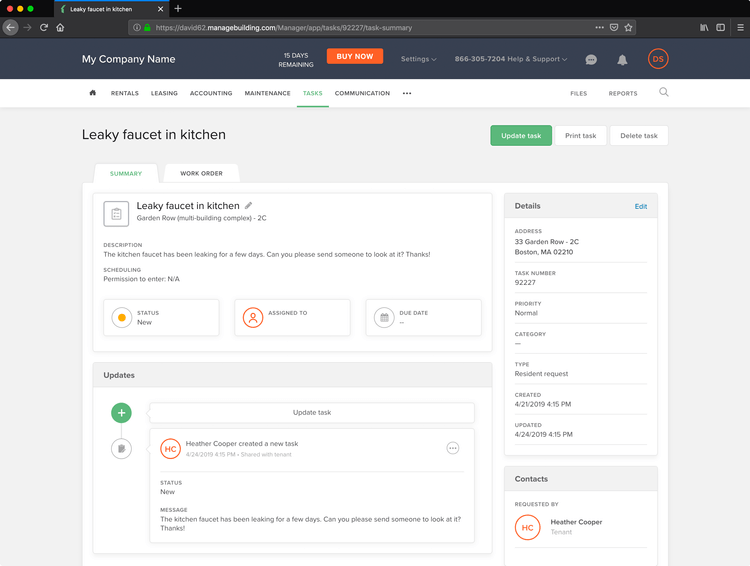 Manage repair requests from tenants, as well as scheduled preventative maintenance. Prioritize maintenance work based on the severity of an issue.
Within a tenant portal, tenants submit maintenance requests. The request form lets the tenant describe the issue in detail. Management can then assign the request to an employee as well as set a due date.
Preferred vendors are easily added and organized within the system. You'll have easy access to vendor contact information when you need it.
More Common Features:
| Feature | Description |
| --- | --- |
| Tenant and Lease Management | Keep track of tenant information like contact info, renters insurance, background checks, and work order history. Lease agreements can be customized and saved. Leases can be amended to account for extras like pets, storage, and parking. |
| Application Management | Potential tenants can submit an application online and upload references or pet records. With eSignatures, new tenants are able to sign lease agreements online. Background checks are also automated with rental property management software. Check an applicant's credit rating, proof of income, and past rental history. |
| Vacancy Management | Available units will be automatically posted online to ensure vacancies are filled faster. Notifications are sent to you when a lease is about to expire. Then reach out to the tenant about renewing or setting a move-out date. |
| Property Accounting | Keep track of income from rent collection and expenses from maintenance. Automate payroll for property managers and office staff as needed. Create reports on financials, tenants, and properties. |
| Applicant Screening | Conduct applicant screening to evaluate rent history, credit history, or criminal activity. Screening is always either included in the price or as an additional charge. |
| Tenant Portal | Tenants can pay rent, submit service requests, and view lease agreements online. The portal typically features a community message board and an area for news updates. |
| Revenue Management | Revenue management is primarily used by large property management companies with multiple buildings. It uses historical data and predictive analysis to generate rent prices. Price is affected by factors like move-in date, lease term length, and unit type. |
Types of Rental Properties
Residential Properties
Rental property management software is primarily used for apartment complexes. The software also assists with managing single-family home and duplex rentals. The core use of the software will be used to manage lease agreements, track maintenance, and collect rent electronically.
Commercial Spaces
Commercial rental property management software helps owners manage industrial, retail, or office spaces. Common area maintenance (CAM) calculation is an important aspect of these solutions. Costs of maintenance, electricity, and water usage are estimated for shared areas. These costs are then distributed evenly and charged to tenants.
Vacation Rentals
Vacation rental property management software is a completely different solution. Short-term rentals like homes in tourist-heavy areas and lakehouses need to be managed differently. A vacation rental management solution will handle features like booking and housekeeping.
Student Housing
Student housing software also includes accounting, lease management, and work order management. However, there are many other functionalities specific to student housing. Some solutions integrate with campus systems, allowing students to view class schedules or meal plans. Roommates are automatically matched based on each students' classes or lifestyle.
Types of Property Managers
Landlords with Few Units (Under 10)
Small landlords use rental property management software to keep payment records, organize documents, and track maintenance.
Rental property management software is especially useful if you live far away and need to save time. Communication and payments are handled online, so you don't have to spend time traveling. Notifications are also automatically sent to tenants about upcoming maintenance or important updates.
Property Owners and Firms with Multiple Buildings or Over 10 Units
Software helps owners and property management firms keep track of multiple buildings. Managing work orders and keeping records straight from every tenant straight will be simplified.
Enterprise property management companies benefit from advanced software features like revenue management. Revenue management automates rate calculations based on historical data and current market trends.