What is HOA Software?
HOA software allows homeowner associations to collect dues and fines, maintain HOA documents, manage maintenance requests, and communicate with residents. These systems automate billing and payment processing, ensuring the association has funds for maintenance or improvements for common areas like pools, community clubhouses, and parks. The system will also track maintenance requests and work order status for these amenities.
Homeowners association software keeps important documents organized. These documents can include resident-specific documents including violation notices and images associated with those violations. Documents that apply generally to the association as a whole are also stored and organized within the system. Some of these association documents include the Declaration of Covenants, Conditions & Restrictions (CC&Rs), liability insurance, bylaws, articles of incorporations, and documentation of federal and state regulations.
Most HOA management systems either feature a custom website builder or integrate with your HOA website. This typically gives your board members and homeowners a web portal to manage their accounts, track real-time maintenance status, and make online payments. Some systems provide members and residents with a community board, allowing users to message the community with upcoming events, safety concerns, and other important information for the neighborhood.
Features of HOA Software
| Feature | Description |
| --- | --- |
| Invoicing | Send invoices to collect dues, fines, or other charges. Automatically apply late fees as needed. |
| Payment Processing | Accept payments online via credit cards, e-checks, ACH transfers, and integrated payment providers. Allow residents to set up automated payments. |
| Document Management | Store and maintain HOA documents including CC&Rs, bylaws, articles of incorporation, and other regulatory documents. |
| Financial Management | Track income from payments, outstanding invoices from dues or fees, as well as expenses. Real-time financial reporting gives you a better idea of your financial standing. |
| Work Order Management | Accept maintenance requests, assign service requests to specific personnel, set work order status, and monitor progress. Typically for common areas/amenities including clubhouses, parks, tennis courts, and pools. |
| HOA Website Builder | Create an HOA or community website with an online portal for rent collection, amenity booking, event management, service requests, and more. |
| Communication Tools | Improve member communication throughout your residential community. Send automated or custom text messages, e-mails, and paper mail for community updates, news, payments, HOA violations, and more. |
Benefits of HOA Software
Some benefits of HOA software include:
Streamline HOA Violation Management Processes
Homeowners association software helps manage and track HOA violations. With cloud-based software or mobile apps, association members are able to photograph violations and upload the evidence directly to the resident's profile. The member can then assign a CC&R code that outlines the details of the restriction violation, the date of the violation, the due date for rectifying the issue, and any related fines. Violation notices can then be automatically emailed or mailed to the resident.
HOA software also tracks the status of the corrections done to rectify the issue. If proper corrections aren't made by the due date, additional fees may be applied. Liens may also be applied if the issue is ongoing.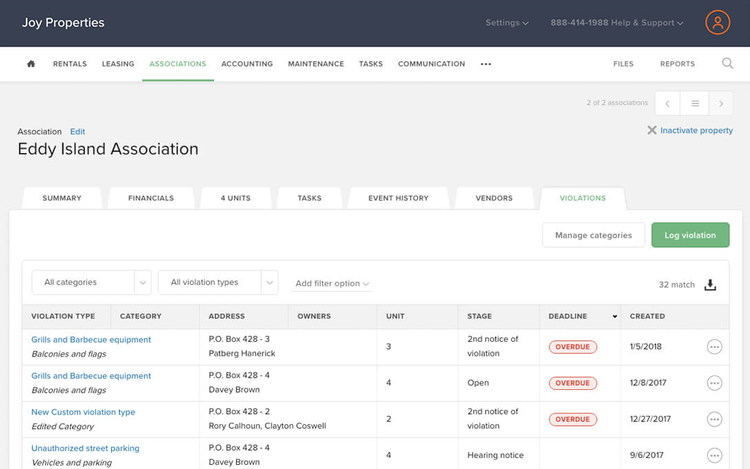 Automate Billing and Payment Processing
HOA management software is also used to send invoices and process payments online. The system will automate billing for regular HOA dues. Homeowners can log into the website portal to set up recurring or one-time payments. Late fees will automatically be applied to the owner's profile as needed. Owners will also be able to pay any HOA fines that have been incurred through the portal.
HOA systems allow board members to pull reports on payments made, overdue dues payments, and revenue. Being able to track income accurately allows board members to plan maintenance and upgrade budgets for community resources. The system will also allow you to calculate HOA dues increases to pay for large projects in the future.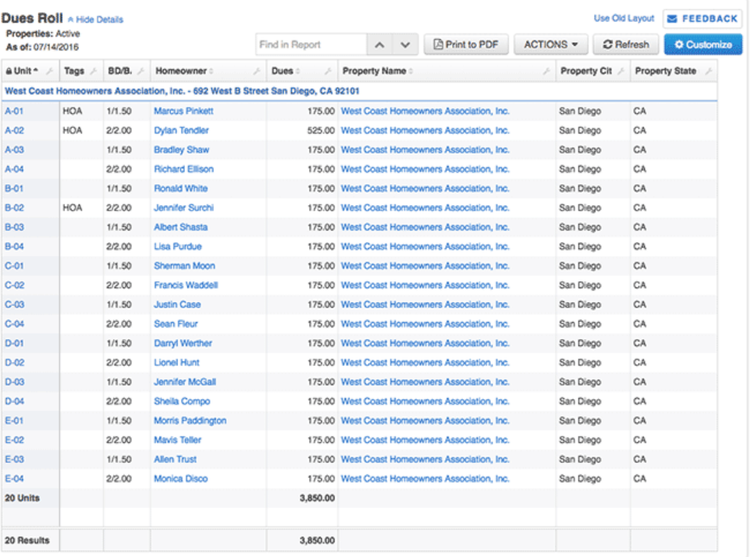 Keep HOA Documents Organized
HOA software makes it easy to store, find, and update all documents that are important for the association. Some of these documents include:
CC&Rs: list of rules, limitations, and requirements designed to maintain property value.
Bylaws: outlines of how the HOA can be run and procedures for the HOA to follow including budgeting, voting in board members, enforcement of CC&Rs, and HOA meeting guidelines.
Liability Insurance: policy information that covers property damage, injuries, and theft at HOA owned property.
Federal and State Regulation Documents: regulations of how an HOA can be run on a state or federal level. Often includes anti-discrimination rules and debt collection regulations. Regulations may vary by state.
HOA Board Meeting Minutes: official records of board meeting topics discussed and actions taken during the meeting.
Violation Templates and Notices: describes the HOA violations and associated fees based on CC&R codes.
Articles of Incorporation: a legal document that includes information about the HOA including the name, address, and purpose of the HOA.