What Is Reservation Software?
Reservation software helps hospitality, restaurant, and tourism businesses publish available rooms, tables, activities and appointments that guests can search for and book online.
These highly customizable software reduce administrative work by publishing availabilities across many channels at once, sending automated confirmations and reminders, generating digital waivers and contracts, storing digital signatures, and more. And businesses can control how they take payments, like accepting all or none of the payments upfront, asking for deposits, setting up payments plans, and more.
Reservation software have flexible tools for most industries that take reservations, whether hotels, restaurants, tennis courts, campgrounds, spas, charter boats, rafting adventures, or more.
Features of Reservation Software
Online Booking: Let guests make reservations online, at their convenience. Help guests find and book your listings through your website, social media accounts, third-party sites, review sites, and more. These software integrate with most calendar software and online travels agencies (OTAs), so reservations and listings are always up to date and consistent across all platforms.
Channel Management: Publish lodgings, tables, and events to high-traffic sites like Expedia, OpenTable, Booking.com, Tripadvisor, and more from a single, centralized tool.
Automated Alerts: Collect guest contact information upon booking and automatically send confirmations, reminders, requests for guest feedback, and more via text, email and phone.
Reporting: Reservation software will store a variety of data and generate reports for things like occupancy rates, revenue, promotional and marketing campaigns, and more.
Digital Contracts and Signatures: Easily generate, send, receive, and store forms, documents, waivers, and signatures from guests. And guests can easily fill out and digitally sign these documents with any internet-connected device.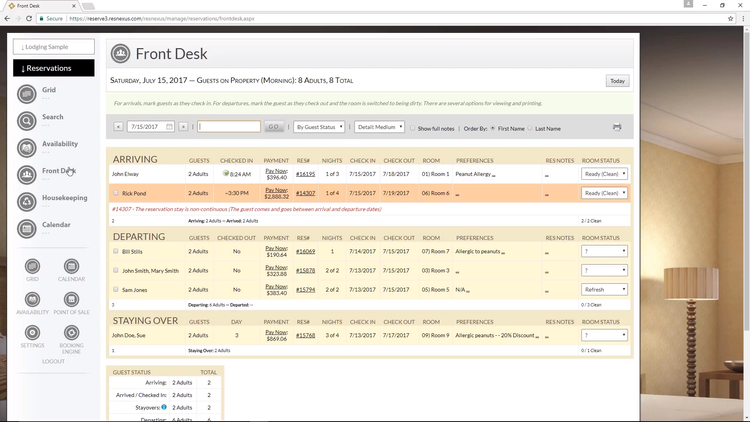 Benefits of Reservation Software
Reservation software are great for organizations, as they provide an all-in-one system that reduces time-consuming and error-prone administrative work and replaces that work with energy and resources towards guest services.
For example, if guests make their hotel booking ahead of time, their names, contact information, reservation length, payment processing details, and more will be stored and easily retrieved in the hotel reservation system. That will then get guests checked-in faster and helps shorten lines at front desks. Or instead of the host at a restaurant picking up the phone and coordinating a table reservation time, the host can focus on the guests at the restaurant and coordinating the service team.
Use channel managers to create a single listing for rooms, tables, events, and more; and then publish that same listing across all major online travel agencies (OTAs). These booking engines increase exposure and help guests book when they are most likely and able to do so.
They also aid customers by sending them detailed confirmations, alerts, and reminders. And they have tools for customers to send and receive messages, which are run out of a centralized client management resource (CRM), leading to efficient communication. And customers can pay online a variety of ways, with customizations for deposits, payment plans, and more.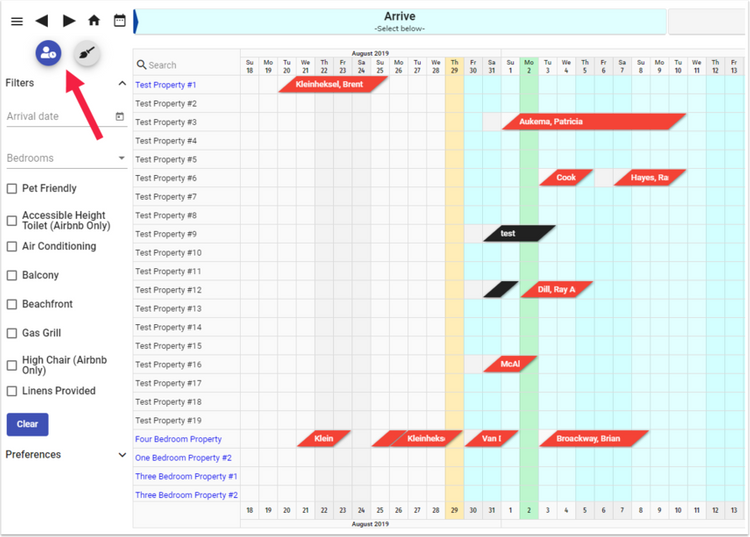 Save Time And Money
Use reservation software to streamline channel management for you. Instead of uploading pictures, information, and managing calendars for each individual hospitality and travel site, these reservation software will automate all of that, across all channels, at once.
These reservation solutions reduce administrative costs by passing the booking process on to the guest. And guests generally prefer this. According to a 2016 survey from market research company Ask Your Target Market, 34% of restaurant consumers said they are more likely to choose a restaurant that offers the ability to make online reservations over one that does not. In addition, 47% said that making reservations online is easier than making reservations some other way. And 44% said that they are more likely to make a reservation if the restaurant had the option to do so online.
Reservation software better utilizes staff by avoiding phone calls and email conversations and giving them more time to focus on the guest experience.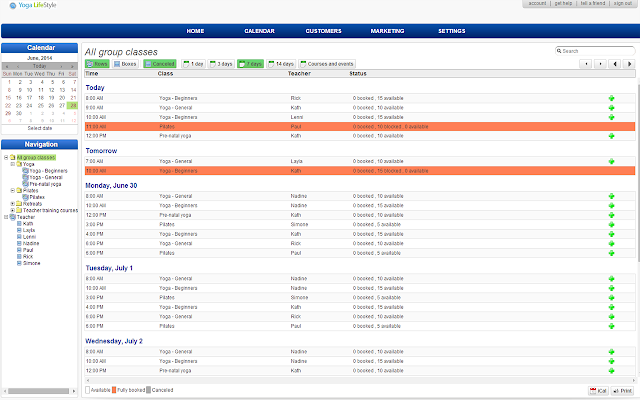 Increase Exposure
In order to be seen by the most number of potential guests, your business needs to be searchable on all of the top travel and tourism websites And after guests find you, you need to make it easy for them to book.
Most online customers look to online travel sites and reviews to help make decisions. And guests make decisions fairly quickly after visiting these sites. Based on an online consumer survey fielded by Nielsen for Yelp in 2016, 42% of consumers who use consumer online review sites said they made a purchase within a day after visiting Yelp.
In real-time, publishers like Google, Travelocity, Yelp, and Airbnb will accept reservations for open time slots and hide time slots for confirmed reservations.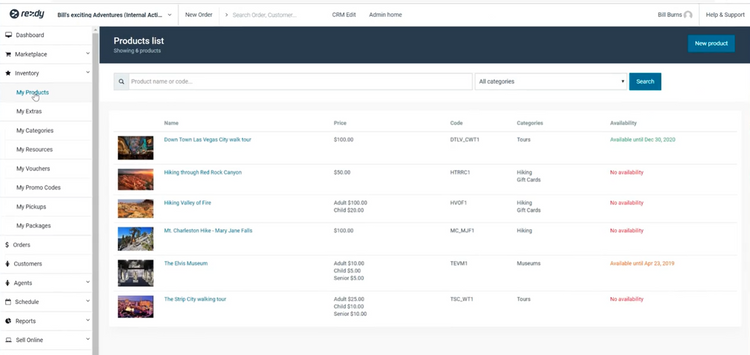 Help Schedule Staff And Utilize Resources
Reservation management systems log guest and property data that can be generated into a variety of reports. Using this data, organizations can anticipate staffing needs for the day, week, month, season, or whatever else. For instance, if a charter boat service is seeing higher-than-anticipated future bookings, it can purchase another boat and/or train more staff to lead the charters.
In addition to showing availability by time, some reservation software will allow you to show availability by resource. For instance, Rezdy will only allow bookings when a vehicle, boat, or instructor is available. This avoids having to turn guests away, processing refunds, overbooking activities, and frustrating guests.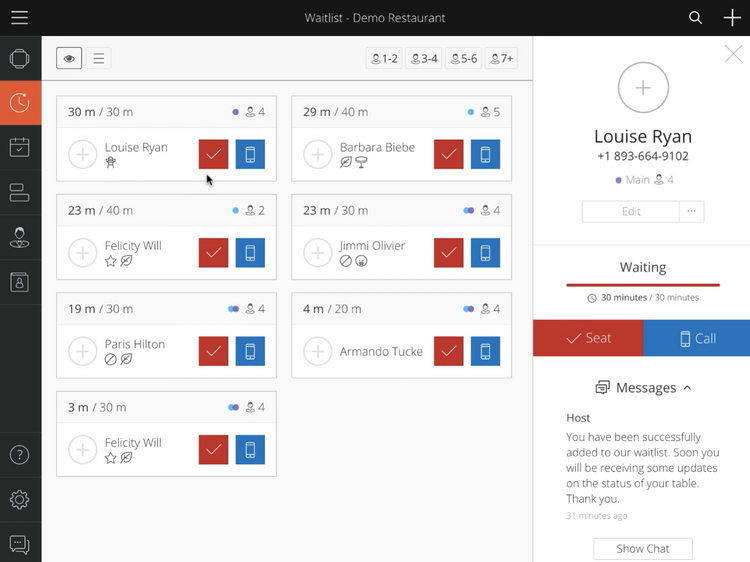 Automate And Digitize Waivers And Signatures
Other digital services can help save time for guests and staff. Many reservation systems will automatically send necessary waivers or contracts through email or other tools. Guests can then sign into portals or follow links to complete forms and digitally sign paperwork at their convenience, before their visit.
Those documents and signatures will be saved in the reservation system for future reference. And then checking in guests will be easy and efficient for everyone. This boosts customer satisfaction and helps keeps businesses on schedule.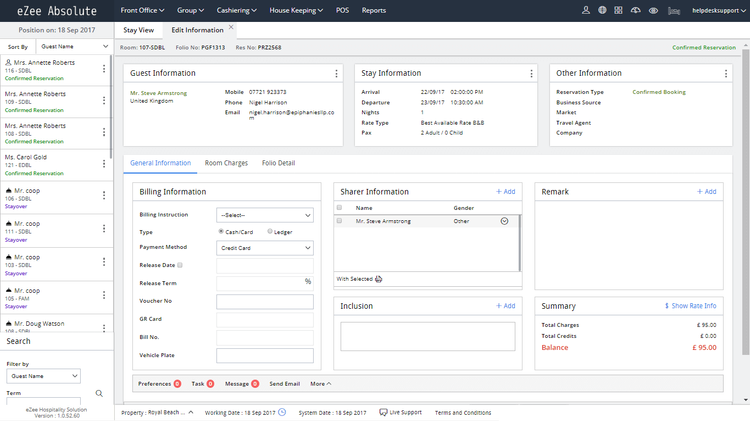 Types of Reservation Software
Reservation software can be used in a number of industries and for organizations of any size. Many guests use reservation software to find hotels and lodging, and many others use them to reserve a table at a restaurant.
But many other industries can use reservation software. For example:
Escape rooms and bowling lanes can be reserved ahead of time.
Parks can create reservations for things like tennis courts or pavilions.
Cooking or art classes can open a number of reservation slots for each class.
Rental businesses can let guests rent out items by the number of days.
Libraries can set reservations for conference rooms.
By making booking easy and transparent for everyone, organizations and guests can better utilize their time and resources.
Hospitality
Many reservation software are aimed at the hospitality industry. Reservation booking systems will work for hotels, hotel chains, hostels, vacation rentals, inns, bed and breakfasts, campgrounds, RV parks, motels, and more.
Some software contain property management systems, along with reservation software. And others are simple reservation-taking tools that will integrate with other existing software. Either way, raising visibility in search and making booking user-friendly will raise revenue and help grow your business.
One study identified four factors that customers want when they are reserving hotels: information, convenience, trust, and price. Reservation software boost information, convenience, and trust. Hotels can easily post exhaustive, customizable information and images across multiple channels at once. And guests can easily book room from those channels. And because the systems are automated, issues like overbooking or missing guest information are minimized.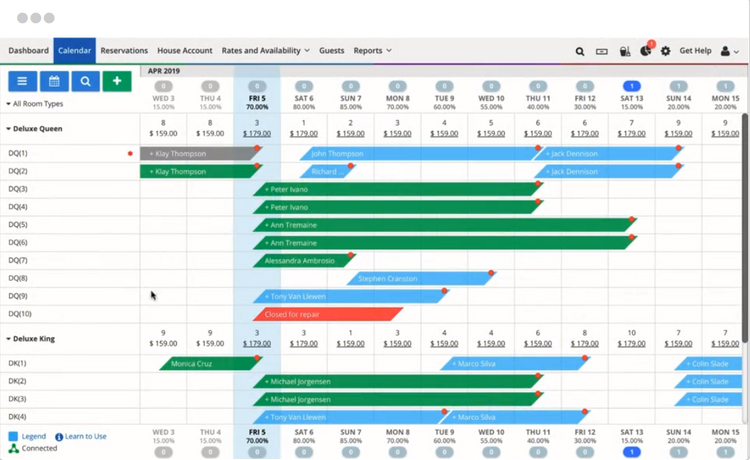 Restaurants
Encourage guests to reserve a table at your restaurant with intuitive and prominent online tools. Most reservation software will let you embed a widget or module that potential guests can use to enter group size, view possible time slots, and reserve a table.
Those reservation processes, widgets, modules, and links can be placed in websites, social media accounts, Google Maps, Yelp, OpenTable, and more. Let guests view your menu, scroll through photos, and read reviews through these sites, all while your reservation tool is one click away.
Reservation management systems will help fill empty tables and manage your waitlist. You can advertise discounts and promotions for guests to book tables during slower hours or less busy days of the week. And these software will sync the reservations list with the waitlist, so any cancelation will either open up that booking online or move to the first guests on the waitlist.
And automated text alerts for guests when their table is ready allows them to wait outside or at a nearby establishment, easing congestion. Some software will even let guests see where they are on a particular waitlist, increasing transparency.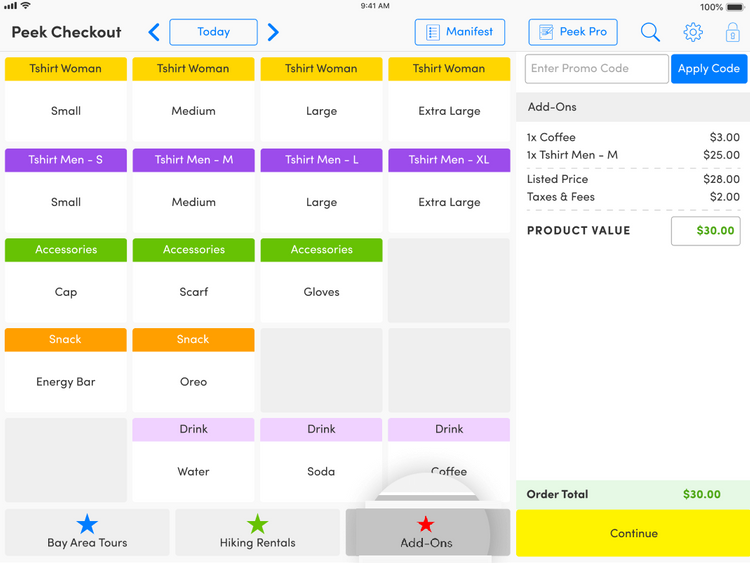 Tourism, Recreation, Arts, Leisure And Education
Customers searching travel sites are definitely looking for lodging and transportation, but they are also looking for what they can do during their trip. Help guests find and book your business' walking tour, rafting excursion, golf course, or whatever else.
These online booking systems are also great for booking museum tours, wine and painting classes, factory tours, and more. Fit in more events each day by eliminating the check-in processes for all of your guests.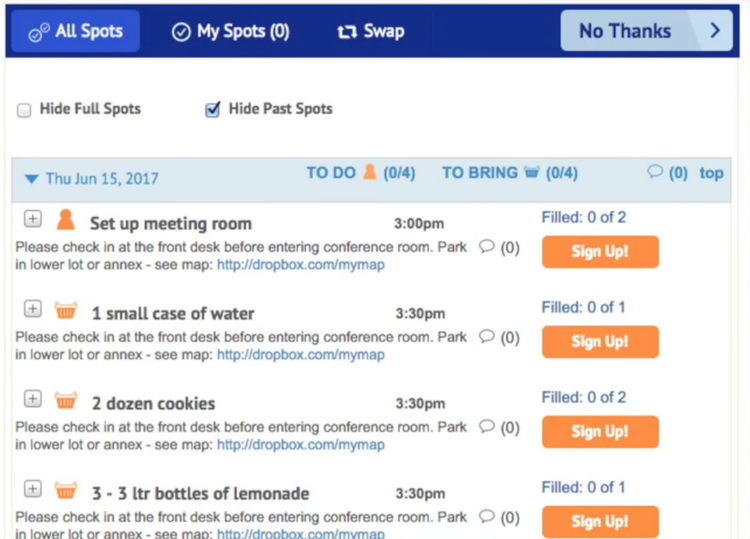 Other Industries
While reservation software is mostly used by hoteliers, restaurateurs, and tourism groups, some reservation software can also be used for general appointments for people like salon owners, residential contractors, financial service workers, and more. There are more generic appointment scheduling software for those purposes, but many appointment and reservation software are also capable of handling the job of the other.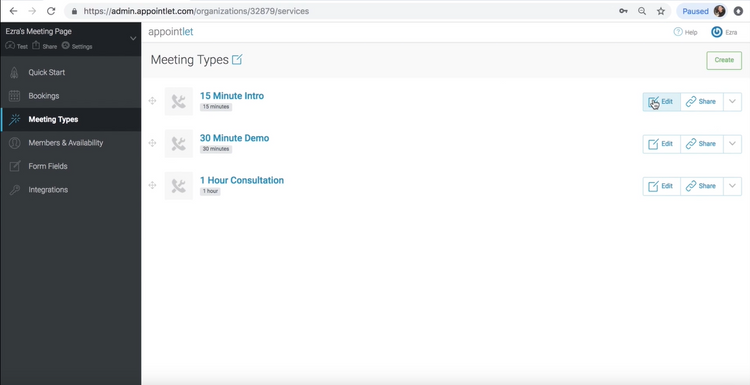 Reservation Software Pricing
Reservation software charge a number of ways, from monthly subscription fees, to commissions per table, to flat fees per booking. And some use one, two, or all three forms of pricing. Prices rise and fall based on the available services, organizational size, number of reservations, types of traffic, and more.
Reservation software can start from $14.95/month to $249/month for monthly subscriptions. Reservation software for short-term rentals can also be priced at as low as $3/month/unit and go up to $110/month/property.
Fees per seated cover at a restaurant can range from $0.25 to $2.50.
And commissions on bookings range from 0.5% per booking to 2% per booking.
Reservation Software Integrations
Reservation software have great solutions and tools for booking guests, but the full benefits of the cost savings and automation can only come through integration with other tools and software. Online bookings will sync with calendars, payment systems, accounting software, social media accounts, marketing tools, and more.
Payment Software
Allow guests different options to securely pay online. Accept credit cards through your reservation software with systems like Stripe, Square, and Authorize.Net. Or utilize Apple Pay or PayPal to give the guests their preferred payment method. Place credit card holds and pre-authorize charges to ensure payments.
Customize how much (if any) money you want paid upon online booking. Or give guests the option to pay on a particular payment plan, with alerts to let them know when bills are due and what their balances are.
You can also customize when clients can cancel or update their appointments on their own, restricting what refunds will be allowed at certain times.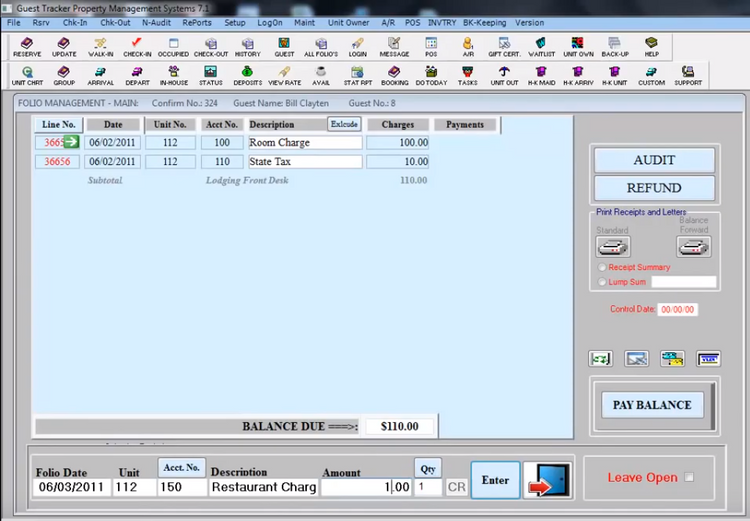 Accounting Software
Automatically log payments onto ledgers, using Xero, QuickBooks, and more. By automating this process, fewer errors will be made in data entry, books will stay consistent, and less time will need to be used for accounting.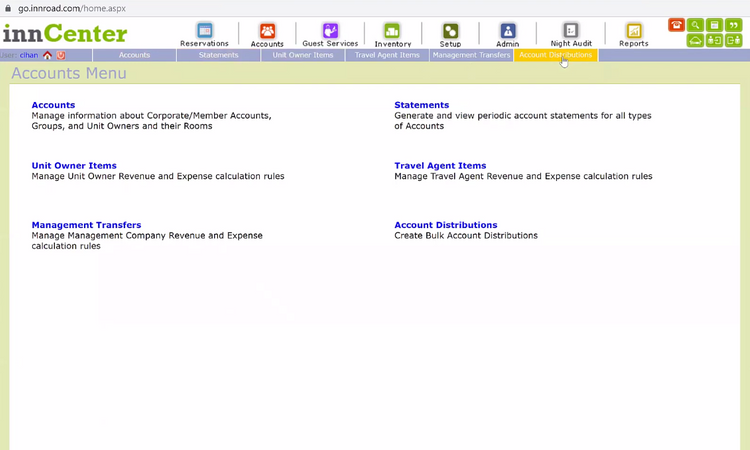 Calendars
Guests are able to reserve events based on your internal calendar, whether that is Google Calendar, Office 365, iCalendar or others. As guests book events, those bookings will show up on your internal calendar; and they will be hidden online, to avoid double-booking. You'll then be able to reference each booking on your internal schedule based on the information you ask for: names, contact information, type of event, dietary restrictions, extra requests, and more.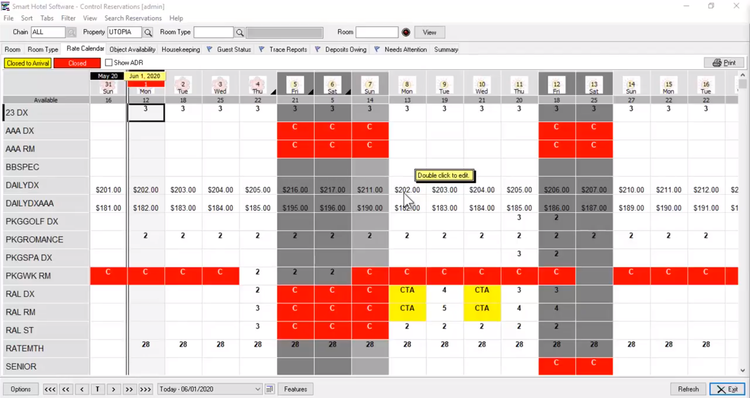 Social media is one of the most powerful marketing tools available today. With reservation booking software, organizations can put a booking tool at the top of their social media pages. Turn traffic from posts, shares, and likes directly into bookings.
Email Marketing
Integrate reservation software with email marketing campaigns. Track how many conversions come from different keywords, layouts, discounts, and more. Services like MailChimp, Moosend, and Constant Contact seamlessly integrate with most reservation systems.