What is Hotel Accounting Software?
Hotel accounting software allows hoteliers to accurately track revenue and expenses to maintain a positive ROI and make better business decisions. The hotel industry sees a constant influx of new customers on a daily basis. This means hotel owners need to have a system in place to create many new invoices on a daily basis, as well as keep track of last-minute added services (i.e. room service) and incurred damages that need to be charged to the customer's account. The system also needs to track the costs of complimentary items like travel-sized soaps and instant coffee.
Room rate calculation is also an important part of hotel accounting systems. Knowing the time of the week or time of year that will be in high demand for hotel stays helps hotel businesses adjust pricing as needed. The room prices can also be adjusted based on the amenities in a particular room; for example, rooms with king-size beds will be set higher than rooms with queen-size.
The accounting software also helps manage payroll. Hotel owners and general managers can track payroll by specific departments from housekeeping to front desk personnel, or individual employees. The system will track the number of hours worked to calculate wages, as well as provide tax calculation for your state and federal taxes.
Features of Hotel Accounting Software
Core Accounting: Track revenue and expenses with the accounts payable and accounts receivable modules. Keep financial records in the general ledger with the chart of accounts, financial statements, journal entries, and more.
Room Rate Calculation: Automate rate calculation and adjustments based on the day of the week and seasonality. Apply extra charges for room upgrades. Manage block rates for large groups.
Invoicing: Create invoices for scheduled stays, special event reservations, and charges for room damages.
Budgeting and Forecasting: Calculate cost per occupied room (CPOR) and generate budgeted vs. actual comparisons to create financial plans.
Financial Reporting: Create reports on financial data including profit and loss statements, cash flow statements, and balance sheets.
Payroll: Track wages for employees in various departments including front desk staff, back-office personnel, housekeepers, and chefs.
Benefits of Hotel Accounting Software
Some of the benefits of hotel accounting systems include:
Streamlined Billing and Invoicing
Hotel accounting software not only makes it easy to bill for a regular night's stay, but also for extra services and special events. If your customers order room service or take stocked items from the minibar, these extras can be added to the final invoice at the end of the stay. Any damages that occurred or stolen items during the stay can also be added as additional charges for the customer.
Hotels that have conference rooms or other large spaces that can be rented out for special events also need to be invoiced appropriately. Not only do you need a system that tracks the cost of the rental space, but you also need to manage room rates for large parties. Customers with large groups can set up room blocks to lock in pricing for a set number of guests.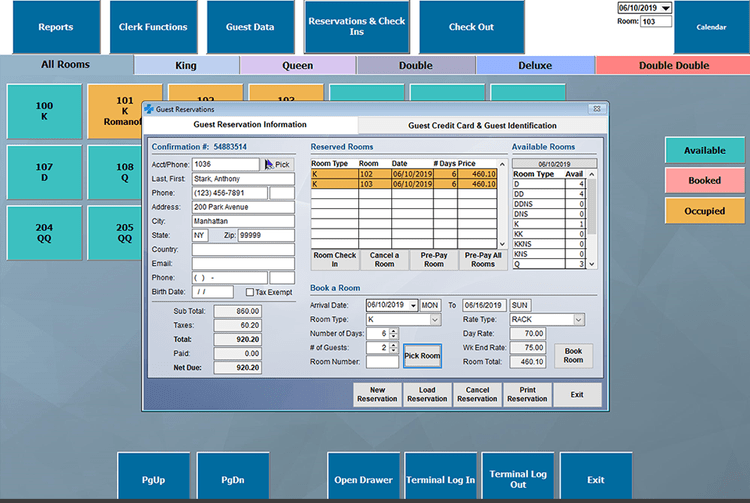 Optimize Your Room Rates
The most optimal price of a hotel room will fluctuate depending on the season, day of the week, and ongoing events in the area. It's important for hotel businesses to keep their pricing competitive–having pricing too high will drive customers to your competitors. Pricing too low will cost you money. Hotel accounting systems can analyze current rates of competitors and estimate the demand for hotel stays to help you determine the best pricing for your rooms.
The system will also keep track of room amenities to adjust pricing between the different rooms available in your hotel. Rooms with larger or more beds, whirlpools, or other extra amenities will automatically be a higher price than more basic rooms.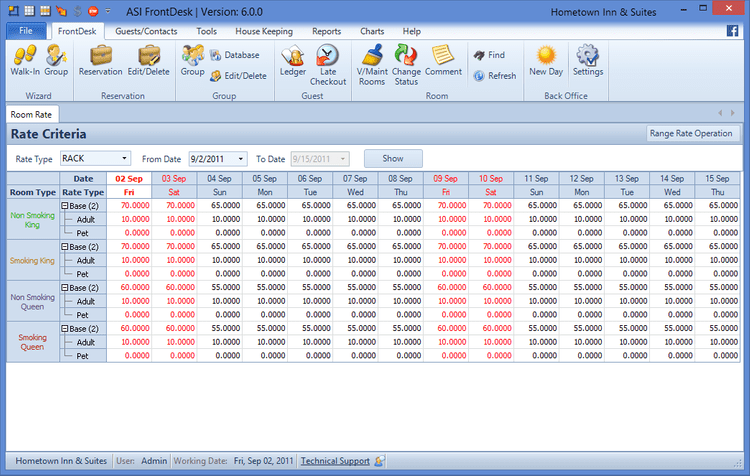 Is QuickBooks a Hotel Accounting Software?
QuickBooks Online is a strong system for collecting basic accounting data, sending invoices, and tracking inventory. Small hotels that are outgrowing manual data entry methods often use QuickBooks to streamline income and expense tracking.
QuickBooks can also keep track of inventory items and the costs associated with those items. When the hotel supplies are running low, QuickBooks can also help generate purchase orders. Some inventory items that can be tracked include:
Complimentary Toiletries
Housekeeping Supplies
Ingredients for Food Service
Hotel management systems may not have strong accounting functionality, so they integrate with QuickBooks and other popular accounting systems to give you a more well-rounded solution. Some hotel POS systems will track the income from transactions, but won't track your expenses. If you already have a hotel management solution that lacks in accounting, finding a compatible, generic accounting system like QuickBooks could be the best option.
What Does Your Hotel Business Need?
The right accounting software for your hotel business primarily depends on your functionality requirements and the size of your business.
Small Hotels: Hotel owners that run small inns or hotels with only a few rooms generally use generic accounting software like QuickBooks, Xero, or FreshBooks to track income and expenses. Small to midsize hotels that see a high customer turnover and manage many rooms in one location should consider an industry-specific solution. Hotel accounting software can be used to determine room rate changes and manage additional charges for add-on services and room upgrades.
Multi-Location Hotels: Large hotel chains with multiple locations need all-in-one hospitality management software. Hospitality software allows hoteliers to manage all business operations from one system. In addition to accounting, these systems also manage customers, inventory, reservations, events, housekeeping schedules, maintenance requests, and point of sale transactions across all locations.
Business intelligence tools are available in some advanced systems that allow hoteliers to estimate the demand for their hotels in any particular location. BI tools assist hotel owners with making important business decisions like increasing or decreasing room rates or hiring on seasonal staff. The system can factor in data from the prices of surrounding competitors, upcoming events, or seasonality.