What is Insurance Software?
Insurance software manages business processes like claims and policy management, quoting and invoicing, and commission tracking for independent agents, brokerages, and insurance carriers. The system helps insurance companies draft, update, and store policy information. Terms and agreements will be stored within the system, allowing agents and clients to pull up the policy information and request updates as needed.
Some insurance solutions manage and process claims. The system will store images, forms, and other documents related to the policy and claim. Claim payments are approved or denied within the system and recorded when funds are disbursed.
Insurance systems can also help bring in new business and retain existing clients through lead management. Insurance brokerages offering insurance products from multiple carriers find a comparative rater beneficial. This allows agents to quickly calculate and provide rates from multiple carriers side by side, giving clients a better idea of available options. Insurance carriers and brokerages alike use lead management functionality to send marketing emails, track closed sales, and manage contact information for prospective clients.
Features of Insurance Software
| Feature | Description |
| --- | --- |
| Insurance Policy Management | Maintain policy information including rates and terms. |
| Claims Management | Keep track of all documents and images related to a claim. Create first notice of loss (FNOL) forms and disperse claim payments. |
| Comparative Rater | Calculate insurance rates from multiple carriers for side by side comparisons. |
| Quoting and Invoicing | Create quotes for new insurance contracts and convert accepted quotes into invoices. |
| Lead Management | Store potential client information, send email blasts, manage marketing campaigns, and accept applications through an online form. |
| Commission Tracking | Set commission rates for individual insurance agents, track commission disbursements, and distribute commission payments. |
| Document Management | Upload, edit, and store important documents such as contracts, client information, claims documents, ACORD forms, and more. |
Benefits of Insurance Software
Keep Policies Updated
Insurance software saves the policy terms and conditions within the system. The policy information varies based on the type of insurance. For example, auto insurance will require the make, model, and year of a vehicle, as well as the names and ages of the drivers on the policy. The policy can be updated by the provider or insurance agent as needed. For instance, adding newly purchased vehicle or a child that got their driver's license.
Insurance policies also include the effective date and expiration date, the policy numbers, and premium amounts. Premiums can also be set to change based on the policy terms like good driver discounts or premium increases after an accident.
Insurance software can also generate a certificate of insurance. This allows policyholders to print and maintain proof of insurance for their own records.
The policy administration system will also notify you of missed payments and upcoming expirations dates.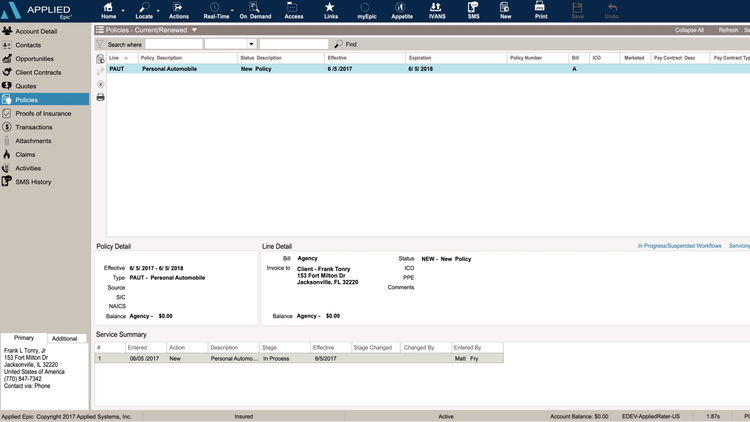 Manage Claims from FNOL to Settlement
Insurance software helps agencies manage their claims. The software assists with accepting and declining claims, tracking claim status, and storing all relevant information regarding the claim.
For example, auto insurance providers need to collect information for a claim after an accident. The software will gather photos of the damaged vehicle, the date of the incident, insurance policy numbers, and loss information. The loss information can include the location of the incident, type of claim, and a detailed description of what took place.
When a claim is approved, the software will help calculate and record the amount disbursed. The system will also help you gather all evidence and statements regarding an insurance claim for risk management purposes. Having all of the information and consistent records will help you reduce the occurrence of fraudulent claims.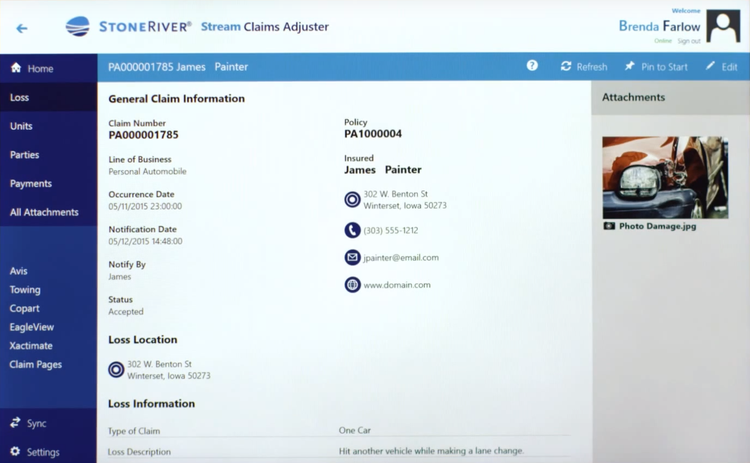 Compare Rates from Various Insurance Carriers
Most customers spend time shopping around in the insurance market. Brokerages that offer plans from multiple carriers can use a comparative rater within their insurance software to improve overall customer experience. The comparative rater will quickly calculate the real-time costs of similar plans across a range of insurance carriers. The insurance plans that are provided in the quote are chosen based on the customer's requirements.
Most systems have a database with information from hundreds of insurance carriers where the quote information is drawn from. Some systems can scan an insurance carrier's website to obtain plan prices.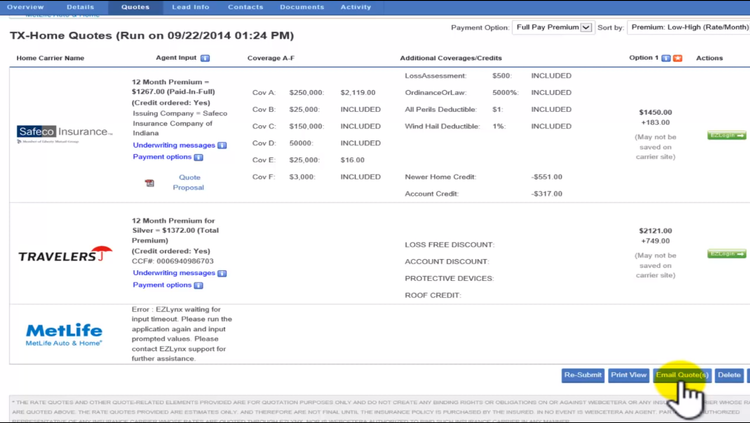 Keep Documents Organized in One Place
Insurance software keeps all important documents stored in one place for easy access when needed. Whether you need to keep customizable templates easily accessible or upload and store signed paperwork from new clients, insurance software will handle it. The system can also collect electronic signatures to make adding and updating contracts easier. All of your documents will be stored in an organized format, making it easy to find information for a specific client or draw up a new contract.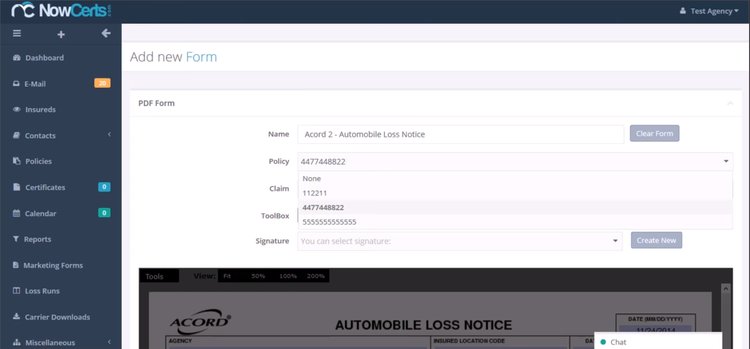 What Insurance Software Does Your Business Need?
Some insurance solutions are specialized for various types of insurance including:
Personal Lines

Homeowners Insurance
Auto Insurance
Health Insurance
Disability Insurance
Renters Insurance
Life Insurance

Commercial Lines

Workers Comp Insurance
Commercial Auto Insurance
Malpractice Insurance
Liability Insurance
Some systems are built for insurance companies that handle property & casualty insurance (P&C insurance), some systems are designed for companies handling life insurance, and some systems deal with both. When choosing a software vendor, be sure to check that it's built for your specific industry requirements.