What is KPI Software?
Key performance indicators, usually shortened to KPI, measure the success of your business. KPIs can be customized based on your specific industry needs. There is a wide range of potential KPIs, depending on exactly what company goals you want to measure.
KPI software automates the measurement of different processes in order to provide a comprehensive overview of business tasks. Operating as a subset of business intelligence systems, KPIs track everything from company goals to individual employee performance to reach your main objectives.
Some popular KPIs include:
Conversion rates
Net sales
Engagement metrics
Call duration
With KPI software, you can start measuring and monitoring all of these specific indicators and much more. Finding KPIs for your industry often follows the SMART acronym:
Specific purpose: Answers the who, what, where, why and which to make the goals specific.
Measurable: What are the concrete criteria for measuring progress toward the goal?
Attainable: How is the goal attainable?
Relevant: How do the goals relate to your team, department, and organization?
Time: What is the time frame for reaching the goals?
Once you've selected your performance indicators, you can set automated alerts to notify you when goals are met or missed. Visual reports and sorting/filtering capabilities keep managers updated as to the progress of those goals. And real-time tracking from customizable dashboards let you review changes to your company metrics.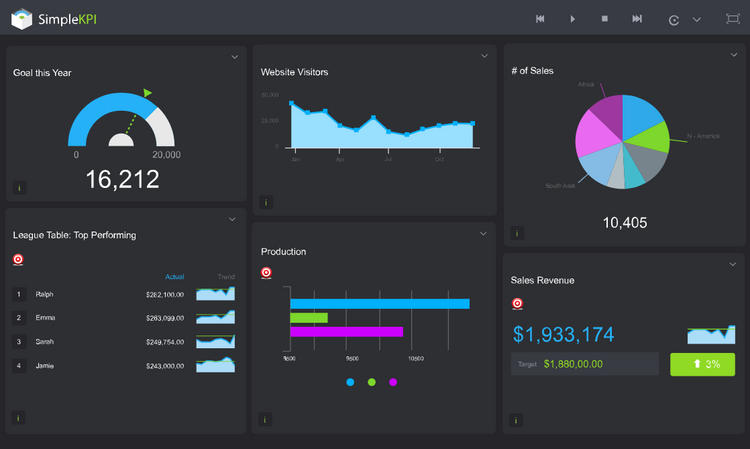 Features of KPI Software
Custom KPI dashboard: Design customized dashboards to visualize select KPIs
Automated alerts and notifications: Send out alerts when KPIs are at risk of falling behind; automate notifications to inform management when goals are completed
Data integration: Pull data from various sources into one dashboard or on reports
Analytics and reporting: Analyze internal KPI data against predetermined goals; submit data into report format for review by your business in order to identify areas of improvement
Trend tracking: Follow emerging trends for your industry by collecting data for select KPIs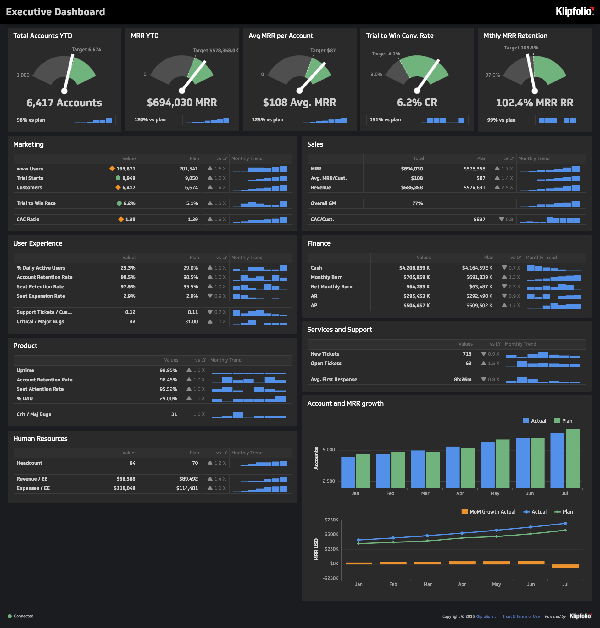 Best KPI Software Benefits
Introducing a KPI software into your business processes can provide you with a lot of benefits, including:
Measure Custom KPIs
Every industry has different standards for success and failure. With KPI software, you can select your own key performance indicators based on what measurements will most accurately reflect your objectives. Then track how those KPIs change over time by using KPI reporting software to collect relevant data from set time periods.
For example, KPI software can measure how many website visits end in successful conversions, whether it's submitted contact forms or inquiring phone calls to your company. You can monitor how those metrics change on a daily, weekly or monthly basis. Compare different quarterly numbers to see if seasonal factors are impacting sales. Or learn which days of the week have the most successful conversions.
Further, you can use KPI software to track individual performance metrics for employees, teams, and departments. Analyze specific success rates for call conversions by your sales team, or calculate which products have the best ROI on your eCommerce website. There are plenty of ways to measure who and what is working best for your business. Additionally, these individual metrics are useful when it's time to perform employee evaluations or determine annual commission bonuses.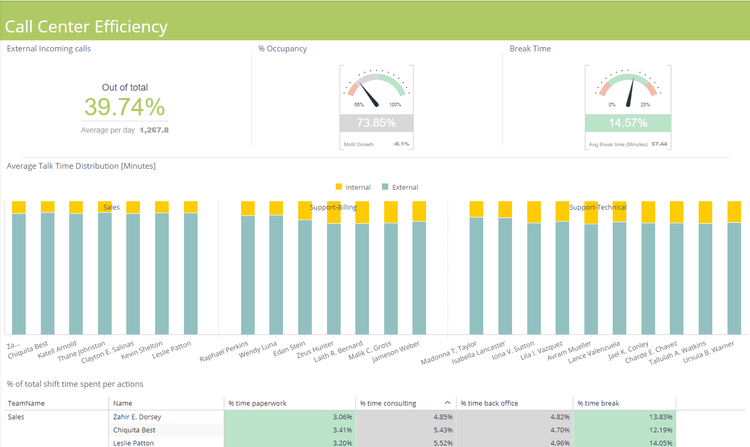 Easily Visualize KPIs
Having an overview of your metrics can provide an easy to understand view of your business performance. KPI dashboards show highly visualized representations of select data points related to your preset goals and objectives.
Dashboards full of business data can be organized based on your preferences. Make templates to set up custom:
Bar charts
Line graphs
Pie charts
Scoreboards or scorecards
Once you've set your preferred style, you can share each metric with others within your organization. Each department can have their own style which KPI software can modify when sharing so everyone is on the same page. From team leaders to upper management, a customizable dashboard allows everyone to understand complex data related to your business goals at a glance.
Further, KPI software which is cloud-based may include custom apps for accessing data visualization from mobile devices. You can monitor potential changes to your key performance indicators in real-time from anywhere you want.
Identify KPI Trends to Target New Goals
Analyzing KPI has been part of doing business for decades. However, the methodology has greatly changed, particularly in recent years, thanks to software development. As such, it's become easier than ever to identify growing trends within your company or industry as a whole. This can lead to adjustments in how you perform business decision-making.
KPI software tracks the metrics you select based on what you think shows success. Sometimes, you might realize you're tracking the wrong metrics for demonstrating success. For instance, maybe you're measuring success by total sales of a certain product when you really should be paying attention to how many units are sold per transaction or total revenue. What data source is right for one business can be wrong for another. KPI software helps you find the best metrics to track for long-term success regarding your company's strategic goals.
KPI Software Pricing
KPI software pricing depends on a few factors, mostly whether you want an on-premise solution or a cloud-hosted solution. SaaS lets you access services from anywhere in the world, making it popular with companies with multiple locations. However, on-prem solutions are popular with smaller businesses or those which need on-location security measures to protect data.
Monthly payment plans for KPI software starts at $6 and goes all the way up to $259. Several solutions offer discounts for making annual payments instead of monthly ones. There are also many free trials to test out the software for your business.