What is Legal Accounting Software?
Legal accounting software helps law firms track time, bill clients, manage schedules and monitor business performance with financial reports. Accounting software options that are specific to law offices will ensure confidential client information is stored properly and complies with data security laws.
Standalone legal accounting software is ideal for small firms or practices that have other software in place that can't handle the firm's accounting needs. For example, if you have a case management system in place that doesn't offer accounting functionality and you don't want to replace the existing system, standalone legal accounting software can integrate with it. Larger law firms tend to prefer solutions that handle everything. Fully integrated legal software suites will include accounting features along with other important features like practice management and time and billing.
Features of Legal Accounting Software
| Feature | Description |
| --- | --- |
| Core Accounting | Includes basic accounting features including accounts payable for tracking money owed, accounts receivable for tracking outstanding invoices, and a general ledger. |
| Time Tracking | Record billable hours as you work on tasks related to a client's case. |
| Legal Billing | Create invoices based on recorded billable hours and hourly rate. |
| Document Management | Store images, files, and important documents pertaining to client cases. Documents include, but aren't limited to, affidavits, wills, contract agreements, medical consent forms, real estate agreements, and employment agreements. |
| Scheduling | Keep track of scheduled appointments, deadlines, and court dates. Automated reminders will be sent to you and clients to ensure important dates aren't missed. |
| Reporting | Pull financial reports, view cash flow statements and profit and loss statements, and monitor attorney productivity. |
Billing and Time Tracking
Law firm accounting software ensures your firm stays productive and profitable by tracking billable hours in real-time as well as allowing attorneys to manually enter hours. Without time tracking functionality, your attorneys could lose track of how long they spent on tasks or forget to charge clients for time spent. Billing is directly related to the time your attorneys spend working. If clients aren't being billed properly for your attorney's time, the firm will lose money.
Legal accounting solutions will calculate billable hours and your preset hourly rate to create an invoice. The invoice can be sent through mail or electronically to the client. Some solutions allow clients to set up an account through a portal to pay online by credit card or through an electronic bank account transfer.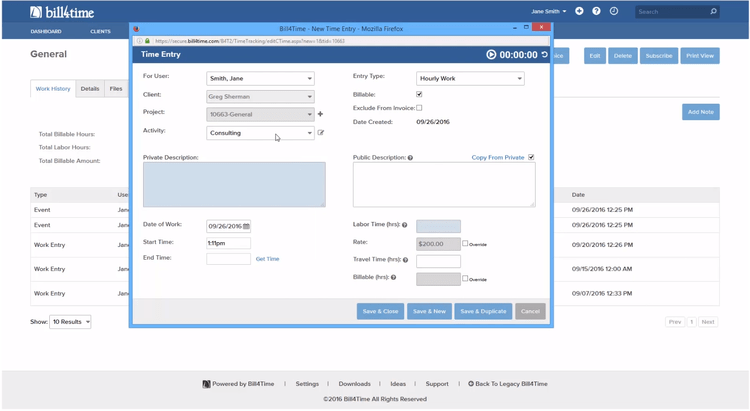 Trust Accounting
Some legal accounting solutions also handle trust accounting functionality including dispersing funds, maintaining accurate records, and printing checks. The software will also make it easy to run bank reconciliations regularly and manage client investments. Trust accounting is more specific to the legal industry; therefore, generic accounting options don't usually offer these features.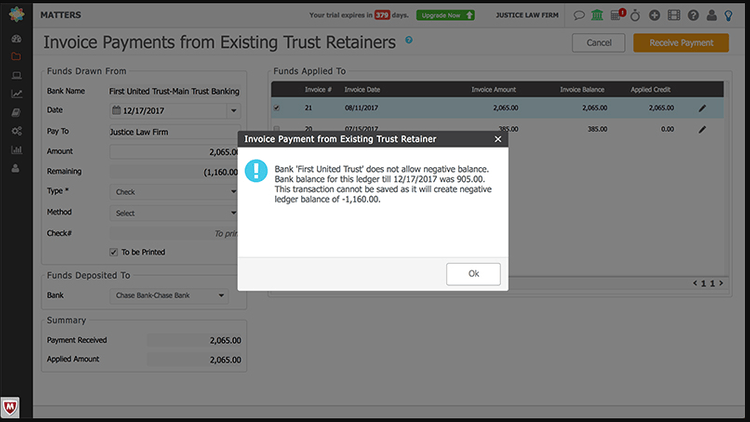 Can QuickBooks Be Used for Legal Accounting?
QuickBooks is advertised to handle legal accounting needs. QuickBooks is a great solution for attorneys and small law firms looking for only core accounting functions like accounts payable, accounts receivable, billing and time tracking, and reporting. However, QuickBooks is not a legal industry-specific solution, so larger firms with a large caseload could find it lacking in some areas. For example, you will have to use tags to keep payments or records for each client straight. With legal accounting software, records and transactions can be automatically applied to specific client accounts, making it easier to find the information you need quickly.
There are QuickBooks resellers that are experienced with implementing it in the legal space. Some developers have custom add-ons for QuickBooks that are tailored to law firms to make up for functionality that might be lacking.
Demo on tracking billable time in QuickBooks.