What is Quoting Software?
Quoting software automates the proposal process for B2B and B2C sales. A subset of "configure, price, and quote" (CPQ) systems, quoting software focuses on calculating costs, managing customer relationships, and streamlining the request for proposal (RFP) process. An automated quoting software can dramatically expedite the quote proposal and approval process for various products and services.
While quoting systems help you share proposals with clients and customers, it also helps you better understand costs so you can find opportunities for savings on your end of the transaction. As a result, quoting software lets you save time and money throughout the entire quote proposal process.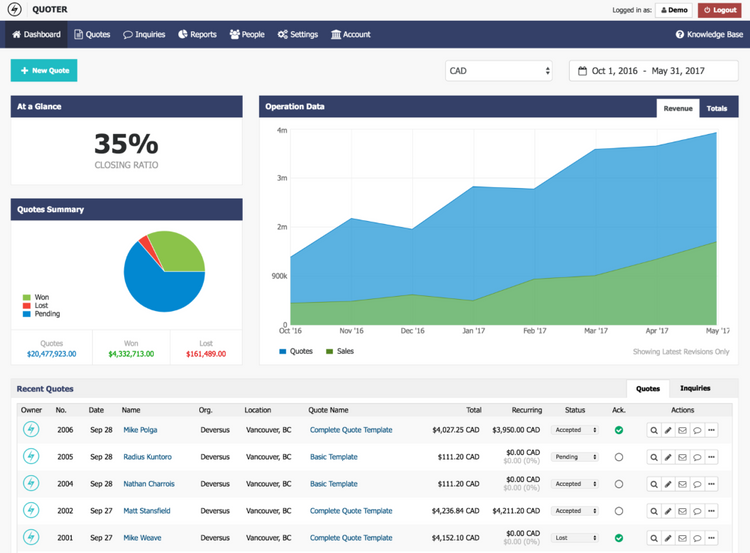 Features of Quoting Software
Automated quote generator: Build custom quotes through an automated template generator which includes complex pricing and other relevant quote information
Price rules engine: Set automatic pricing rules for your products and services based on specific rules, such as labor or material requirements
Discount management: Create conditions to apply discounts, sales, and clearance pricing on various products and services
Price and quote management: Maintain detailed records of pricing rules from previously sent quotes
Product configuration: Allow clients and customers to customize their products before sending out a quote proposal
Customer profiles and contact management: Store contact information about clients and customers, ranging from addresses, e-mails, and phone numbers to personal details about each account holder
E-signature collection: Allow clients and customers to digitally sign and accept quote proposals online
Invoice generation: Once a quote has been accepted by a client, automatically generate a matching invoice
Online payment portal: Accept payment for quotes through an easily accessible payment portal
Best Quoting Software Benefits
Quoting software helps more than just easing the proposal process for the sales department. Some of the additional benefits include:
Expedited Quote Generation
Building an accurate quote for a client takes time, especially if you have to calculate a lot of independent variables. Manually calculating the final price can waste a lot of valuable labor. While some basic quotations can be completed in a few hours or days, particularly complex proposals can take weeks or months to complete, depending on the scope of the project.
Fortunately, quoting software automates the process with customizable templates, even for complex products and services. By using an auto quote generator, you get faster price results which can then be sent off to clients in minutes instead of days. And those formerly month-long proposals can be finished in a fraction of the time, giving the sales team more time to focus on new leads.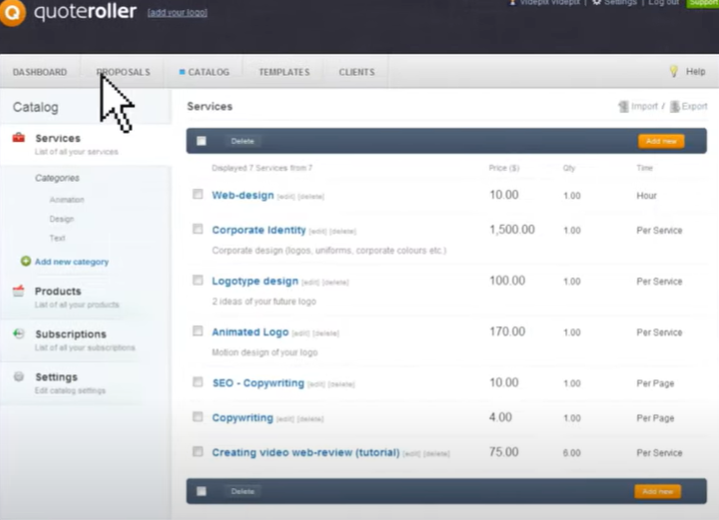 Reduce Human Errors
Another downside of manual quote calculation is the possibility for human error. Every variable accounted for is an opportunity for a mistake. And if an incorrect proposal is sent to a customer, it can lead to an expensive misunderstanding and lost client trust.
Using a quoting software algorithm to generate complex prices leads to fewer errors overall. The custom price rules engine does all the calculations for you, even with complex variables. You can rest easy safe from costly misquotes.
Customize Pricing
In addition to reducing errors and speeding up the proposal process, quoting software allows for more flexibility with cost estimates. With software automation, you can adjust total prices based on individual product variables like:
Size
Bulk purchasing
Colors
Accessories
Bundles
Shipping methods
As long as you have your business rules set in advance, you can get an accurate quote for your most complex products generated in a fraction of the time of your manually calculated quotes. This interactive process also increases customer satisfaction, as each user can take the time they need to select every option they need at their own pace.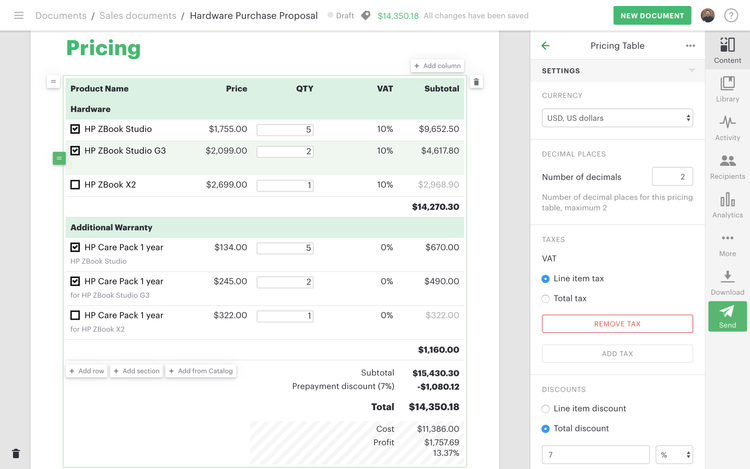 Faster Quote Acceptance
By sending quotes faster, you can receive responses faster too. Automated proposals can be sent as soon as they are completed, ready for customer approval. Digital quotes can be sent out online as well, further reducing delays from sending traditional proposals through the mail or a courier service. This is especially beneficial for sales team members who have multiple proposals to get out in a single day, as they don't have to go through the hassle of addressing multiple envelopes or figuring out postage.
E-signature collection and online payment portals further expedite workflow. Once received, a customer can digitally sign the proposal with an electronic signature, allowing work to begin. And since they can also pay online, even with credit cards, the transaction can be completed in real time. The sales department can send out multiple quotes in the morning and start distributing customer-approved projects by the afternoon.
Additionally, you can set automated reminders to contact clients in regards to active proposals. These follow-ups can range from days after a quote is sent to weeks or months, depending on the type of project.
Build Better Customer Relationships
Customer relationship management (CRM) tools are another valuable part of quoting software. The first is through the creation of detailed customer profiles which can include everything from basic contact information to personalized notes about the client.
By setting up customer profiles with a CRM, you can review pertinent information before sending a quote proposal, increasing your chances of success. Keep in-depth notes on various clients, such as their buying habits and past sales history with your company. All of this information can be used to better tailor quotes to each specific customer.