Small business recruiting software is designed to help smaller companies streamline applicant tracking, job posting, and candidate screening without all the extra (and expensive) features.
Recruiting software helps human resource departments and hiring managers easily find job qualified candidates, screen applicants, parse resumes, and send out offer letters to potential new hires. Yet these streamlined solutions operate slightly differently when applied towards small businesses and startups with limited hiring needs.
What is Small Business Recruiting Software?
It's no surprise small businesses have very different operating needs than global enterprises which either have independent HR departments or allocated funds for professional recruiters. To start, the staffing needs are significantly smaller. A full recruiting software system intended to bring in hundreds or thousands of applicants may be too expensive or confusing for a new startup or mom-and-pop shop.
For example, a full-scale recruiting software may offer tools for international job posting and hiring processes. A local business with only one physical location will have no need for those. Startup and small business recruiting software covers just the basics to help find and hire the best employees possible from among the local talent pool.
Features of Small Business Recruiting Software
Job posting templates: Standardize your job postings across your site's careers page, job boards, and social media by using custom templates
Recruitment marketing: Post job openings online and share through third-party websites for better candidate sourcing
Applicant tracking system (ATS): Recruit the best talent by tracking qualified candidates and filtering out unqualified applicants
Resume management system: Control and organize all job application documents such as resumes, cover letters, CVs, and references within a single recruiting platform
Candidate screening and background checks: Pre-screen candidates based on qualifications, certifications, employment history, criminal history, and other relevant areas
Interview scheduling and calendar: Arrange candidate interviews based on a shared calendar to prevent overlapping appointments; incorporate video interviews when necessary or applications through mobile apps
New hire onboarding: Offer orientation services to new employees to ensure they understand company operations and values as soon as they start
Workforce planning: Determine which areas of your company require new employees or what positions need to be filled with the most urgency in order to prioritize job openings and interviews
Assessments and reporting tools: Measure candidate performance during interviews and skills assessment, then compile reports on how new hires perform on the job according to select metrics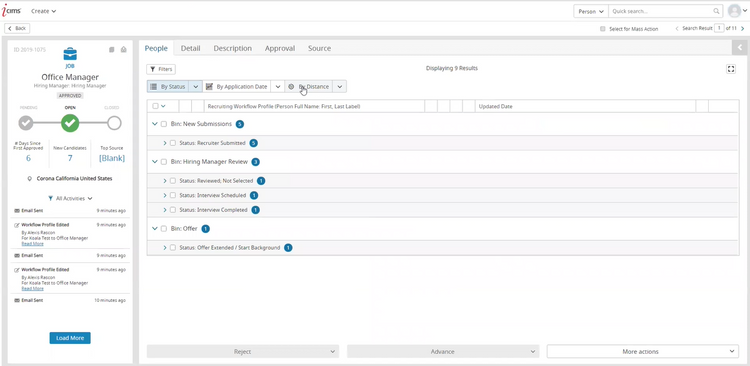 Best Recruiting Software for Small Business Benefits
Improve your small business operation with recruiting software:
Expedite the Hiring Process
As the owner of a small business, you likely wear many hats, including that of the entire human resource (HR) department. It may be up to one owner or manager to oversee all staffing issues, taking up a lot of valuable time which could be spent on other tasks. Using an all-in-one recruiting platform with an applicant tracking system can add automation to the entire hiring process, from making a job posting online to employee onboarding, freeing you and your employees up from this extra responsibility.
Applicant tracking systems within your recruiting platform can automatically organize candidates based on your preferences. For example, if you are looking for applicants with a history in sales, you can filter resumes and cover letters based on those qualifications. This automated resume parsing process can provide you with the best candidates in seconds, instead of spending hours sorting through resumes by hand to find who is or isn't qualified.
Schedule Interviews at Your Convenience
With a small business or startup, your operating hours are rarely confined to a traditional 9-5. There is so much additional labor just to keep operations afloat while trying to establish your business against enterprise-level competition. As a result, finding time to schedule interviews with multiple job seekers can complicate an already full itinerary. Intuitive small business recruiting software makes it easier to find availability for the interviewer and the candidates alike.
Additionally, you can automate the sending of job offers and declines after the interviews are over. No more waiting days or weeks for physical, mailed letters to go out. You can make an offer and receive a reply almost instantaneously! If a candidate accepts, you can start informing other applicants the position has been filled and allow them to continue their job search elsewhere. This improved communication can be beneficial later if you need to hire again, as those who had a good candidate experience will likely apply again and have a favorable opinion of your company.
Recruit and Retain Better Employees
As a small business, you need to hire high quality employees you can depend on in the long run. Otherwise, you can be left continuously filling the same positions over and over. High employee turnover at a small business can quickly add up to thousands of dollars in lost staffing resources and give your company a bad reputation amongst potential candidates.
Recruiting software provides tools for posting and sharing job openings across the Internet, from job boards to social media. This can increase your hiring pool significantly, giving you a better chance of finding the right candidate. And once you've found the right person, user-friendly onboarding and analytics can show how well they are performing without the need for constant supervision or micromanaging.
Finally, using a recruiting platform can help your business remain compliant with Equal Employment Opportunity (EEO) guidelines regarding fair hiring practices. While many startups initially rely on friends or family to fill positions early on, expanding small businesses can use software to ensure they are analyzing all the right candidates fairly and not hiring someone unqualified simply because of nepotism.
Recruiting Software Pricing for Small Businesses
Another concern when operating a small business is keeping costs down. Fortunately, recruiting software as a service (SaaS) for small businesses is available at a variety of prices to meet your budget. The cost for small-scale recruitment software ranges from $7 per month to as high as $185 per month each for a set number of users, whether that means applicants, HR teams, or management.
Some recruiting solutions have upfront costs related to the setup, implementation, and training fees for each user. While these one-time fees can increase the total price, additional software updates and technical customer support are often included in the monthly SaaS pricing.
Finally, there may be additional costs associated with posting job openings to social media such as Facebook, along with career sites and job boards including LinkedIn, ZipRecruiter, and Indeed. For example, certain sites may charge per each individual post while others have a flat fee for unlimited job postings or sourcing per month. The more recruiting tools you use to attract top talent, the more the software will cost. If you only need to hire a few new employees at a time, you can save with small business recruiting software.