What Is Recruiting Software?
Recruiting software helps source and find job candidates, screens resumes, and sends out offer letters. Commonly compared with applicant tracking systems (ATS), recruiting software encompasses the broad reach of recruiting by optimizing and providing automation to the hiring process. This software is commonly used by recruiters and hiring managers in human resource departments to streamline and automate the workflows in finding, choosing, screening, and interviewing candidates.
Recruiting is just one functionality found in HR software. Larger organizations that hiring a great deal of employees each year may find themselves wanting more than the basic applicant tracking capabilities offered in their broad HR tool. A dedicated recruiting tool will allow you to build your ideal candidate through set criteria and ensure your submissions match what you want out of an employee. In this sense, recruiting software solves the problems of both quantity and quality in sourcing employees–as it will help increase the overall number of applicants you receive, while also helping to improve the type of worker your company hires.
Beyond recruiting, once an employee has been hired, a recruiting software will aid with the transition from recruit to employee via an onboarding feature. This helps walk new hires through the proper pieces of paperwork, allows them to access the company handbook, and introduces them to general office policies. Your HR staff should be able to track what is still required for a new hire to complete their onboarding via task management and eSignature captures.
The candidate experience in most recruiting software is usually the first level of interaction a job seeker will have with your company. They may be filling out an application and questionnaire on your website or a career site, and having a seamless front-end experience will help improve the quality of candidates you receive on the back-end. Candidates can also have a portal they can check back to see what materials are needed from them–if they move onto the onboarding phase.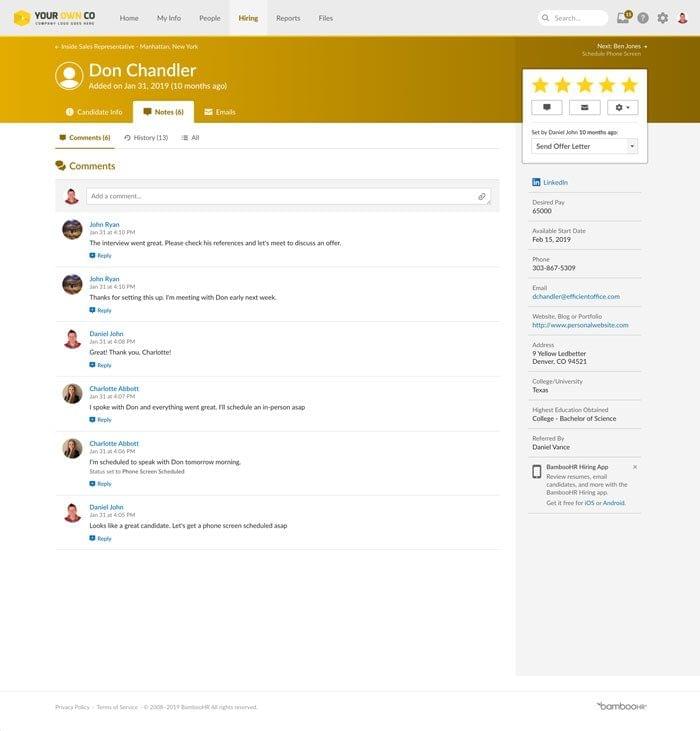 Features of Recruiting Software
Applicant Tracking: Acts as a CRM software for recruitment tracking purposes. Receive and sort through applicants, host career pages, store resumes, and more. Filter applicants based on keywords, skills, former employers, years of experience, and schools attended.
Resume Management: Store all resumes/CVs and track candidates. Sort, filter, and extract data from the resume into your applicant tracking system.
Candidate Sourcing: Pinpoint top talent through creating personalized campaigns. Includes pipelining, communication, and activity tracking. Create job postings through integrations with major job posting websites such as LinkedIn, Monster.com, and ZipRecruiter.
Interview Calendar: Create customized calendars to handle interview scheduling. Select interviewers based on varying attributes. Access hiring managers' calendars for insight into best available times for phone screens or onsite interviews. Allow for an applicant portal to choose their time based on your company's availability.
Employee Onboarding: Integrate new employees into the organization by familiarizing them with the client base and products/services offered. Make paperwork available to new hires to complete and gather electronic signatures. Monitor their progress via checklists.
Assessments: Create talent assessments that help identify candidates that will be a good fit based on your preselected criteria. May incorporate the use of job simulations designed to measure if a candidate can perform the tasks asked of them.
Reporting: Create custom analytic reports based on your recruiting metrics that provide insights into the value and effectiveness of your recruiting process. This includes time to hire, cost per hire, funnel conversion rates, source of hire, retention, offer acceptance, and diversity.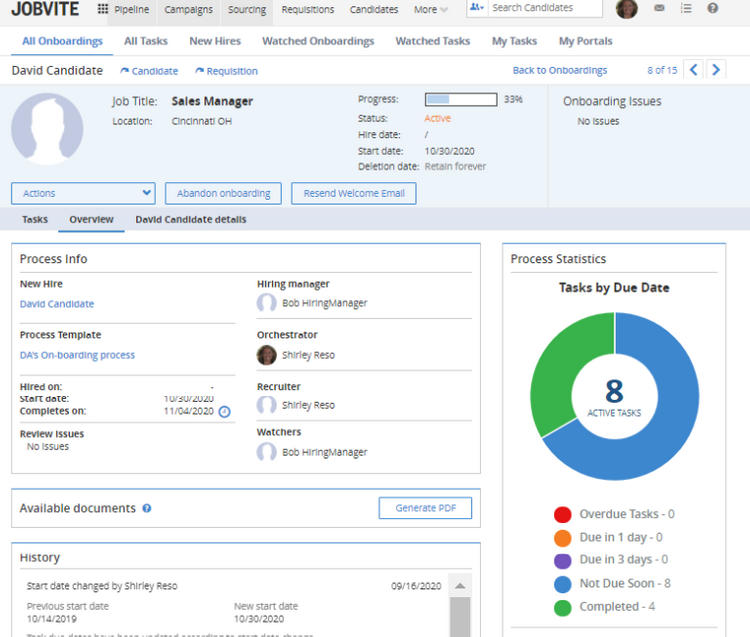 Benefits of Recruiting Software
The best recruiting software will take advantage of artificial intelligence to sift through resumes and find who sticks out the most. This can help you save on recruitment marketing dollars as you won't need to continuously pay for placement on career sites. Staffing agencies may also benefit from the talent management functionalities with regards to organizing their clients.
Streamline Data Collection From Candidates
Recruiting software allows you to receive applications from a number of different job websites and job boards. Once received, your recruiting software will be able to extract data from these applications into a single unified manner. From there, applicant files can be created and you may begin to sort them by education, salary preferences, desired roles, and more.
Many tools that take in applications and resumes will allow you to auto-scan for preferred qualifications. On top of that, your recruiting software will allow you to gain information about the resources your business has been using to attract talent. This includes data on how many people have viewed your job ads, how many apply for specific roles, and more.
Moreover, this streamlined data collection process will let you filter better applicants to the top. With the influx of applicants, you should be receiving by integrating with job board websites, you should have plenty to work through to find the best candidate. If you find yourself in the precarious situation of having too many applicants, then your business can begin to look at more expensive job board postings that should return a higher-quality applicant.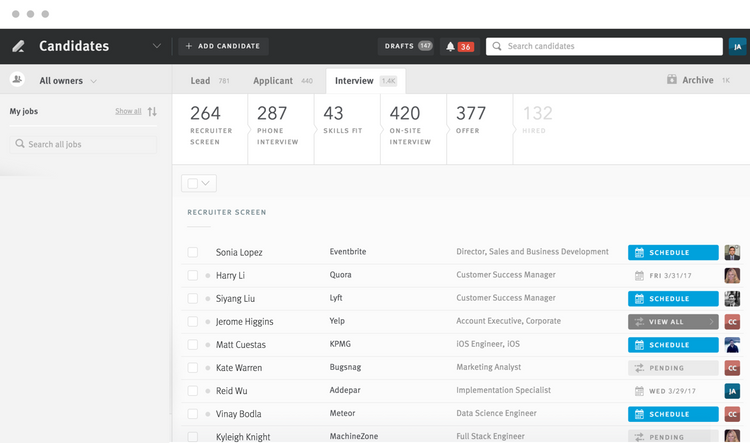 Attract Higher Quality Candidates
Many types of recruiting software will help your company submit job openings across hundreds of job boards at a time. This frees up your time to spend on more important tasks, such as interviewing the candidates. Receiving more applicants has an adverse effect of having to sift through more resumes and cover letters. Pre-screening questions can help rule out applicants that won't be suitable for your position.
By making your job listings more accessible, more candidates will see them and hopefully apply. This takes care of any quantity issues, but to improve your quality of applicants, you'll want to implement a strong employee referral program. A recruiting software will let candidates who submit their applications attach a referral they have received from an already existing employee. Job applicants from referrals lead to more top of funnel candidates, higher conversion rates, better retention, and increased employee engagement.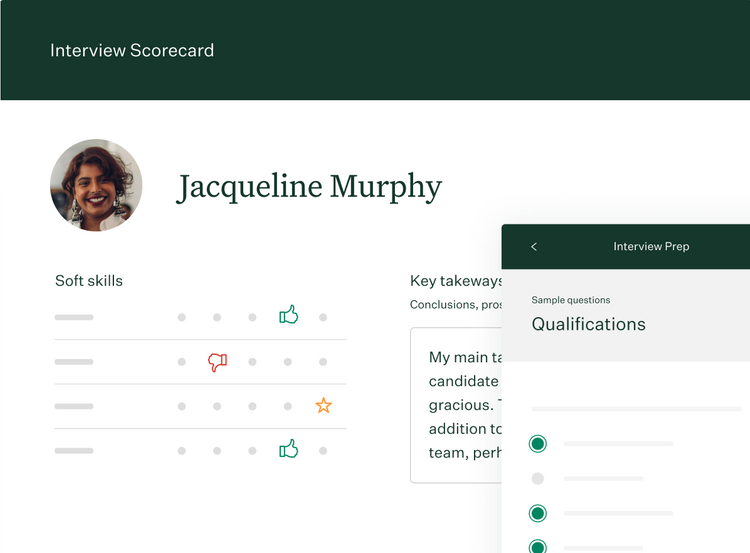 Improve Both Internal and External Recruiting
Most of what's been discussed favors recruiting outside of the company. But what about promoting from within? Many companies can find the best candidate by simply opening the door for existing employees to move up when positions are available.
A recruiting software should store information on both applicants and current employees. Syncing with your existing human resource software should allow you to grab any needed data, such as performance reviews, to determine who may qualify for the new position. This lets you look at your skilled employees and identify their training, the time investment they may need to learn a new position (compared to a new hire), and any salary expectations (based on their current pay).