What is Volunteer Management Software?
A volunteer management software provides a way for nonprofit organizations to recruit, track, and monitor potential volunteers. Plenty of people want to participate in volunteer opportunities but outdated systems make it hard for them to find and join worthy causes. Management systems are designed to be easy to use for the volunteers joining your organization and for your management team.
All-in-one software provides everything from volunteer databases to customizable calendars. Management software helps you organize your volunteer workforce by optimizing schedules based on availability and assigning tasks based on skills. You can better run your nonprofit by using volunteer management tools to ease your event management processes.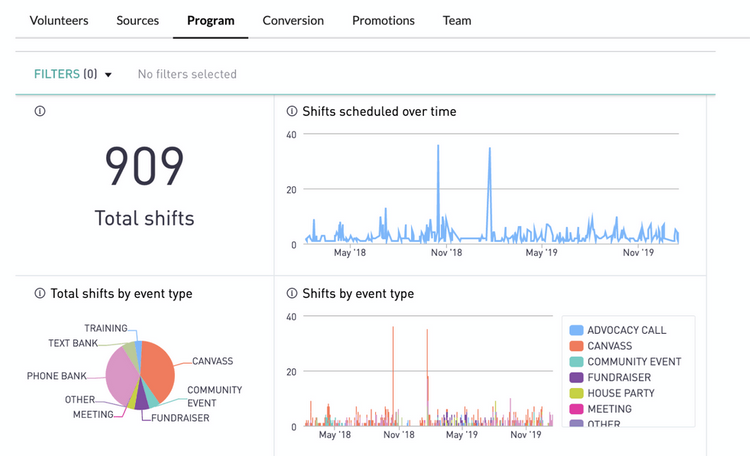 Features of Volunteer Management Software
Automated volunteer recruitment and registration: Easily reach potential volunteers and let them enroll online
Volunteer database: Keep records contact information for all of your volunteers, past and present, for better retention
Task management: Assign out different volunteer assignments based on the skill sets and availability of your volunteers
Timesheet and attendance management: Volunteer scheduling tools show when and where volunteers are needed in order to staff specific events and tasks; record volunteer hours for your own records and theirs
Batch emails: Create email templates for your volunteers and send batch communications whenever you want
Call scripts: Use call scripts to standardize recruiting efforts and charity drives
Automated reminders: Send text and email alerts to volunteers before events
Donation management: When applicable, request and collect donations from volunteers
Analytics: Measure volunteer impact from each event in order to improve your volunteer program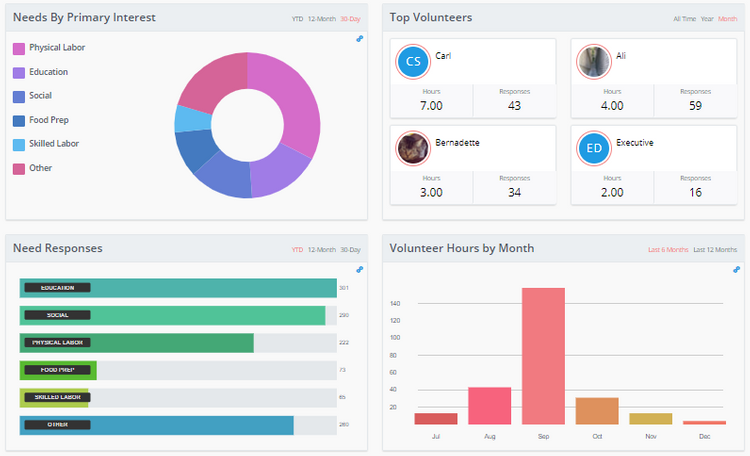 Benefits of Volunteer Management
A volunteer management system makes it easier than ever to run your nonprofit organization. Make a better impact by utilizing these top benefits:
More Time for Volunteering…
Of course, the biggest benefit of using volunteer management software is the time savings for your organization. Manually reviewing volunteer applications, calling back candidates, and scheduling takes valuable time. A volunteer management software automates these processes so you can streamline recruiting and get to work volunteering.
For example, you can set email reminders to go out a month, week, and day before events so your volunteers have ample warning to prepare. You can even send real-time SMS text messages if you need last minute help.
& and Less Money on HR
As a nonprofit organization, your funds are limited. You depend on donations to cover payroll. The more time your employees spend in an office, the more you have to pay them with money that could be used for your cause. That means every extra hour screening volunteer applications is money out of your pocket.
Volunteer management software streamlines the recruiting and screening process, saving your event organizers time. That means you don't have to pay for as much time in the office.
Better Time Management
Once you have your volunteers, you still need a way to schedule them for your event. With management software, volunteers can fill out their availability online. Then, you can crosscheck schedules to determine which volunteers can fill in for each time slot.
During your event, check-in procedures can update your calendar to reflect how many volunteers arrived for each shift. You can aslo track volunteer attendance to see who is dependable for future events.
If you manually create your own event calendar, you can wind up with too many volunteers or too few. By using automated scheduling software, you can avoid volunteer overlaps or shortages. And you can prioritize tasks to figure out what you need to do first for each event.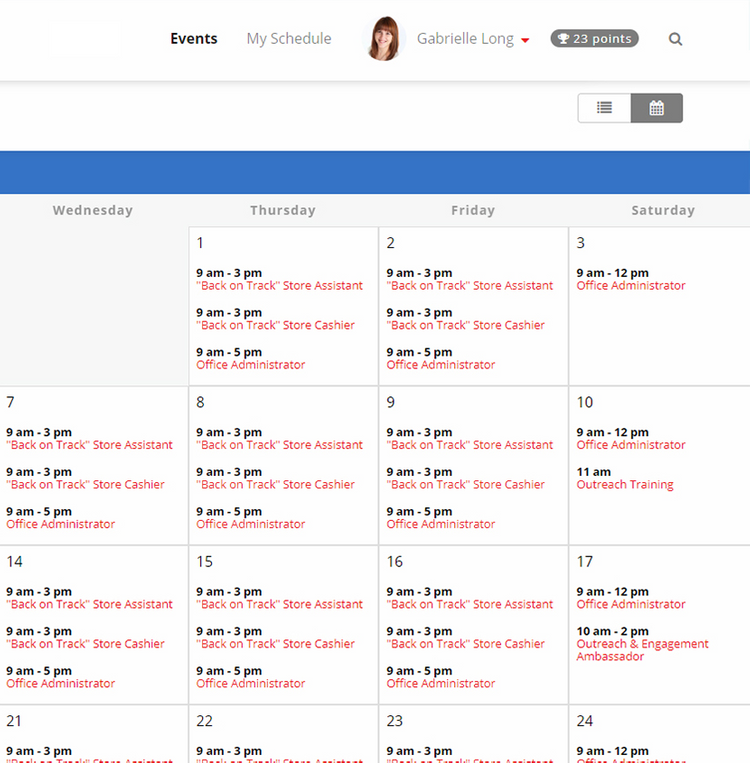 Easier Task Assignment
Custom volunteer portals further cut down on the excess work you have before each event. You can let volunteers provide their own information on their own time. No more calling and emailing trying to fill out forms.
Does your fundraising event need someone to work a cash register? Or do you need help setting up a sound system for a charity concert? Instead of picking volunteers at random, use management software to go through your talent pool and find the best fit for each position. Organizing skill-based volunteering can help your event go smoothly.
If you don't need skill-based volunteers, you can use management software to allow volunteers to select their preferred tasks online. This can make it easier to finalize assignments.
More Effective Outreach
Even the best causes need effective outreach to bring in volunteers and donors. Call scripts and email templates can help you streamline your organization's message so it's easily understandable to the public. And using a set script can make it easier for new volunteers to address frequently asked questions when performing outreach.
Do you have another cause you need volunteers for? Or perhaps you're holding a charity event and need donations. By using a volunteer management program, you can keep tabs on your past and present volunteers. Instead of starting your outreach efforts from scratch, you can begin with your already growing network of active volunteers to help spread your message.
Do volunteers need to be sent t-shirts, badges, or other identifying materials before an event? Do all your volunteers receive some sort of thank you gift for helping out? Store mailing addresses with each volunteer application so you know where to send
Increased Volunteer Retention
Recruiting drives can take a lot of time and manpower to pull off. Retaining your current talent can cut down on the time you need to draw in and train new volunteers. Instead of starting over after every event, volunteer management software lets you hold on to volunteer contact information so you can reach out to an existing pool of volunteers whenever you need more help.
Additionally, you can increase retention rates by keeping clear communication channels open with volunteer management software. Ask participants for feedback after an event to learn how you can improve operations moving forward. You can gain valuable insight for what works and what doesn't. And measure volunteer impact after each event with analytics.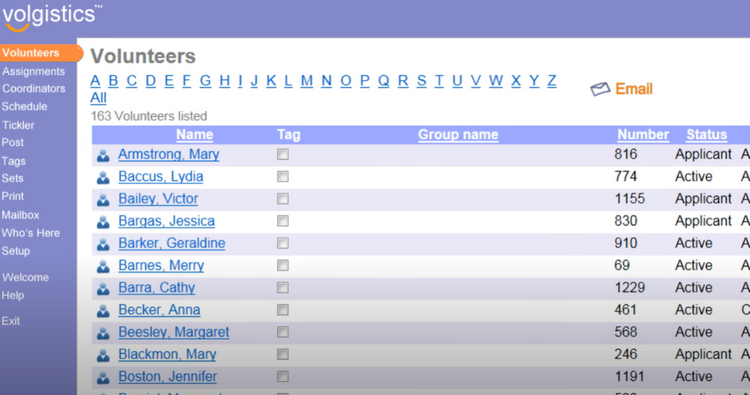 Volunteer Management Software Pricing
As a nonprofit organization, your spending budget is limited. Volunteer management software can lower your operating costs. Nonprofit software subscription rates often have free options for smaller or startup organizations. More advanced programs begin at $17 per month on a per user basis for single-application solutions. More expensive plans with additional applications may reach $150 per month per user.