QuickBooks, the popular accounting software by Intuit, often has small business owners wondering if it is the right solution for their financial needs.
Learn more about what QuickBooks has to offer:
What is QuickBooks?
QuickBooks by Intuit is a well-known accounting software designed to help small to medium-sized businesses manage their finances. This easy-to-use software streamlines business tasks by offering templates for spreadsheets, invoices, and financial reports. These features help you save precious time and money, making it one of the most popular software products on the market.
Who Uses QuickBooks?
QuickBooks Online is an ideal solution for small business owners across every industry. In particular, this product is popular with those who need a cloud-based solution accessible on any device with internet access. QuickBooks also offers multiple products capable of serving mid and enterprise-level corporations.
QuickBooks' base products primarily focus on accounting only, lacking the industry-specific functionality some businesses require. To discover a few apps to add to your QuickBooks accounting software, explore the 7 Best QuickBooks apps for complete integration.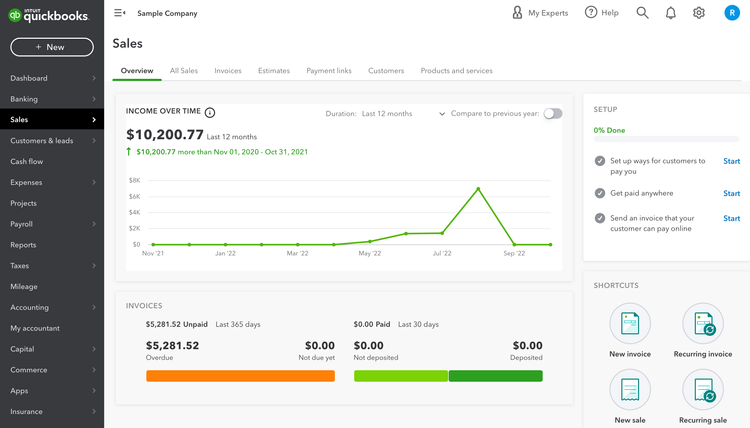 Benefits and Features of QuickBooks
Every company has its own accounting processes, and QuickBooks boasts multiple features to help satisfy those specific needs without the higher price of a full accounting or ERP software. Specific modules with additional functionality can be added and removed as your company grows and changes. The following are just a few of the many ways that QuickBooks helps business owners stay financially organized:
Income, cashflow, and expenses
Invoicing
Tax deductions and sales tax
Receipt capture
Estimates and budgeting
General reports
With these features, base-level QuickBooks software allows a single user to manage most business-related income and expenses. All QuickBooks plans include free mobile apps, customer support, and integration with over 750 business apps. Other key benefits include:
General Ledger and Accounts Receivable and Payable
The most important part of a business is undeniably the cash flow. QuickBooks automates this process by directly connecting credit card and bank accounts so you can download and categorize your expenses in real-time.
Manage your invoices in one place where you can create, send, and track all of your invoices. Enter bills into QuickBooks as you receive them, then simply pay those bills online via bank transfer or check. You will never miss another payment to your vendors and contractors.
With your cash flow and chart of accounts managed through Quickbooks, it is easy to monitor and audit your business performance by printing financial statements such as your Statement of Cash Flows, Balance Sheet Report, and Profit and Loss Report.
Easy Employee Payroll
To ensure you pay your employees accurately and on time, QuickBooks Payroll tracks employee time, then calculates and runs payroll automatically with the option for direct deposit. With your bank and credit card accounts connected, easily E-pay payroll taxes through QuickBooks. Payroll is available as standalone software or an add-on module to other products.
Tax Automation and Compliance
With QuickBooks, federal and state payroll taxes are automatically calculated, instantly filling in your payroll tax forms. Simply print your company's financial statements from your account to share with bookkeepers and CPAs. Through QuickBooks Online, professional tax preparers can access your account directly to prepare your tax returns. For additional help with your business's accounting needs, enlist the services of a certified QuickBooks ProAdvisor.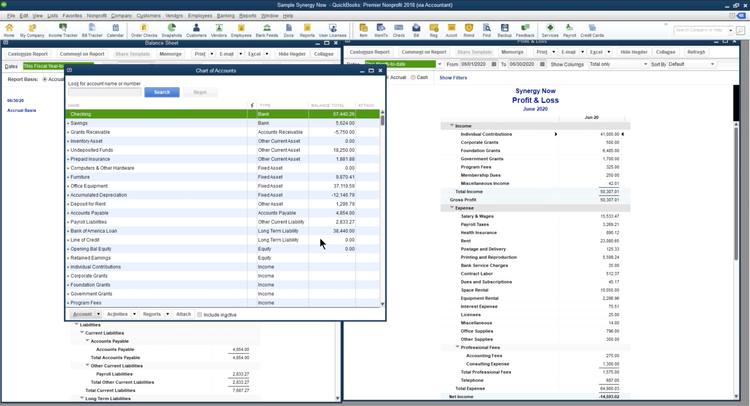 Popular QuickBooks Software Versions
The bulk of QuickBooks products can be divided into two deployment categories: Online and Desktop. A few notable products include:
QuickBooks Point of Sale
QuickBooks Point of Sale is a locally installed solution built for small retail businesses looking for the features of an ERP without the higher price tag. This tablet POS-compatible software will process credit cards and even manage your customer loyalty program. It's more than just a cash register: This all-in-one software allows for inventory management, customer management, merchandise planning, time tracking, bill payment, and more. Pair QuickBooks Point of Sale with QuickBooks Online or QuickBooks Pro to integrate your POS with your accounting system.
QuickBooks for Mac
In addition to the desktop solutions for Windows, QuickBooks offers a solution for Mac users similar to QuickBooks Desktop Pro. This software works best for non-manufacturing small businesses.
QuickBooks Self-Employed
This cloud-based product is perfect for freelancers seeking a simplified accounting solution.
Software Integration
Your business may already be using a legacy software system you know and love yet lacks the additional tools necessary to keep up with growth. These QuickBooks products can easily integrate with new and existing software, such as TurboTax, PayPal, and Amazon Business.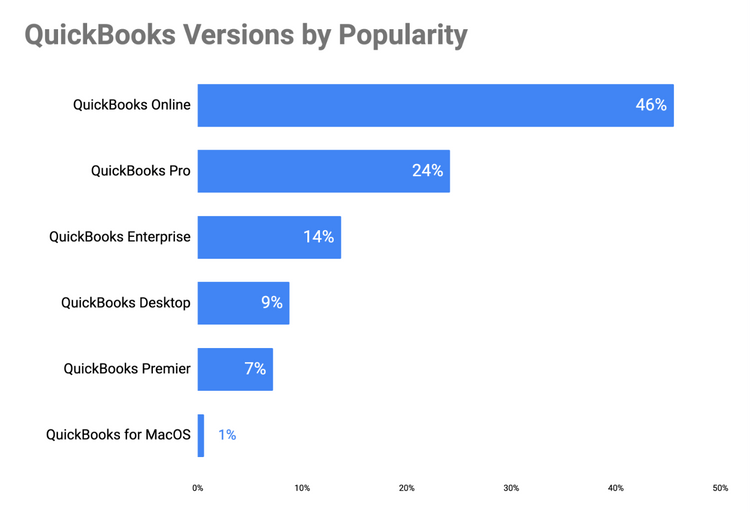 Deployment Options
QuickBooks offers cloud-based software (Online) and on-premise solutions (Desktop). Which is best suited for your company depends on several factors.
QuickBooks Online
QuickBooks Online is a Cloud-based service that does not require a software download and can is accessible from any computer or mobile device with an internet connection. Four subscription levels are available: Simple Start, Essentials, Plus, and Advanced. In addition, you can add a wide variety of modules to your base program to customize your QuickBooks experience.
QuickBooks Desktop
Quickbooks Desktop offers several software solutions: Enterprise, Premier, Pro, and Accountant. These scalable solutions are best for businesses with high inventory needs. However, QuickBooks now recommends that companies move to their cloud-based products.
QuickBooks Online vs. QuickBooks Desktop
By now, you're probably wondering which deployment is best for your business, cloud-based or on-premise. There are a few main differences between QuickBooks Online and QuickBooks Desktop.
QuickBooks Online is the preferred product for most small businesses because of its ability to connect to any device with an internet connection. The Online version also has several features that Desktop does not have, including a multicurrency tool for international businesses. In recent years, QuickBooks has been focusing on expanding its cloud-based products. Any business looking for long-term support and growth should consider Online plans over Desktop.
While there are many benefits to using QuickBooks Online, QuickBooks Desktop is the better solution for companies needing heightened security measures to protect data, particularly if you have your own in-house servers. Since the software is locally installed on your company's computers, you will have the safety of your own secure network. It features advanced reporting and inventory tracking tools for businesses that require it. New software versions are released yearly, and full support for each version remains for up to 3 years.
QuickBooks Mobile App
The free QuickBooks mobile app allows you to access your business's accounting reports from anywhere. Additionally, you can scan unlimited receipts to QuickBooks Online and attach the image of the receipt to the transaction.
How Much Does QuickBooks Cost?
QuickBooks is known for being an affordable product that meets the budget requirements of small to medium-sized businesses. The total price will depend on how many users you have, the add-ons you want, and the key functionality you need.
Online
QuickBooks Online's base software is on a monthly subscription and starts as low as $30.
| Online | Starting Price |
| --- | --- |
| Simple Start | $30/Month |
| Essentials | $55/Month |
| Plus | $85/Month |
| Advanced | $200/Month |
Desktop
The Desktop versions of QuickBooks have products that are on a monthly and yearly basis. They start from $37 per month, depending on the number of users needed to access the software.
| Desktop | Starting Price |
| --- | --- |
| Pro | $37/Month |
| Premier Plus | $799/Year |
| Enterprise | $1740/1st Year |
Visit the Quickbooks website for pricing options.
Free 30-day Trial
QuickBooks is currently offering a free 30-day trial, so you can decide if this software is the best solution for your business. QuickBooks also regularly offers discounts on their products, such as 30% off for the first three months of use. These offers frequently change, so be sure to check their website for the latest information.
Demos
If you aren't ready to buy the software, QuickBooks Desktop Enterprise offers a commitment-free and interactive online product tour. Choose the software edition that best matches your business, and review the software's features with the sample data provided.
Additionally, small business owners can utilize YouTube tutorials on QuickBooks for help with their growing companies.
If you are a small business looking for other accounting solutions, read our article on 8 Best QuickBooks Alternatives For Small Business Accounting to find the best option for your company.
While QuickBooks is the favorite of many small businesses, it may not have all the tools and industry-specific features you need to grow your business. If you are looking for a more robust accounting solution, check out our list of the top accounting software products.