Infor has been around in some capacity since 2002 providing enterprise resource planning software functionality–but has been one of the leaders in cloud-computing since 2010 when they begin an aggressive push towards modernizing their product lines and providing a solution for virtually every industry. Today, their CloudSuite line of ERP suite options includes over a dozen sub-industry solutions for manufacturing, distribution, field service, and consumer packaged goods (CPG).
Infor's ability to provide business management software for every industry is in part due to the number of acquisitions they've been a part of since their inception in 2002 as Agilsys and ultimate rebrand to Infor in 2004. Today, Infor provides ERP software to over 68,000 organizations worldwide. This is largely in part to their large network of software partners. With over 2,100 ERP vendors selling their products in 47 countries, Infor is consistently a vendor that companies consider when changing ERP systems.
Historically, Infor ERP systems have traditionally been large and seemingly complicated systems. Over time, small businesses desired to find an ERP system that helped streamline their workflows and business processes, provide visibility into their workflows, and give better financial planning and decision-making.
Infor CloudSuite Financials
Infor Financials & Supply Management (also commonly referred to as Infor CloudSuite Financials) is an end-to-end ERP software with powerful financial and accounting capabilities. The fully integrated option operates completely in the cloud–providing your business with the flexibility it desires along with the ultimate security desired.
Intended for global operations, the general ledger provides a large level of flexibility–allowing for unlimited financial calendars, basis reporting, and dimension strings. Data dan be imported anywhere to drive strategic business deciisons, such as a distribution center professional pulling in data for targeted campaigns, or to help budget and plan for ones in the future. Attributes can also be configured, such as the dimensions of your facility and the number of employees involved at each location.
Reporting is one of the strongsuits of Infor Financials & Supply Management. The ERP system lets you build compliance controls, support regulations, and combine ledgers into a chart of accounts and calendars for basis definitions. This can help give better visibility on your spending and overall optimize your purchasing process and gain leverage with your suppliers.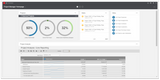 Combine ledgers into a chart of accounts and calendars
Customizable attributes
Flexible general ledger
Client OS: Windows, Web
Deployment: Cloud or On-Premises
Infor LN
Infor LN is a discrete manufacturing software that helps your business quickly respond to customer, supplier, and regulatory needs. Key capabilities include advanced analytics, demand-driven supply chain, extensible architecture, project lifecycle management, quality management, and service lifecycle management.
This software is meant to be used by manufacturers–and provides the industry-specific tools necessary to integrate operations and processes. The solution lets you identify trends, optimize supply chains (planning and procurement), customize without source code, manage your aftermarket services, increase efficiency while eliminating waste, and manage warranties and maintenance.



Customizable without source code
Demand-driven supply chain
Industry-specific tools
Client OS: Windows, Web
Deployment: Cloud or On-Premises
Infor M3
Infor M3 is a cloud ERP software meant to hande the complex needs of both manufacturers and distributors. The solution delivers industry-leading capabilities for manufacturing, distribution, fashion, food and beverage, chemicals, retails, and equipment dealers.
The solution handles accounting, budgeting, consolidation, and reporting requirements for both internal and external operations. The solution can handle single location and multi-location businesses–fully prepared for international operations. The solution provides integrated customer management for getting a complete picture on who you are dealing with–to ensure you are fulfilling orders as quickly as posible.
Manufacturers of all shapes and sizes can use M3 for planning, fulfillment, and execution–include process manufacturers who need to store data on recipes and formulas. Without any major modifications, Infor M3 can be implemented quickly with preconfigured industry-specific processes that help reduce product risk and let you see results quicker.



Price Range: $$
Starting Price: $150/user/month
Client OS: Windows, iOS, Android, Web
Deployment: Cloud or On-Premises
Infor CloudSuite Industrial (SyteLine)
Infor CloudSuite Industrial (formerly Infor SyteLine) is one of the preferred choices among manufacturing companies to plan and schedule resources required to complete jobs. The software enables the processes you need to accelerate production and meet customer demand more quickly. SyteLine lets you plan and schedule order by order, increase forecasting speed and accuracy, minimize error-prone manual steps, deliver orders on time, and reduce inventory levels and shortages.
The roots of Syteline go as far back as 1979, when the founding company Symix was formed. Over the past 30 years, the system has evolved from something only for large manufacturers to meet the needs of smaller companies. Today, Infor CloudSuite Industrial can even meet the needs of areas outside of manufacturing, such as distribution, retail, government, and healthcare. This is made possible by end-to-end visibility into your company's supply chain.
The manufacturing ERP software will coordinate all of your manufacturing data in the cloud, all while ensuring software security and reliable, off-site access to the application. Data can be fed into the ERP so we can proactively maintain the units, and offer a cost-effective and complete managed service to our customers.





Multi-site and multi-company support.
Built-in business intelligence.
Comprehensive supply chain management.
Limited QMS module.
Difficult upgrades
Steep learning curve for new users
Price Range: $$$$$
Starting Price: $25,000/user (perpetual license)
Client OS: Windows, Web
Deployment: Cloud or On-Premises
Infor Distribution SX.e
Infor Distribution SX.e helps distributors of all types increase their operational efficiency and boost customer service. This ERP solution has core capabilities designed to solve the needs of the wholesale industry. This helps buyers and inventory managers stay organized and bring attention to tasks they need to handle. Storeroom management lets you manage inventory levels at customer locations and replenish items when necessary.
Value-added services include kitting, assembly, light manufacturing, private labeling, and more. THe solution can be deployed as a multi-tenant cloud software and has new capabilities released every 30 days via frequent updates. It can also manage complex pricing structures that let you create strategic pricing strategies based on your analytics–making it a fantastic choie for large distributors.
Infor Distribution SX.e has been successfully implemented in varying industries, such as industrial, electrical, BMAT, plumbing/HVAC, and the automotive industry. This is due to the robust nature of the advanced inventory and multi-channel transaction processing–allowing organizations to process an order quickly and efficiently, complete with customer sales data, product specifications, and more.
Infor has a number of other products dedicated towards Distribution, including:



Build complex pricing structures
Manage inventory levels at customer locations
Client OS: Web
Deployment: Cloud Hosted
Infor EAM
Infor EAM is an enterprise asset management tool that helps digitize and optimize your maintenance operations. This solution is designed to achieve greater visibility into assets for better capital spending decisions. Infor EAM helps you make the most of your repairable resources.
The EAM software provides asset performance management, access via mobile devices, built-in safety guidelines and alerts for environmental health and safety, and a capability to support all types of assets (linear, componentized, flow, structured, and more). This fully web-enabled work order tracking system will help you get a handle on all maintenance related activities, and is used in manufacturing, public sectors, oil and gas, and more.
Information such as name, model, and serial number are core pieces of information that will be tracked. Additionally, the solution tracks operational status and full lifecycle of an asset, on top of cost codes and location or GIS data. This aids in your team creating work orders or work requests by letting them easily identify assets in need.





Digitize and optimize your maintenance operations
Fully web-enabled work order tracking system
Client OS: Windows, Web
Deployment: Cloud or On-Premises