Craig Violante from King County Housing Authority shares the story of how improved financial software allowed their organization to more nimbly pursue funding, increase efficiency, and deliver more fully on their organizational mission.
Imagine this: You're a public sector CFO. You've been hemmed in for years by government regulation and restriction. While your organization already owns an impressive record of service delivery–it still faces an uphill battle.
Now imagine the rules of the game change. Inclusion in a congressionally-sponsored pilot program designed to loosen restrictions and promote innovation does exactly what it's supposed to do. New possibilities for funding appear alongside new freedoms for program administration.
With this opportunity before you, the question is, "What might hold you back from delivering bigger and better results?"
This is the question that Craig Violante, CFO for the King County Housing Authority, found himself asking back in 2010. He didn't have to go far for an answer.
"We were operating on a piece of accounting software that was so antique it was laughable. We knew we had to get off of that," says Violante. "We had to be able to support the results that various initiatives would have on our financial accounting structure."
Support for new initiatives ultimately came in the form of Business World, an ERP program from developer Unit4.
"We would be doing what we are doing even if we had not chosen Business World," acknowledges Violante. "But what we would have is a system relying on multiple spreadsheets, and we'd be spending a lot more on support. We wouldn't necessarily be considered one of the top 3 housing authorities in the nation. But because we are able to do all these things, we are a leader in everything we do. It is that perception of us by HUD and by the rest of the industry that means we can be a leader."
Regulatory Change Creates the Need for Flexible Cost Accounting
Keeping up with changing compliance requirements is an administrative challenge for any government organization. In 2003, entry into the Department of Housing and Urban Development's (HUD) Moving to Work (MTW) program shifted the compliance paradigm for King County Housing Authority (KCHA).
The HUD website describes the opportunities afforded by Moving to Work to public housing authorities (PHAs) this way:
PHAs selected for the [Moving to Work program] demonstration are permitted to seek exemption from many existing Public Housing and Housing Choice Voucher program rules… PHAs in the MTW Demonstration also have the flexibility to combine Federal funds from the public housing operating and modernization programs and Housing Choice Voucher program into a 'block grant' to help them better meet the purposes of the demonstration and the needs of their communities.
Participation in the MTW program didn't change KCHA's core mission of serving as a "safety net for people with the greatest housing needs," of course. KCHA continued to provide housing in the form of Section 8 vouchers, subsidized low income public housing, and other affordable housing initiatives. However, the ability to more flexibly combine and change funding sources did represent a significant alteration to business as usual.
Violante says that while shifting funding streams for properties and programs offers opportunities, it also leads to more complex and dynamic cost accounting needs.
"Because we are now one out of thirty-nine MTW authorities pulled from a group of three or four thousand public housing authorities, we are able to do things that other housing authorities are not able to do. We're able to take properties and change funding streams. We change things constantly within the system, so we needed to have the ability on-the-fly to say this property used to be part of our public housing and now it is part of our project-based Section 8 housing after selling it to a nonprofit partner–but it still gets rolled up to a particular business unit. We had no capability to do this in the old system and we knew we needed to have that capability."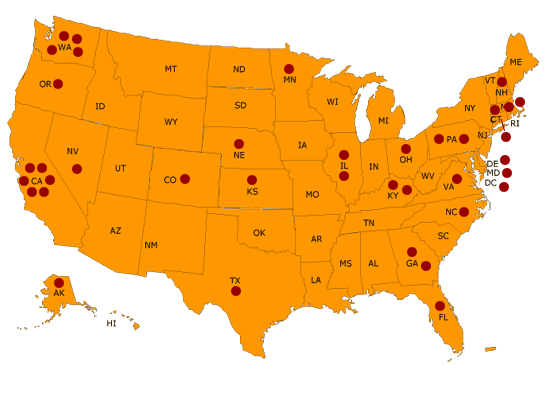 The recent "Innovations in the Moving to Work Demonstration" study published in December 2014 and sponsored by the Public and Affordable Housing Research Corporation commended KCHA for the extent of its embrace of MTW-enabled flexibility.
Rather than orienting its MTW plan around one or two signature initiatives, KCHA has integrated MTW authority into the fabric of its day-to-day operations to the point where MTW is not seen as a stand-alone program but rather as a means to the end of achieving KCHA's broader policy goals.
The numbers bear out KCHA's energetic and creative approach to delivering subsidized housing. At the end of 2012, KCHA's inventory of HUD assisted housing was 11,552 units–up 1,138 units since joining the MTW program. A general shift away from direct ownership of subsidized public housing and toward the administration of project-based Section 8 vouchers was responsible in large part for the increased efficiency in delivering housing to a larger number of residents.
As change became the status quo at KCHA, adaptable software became a lynchpin for success. A mundane sounding feature in the Unit4 Business World software, called "attributes," provided the pivotal software functionality for supporting cost allocation flexibility.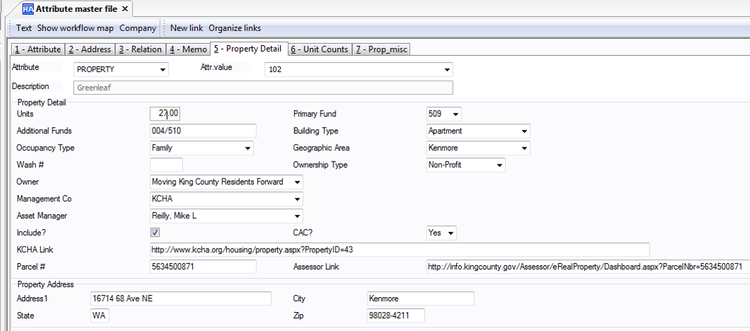 "You can set up relationships between just about anything," says Violante. "You can set up a record that's just a piece of data–it's called an attribute–and it can track anything. It's absolutely generic. It can track, if you wanted it to, the age of a tenant, you could track when a building was built–you can track whatever you want. So we needed to be able to track a bunch of different attributes for many different parts of our business and be able to say, okay, today this particular property is part of the public housing program, tomorrow it is part of our project based section 8 program and it is now owned by a 3rd party individual. You can easily go in and change these attributes to accomplish that."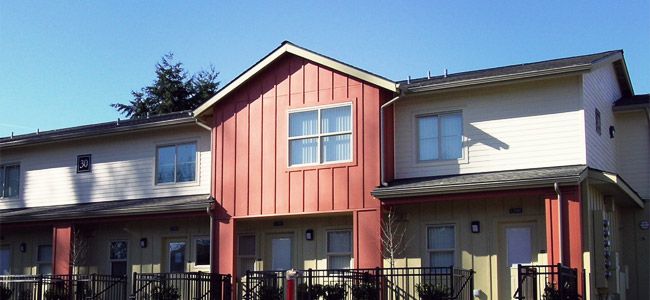 Breaking the Restrictions Imposed by Inadequate Software
Handling cost allocations in their previous software represented a significant issue for KCHA. But it was far from the only problem. In fact, KCHA dealt with many of the classic challenges associated with inadequate accounting software and software support.
Reporting difficulties. Public sector financial reporting is notoriously complex. Administering housing programs only ups the ante. "Although HUD says be innovative, they still have to report back to Congress on the overall nationwide impact that the MTW program has. So, we have to be able to provide information," says Violante. KCHA's software wasn't always up to the task of efficiently delivering the necessary data, though. "On the old system, we used to have to make a copy of the database and post it over into another spot, because you couldn't actually query into it."
Dependence on a stagnant developer. Capitalizing on funding opportunities requires agility. But as Violante describes, their previous software provider "wasn't putting anything into R&D, they weren't doing anything to make anything better." Being tied to a disengaged developer was problematic given the fast-paced environment. According to Violante, "A lot of things we do are very opportunistic. Sometimes the window of opportunity within HUD comes and goes very quickly. The ability to be agile and move things around on our own and not have to rely on the software company to make all of these changes was really a driving force for changing software."
Reliance on spreadsheet workarounds. Spreadsheets are the virtual equivalent of duct tape for disjointed information systems in many organizations. KCHA was no different. Violante reports that KCHA frequently used spreadsheets to patch up limitations in their core software. Upon encountering tasks that their software couldn't support, "The answer more often than not was to create an Excel spreadsheet or access database and just track things manually."
The Unit4 Business World software provided an answer to each of these limitations.
Describing the improvements KCHA was able to realize via Business World, Violante says, "From a senior management standpoint, Business World provided the ability to operate quickly and efficiently and give everybody the tools they need, but also have a system where we could make changes easily without impacting day-to-day operations. That was really the key."
"We needed to know that we had the ability to support any direction we decided to go. And, so, again that was one of the key components. Before we went to Agresso, we always had to sit around and say, 'Okay, how can we support this?' Now, there is just no question."
Leveraging Improved Software for Real-World Benefits
One of the operational changes that KCHA needed the software to support was a move from centralized to on-site property management. The advantages gained by supporting on-site management with Business World illustrate the organizational benefits gained via improved software.
Violante explains, "Prior to about 2004 or 2005, the typical model for housing authorities was centralized. So you owned properties all throughout your jurisdiction, but you had a central maintenance staff and a central management staff. HUD came in and said, 'No you need to go to the model that private industry uses where you have property managers located onsite and you have property maintenance people located onsite at each of your properties.'
"We had to create these things called site-based reports. Now each property manager was creating their own reports, when it used to be done centrally. We were able to get that out, but it was extraordinarily clunky. It was all done in Excel spreadsheets and would then go out to each property manager and they would look at it. You couldn't do any research on your own. If you had a question, you had to call accounting and say what's going on with this?"
The change in financial software unlocked a more efficient approach to managing site-reports.
"With the roll out of Agresso we still gave out these hard copy reports, but we also created an exact copy report in this thing called 'The Browser' which they can then access. So, if they say, 'I want to know why, say, security is above budget this month,' with just a few clicks they dive down and they can see what they budgeted and what the actual expenses are. They could even drill down and look at the copies of the actual invoices themselves. That took enormous time away of them having to call us, research and then send it back."
Violante reports that the net gain in labor cost efficiency savings was significant.
"We had estimated over the course of the first year that we were saving probably about $150,000 a year in recovered time. That doesn't mean our budget fell by $150,000–we didn't lay people off. But we were able to utilize them much more efficiently. They could actually spend more time with the tenants, which is what we need them to be doing."
Beyond the impressive annual savings in employee time, the change in software provided other benefits.
Violante says that improving site managers' budgeting accuracy was a particularly strong benefit. "The budgeting process used to be hit or miss at best. It was not at all uncommon to see budgets that didn't match reality. Now it's just the opposite. It is very rare to see any sort of significant variance that's the result of a budget screw up. We still of course have variances because we plan on doing something and then we decide not to do it, or whatever reason, but it has improved accuracy very much."
Harnessing the Momentum
With a well-integrated software system supporting the administrative freedom allowed by the Moving to Work program, Violante feels that KCHA is in a strong position to continue to innovate.
"We're always going to keep expanding. We recently updated to the most recent version of Business World," reports Violante.
The most recent software initiative undertaken by KCHA even leveraged their updated Business World financial software as a document management solution. It's not an obvious application of the software, but using their accounting platform to store files tied to specific properties yielded immediate dividends.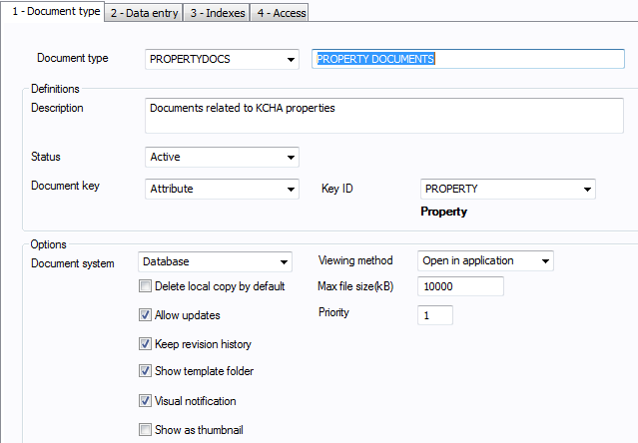 "We could've just used a common drive or Sharepoint [to store files], but this was much more elegant," says Violante. We've actually just done a couple projects where had this not been in place we would've spent a couple weeks of man-hours just finding stuff. Instead it took about a day's worth of effort."
For a firm in the private sector, these sort of savings would represent a win–and a big win at that. In the mission-oriented public sector, they're still a win, but also a means to achieving a greater good. When describing what the integration of Business World has meant to KCHA, Violante points first to what he refers to as "programmic results."
In one case a couple years back, KCHA faced a tough decision about what to do with 509 units. The units were located in 22 different complexes scattered throughout the county and had become expensive to maintain because of their locations. Selling the properties to a nonprofit allowed KCHA to apply project-based Section 8 vouchers to the properties. After pledging the new funding stream against a loan, KCHA was able to approximately triple their per unit funding. To date, they've spent $13M rehabbing the properties according to Violante.
Neither the rehabilitation work, nor the creative approach for securing its funding, are unusual for KCHA. In their 2014 annual Moving to Work report, KCHA reported that they've renovated 1,052 units since joining the MTW program. Additionally, KCHA increased the number of households served by 34% in the same time period.
The ability to provide better housing to more individuals is the real meaning of success at King County Housing Authority. Accordingly, technology success is a function of supporting the greater mission. "From our standpoint," says Violante, "Software success means that we can support any program we need to as part of our MTW authority."