What is Flooring Estimating Software?
Flooring estimating software assists floorers with determining accurate pricing for jobs by looking at labor, material, and equipment costs. Instead of relying on general construction estimation software for on-screen takeoff, job costing, and report analysis, installers should get a trade-based solution to address common industry-specific concerns which impact flooring contractors.
Flooring estimating software is made for residential and commercial floorers of all sizes, from independent contractors to nationwide retail flooring dealers. Beyond estimation, automated software can offer modules for payment tracking, report generating, and scheduling.
Each estimate accounts for labor, material, and equipment costs based on available on-screen takeoff data. Estimating software can expedite customer change orders by quickly adjusting original estimates almost instantly.
Features of Flooring Estimating Software
Drawing tools: Design new floor plans for new construction homes or commercial properties as .pdf, .bmp, .tiff, or other CAD files
Floor plan database: Import pre-existing floor plans and architectural layouts from a digital catalog to expedite room drawing
Screen takeoff: Gain access to dimensional information extracted from digital plans and blueprints for optimized material placement, like cuts and seams
Job costing database: Calculate material, equipment, and labor costs based on shared pricing information in an online database
Tile visualizations: Build 3D representations of tile floor patterns from pre-made designs to share with customers during the estimate process
Bid templates: Use customized templates to create customer-facing bids with material and labor estimates
Quote and bid management: Calculate flooring project costs before pricing bids or offering customers official quotes for services
Change order management: Allow changes to customer requests such as swapping materials or changing the overall project scope
Customer relationship management (CRM): Foster business-customer relationships when on flooring jobs
Document management: Store digital copies of bids, quotes, and estimates in an online system
Reporting and analytics: Analyze past flooring projects to identify improvement opportunities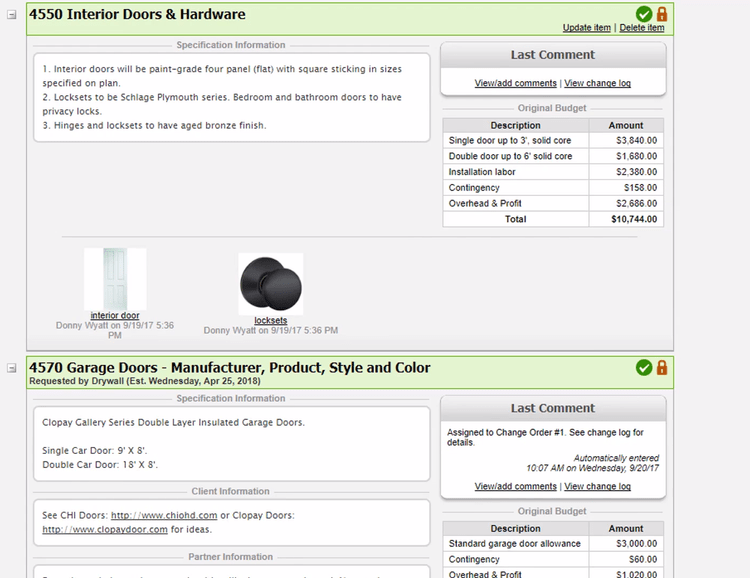 Best Flooring Estimating Software Benefits
Flooring estimating software can provide many unique advantages to your flooring business. Learn all about the difference estimating software can make when quoting projects:
Faster Quotes with Accurate Estimates
Traditional quotes, calculated manually or with Excel spreadsheets, used to take days to complete. Flooring software automates the estimating process to reduce human error which commonly occurs when making manual calculations.
Flooring job prices can drastically differ based on the material. As a result, it's vital to have an estimating software capable of addressing the specific concerns of the flooring industry to avoid mispricing work. For example, imported Italian tile will cost significantly more than local linoleum. If you (or your customers) only price out a project based on square footage, you can lose a lot of money when it's time to order materials.
Make estimates for any flooring material, such as:
Wood
Stone
Tile
Linoleum
Carpet
On-screen takeoff tools show architectural details so you can account for how much material is needed for each job. Estimating software keeps floor pricing information in one online cost database. These floor plans also show the best places for cuts and seams to reduce material waste. And when working with patterns, automated measurements can ensure matches when patterned pieces come together.
Once you have the estimate, you can quickly turn it into a professional bid or quote. With customizable templates, flooring contractors can easily create a finalized customer-facing quote in minutes rather than hours or days.
Reduce Waste and Material Costs
One of the hardest parts of flooring estimates is dealing with the intricacies of materials. Tile in particular is difficult to price upfront, since size and shape has to be taken into account. Seam diagrams and cut sheets are the first step to reducing material costs and waste on a new flooring installation. Advanced 3D drawings and walkthrough features show customers exactly what they can expect.
Flooring takeoff can account for specific costs related to:
Door and window placement
Stair, counter and appliance placement
Subflooring and baseboard requirements
Flooring materials (hardwood, carpet pads, etc)
Floor patterns for tile, linoleum, etc.
With so many different elements to consider, it's vital to use software to account for each variable. The accurate estimates made with software reduce waste from cutting around literal corners. On-screen takeoff shows exactly where to place seams to reduce unnecessary cuts and ensure seams match seamlessly.
Improve Customer Service
Flooring can be expensive, and the installation process is a major disruption to homes and businesses. Not too many people are keen about walking on baseboards for an extended period of time. They want a job done quickly, and that means they expect a fast estimate too.
Additionally, many customers in need of flooring expect free or low cost estimates as a courtesy. By utilizing automated software, floor installers and contractors can create accurate estimates faster than ever before. Cloud-based estimating software with compatible mobile apps on smartphones and tablets even allow quotes to be made instantly on the spot, making quotes more convenient for customers eager to get started on flooring projects.
For example, houses which were custom built may not have standard measurement. Customers might not realize how expensive their flooring project will be because of these non-standard dimensions. They might think only the floor's total square footage should be taken into account, not the unusual corners or seam placement. Fortunately, estimating software with visualization tools can clearly illustrate why the costs are so high.
Fast turnarounds on estimates can also show customers what they could save by selecting different materials. Noting the difference in material costs and finding low cost alternatives from job costing databases can help customers to make better decisions, leaving them satisfied with affordable service.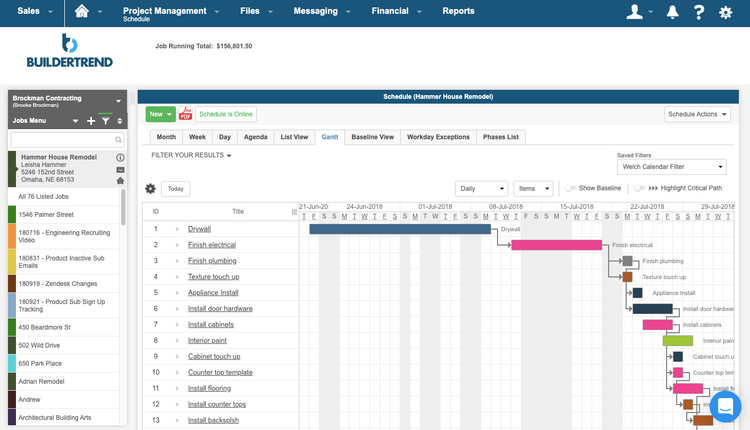 Enhance Field Services
Flooring tasks can't be performed in a workshop. Since flooring work requires being on-site, it's important for flooring estimating software to include apps compatible with iOS and Android mobile devices. Whether you have a smartphone or tablet, you can perform estimates on the go directly when working with customers at their residential or commercial property. This extra functionality even allows for estimates to be made in real-time during walkthroughs with customers.
Flooring Estimating Software Pricing
Estimating software pricing for flooring depends on whether you want an on-premise or cloud-based solution. The on-premise products generally charge a one-time perpetual license fee while the cloud-hosted software is charged as a monthly SaaS. Each version includes varying degrees of updates, maintenance, and real-time IT support, though some may come at an additional cost. For instance, software with mobile apps accessibility can cost more than implementing their on-premise counterparts. However, they can be cheaper to use over time. It all depends on how your estimators prefer to work.
Generally, flooring estimating software pricing begins at $19 per month and rises up to $225 per month. One-time perpetual license fees goes from $279 to $1,445 for a set amount of users. Both SaaS and perpetual licenses are charged per user, though some more initial users may be included with one-time payments.
The best software options are designed to fit the budget of every estimator. Several options are able to integrate with all-in-one general contracting or takeoff software for additional functionality like invoicing and accounting.