What is General Contractor Software?
General contractor software provides assistance with every step of a project from sourcing bids to pre-construction to managing subcontractor schedules. The most important features general contractors look for are bidding, job costing, scheduling, and project management.
General contractor software is a subtype of construction management software exclusively marketed towards contractors in need of a full suite of construction and contracting features like bidding, estimating, or scheduling. There's also functionality for managing subcontractors. Every software solution is different in functionalities and cost, so you'll need to find the best software which has the right balance of features at a price you can afford and offers ease of use.
Note: Are you a specialty contractor looking for an industry-specific solution? Check out subcontractor software.
Features of General Contractor Software
| Feature | Functionality |
| --- | --- |
| Construction Bidding | Manage the bid process including sourcing, inviting, reviewing submissions, and selecting the right proposals. |
| Construction Estimating | Create accurate estimates based on the costs of materials, subcontractor payments, and equipment needed to perform the job. Improve cost control and monitor the profitability by assigning costs to equipment, labor, and materials. |
| Scheduling | Coordinate schedules for specific project team tasks and subcontractor labor to ensure work is being done at the right times to streamline workflow. |
| Construction Accounting | Track payments made to vendors and subcontractors and payments received from clients. Also includes a general ledger with accounts payable and receivable to give you insight into the project's financial performance to see what can be improved for stakeholders. |
| Construction Project Management | Construction project management software functionalities coordinate resource allocation, project planning, scheduling, task management, time tracking, collaborative document sharing, and quality management. |
| Change Orders | General contractor construction management software keeps track of approved and potential changes in the project, monitors change order status, sends notifications when change order requests are approved, and updates the budget to show increases in cost from the change orders. |
| Customer Relationship Management (CRM) | Manage contact information and keep records of project history to provide better customer support if needed down the road. |
Best Contractor Software Benefits
As a general contractor, the traditional methods of managing and monitoring all aspects of your project is incredibly costly and time consuming. You must put together accurate estimates, hire the right subcontractors, find the right materials, fill endless spreadsheets with data, and handle unexpected issues along the way.
General contractor software provides the management tools you need to deliver the best bids by tracking cost estimates, RFI/RFPs, subcontractors, deadlines, and all other variables that can meaningfully affect a construction project's price and viability.
Create Consistent Construction RFI Templates
General contractor software should help you organize information on current and prospective suppliers and subcontractors. Requests for information (RFI) must be accurate and up to date to prevent costly mistakes and settle disagreements down the road. Software offers RFI templates so yours stay consistent.
Go Remote with Mobile General Contractor Software
Now more than ever, contractors moving around job sites or working out in the field need to be able to access field reports, project information, imagery and documents, job costing, and schedules from anywhere on the site. It's no surprise our Construction Technology Trends Report showed that 87% of people in the construction industry were open to reviewing cloud-based software options in 2017.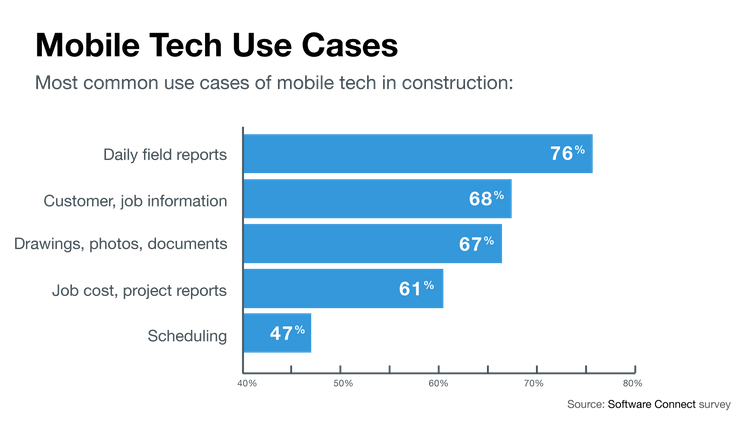 Fortunately, mobile applications and cloud-based general contractor software have become the norm. You can perform all your tasks from anywhere, at any time, on mobile devices like smartphones and tablets.
Other top benefits include:
Improved communication. As a general contractor, there are many moving parts to manage and keep track of - from subcontractor tasks and deadlines to keeping the client updated on the construction project's progress. Web-based general contractor software keeps contractors, subcontractors, clients, and others involved in the project connected. The entire team can see when certain tasks were done and collaborate to ensure everyone is on the same page.
Better organization. General contractor construction software tracks everything from scheduling and time cards to change orders and document management. Having all the information you need about the project you're working on in one place keeps everything well-organized and easy to find. You won't have to waste time tracking down contracts or wondering when to expect a subcontractor to show up.
More accurate job costing and estimating. General contractor software keeps track of estimated costs and actual job costs side-by-side as materials are bought and other labor costs are incurred throughout the entire duration of the project. You'll be able to see if you're coming up on a budget to forecast if there will be any overage issues. Historical data from previous projects will also be available to assist with estimating costs in the future.
Improve safety on the worksite. Construction companies can receive a hefty fine whenever someone is injured on the job. General contractors are required to do regular on-site safety inspections and correct any issues that could be hazardous. Technology is being introduced to monitor worker movement and provide alerts in case of unsafe conditions, such as smart boots using GPS, RFID, and motion sensors to provide real-time data on things like worker fatigue, falls, and temperature and motion sensing.
Free and Affordable General Contractor Software
Free software solutions are mainly used by startups and very small construction companies, general contractors, and homebuilders. Most free general contractor software has very limited features and has very little (if any) customer support. Others are only free as part of a temporary trial or demo.
Some examples of free-to-start include:
Fieldwire is a mobile app for iOS devices including the iPad and iPhone, as well as Android and Windows 10. The free Basic plan is ideal for construction professionals that need access for up to 5 users. Core features of the Basic plan include task management, instant messaging, file sharing, plan viewing, and checklists. Paid plans are available starting at $29 per month per user. More robust features are included as you go up in price.
On-Screen Takeoff PlanViewer is a free tool that allows contractors to view and print plans, perform simple takeoffs, and collaborate across their team. More advanced features are available in the paid version to help you retain and organize data and improve takeoff speed. The paid version includes importing and exporting visual takeoff files, an overlay feature to compare revised images, retain and save takeoff data, and multi-user networking.
Orangescrum is a project management solution with a free open source download option for Linux, Windows, and Mac. The free open source solution includes task lists, Kanban views, Google and Dropbox integration, email notifications, calendar views, time log exporting, and weekly usage reports. Add-ons are available for purchase, including time tracking, actual vs estimated time reports, Gantt charts, and invoicing. Orangescrum is also available as cloud-based, self-hosted cloud-based, and enterprise on-premise solutions.
What Solution Do You Need?
Single-contractor and small businesses: Accurate job costing is one of the most important things for independent contractors or small businesses, so you can identify which projects were profitable and which areas need improvement. You can get by with basic, off-the-shelf accounting software with costing functionality that lets you categorize and combine costs, so you can evaluate your job profitability.
Mid-sized contracting businesses: As your business grows, you'll want to find general contractor construction software that will help manage your own work schedule as well as the schedules and tasks of subcontractors you hire. You should also look for a solution that is adept with estimating and bid management, so you can provide accurate quotes and secure bids to continue growing.
Large construction companies: Large, corporate general contractors have much larger projects with many moving pieces to track and manage. You'll want a solution that handles construction project management, estimating and job costing, scheduling, accounting, and bidding. ERP software is often the best choice for large, enterprise-level businesses that need customization to fit the business's unique needs.
Common Pain Points Solved by Software
Disorganization. General contractors have so much to keep track of that it's easy to become disorganized if you don't have the right general contractor software. Managing equipment, important documentation like liability insurance, contracts, and licensing information, subcontractor and project schedules, and project materials would be next to impossible without some way to keep track of it all.
Unreliable subcontractors. Hiring subcontractors can be risky, especially if you've never worked with a particular individual or company before. As the general contractor, you are responsible for the subcontractor showing up on time and doing quality work. If a subcontractor fails to do the tasks they're assigned, it will harm your reputation. General contractor construction software will keep a database of the subcontractors you used with contact information and notes about the subcontractor's performance, so you can rehire good subcontractors for future projects. During the project, you'll also be able to track time and work progress to hold the subcontractors accountable.
Integration with QuickBooks or other solutions. If you're currently using QuickBooks or another accounting software system, and don't want to replace it, you'll need general contractor software that will integrate easily.
General Contractor and Subcontractor: What's the Difference?
Workers within construction businesses are usually divided between general and subcontractors. A general contractor is hired to manage a project from start to finish - overseeing daily operations, coordinating the trades and vendors, allocating resources needed to get the job done, and solving problems as they arise. The client usually relies on the general contractor to ensure the design is built to the client's vision and is completed on time, within budget.
A subcontractor is an individual or a business that is hired to do all or part of a project and is usually hired and paid by a general contractor. Subcontractors can handle one specialized job or multiple specialties like plumbing, electrical, HVAC, carpentry, etc.
General contractors hire subcontractors to handle trade-related tasks, freeing up the contractor for more big-picture tasks or customer communication. Contractor software provides the management tools contractors need to find, hire, and organize subcontractors on construction projects.