What is Healthcare Business Intelligence Software?
Healthcare BI software is a specific type of business intelligence software designed with analyzing report tools to organize and extract data for hospitals, clinics, and private practices. Relevant data tracked by this type of software includes patient files, financial records, and staffing schedules.
BI software for healthcare providers primarily works to identify patient trends for better care while analyzing financial changes to improve the bottom line. This is a valuable tool for any Accountable Care Organization (ACO) which needs to maintain and monitor detailed records. Reviewing past data can reveal how your company should move forward.
Patient satisfaction rates are also trackable via healthcare BI software. You can ensure everyone gets the best treatment by analyzing risk with BI tools in a clinical decision support (CDS) system. You can also manage financial operations without sacrificing patient care. Healthcare organizations can use BI software to cut costs while keeping up with always changing industry standards set by federal compliance.
Features of Healthcare BI Software
Online Analytical Processing (OLAP): A multidimensional analysis of healthcare data that can be worked into complex calculations for data modeling. Data sources may range from general finances to patient statistics.
Enterprise Performance Management (EPM): Key performance indicators (KPI) from Big Data sets are broken down for analysis, then organized to reveal potential patterns and trends.
Non-Traditional Data Tracking: Set your own KPI based on what matters to your healthcare facility. Input data about patient trends, electronic medical records (EMR), or operational patterns.
Data Visualization: A simple dashboard interface displays real-time data analytics in easy to follow charts and graphs.
Financial Modeling: Predict future financial needs based on past performance. Record financial changes day-to-day or year-over-year.
Healthcare BI Software Benefits
There are many benefits to working with a healthcare BI software at your medical facility:
BI Software and HIPAA Compliance
What makes healthcare-specific BI software so valuable over traditional BI solutions? Healthcare BI software are designed with electronic protected health information (ePHI) and the Health Insurance Portability and Accountability Act (HIPAA) in mind. Both of these measures are designed to protect valuable patient information online and in real life.
Medical SaaS vendors who are not healthcare-specific would need to review if they are legally able to work within HIPAA guidelines. If they're not, you won't be able to use your BI software for analyzing patient data. Healthcare BI software is HIPAA compliant to safely extract and analyze protected health information (PHI).
You can still use a business intelligence tool which isn't HIPAA-compliant, as long as you separate patient data from medical records. This can be done by creating an account number to correspond to medical records. Then the data transferred to the account can be anonymously used to compile sales summaries which do not include any PHI.
Emerging Patient Patterns
Are more patients coming in with the same health concerns? Unless your staff are sitting down for regular meetings they probably don't notice emerging trends amongst their various patients. BI tools are designed to collect all sorts of data and then present it in a simple to understand manner so you can start seeing patterns as they begin.
For example, imagine some patients start asking for a specific coronavirus screening test. Maybe there was a news story about the pandemic reaching the local community which prompted increased interest in this new test. Your healthcare center can use BI tools to determine what patients are requesting during their appointments. You can then design a specific screening package for other patients who may be interested in testing.
Better Patient Outcomes through Informed Decision-Making
The right healthcare BI software can help doctors, nurses, and other medical professionals make the right decisions when treating patients. Data analysis can show which treatments have had the best results for different diagnoses over time. Doctors can then view this data from the software dashboard to improve quality of care.
Predictive Finances for Better Budgeting
The best way to plan next year's budget is to analyze your spending in the past. By plugging all your data into an EPM and BI software, you can review spending patterns daily, weekly, quarterly, and annually.
These tools are made for planning the finances of both small businesses and large enterprises. Whether you operate a two-room private practice or manage an entire hospital, this software is suited for your budgeting needs.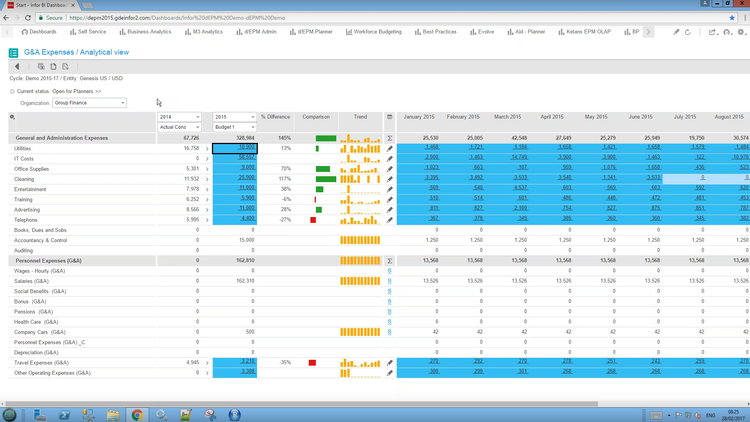 Easy Health Information Exchanges
When your patients need referrals, it's up to you to accurately transfer their ePHI to the other medical facility. Healthcare BI solutions are useful when working with health information exchanges (HIE) as data is protected when transferred between different organizations.
What Does Your Healthcare Center Need?
The software your facility needs depends on the scale of your work:
Hospitals: Large hospitals with management software still need BI tools for managing finances. Use BI tools alongside asset tracking to order enough supplies at ideal prices.
Specialty centers: These facilities are designed just for highly specific patient care. Imaging centers are where patients go for specific tests like X-rays, MRIs, and CAT scans. Surgical centers are for minor surgical procedures. Since profits are based on referrals, you need healthcare BI software to forecast finances and better plan your budget for periods when there aren't a lot of patients.
Private practice clinics: Medical clinics can have all sorts of specialities. In order to track your specific patient needs, use a customized BI solution. Generate your own KPIs to reflect the goals of your clinic.
Nursing homes, memory care centers, and hospice: Live-in care centers have all the operational challenges of a hospital combined with a hotel. Running long-term care facilities can have a lot of unexpected expenses. Use BI tools to analyze all financial changes over time and understand how your business is making (or losing) money.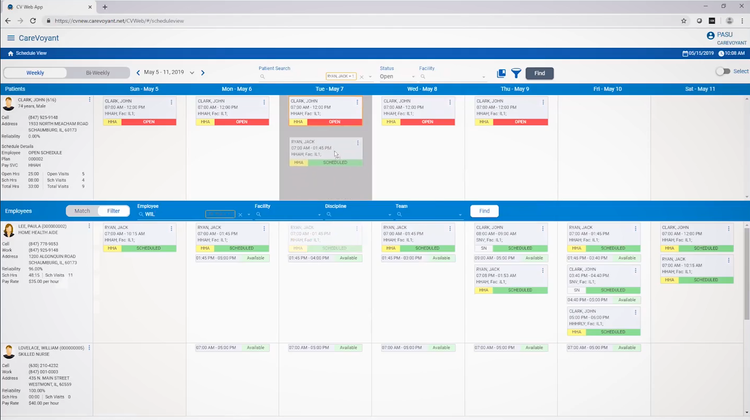 The cost of healthcare BI software is usually determined by the total number of users. Individual users start as low as $20 per user and reach as high as $70 per user. Often, the more users there are the lower the cost per user.