Flower, edibles, concentrates, THC, and CBD. Akin to the expertise and passion of wine sommeliers, budtenders help medical and recreational marijuana consumers pick the right product in an optimal strain.
Marijuana dispensaries buy their weed from commercial cannabis growers or they grow it themselves.
Before you jump into this market as a dispensary, learn how to source weed to keep up with consumers' demands. Then, see how you can keep your dispensary business on track with business management software.
A Boom in Dispensaries
In just the past few years, the US cannabis business has boomed:
To maintain a profitable and successful dispensary business, you must get your cannabis from reputable sources, which breaks down to two key options:
Buy the weed from commercial cannabis growers.
Grow the weed yourself.
Choose the sourcing method that ensures you uphold the highest quality and purity standards to deliver a safe and enjoyable product to consumers. Regardless of the option you choose, the growing operation must comply with strict state requirements and regulations to ensure compliance with safety and controlled substance guidelines.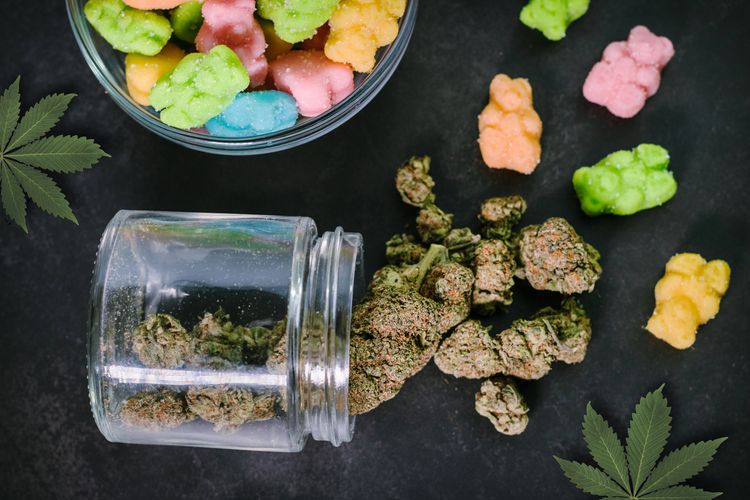 Buy Weed from Growers
Many dispensaries purchase their cannabis from certified growers. A commercial marijuana grower is a professional cultivator of cannabis plants. These operations grow, harvest, dry, and cure marijuana for commercial use.
In the US, 33 states permit commercial cannabis cultivation for medical and recreational purposes. In California alone, nearly 7,000 cannabis cultivation licenses were issued in 2022.
Legal cannabis farms use both outside and inside growing methods. Indoor cannabis operations control growing factors such as air quality, temperature, light, pests, contaminants, and humidity. Besides strains and selective cultivation methods, these growing factors determine the quality and purity of the final product.
Choosing a Marijuana Grower
When you source weed for your dispensary from commercial growers, you get less control over the types and quality of the products they provide.
Keep in mind the following when choosing a grower:
Choose a trustworthy cultivator that abides by state licensure regulations and has a good industry reputation. The operation's growing, harvesting, and processing facilities should be up to code to ensure safe and high-quality products. These codes differ from state to state.
Source your weed products from a cultivation or manufacturing facility within the state of operation. Multi-state operators can share branding, marketing strategies, and equipment. Still, each dispensary must secure individual licenses and source weed from each state in which they operate. Since cannabis is federally illegal, cannabis cannot cross state lines.
Consider the strains, the types of cannabis products, and whether the grower cultivates it inside or outside. Depending on the company, some growers will process the cannabis into other products like concentrates, tinctures, and edibles like infused chocolates. Dispensaries often choose multiple suppliers that specialize in certain products.
Consider the price point for your customers. Higher-priced products may be farmed using organic methods or have higher potency and better taste. Unfortunately, some lower-quality growers make products that cut corners, sacrificing quality and sometimes safety. Ultimately, you are responsible for choosing products of the quality your customers want.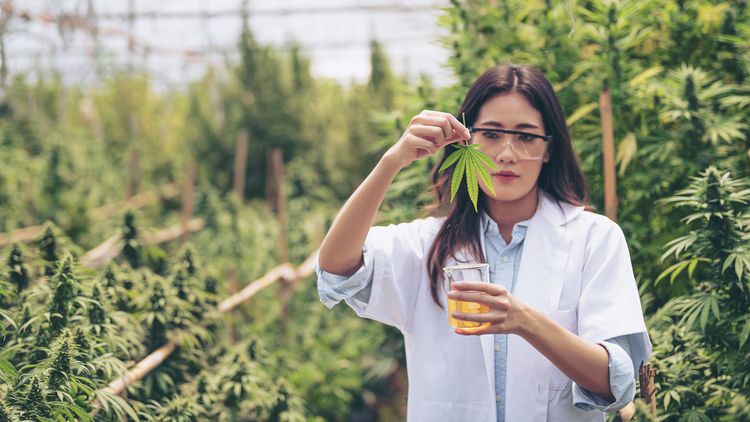 Grow Your Own Weed
To gain more control over the final product, you can grow your own weed for your dispensary, and process it yourself, or you can hire a contract cultivator to grow and process it to your specifications. Growing your own weed crop gives you more power than if you picked from a commercial grower's existing product line. You can select the strains and control the growing, harvesting, curing, and processing methods.
Budtenders at these dispensaries have significantly more product knowledge and can offer an enhanced boutique-like retail experience. Additionally, smaller operations usually cost more to run, so the final prices can be higher for consumers.
If you want to grow and sell your dispensary's cannabis on your own, you must acquire the proper licensure and abide by individual state regulations. You must also grow and process your weed in the same state as your retail operation. Keep in mind that outdoor cannabis cultivation can require approved zoning and minimum distance from other cannabis farms to prevent cross-pollination.
Factors for Choosing the Type of Weed to Grow and Sell
Consider the following key factors when growing and selling weed:
Inside or outside cultivation
Medical marijuana or recreational
Organic cultivation
Strains
Terpenes
Cannabinoids
Processing and trimming methods
Product types

Flower
Oils
Tinctures
Edibles
Vapes
Also be mindful of state-determined regulations for product safety testing and packaging/labeling requirements.
Why Does it Matter Where Dispensaries Get Their Weed?
Knowing where a dispensary's weed comes from is necessary for businesses and consumers to ensure the highest quality and purity. Higher quality weed has a stronger effect and a better flavor. It's also more likely to come from a consistent strain and have better trim for edibles.
Weed purity refers to testing processes that ensure the weed is safe to ingest or smoke. Testing may examine the use of heavy metals, pesticides, residual solvents, mycotoxins, and microbial contamination.
Sourcing also helps determine the buying and selling price of marijuana products. Beyond quality and purity, it factors in production costs, market conditions, and taxes.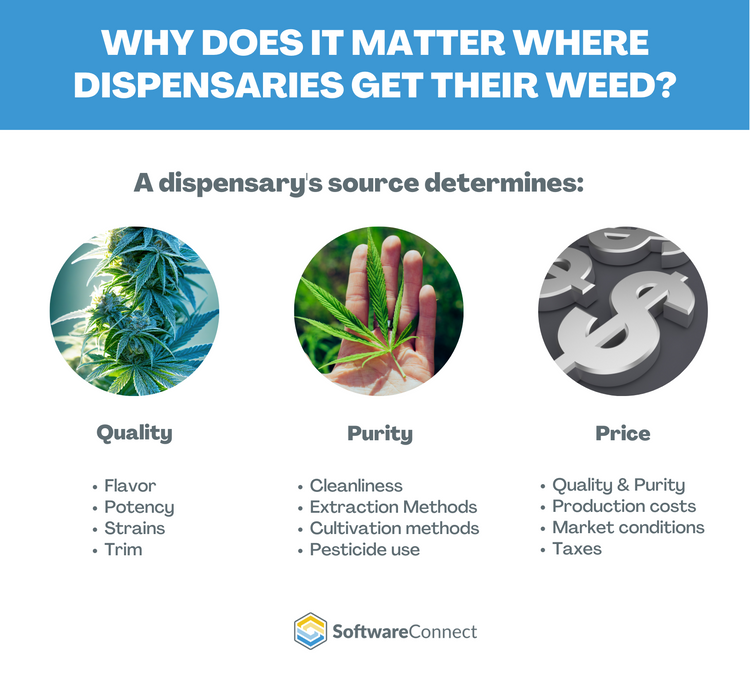 Get Cannabis Software to Manage Inventory
Growing more strains makes it essential to have a robust inventory management system. Consider the following software if your dispensary grows, processes, and sells its own inventory:
Seed-to-Sale software, built specifically for the cannabis industry, helps seed-to-sale operations track chain of custody and maintain cannabis compliance with state and federal laws. Software like BioTrackTHC helps cannabis businesses that manage process manufacturing.
Dispensary POS systems put an industry-specific focus on traditional retail management needs to ensure full cannabis retail compliance, including age verification, purchase limits, and hours of operation compliance.
Cannabis ERP software provides an all-in-one solution for cannabis cultivation, manufacturing, and processing that continues into the testing, delivery, and sale stage.
Check out each of the guides in this list to help manage your dispensary and inventory.