The best OEE software will optimize manufacturing output, deliver instant, practical data, and minimize machine downtime.
We've examined over 15 vendors across 7 parameters to find our top three OEE picks. We assessed attributes like intuitive design and analytical proficiency to identify today's leading market options.
1

Epicor Advanced MES

Epicor Advanced MES connects to any workshop machine and generate key metrics, from Overall Equipment Effectiveness (OEE), run rates, and yield to material consumption and energy performance.

Key features include automatic alerts for machine conditions, statistical quality control (SQC), statistical process control (SPC), and automatic part rejection and qualification. Epicor Advanced MES helps minimize downtime and gain real-time visibility into all manufacturing processes.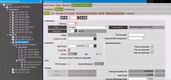 What We Like
Real-time production metrics and analytics.
Automatic part qualification and rejection.
Flexible deployment options.
Overview
Client OS: Windows
Deployment: Cloud or On-Premises
2

Hydra MES

Hydra MES is a powerhouse when it comes to collecting and breaking down vital data for production, HR, and quality management. It's packed with features like shop floor scheduling, machine and order data, material and production logistics, tracking and tracing, and tool and resource management. Hydra MES pulls real-time data from shop floors, personnel, and machines and integrates with most ERPs in the industry.

The GUI is easy to use on touch screens, making it a user-friendly system. Hydra MES provides a logical, easy-to-understand interface with good visualization, allowing users of all levels to handle it effectively.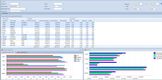 What We Like
Adaptable to different industries.
Seamless integrations with backend ERPs.
Modular architecture enhances customizability.
What We Don't Like
High initial cost
Limited one-piece flow support
Confusing UI for some users
Overview
Price Range: $$$$$
Client OS: Windows
Deployment: Cloud or On-Premises
3

Aptean Process Manufacturing OEE

Used by CPG, food and beverage, and private-label manufacturers, Aptean Process Manufacturing OEE provides real-time shop floor data and promotes productivity. Purpose-built with out-of-the-box functionality, the software is a promising tool for those seeking to streamline their manufacturing processes. The solution can be deployed seamlessly at single sites or across multi-plant enterprises that operate a linear, fast-moving production line.



What We Like
User-friendly interface.
Responsive customer support
Built-in payroll capabilities
Overview
Client OS: Windows, Web
Deployment: Cloud or On-Premises
What Is OEE Software?
OEE (overall equipment effectiveness) software grabs measurements of machine availability, throughput, and quality and turns it into a score that grades your manufacturing performance. This OEE score is considered a key performance indicator (KPI). These KPIs can be configured with alarms and analyzed to ensure maximum production on your manufacturing shop floor. Examples of data captured include downtime, counters, design speeds, and contextual data.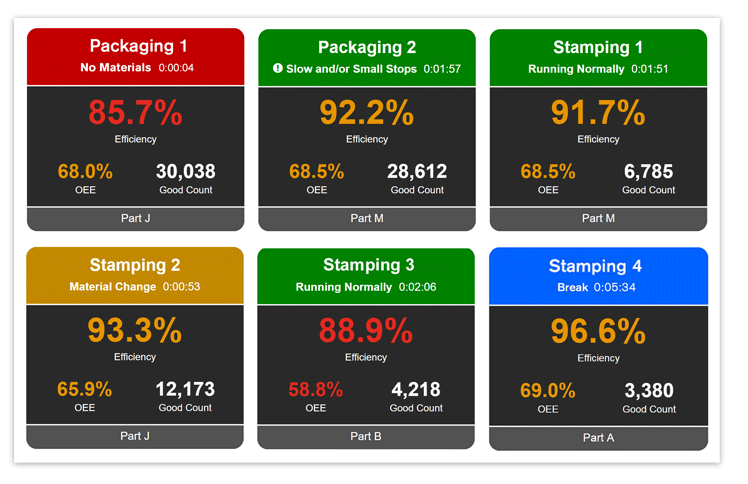 OEE systems help implement a continuous improvement cycle into your business and helps measure equipment effectiveness by identifying the ratio of fully productive time to planned production time to determine the lost time. OEE is a method of measuring the improvement potential of your production process. OEE is calculated by:
Availability X Throughput (Performance) X Quality = OEE
Availability is calculated by dividing run time by planned production time. This takes into account all events that put planned production to a halt for longer than expected periods.
Throughput (performance) is calculated by multiplying the ideal cycle time by total count and dividing that by run time. This monitors the root causes of anything slowing down the manufacturing process.
Quality is calculated by dividing good count by total count. This takes care of parts that require specific or unique quality standards and reworked parts.
The goal of overall equipment effectiveness software is to help eliminate waste and implement a lean manufacturing process. OEE solutions can be applied to discrete manufacturing processes (most common) as well as continuous processes. OEE data can be entered manually via PC or mobile smartphones (such as Apple iPhones or Android devices), imported from gauges, or from Excel imports.
OEE software works very closely with MES software in a manufacturing environment. This is because MES applications allow decision-makers to use OEE to their advantage through reports, Pareto charts, and a corporate overview of performance. Those with more manual processes (and thus, no MES system in place) may want to consider OLE (overall labor effectiveness), which helps measure how effective your workforce is through their productivity levels (such as how much they are producing per day).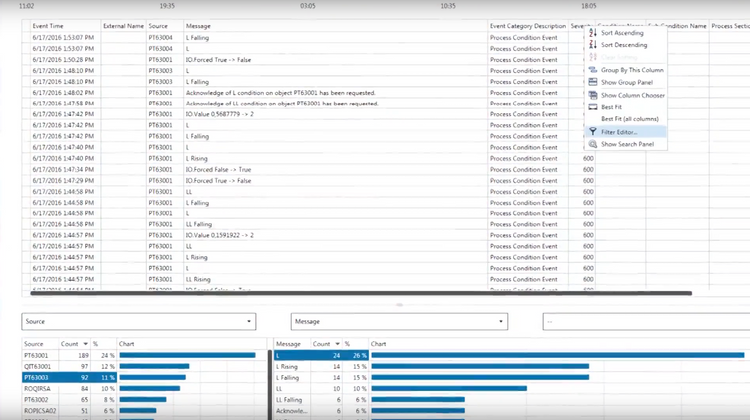 Features of OEE Software
OEE Data Collection: Calculate machine availability, productivity, quality ratio, TEEP, actual cycle time, actual speed, and productivity.
Key Performance Indicators (KPIs): Create performance measurements measuring the success of your manufacturing processes or of particular manufacturing activities.
Performance Feedback: Display real-time visibility of performance to your production team. Intelligent systems will take into account slow periods (such as a cycle taking longer than ideal due to a low-sales period) or pauses in production (due to occasional idling or work stoppages due to staffing issues).
Downtime Management: Track downtime at the company level, department level, or at a specific machine. Traceability is provided by root cause analysis and can help identify needed revisions. Ensure downtime hours to not go over specified allotments.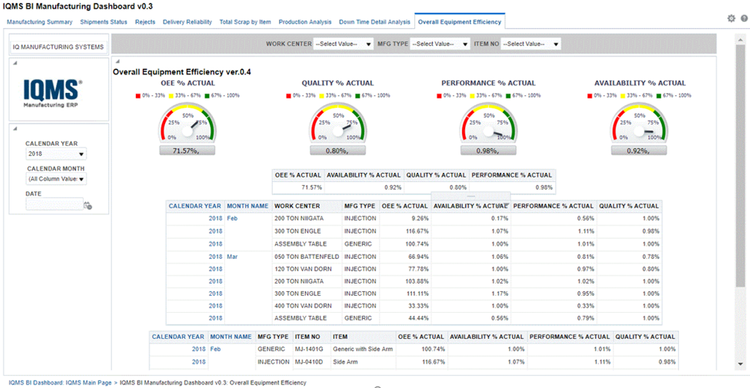 Benefits of Overall Equipment Effectiveness Software
OEE software is an incredibly valuable tool that management can use to uncover capacity they didn't think possible, which will help lower production times and/or reduce overtime expenditures. This type of production tracking software has a number of benefits your business can take advantage of. Some of the top benefits of OEE software include:
Reduce Downtime and Rate Losses
Downtime can be defined as an event that occurs for a long enough period that a reason is assigned for the occurrence. Downtime is one of the leading reasons a manufacturing plant may have poor overall equipment effectiveness. This is because downtime takes away from valuable planned production time. Without good insight into where this downtime is coming from, and why it's happening, it can be difficult to fix.
OEE software will help collect the lifecycle performance of your manufacturing equipment. This will help find, fix, and improve downtime–no matter how big or small. Even the tiniest of variations in overall equipment effectiveness will have an effect on the business performance of your manufacturing plant.
The condition-monitoring data provided by OEE solutions can help you schedule and handle any events or needed response to issues on your plant floor. This complete visibility into your operations will help you maximize the availability of your machinery and production line, and ensure you can increase production whenever possible.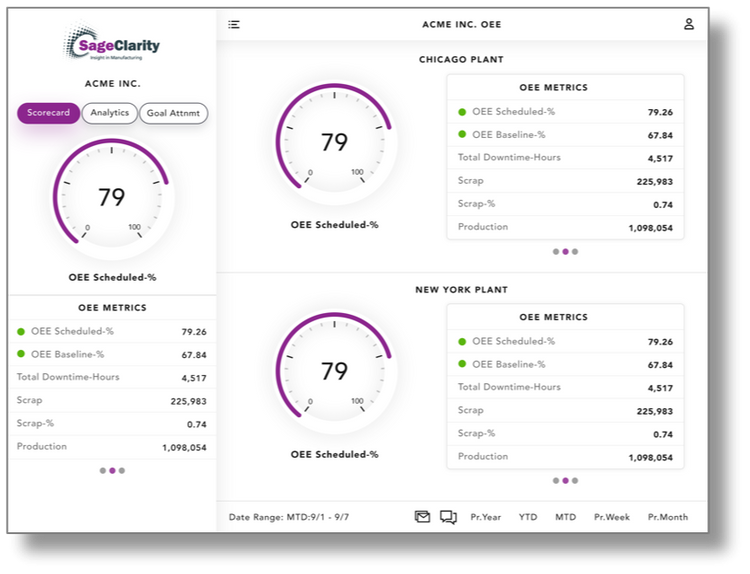 Improved Operational Cost Control
Many manufacturers will pride themselves on the quality of the items they are producing. A high-quality product can be one of the key reasons you receive return business from your customers. This puts huge importance on ensuring your cost of quality stays at an appropriate level.
Cost of quality, or COQ, can be described through a number of varying costs involved in production:
Prevention costs: Associated with the maintenance of a quality management system.
Appraisal costs: Associated with an evaluation of purchased materials and services.
Internal failure costs: Associated with failed work that doesn't meet quality standards detected before transfer to customers.
External failure costs: Associated with failed work that doesn't meet quality standards detected after transfer to customers.
These hidden costs can be hard to detect but greatly affect machine priority. OEE software is intended to eliminate these weaknesses in your quality management process.
OEE is a great metric to identify if you are incurring losses in your manufacturing operations. Most job costing software will track your material costs, labor costs, and overhead costs. Once you improve the quality of your product, you'll see the greatest return. This is because all cost elements are impacted by quality. When you incur a quality loss then you have to consider how many goods you'll need to produce in order to offset the lost costs.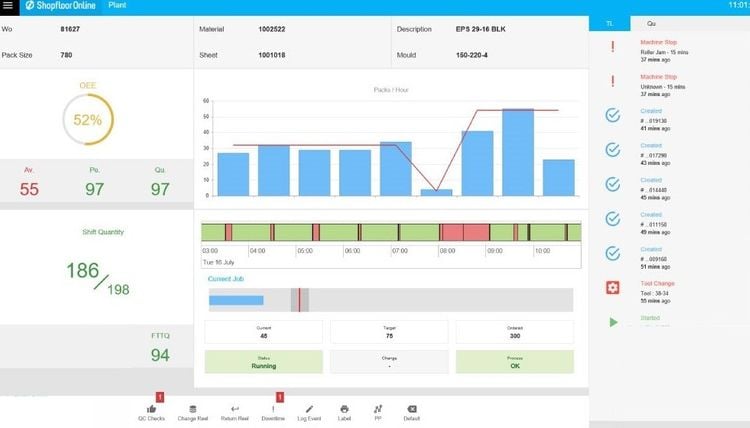 Improved Manufacturing Performance
A quick way to improve your manufacturing performance is by focusing on top losses, which is the smallest set of improvement actions that will yield the biggest results. In other words, it's the low-hanging fruit of your production processes.
Top losses reports can be created with OEE software. These reports show sources of lost production time and show any increase in rates the loss is responsible for. As long as your team has an idea of where their top losses are (data provided by a top-notch OEE system), then your team will be able to take the appropriate actions and minimize the number of resources that are affected.
An example of appropriate actions to take include improvement cycles, an improvement of scheduling, improved procurement practices, and better shop floor management.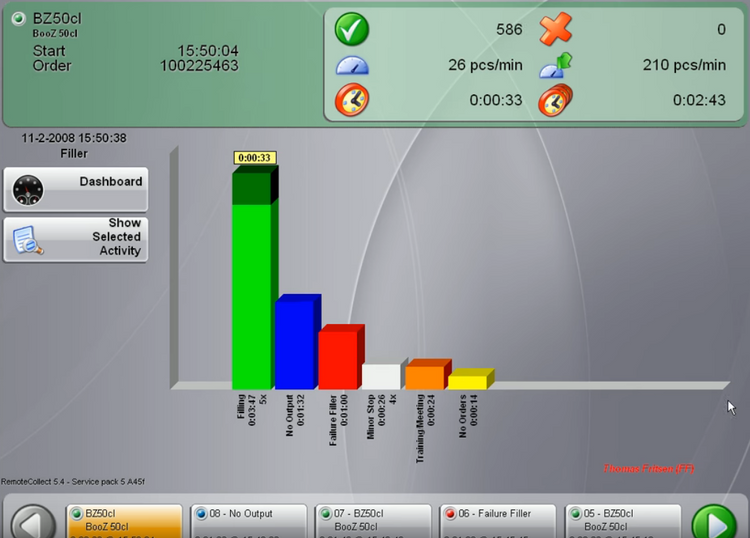 Integrated OEE and SPC
Overall equipment effectiveness software ties in closely with statistical process control (SPC) software:
OEE software creates the KPIs that show a high-level appraisal of operational performance
SPC software is in charge of collecting quality and performance data in real-time for statistical analysis.
Data from OEE systems give insight into your manufacturing performance and can help reduce costs by ensuring you get the most use out of your equipment and facilities. SPC data is used to identify product quality issues and process variations and allows management to take corrective action before issues occur.
There are many benefits to applying SPC to OEE data. According to Northwest Analytics, a manufacturing analytics provider:
An isolated OEE value provides only a small amount of decision support. The single value can be compared to a specification, but it does not provide any indication of previous process behavior and reasonable expectations for future performance. When put into context with SPC, that same OEE delivers substantially greater process management information. "Combine OEE and SPC for Real Decision Support" - Northwest Analytics
Some real-life examples of their combined effectiveness include:
Analysis of the correlation between downtime and quality issues
An integrated approach to keying in both OEE and SPC data and avoiding double-entry
Complying with all major regulations