Statistical process control or SPC software helps manufacturers monitor quality control data. After careful review, we've found these are some of the top products:
1

DELMIAWorks - Best for Manufacturing

DEMLIAWorks, formerly IQMS, is an excellent choice for businesses seeking a Statistical Process Control (SPC) solution in the manufacturing sector. This robust software offers a comprehensive suite of features designed to enhance visibility, improve production efficiency, and ensure high-quality outcomes.

DELMIAWorks' MES software stands out as a comprehensive solution that enhances SPC capabilities while promoting efficiency and quality across the manufacturing floor. One key advantage is its ability to reduce production errors, decrease part lead times, and increase overall productivity. This is crucial in manufacturing, where minimizing errors and optimizing lead times directly impact profitability.
2

DataLyzer Qualis - Best for Compliance

DataLyzer Qualis is adaptable to various industry standards, including FDA CFR 21 Part 11, IATF 16949, and AS13006. This adaptability ensures users can meet the regulatory and quality control requirements of a wide range of manufacturing sectors. DataLyzer also offers integrated OEE, CAPA, FMEA, MSA, and SPC.

With over 40 years of experience, DataLyzer is a reliable choice for businesses looking to improve their production processes. The software supports more than 20 languages so users can better access locally-based partners around the world.
3

SPC for Excel - Best for Excel

SPC for Excel by BPI Consulting is a powerful yet user-friendly SPC platform. It operates within Microsoft Excel, making it accessible and familiar to many users. This integration allows professionals to harness the full potential of Excel while benefiting from a comprehensive set of statistical tools, including Pareto charts, control charts, process capability analysis, Gage R&R analysis, and more.

What makes SPC for Excel particularly appealing is its simplicity and affordability. With training resources like Getting Started Guides and how-to videos, it caters to both beginners and advanced users. And the low starting price provides a cost-effective alternative to major statistical software packages, making it an attractive option for businesses aiming to manage their budgets effectively.
4

Prodsmart

Prodsmart offers a complete and modular solution designed to help small and medium-sized manufacturers (SMBs) embrace digitization and optimize their production environments. Prodsmart's integration of MES, MRP, ERP, OEE, and Quality Management offers valuable data insights that enable businesses to fully understand and enhance operations.

One of the standout features of Prodsmart is the ability to customize the software to specific business needs. And the clean, easy-to-navigate user interface makes it accessible and adaptable for various manufacturing environments.
5

Enact

Enact by InfinityQS, developed by InfinityQS, stands as an excellent choice for businesses seeking a Statistical Process Control (SPC) solution that offers real-time quality data analysis and reporting. The software's cloud-based platform ensures easy accessibility for manufacturers aiming to reduce waste, enhance product quality, and maintain industry compliance. Enact's scalability allows for flexibility in meeting specific operational needs for both small and large manufacturing businesses.

Enact's pricing structure, starting at an affordable $65 per license per month, makes it an accessible and cost-effective solution for businesses looking to implement robust SPC capabilities.
What is SPC Software?
Statistical process control software (SPC software) collects quality and performance data in real-time to be used for statistical analysis. Manufacturers use SPC software for identifying product quality issues and process variations in order to take corrective action before extensive issues occur, as well as improve process performance.
SPC software not only monitors product quality control data but also the performance of machines and other manufacturing tools. Personnel on the shop floor are notified when the product quality or machine performance falls outside an acceptable range. This allows manufacturers to reduce rework, improve efficiency, and increase their bottom line.
The data collected by SPC software is plotted onto user-friendly graphs. Having the data in an easy-to-read format allows you to see when data variations occur and how far the variations deviate from the expected value.
Types of SPC Software Charts
SPC charts give manufacturers a better handle on data management. The raw SPC data is formatted into charts that give you a clear picture of variations in product or process quality. Some of these charts include:
Control Charts
Control charts are important SPC tools that plot changes in the process data over a period of time. These charts typically feature three horizontal lines that demonstrate the upper control limit, lower control limit, and average control limit. As soon as the data falls outside the control limit range, your team will be notified to take corrective action immediately. You will be prompted to perform root cause analysis to determine why the data outliers occurred. This helps you make more informed decisions when taking corrective action.
Control charts within SPC software can be customized to monitor processes that are relevant to your business like temperature ranges or machining time.
There are a few different types of control charts that can be created within SPC software, including:
X-Bar and Range "R" Charts: Data collected at regular intervals from a small, constant sample size (typically under 10) to determine the minimum and maximum ranges between a set of data points.
X-Bar and Standard Deviation "S" Charts: Data collected from a larger number of samples to determine variations using all data collected (not just the min and max ranges).
Individual-X and Moving Range Chart (IX-MR): Data is collected from a single sample size to show individual measurements and absolute differences between values. These charts are typically used when sampling is time-consuming or expensive.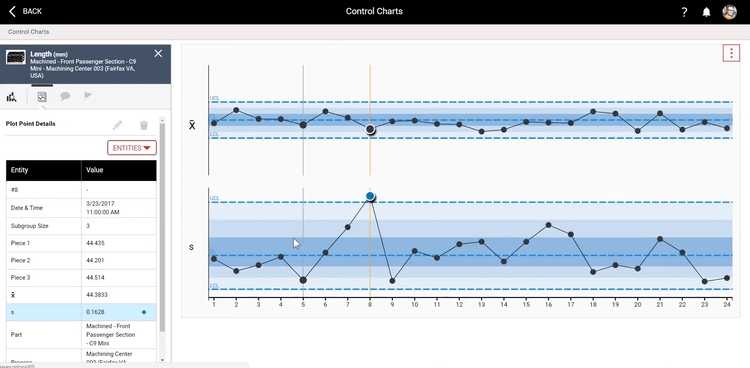 Pareto Charts
SPC software compiles and plots data into a Pareto chart. Pareto charts provide a bar chart of issues or causes of problems and prioritize the issues in order of frequency. This data can include:
Defect types
Customer complaints
Reasons for machine downtime
Reasons for late deliveries
Injuries on the job
Knowing where issues are coming from and the frequency of the issues helps you prioritize and take corrective action to eliminate the issues.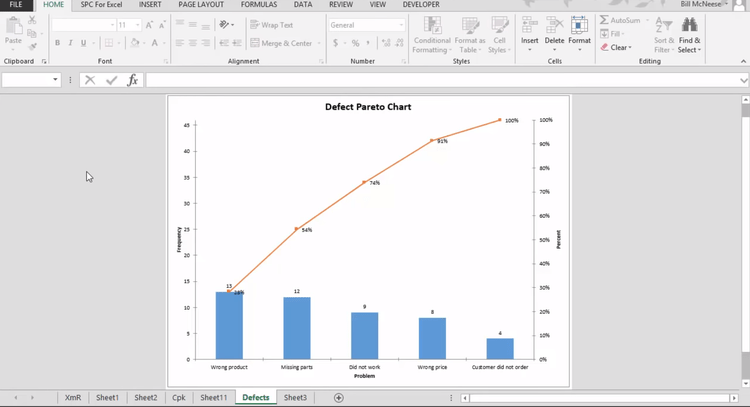 Histograms
Histograms in SPC software are bar charts that show data distribution over time. For example, the SPC software will compile data on bottle diameters for a production run over a specified period of time. The diameter measurements are plotted onto a histogram that allows you to see how many bottles had diameters that were too big or too small.
The histogram's shape allows you to determine if the variations in the process were stable or unstable. Histogram charts are often used in conjunction with control charts to visualize the data distribution more clearly.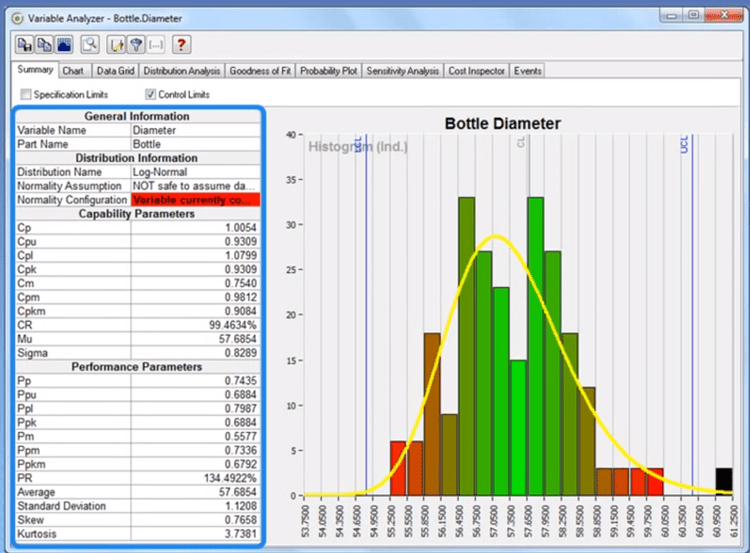 What Type of SPC Software Do You Need?
SPC software can be a standalone solution for companies looking to integrate statistical process control into their current system or as part of a complete ERP solution. Some SPC software packages are geared towards manufacturers with industry-specific quality compliance requirements.
Standalone SPC Software
Standalone SPC software is a great option for manufacturers with straightforward production processes that want to focus on quality or process improvement. These solutions are often easily integrated with other existing systems like quality management systems, CMMS, or MES solutions for more in-depth supply chain management, waste tracking, traceability, work-in-progress tracking, and more.
Real-time data collected from quality systems and other software products can then be automatically plotted onto easy to read charts and graphs. Some solutions work with Microsoft Excel to import and graph the SPC data in an environment you're familiar with.
Industry-Specific SPC Software
Certain manufacturing industries need an industry-specific SPC to ensure their products and processes remain in line with compliance regulations. For example, medical device manufacturers are regulated by the FDA to meet certain quality standards to ensure they are safe and effective for patient use. 21 CFR 820:100 dictates that corrective and preventative action (CAPA) processes must be in place. SPC software helps medical device manufacturers track the right quality data and ensure CAPA procedures are in place.
ERP Software with SPC Capability
Large manufacturers that want an all-in-one solution to handle a variety of processes like accounting, customer relationship management, and budgeting in addition to statistical process control can look for a complete ERP system. ERP software that is geared towards the manufacturing industry can have an SPC module that provides comprehensive statistical tools for data analysis and continuous improvement.
Benefits of SPC Software
Some benefits of SPC software include:
Automatic Notifications of Variations in Manufacturing Processes or Product Quality
Real-time statistical process control solutions assist with data collection and data analysis. When the data points fall above or below the expected parameters, the system will automatically notify you as soon as the anomaly occurs. These data points could be temperature ranges, product dimensions, machining time, and more.
Being able to catch issues as soon as they occur will help you cut down on waste and overall production costs. You won't have to scrap an entire product or production run due to an error that wasn't caught until after the fact.
Reduced Waste and Rework Time
The data analysis tools in real-time SPC software allows you to make quality improvements to manufacturing processes and products during production. This decreases the amount of wasted material and time spent completely reworking or throwing out defective products. Having reliable quality control data from SPC software will also prevent you from shipping defective products to customers.