1

eWorkOrders - Best Overall

eWorkOrders offers equipment maintenance and asset management at a low monthly cost with a simple, intuitive interface. Features include property, inventory, and maintenance management, in addition to time and cost tracking, PM scheduling, and extensive reporting.



What We Like
Easy to implement and learn
Cost effective for small companies
Proactive customer support
Overview
Price Range: $$
Starting Price: $35/user/month
Client OS: Windows, macOS, iOS, Android, Web
Deployment: Cloud Hosted
2

Hippo CMMS - A Budget Pick

Hippo CMMS is a maintenance software renowned for its ease of use and simple interface design. In addition to inventory, inspection, and vendor management, Hippo offers user-friendly work order tools, tailor-made dashboards, and a mobile app so you can view critical data in real time.







What We Like
Best value at $35/user/month
Easy of navigation
Highly configurable dashboards
What We Don't Like
Can't reopen old work orders
Difficult to use search function
No parts hierarchy in database
Overview
Price Range: $$
Starting Price: $35/user/month
Client OS: iOS, Android, Web
Deployment: Cloud Hosted
3

eMaint CMMS - Best Barcode Scanning

eMaint CMMS from Fluke Corporation allows you to accurately track and catalog all of your assets from any browser-based device, including smartphones. Easily schedule preventive maintenance and work orders to help streamline your maintenance operations.

Your business uses a variety of tools, heavy machinery, and equipment that get moved around between employees and departments and rely on asset tracking software to keep operations running smoothly.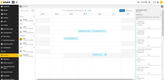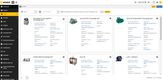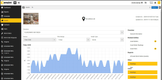 What We Like
Easy barcode scanning from mobile app
Intuitive scheduler tool
Customizable KPIs
What We Don't Like
Difficult to customize work orders and purchase orders
Limited formatting options
Overview
Price Range: $$
Starting Price: $69/user/month
Client OS: Web
Deployment: Cloud Hosted
What is Asset Tracking Software?
Asset tracking software helps users keep track of and optimize the use of an organization's physical assets including equipment, tools, and machinery. These systems commonly help with work orders, maintenance schedules, location tracking, and managing equipment rentals.
Assets are labeled or tagged with barcodes or RFIDs to retrieve information like where the asset is, how it's being used and who is using it, and when it will be returned. GPS and Bluetooth also provide real-time location tracking.
In some cases, depending on what your company's unique needs are, an asset tracking software isn't ideal:
If your business relies heavily on some machinery and equipment uptime is a high priority, a CMMS system would be a better choice.
A business that relies heavily on maintaining a bunch of company vehicles should look into a comprehensive fleet management software.
If your business needs to only track computer hardware and software, an IT asset management software will work best.
Common Use Cases
There are many uses for asset tracking software across a variety of industries. Some examples include:
Manufacturers tracking the equipment they own, the location of the equipment, and who is using it.
Contractors tracking tool rentals for workers.
Healthcare facility managers tracking the use and location of personal protective equipment (PPE).
Building maintenance managers needing to track the service schedule of things like smoke detectors or HVAC units.
Fire departments looking to track location and maintenance/replacement schedules for fire extinguishers.
Features of Asset Tracking Software
Functionality
Description
Work Order Management
Users can create, review, and assign work orders with information on what work needs to be done, how the work should be done, and what equipment is needed for the job.

Knowing what equipment you have and making sure it's updated and functioning properly is especially important for efficiently completing work orders, so work order management is often included with asset tracking software.
Asset Tagging
Tagging assets with a barcode, QR code, or RFID allows users to scan the equipment or machinery to provide valuable information about it including where it's located, who is using it, how much it cost, and when the next maintenance should be performed.
Location Tracking
Using Bluetooth or GPS tracking, users can see the current location of the asset. You can also monitor location history tracking to see where it's been in the past.
Warranty & Insurance Info Tracking
Keep track of warranty coverage length and restrictions, as well as important insurance information on the equipment or machinery.
Rental Tracking
Whether employees are checking in and out company equipment or you're renting out machinery to customers, rental tracking is important for knowing who has it or used it last, and when it needs to be returned by.
Spare Parts Inventory Tracking
Inventory tracking in an asset tracking software is used for keeping a record of spare parts needed to perform routine or emergency maintenance on a company's machinery or equipment. Data including what/how many parts are currently available, where the parts were bought, how much they cost, and if/how many more parts were ordered can be tracked.
Benefits of Asset Tracking Software
Improved maintenance scheduling and tracking. Asset tracking software can record things like when a machine or piece of equipment was purchased, the date of the last time it was serviced, and the next date that preventative maintenance should be completed to keep it in top working condition. Notifications can be sent to inform you when something is coming due for maintenance, so you can take care of it before a might arise.

Having these records stored in a single system makes it much faster to find information on the equipment or machinery you're looking for without having to look through tons of paperwork or spreadsheets if you've been using pen-and-paper or excel for asset tracking.

Preventing theft and loss. Having a record of who checked in and out a piece of equipment, machinery, or tool, and knowing when it was last in use makes it easier to track down the asset. Having this information recorded will make employees be accountable about where the equipment is if they were the last one using it, deterring them from losing or taking it.

Increase employee productivity. If a user needs to know the location of some equipment or who currently has the equipment, asset tracking software can provide this information through barcoding, RFID tagging, or GPS tracking. The user won't have to waste time looking around the facility to locate what they're looking for.
Common Pain Points With Asset Tracking Software
Can't automate or predict maintenance schedules of assets. An asset tracking solution will usually only be able to give you information on when a part or piece of equipment should be replaced or serviced, but it won't provide automated condition monitoring. Companies that need to be able to predict maintenance before a problem occurs to maximize uptime should look into CMMS software.

Can't provide lifecycle reporting and analytics. If you need to track lifecycle reporting and analytics to guide future purchasing decisions or manufacturing workflow improvements, EAM software is a better option.
Trends in Asset Tracking Software
Cloud software and mobile use. Asset tracking on cloud-based software is growing in popularity as the use of mobile devices rises. Users want the ability to be able to track physical assets from anywhere, whether they're in a different building or on a job site. Having the data about assets and maintenance schedules at your fingertips reduces the time spent going back and forth between the office and a worksite.

Real-time tracking. Being able to track where physical assets are in real-time will become important to many types of companies as technology advances.

For example, GE Healthcare introduced a wireless asset tracking solution, called Encompass, that uses Bluetooth LE technology to help hospitals keep track of locations and inventory of important equipment in real time, allowing medical teams to spend less time looking for tools or equipment and more time on patient care.

GPS tracking can also be used to determine where company vehicles are, how far they've traveled, and arrival times to a customer or job site. Some software also lets dispatchers see real-time traffic and weather conditions to relay to drivers. This information can be used for maintenance scheduling as well as optimizing driving routes to improve delivery and arrival times.