What Is Auto Dialer Software?
Auto dialer software automatically dials telephone numbers and connects the recipient with a live agent upon the phone call being answered. Auto dialer software is a type of call center software, meaning it's used for the purpose of a sales call, a support call, or to play a recorded message. This recorded message can sometimes work as an interactive voice response (IVR) which can help route callers/callees to the appropriate personnel or to play a prerecorded message that provides a targeted message.
Capabilities commonly offered by auto dialer software include live call transfers, alternate number dialing, local caller ID generation, predictive dialing, preview dialer, scheduled callbacks and more. These solutions have helped work themselves into contact center environments as a computer telephone integration software, and usually pair well with CRM software (such as SalesForce) and other sales tools such as order management software.
Usage examples for auto dialer systems include outbound call center businesses, inbound technical support teams, political campaigns, service notification delivery, and event notification delivery.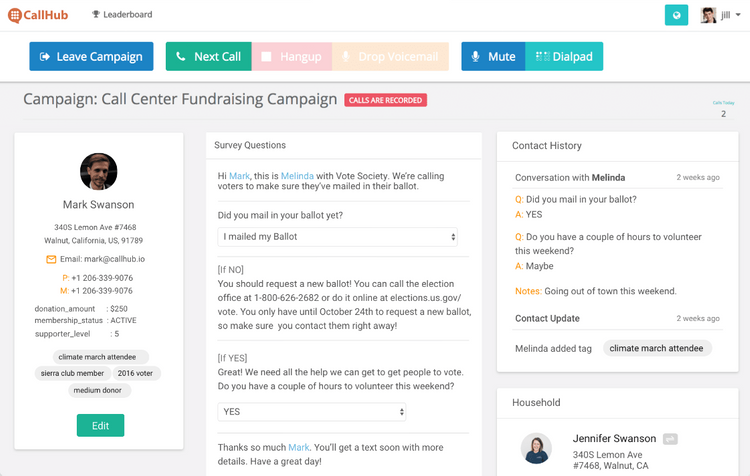 Features of Auto Dialer Software
Call Dialing: Automatically place calls using predictive dialing, power dialing, preview dialing, or robo dialing. Connect agents to available contacts when they are available.
Call Dispositions: Let agents select an outcome of a call and adjust the status of the contact record. Remove bad call records from your dialing queue, or leave notes to better identify patterns, trends, or conversation details.
Contact Management (CRM): An integrated view of your customers and prospects. Store details that support your sales and marketing efforts, such as contact details, sales history, outcomes of previous call attempts, and more.
Voicemail Drop: Plays a pre-recorded message on an answering machine or voicemail inbox. Prerecord multiple messages and drop the appropriate voicemail depending on the situation, call attempt, or campaign.
Email and Text Messaging: Follow-up calls with text messages or emails to unresponsive contacts. Create custom templates depending on the campaign.
Local Caller ID: Generate a local telephone number for the area you are dialing into to increase the rate of pickup.
Call Tracking and Analytics: Analyze the performance of your calling campaigns with live analytics and call reports.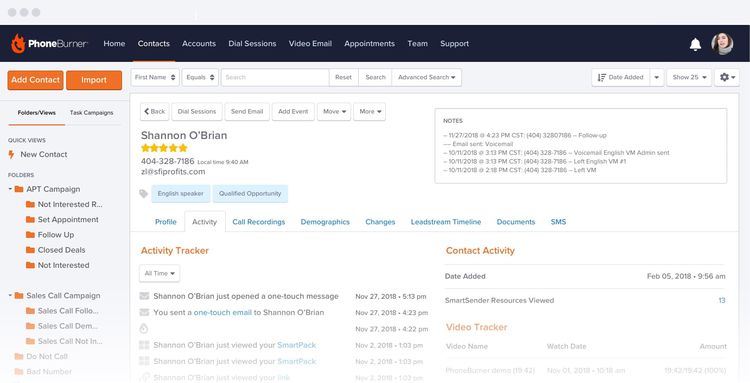 Benefits of Auto Dialer Software
The success of your call center is usually tracked by agent performance. And agent performance is usually measured through the number of calls an agent makes, the quality of conversations they have, and ultimately the number of sales or support cases they can handle in a workday.
Reduce Idle Time and Increase Agent Talk Time
Implementing a system that automatically dials your contacts saves time over manual dialing methods. This is because manual methods lead to agents having to wait on the phone while a call connects. The call may be a wrong number, hit a voicemail or a busy tone, or just ring continuously.
An automated process will ensure that only connected calls (calls answered by contacts) will be routed to your staff. Auto dialer technology is intelligent enough to detect when a voicemail or busy signal has appeared, and can properly move that call record back in your call queue.
Now that agents are spending less time manually dialing out, this leaves for more time talking on the phone to contacts. This improved lead management with auto dialing systems will improve the call connect ratio, leading to a better lead conversion ratio and overall a more improved lead generation process.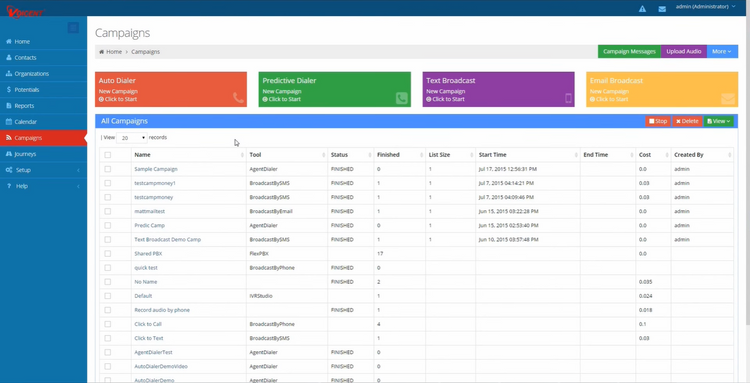 Stay Compliant With Do-Not-Call (DNC) Guidelines
Depending on your location, your call center will need to abide by the rules and restrictions set forth by the Telephone Consumer Protection Act (TCPA) or the Federal Communications Commission (FCC). This mostly centers around the do-not-call list, which is a national registry of phone numbers that have opted-out from receiving telemarketing calls.
Auto dialer software helps you comply with do-not-call standards. Most solutions will have some sort of integration with the national registry, and know what numbers to avoid if they are added into your calling pool mistakenly. If a caller instructs your agent that they do not want to receive calls any longer, the auto dialer software can mark that phone record appropriately to ensure it is removed from the call rotation.
Real-Time Performance Monitoring and Reporting
Managers in your calling environments can use auto dialer solutions to generate reports based on data surrounding the calls. This data surrounds agent performance and productivity. How long are agents spending on calls? Are these calls turning into successful sales, support resolutions, pledges, etc.? Auto dialing software will assess the quality of a call and the skills the agent possesses based on the outcome. These grades can be used by management to increase workload or provide coaching.
Reporting tools will let managers report to their higher-ups about how streamlined your call center operations have become. User-friendly interfaces will allow management the ability to pick and choose reports based on the stats they care about most. They will also be able to monitor agent performance in real-time to see if the agent needs any sort of boost while still on the call. This can be provided in the form of an instant message on their computer screen.
Most auto dialer software will also keep call recordings for a set period of time (depending on if you store them locally or pay for cloud storage). These call recordings become a huge asset to your quality assurance (QA) staff when doing periodic reviews of your staff.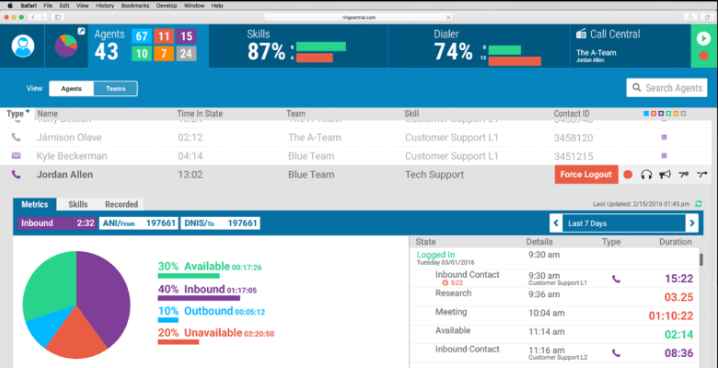 Types of Automated Dialers
Different types of campaigns may call for different styles of dialing methods. The most robust auto dialer software should allow you the ability to switch between whichever is best suited for your business needs.
Predictive Dialer
A predictive dialer will dial a list of telephone numbers and connect answered dials to available agents who are awaiting a conversation. This outbound automated dialer helps increase the efficiency of your agents since agents will only be connected to answered calls, rather than waiting on a ringing dial for contacts to pick up.
Many predictive dialing systems use a form of machine learning that can anticipate how quickly your agents can handle new calls. This will ensure your predictive dialer is adjusting the rate and speed of which numbers are being dialed. A predictive dialing solution will also take into account factors such as talk time and ring time. The goal with predictive dialing is to ensure a number is called and answered at the same time an agent becomes available.
Implementing a predictive dialing strategy will avoid callers and agents from having to listen to dial tones, deal with bad numbers, handle voicemails, and more. One possible downside to predictive dialing is an agent being unavailable to take a call when someone answers. However, these instances are reduced the more these systems are used–allowing the machine learning to better learn how fast your agents work. A predictive dialer is best used by larger call centers with a sizeable amount of agents making calls.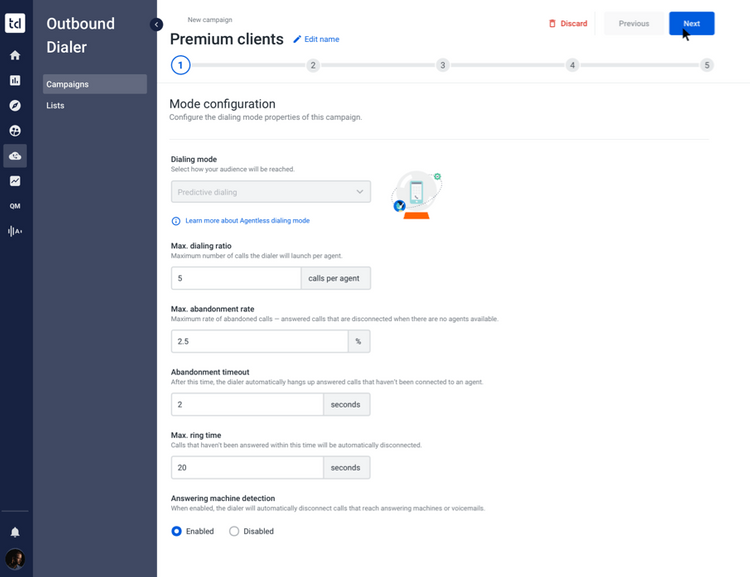 Power Dialer
A power dialer automatically dials the next contact record in line based on a configurable call-to-agent ratio established by upper management. This outbound dialing system doesn't dial the next call on your list until the agent's previous call ends. This differs from a predictive dialer that is constantly dialing new numbers and varying intervals, in hopes an agent will be available.
Power dialing systems are used in situations where speaking to contacts is crucial to your end goal, and you may not be able to afford the occasional drop-offs that occur in a full predictive dialing environment. A business with a smaller agent staff but a sizeable number of prospects/leads may consider a power dialing set up.
The biggest benefit a power dialing system offers is the ability to control your dial rate. Manual adjustment of your dial rate will ensure numbers are dialed at a clip fast enough to keep your staff active, but slow enough that calls are not dropped and contacts do not encounter any sort of a pause after picking up a call (while the system connects them with an agent).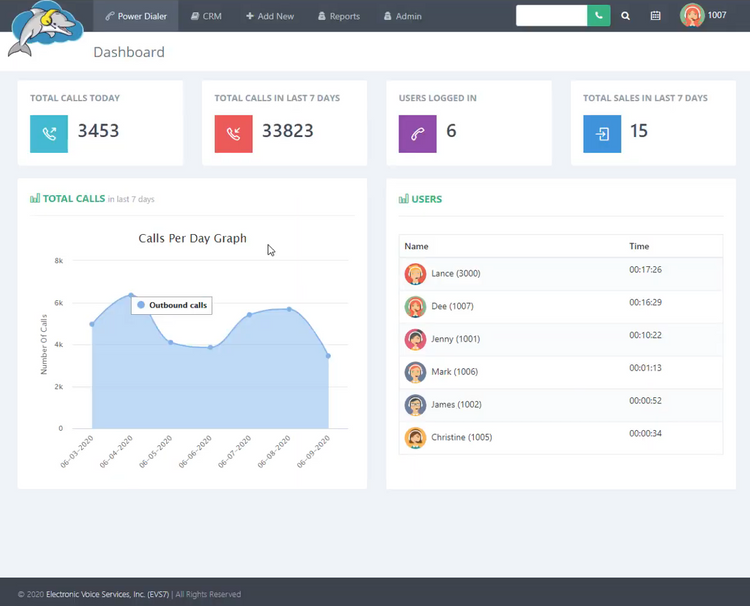 Preview Dialer
A preview dialer allows your agent to preview the contact records before auto-dialing them. When the agent is available, they will be sent the contact information, as well as any relevant information for the call, such as their sales history, donation history, previous technical support, and more. This lets agents analyze the history of contacts so they know what they are getting themselves into prior to calling.
A preview dialing method is a slower method of performing but provides the benefit of the most well-informed agents. If your agent needs to have background knowledge of who they are calling before that person picks up the phone, then a preview dialer is the preferred method. Otherwise, if the agent is reading a call script and does not require detailed information on previous call attempts, your business will benefit more from a predictive or power setup.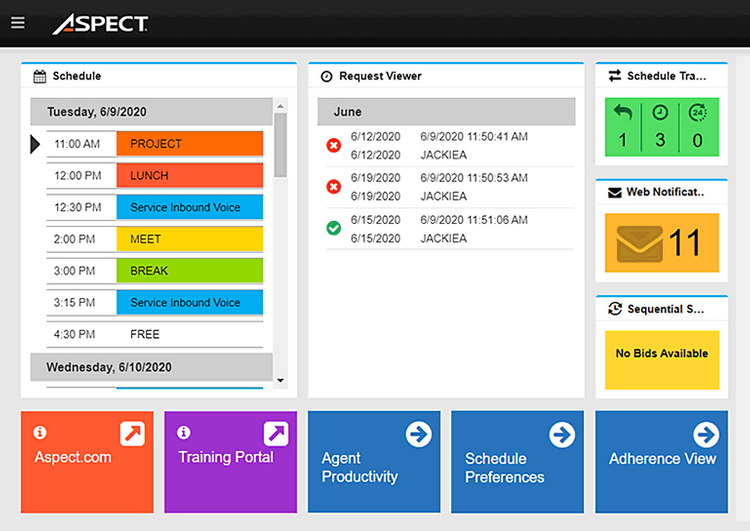 Robo Dialer
A robo dialer, or robocalling system, is capable of dialing out thousands of call records simultaneously. Most robo dialers are set up to play a pre-recording voice message to anyone that answers. The dialer will detect when callers have answered and begin playing a message. These messages usually ask the recipient to "press 1" to speak to an agent. Upon pressing 1, they will be sent to the first available agent. This will ensure your agents spend almost no time waiting for someone to speak to, and only be sent a call when a willing participant is available.
Another benefit of a Press-1 campaign is the ability to easily adjust your do not call list. Callers that press 2 (or whatever alternate option there is) can have their contact file automatically be updated to ensure they are not called on subsequent call campaigns.
Robocalls can also be useful in situations where you are attempting to spread a message. For example, an electric utility company may use robocalls to dial their customer base and inform them of outages in the area. Another use is by a political campaign, who may use robocalls to spread information about their candidate. Finally, a nonprofit or charitable organization may conduct pledge drives and ask contacts to press a corresponding number that indicates how much they plan to contribute for various campaigns, which can help the organization budget more appropriately.