What is a Bar POS System?
Point of sale systems (POS) for bars streamline payment collection, sales receipt, and inventory management processes so bartenders and front-of-house staff can focus on what matters: serving customers. Bars, taverns, and pubs have the service needs of a restaurant and regulatory compliance of a liquor store combined, and thus require specific POS software and hardware to optimize day-to-day operations.
Since more and more bars now include onsite breweries to produce craft beverages, a growing number of bar POS systems include modules for managing brewery sales. Others might have tools for handling nightclubs or attached entertainment venues.
Note: If your bar, tavern, or pub is primarily classified as a full-service restaurant, a complete restaurant POS system may be more appropriate for your establishment.
Features of Bar POS Software
Order management: Process different drink and food orders from patrons, knowing who ordered what and where they are located for accurate, timely delivery
Payment processing: Accept a variety of secure payment methods from customers, such as cash, credit card, check, gift card, and online payment options; hold payments for customers with open bar tabs
Online payment integration: Enable the use of popular virtual payment services such as PayPal, Venmo, and Apple Pay
Age verification: Verify patron ages for all sales involving alcoholic beverages or entry onto the premises (if restricted by age)
Customer relationship management (CRM): Track general contact information for repeat patrons, such as existing tabs or pat incidents
Customer loyalty/rewards programs: Record past customer transactions for use in loyalty or rewards programs to promote repeat business and higher customer satisfaction
Promotions management: Manage real-time discounts from sales and special promotions through timed and automated cost calculation
Receipting: Documents transaction details, often in a variety of receipt formats, to create customer sales records and build an audit trail
Gratuities management: Allow customers to add tips to orders and automatically calculate gratuity on larger orders
Reporting: Gather metrics on sales transactions, buying trends, and other useful information to better understand your customers and adjust your operations to optimize more transactions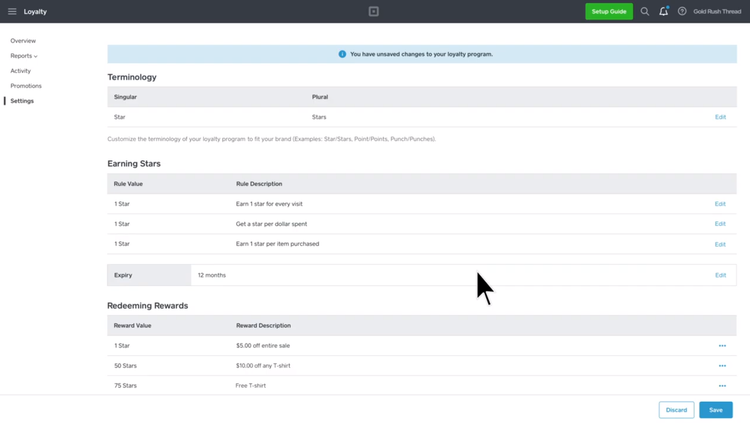 Best POS System Benefits for Bars
Want to make happy hour even better? Use the right software! The best POS systems for bars are those with the following benefits:
Age Verification and Compliance Measures
A big problem for bars, taverns, and pubs is stopping underage drinkers from entering an establishment or being served once inside. The punishments for allowing minors to purchase and consume alcohol are severe, depending on the exact laws in your area. At minimum, there are usually fines to pay. Too many violations can even lead to a liquor license suspension or complete revocation, a major source of loss for small businesses. And the bartenders themselves can face repercussions as well for serving an underage individual.
To cut down on these violations, bar POS software includes age verification tools, such as ID scanners and customer records, to keep track of who is and isn't allowed to be served. For instance, many bars which offer fast-casual food service may have families come to eat with their underage children. A quick ID scan at the table can save time so the family can focus on ordering rather than forcing the adults to go up to the bar to be age verified when they order their drinks.
In the event you need to ban someone from receiving service, this can be marked and shared with all employees through a customer database. And the same customer database can track repeat patrons for participation in rewards and loyalty programs to increase retention rates. The same family which comes in for dinner weekly can receive special discounts for their patronage.
More Payment Options
While cash bars are still common, more establishments are expanding to entirely contactless and digital payment options to speed up the process. Mobile POS devices allow for waitstaff to complete entire transactions at tables and booths. In fact, multiple order stations can allow for user-friendly tableside ordering and card payments, all without having to visit the bar directly.
Depending on the POS, adding contactless payments is as simple as downloading an iOS app and having a plug-in card reader. Along with many specific iPad POS systems, there are software and hardware options compatible with Android mobile devices as well. The exact POS hardware you use at your bar will vary depending on preferences for traditional cash register terminals or entirely digital payment methods.
Real-Time Staff and Menu Management
Trying out new IPAs? Want to mix up your usual menu items? Bar owners with POS software can regularly update offerings with menu management tools. Rather than printing physical menus every time you think of something new, you can instantly modify menus online. You can even change pricing for promotions, like happy hour specials, at specific intervals to keep costs consistent without having to make manual adjustments. Automated sales reports can then show how successful each event was in terms of revenue.
Next, many bars have to use flexible scheduling with employees to accommodate unique service hours. From bartenders and bouncers to waitstaff and dishwashers, you need a way to fill shifts as easily as possible to avoid being short-staffed. Employee management modules allow you to make real-time changes when someone calls out or a rush requires more workers at the last minute. A POS system then uses the schedule to accurately calculate payroll and tips.
Finally, iOS and Android apps let you advertise upcoming events and menu changes directly on social media to increase your marketing outreach in an instant. Customer management (CRM) modules let you keep literal tabs on your client base, helping you target the right demographics. And online ordering for takeout and delivery and further expand your potential customers to increase revenue.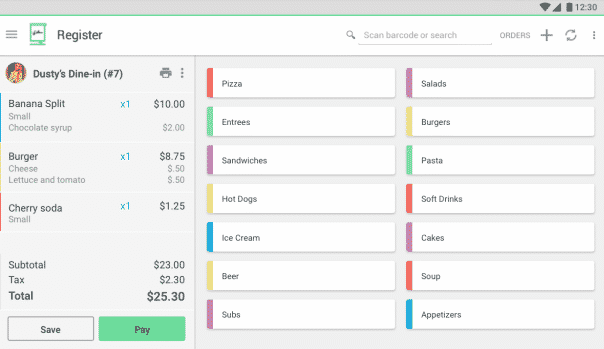 Bar POS System Pricing
On average, SaaS bar and restaurant POS software costs anywhere from $29 to $399 per month. However, in order to determine your budget for a POS system, you need to consider all the variables. Do you already have registers and payment terminals? Or do you also need hardware? Currently, most POS systems are all-inclusive and include bundled hardware, such as cash registers, barcode scanners, and credit card readers. Many POS solutions have monthly fees for the software itself then separate, one-time fees for the hardware, if necessary.
Other POS software options can operate as a cloud-based software via a web browser–allowing you to use whatever Internet-connected computer or mobile device you prefer. There are many extra costs to consider when you're looking into full-featured POS software including costs for:
POS hardware (register, cash drawer, receipt printer, etc)
System installation
Management and staff training
Hardware maintenance
IT and customer support teams
It is also worth noting many POS systems charge per transaction. These processing fees are generally applied to credit card payments, though they should still be considered when planning your software budget. There can also be extra costs for optional add-ons or integration with other software providers.