Contact and call centers handle outreach for many types of companies. From telemarketing sales to IT help desk services, call centers allow businesses an easy way of handling customer communication through phone calls, online chats, faxes, social media, and emails.
What is Call Center Software?
Call center or contact center software streamlines how your employees contact potential customers or business partners across an omnichannel platform. Capable of providing enterprise-level functionality, this all-in-one software modernizes contact centers to enable mass communication through the web or landlines.
Call center solutions can be integrated with customer relationship management (CRM) software to create additional outreach tools for leads and opportunities. Whether you're operating an enterprise-level contact center or a localized customer service center, call center software provides better management tools for phone and Internet communication.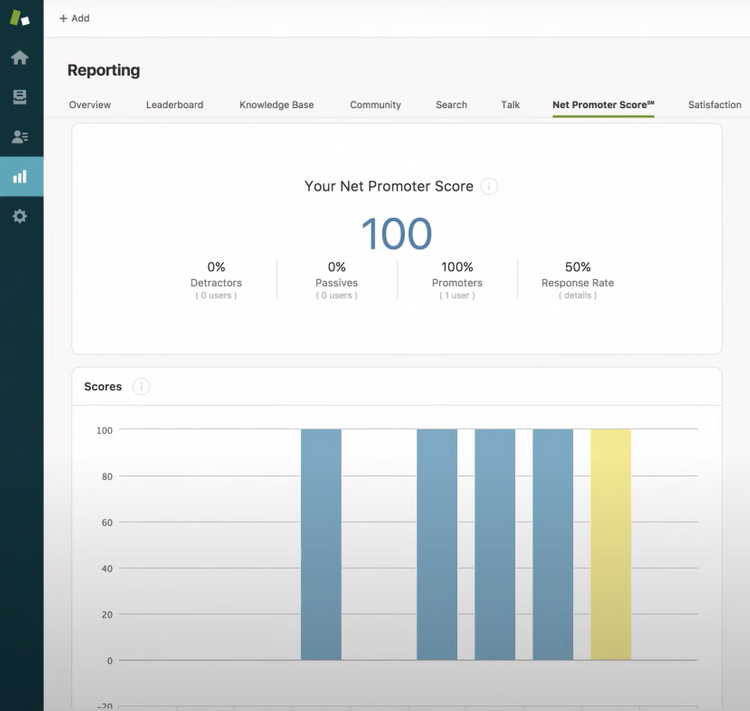 Features of Call Center Software
Inbound call routing: Ensure incoming calls go to the right departments, manage call escalations and internal transfers; omnichannel routing similarly directs chats, emails, and social media messages to the right agents
Ticketing: Assign tickets and case numbers to inbound customers to track their interactions and satisfaction with agents
Interactive voice response (IVR): Automatically direct incoming callers with a voice-activated system
Call scripting and email templates: Provide all your employees with set communication standards by using automatically generated scripts and templates
Outbound call dialing: Predictive dialers can speed up the time between outgoing calls
Queue management: Prioritize different customers or partners by importance in order to respond to everyone in a timely manner
Communication logging and recording: Keep recordings of all communication between employees and customers for review and analysis
Report analytics: Review call times, response rates, and call logs to determine the effectiveness of sales tactics and different contact methods
Workforce management (WFM): Improve employee satisfaction and productivity by directing communications to the right agents
CRM integration: Coordinate your contact center with an existing customer management system to maintain existing communication channels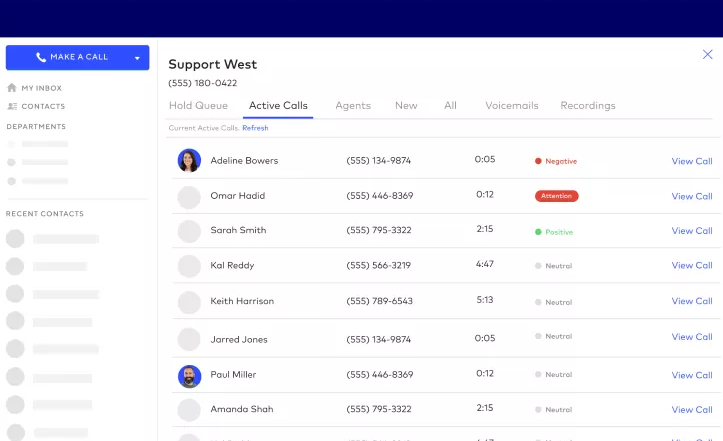 Contact Center Software Benefits
Implementing software at your contact center can lead to many great benefits, including:
Faster Queue Response
Queuing bottlenecks are common at contact centers, especially blended call centers which deal with both incoming and outgoing calls. In order to reduce the queue, automated systems from contact center software can prioritize different types of customers based on their service needs. Using outbound autodialers and inbound call routing can vastly increase your response times to queue requests.
Even something as simple as click to call can drastically improve responsiveness. Auto and predictive dialers are just some of the tools for speeding up transitions between outbound calls. And IVR tools further speed up interactions by directing callers to the right department without requiring a human operator to instigate the customer support process.
Share Client Information
Avoid wasted time from explaining situations over and over again. Call center software synchronizes data on client accounts so everyone has access to real-time updates. Whether a customer calls in or is in the queue, everyone on the phone will know what they need as soon as the call is made. Conferencing applications even allow multiple agents to engage with a customer at once to finish an interaction.
Cloud contact center software includes screensharing applications for internal and external use. Directly view a customer computer screen to diagnose their technical problems or share more information with another agent along the escalation chain.
Communication Records for Posterity
Phone systems used to be limited by voicemails and call logs. You could determine when a call was made and how long it lasted, but not have full details about the conversation which transpired. Call center software has fixed that problem by providing real-time call monitoring and recording systems.
Call recordings can be incredibly valuable when auditing employee performance. Your quality management team can listen in on calls to determine why they did or did not lead to a conversion, sale, or satisfied customer. At the end of a call or chat, you can send a customer satisfaction survey immediately to gain more information about performance.
Of course, recordings can also clear up disputed customer interactions. If an upset customer claims an agent was unprofessional, a quick review of the call can reveal the truth. These recordings can shield your individual employees, support team, and company as a whole from false misconduct claims.
Contact center software with omnichannel capabilities lets you streamline your contact details. Instead of using multiple phone numbers, customers can call one number and then IVR can route them to the right department. No more searching for extensions!
Predictive dialing can also benefit your agents by speeding up their responses to repeated calls. Accidentally hang up on a caller? Instant callback lets you recover from unexpected interruptions.
Who Benefits from Call Center Software?
Many different industries utilize call and contact centers to facilitate communication and improve workforce management practices. Some of the main businesses which use these centers are in:
Telemarketing
Customer service
Since contact centers may use anything from phone calls to faxes and emails, it's easy to customize call center software for your exact line of work. And the software can be integrated with larger CRM and ERP solutions for even more benefits.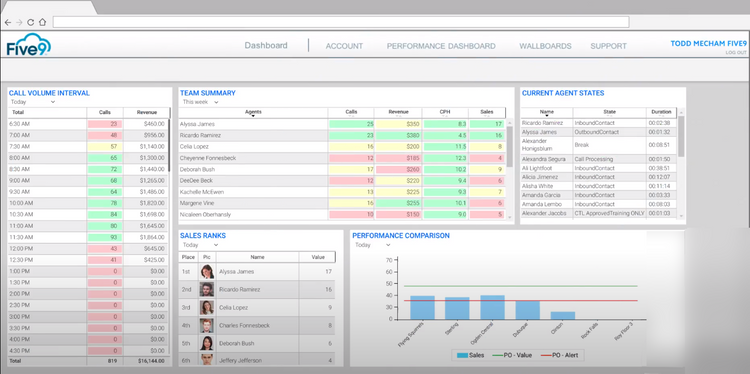 Small vs Mid-size vs Enterprise-level Call Center Operations
The right software for your business depends on the scale of your operations. Small business call center software may offer only phone-related applications while an enterprise-level contact center plan may include additional forms of communication like social media and live chat. Fortunately, many systems are fully scalable to custom fit your workplace needs.