NetSuite ERP cloud-based software is one of the most deployed enterprise resource planning (ERP) solutions in the world. It's popular because, as an ERP solution, it helps companies to collect and utilize business data through automated applications like accounting, procurement, supply chain management, and much more. NetSuite software helps companies around the globe increase productivity, reduce errors, and influence business decision making with real-time data visibility.
A few of the most well-known features include:
Full ERP suite with business intelligence tools
Cloud-based deployment
B2B and B2C eCommerce capabilities
Custom configurations through modules and third-party developed add-ons
NetSuite is a popular solution for medium-sized companies with 50-500 employees. A Software Connect evaluation found almost a quarter of users were working in professional services. The distribution and manufacturing industries make up another quarter. NetSuite has been used by more than 40,000 organizations in over 160 countries.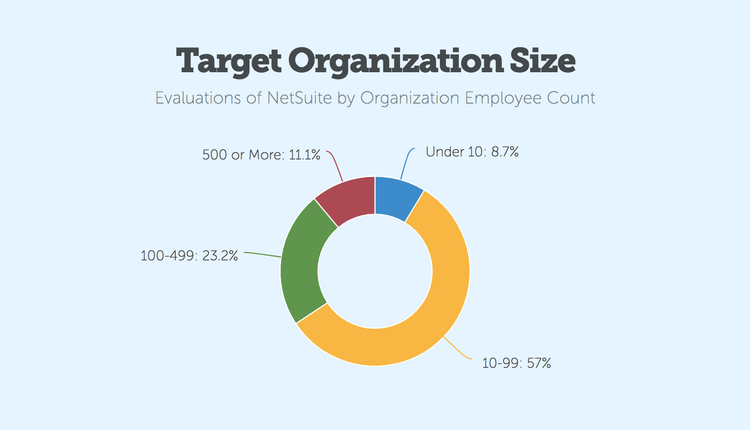 More than half of NetSuite users reported having between 10 and 99 employees to Software Connect.
However, there are many reasons this software might not be right for your business. Some reasons users have decided to find an alternative to NetSuite include:
Too expensive to implement and high annual subscription fees
Doesn't have the right applications for large enterprises
Too much functionality for smaller businesses
Mobile setup is not user-friendly
Limited customer support
Another big reason users have turned away from NetSuite? They don't offer their ERP software to small businesses. Whether your company has been deemed too small or you want to switch your users to a better suited software system, start your free search with Software Connect.
Popular Alternatives to NetSuite ERP
Software Connect has the full list of alternative ERP solutions for your business.There are several alternatives to NetSuite, depending on what features of the software are most important to your business:
Find out why each software was selected as an alternative to NetSuite ERP:
As an ERP suite with BI tools, Microsoft Dynamics GP is a popular solution for those who want an alternative to NetSuite. The base "starter pack" version has many of the same features, like:
Accounting with general ledger, accounts payable/receivable, billing, and budgeting
Supply chain management with inventory control
Human resources and payroll
These commonalities have made Microsoft Dynamics GP such a good option for companies who want to switch from NetSuite. The price is also similar, as it's based on licensed functionality, add-ons, user count, and hosting needs. According to one review:
Dynamics GP! the best ERP solution on the market. We have been using this platform in our corporation to perform some critical operations ranging from financial management, accounting, sales to service management. I would recommend businesspersons to try this platform if they have the quest of fulfilling some of the obligations like payroll, human resource, and reporting. @ Kaganjo M Kelvin, Ngere Tea Factory
The NetSuite ERP software suite includes a lot of popular BI modules. In fact, there are specific business intelligence software systems with a similar range of features to NetSuite.
Once known as Oracle Fusion, Oracle Cloud ERP applications can be scaled to fit your business. This software simplifies controls to streamline business decisions and increase productivity. The main suite It includes accounting features like a general ledger, accounts payable and receivable, and cash management. Along with financial applications, various modules cover procurement, risk management, and supply chain management.
As a cloud-based solution, Oracle software is available on multiple devices with real-time updates. Companies with multiple business partners or internal departments can use cloud-operations to streamline communication. You also gain security, as anything which occurs on-premise cannot harm your data in the cloud.
According to a recent user:
Compared to other systems, the drill-down capabilities and projecting your balances is great. I have not seen that level in other systems before. Integrations between other modules and the GL is great. @ Steve
There are a lot more Cloud-based ERP software options which are comparable to NetSuite. Search the options available on Software Connect to find the right alternative for your company.
More and more companies are utilizing ecommerce solutions during B2B and B2C interactions. SYSPRO ERP has customer relationship management tools for handling invoices, sales quotes, and other communications with your clients. Along with basic accounting solutions, this software has more advanced features like forecasting, credit card processing and inventory management.The business analytic applications are scalable to match the size of your industry.
An anonymous user says:
Pros: Tracks inventory and costs in details. Integrates easily with MS-Office tools, especially Excel, Outlook and Word. Designed ground-up for manufacturers and distributors. Workflow - for accounting and procurement process. Pretty powerful and integrated software. Easily customizable without a developer. Stable and low total-cost compared to other ERP products. Cons: Some modules like Budget preparation with a team is a 3rd party add-on. @ Anonymous
Odoo allows users access to the source code in order to develop their own applications. This ERP software is free, though there are a number of paid applications available. The main 30 applications include accounting, billing, BI, CRM, ecommerce, fleet management, MRP, POS, WMS, and quote management.
One user who switched to Odoo from NetSuite had this to say:
As a former Netsuite customer, we had the bar set very high in terms of functionality and flexibility. What we weren't expecting is the usability to be simple. This software package is so complete it usurps even Netsuite in terms of flexibility and is so easy to use that getting new users on the system and productive is just a matter of a few hours and in some cases, not even that. If Apple were to design an ERP, Odoo would be it. Mobile app gives you almost complete usage available as well. @ Jennifer
While Odoo is a popular open source ERP system alternative to NetSuite, there are many custom configurable solutions out there. Review more open source ERP software options for your business.
Smaller businesses who can't get NetSuite often turn to SAP Business One for their ERP software. The majority of companies relying on this alternative have between 10 and 100 employees. It's highly customizable thanks to a variety of add-ons, just ike NetSuite. The basic system includes accounting, CRM, and human resource applications. It's easy to access real-time data and generate reports since SAP is deployed on-premise and through the Cloud.
SAP Business One is an affordable, easy-to-implement business management solution designed specifically to meet the needs of emerging and dynamically growing small companies. A solution that gives managers on-demand access to critical real-time information through one single system containing financial, customer relationship management, manufacturing, and management control capabilities. The solution that enables rapid employee productivity, while empowering managers to make better business decisions and stay ahead of the competition. @ Leslie, Mitchell Proffitt Company