What is Self-Storage Software?
Self-storage software allows facility managers to keep track of vacant and occupied storage units, monitor facility access, and automate invoicing. These systems often feature interactive facility maps that show the status of each storage unit–whether it's vacant, has overdue rental payments, or is occupied and in good standing. The unit status is shown in real-time, so you always know the current status for marketing or payment collection purposes.
Many self-storage software vendors also offer website design services. Their websites are designed to integrate with their software solutions. This allows self-storage facility owners to accept online applications and electronic signatures, as well as collect payments. A tenant portal is often included as a way for tenants to view their account information and set up recurring payments.
The software often integrates with various types of hardware and software to help you manage all of your self-storage operations. Some common integrations include:
Gate Control Systems
Accounting Software like QuickBooks
Credit Card Processors
Driver's License Scanners
Features of Self-Storage Software
| Feature | Description |
| --- | --- |
| Online Payment Processing | Accept tenant payments via ACH bank account transfers or credit cards. Tenants can setup recurring payments to be made to avoid late fees. |
| Online Reservations | Give tenants access to real-time storage unit availability and reserve their unit online. Collect electronic signatures for facility contracts. |
| Invoicing | Automatically send invoices via paper mail or email. Set a schedule for recurring invoices to be sent out at specific times. |
| Auction Manager | Track the number of days the rent is past due and flag the unit for auction after a set amount of time. Send warnings about late payments, market upcoming auctions, and schedule the auctions. |
| Facility Maps | Create interactive facility maps that show you the locations, specifications, and availability of your storage units. |
| Customer Relationship Management (CRM) | Maintain tenant contact and payment information, and signed contracts, as well as contact information for new leads. Communicate with tenants via automated emails and text messaging. |
Benefits of Self-Storage Software
Some of the benefits of implementing a self-storage solution include:
Reduced Overhead with Online Applications and Payment Processing
Self-storage management systems make it easy for tenants and new leads to submit their information online. Automating payment and application processes allows you to save time on unnecessary paperwork.
Existing tenants can sign-up for access to the tenant portal where they can make payments or update their contact information. Tenants can also set automatic recurring payments, so they don't have to worry about it down the road.
Self-storage systems process payments from a variety of methods including credit cards, electronic checks, and more. Some software solutions integrate with other payment processors like PayPal, giving your tenants another secure way to pay their bills.
The software will notify your tenants automatically when a payment is due or late. Late fees can automatically be added by the system as needed.
New customers can apply for a storage unit through your website. The software will collect all information from the potential tenant including residence information and contact information. The applicant can also add driver's license numbers for a background check. Potential tenants can choose their own move-in date and pick out a unit based on the website's availability list. The system also collects electronic signatures for the lease contracts.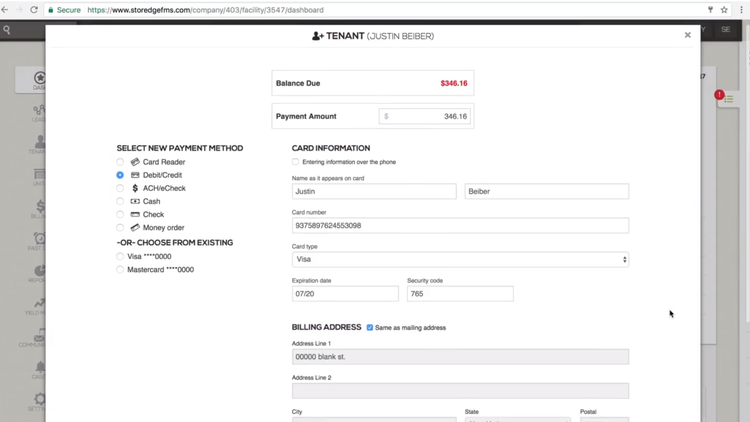 Better Access Control for Your Storage Facilities
Self-storage facility management software integrates with gate systems, allowing you to control access to the facility. PINs or passcodes can be set up to allow tenants access to the facility without the assistance of an employee. Cloud access control systems allow you to change permissions for a tenant from anywhere. If a tenant is late on payments, the system can temporarily deny them access to the storage facility.
Self-storage software also provides you with data about who accessed the gate and when they accessed it. This allows you to monitor who is going in and out to ensure only authorized personnel are using the facility.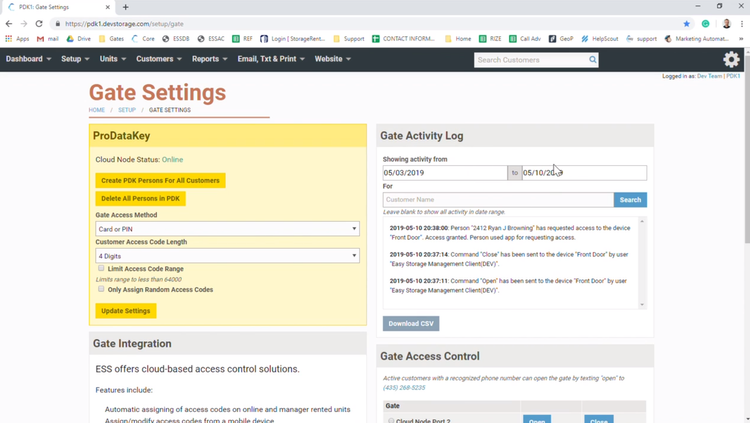 Improved Insight into Unit Status with Interactive Facility Maps
The facility maps in self-storage software provide property managers with a detailed view of the facility layout and status of each storage unit. These maps are often color-coded to show you if a storage unit is in good standing, is vacant, has past due invoices, or has a lien. Being able to clearly see available and unavailable units makes it easy to assign vacant units to new customers. Units with overdue rental payments can have notifications sent to the customer automatically to prevent the unit from being auctioned off.
These interactive maps typically provide more information when a specific storage unit is selected. Information like the tenant name and contact information, price of the storage unit, and dimensions of the unit are provided.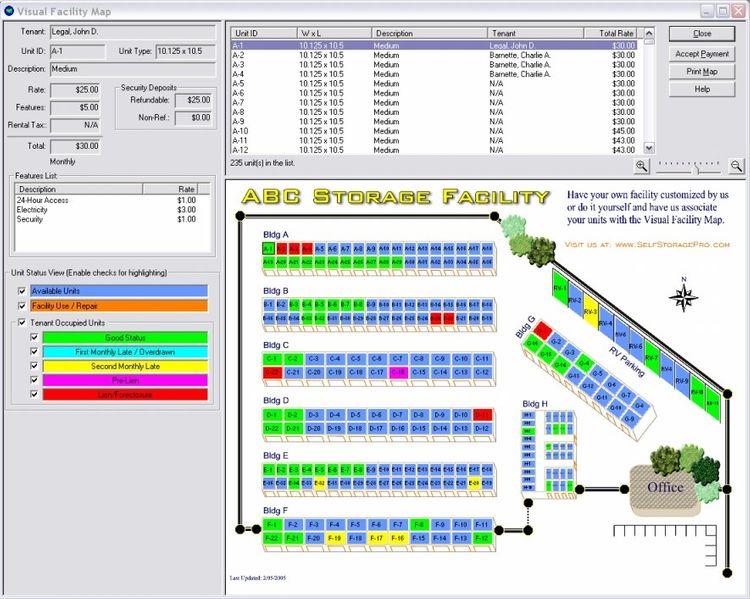 Cost of Self-Storage Software
Self-storage software starts around $30/month to over $100/month. The majority of software solutions for the self-storage industry are built on a SaaS model that charges on a monthly or yearly basis. Pricing is also often affected by the number of self-storage facilities or the number of storage units you manage. Some solutions have a minimum requirement for the number of units, so the advertised starting price may look a lot lower than it really is.
You should also be aware of credit card processing fees. If you allow tenants to pay by credit card, the software you use may charge a small percentage of the rental payment.
Many vendors offer free demos or trial periods for their software. If you'd like to test out a self-storage management system before purchasing, this can be set up with the vendor. Trial periods depend on the vendor's policies but typically last around 30 days.