What Is Trucking Dispatch Software?
Trucking dispatch software automates the routing and scheduling process for truck drivers by monitoring shipping orders, truck/trailer inventory capacity, and driver availability all from one centralized location. The end goal of implementing a trucking dispatch software will be establishing a reliable way to dispatch truck loads to ensure customer orders are being fulfilled in a timely fashion.
Trucking dispatch solutions assign new orders to available truck drivers and optimize the most efficient route. This route planning helps improve customer satisfaction through faster delivery times. With fewer miles being driven, fuel and maintenance costs can also be reduced.
Dispatching can also be found as one feature within an all-in-one trucking software, which also includes capabilities such as accounting and fuel tax management. Trucking software may also assist with International Fuel Tax Agreement (IFTA) fuel and mileage reporting. Businesses that need to plan, execute, and optimized the physical movement of goods may look into a transportation management software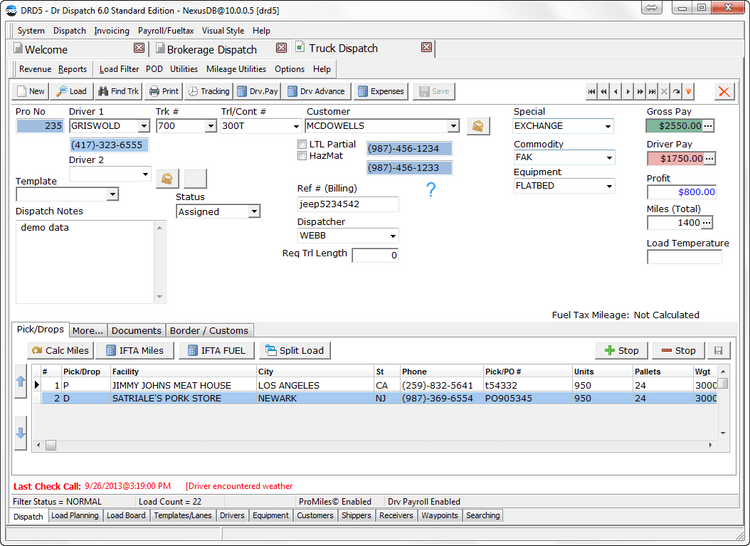 What Are Features of Trucking Dispatch Software?
Route Optimization: Plan routes based on variables such as road conditions, traffic, weather, vehicle type, and more. Ensures timely pickups and deliveries. Helps reduce fuel costs, driver hours, and operating costs.
Scheduling and Dispatching: Create a schedule with dispatch tasks. Specify the type of truck or vehicle to be used based on truck availability. Reorder specific items needed for a job, include specific instructions for drivers, and stagger arrival times or loadstacks.
Communication Tools: Communicate with drivers instantly via text and chat. Include relevant job documents so communication and questions about truck loads stays in one communication pipeline and not mixed in with personal forms of communication.
Mobile Access: Allow drivers to upload digital tickets throughout the day that documents weight and time stamps.
Real-Time GPS Tracking: Keep tabs on vehicles in real-time via a map view. Show estimated time of arrivals (ETAs) to customers, people on the job site, and others. Allows dispatches to reroute drivers due to spot problems.
Billing and Invoicing: Grab pricing data from truck loads and integrate with accounting software for automated billing.
Business Intelligence: Includes robust reporting tools to identify trends based on your data. May include dashboards, digital punch in and out, geofencing alerts, and cycle time analysis capabilities.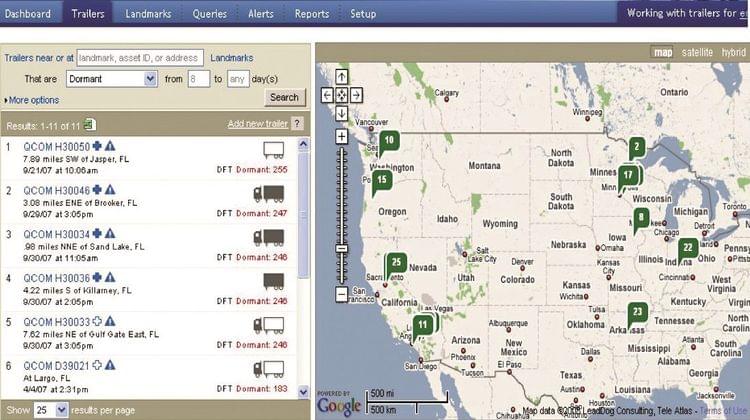 What Are Benefits of Trucking Dispatch Software?
Some top benefits of trucking dispatch software include:
Manage FTL and LTL Dispatches
Crete FTL (full truck load) and LTL (less than truckload) dispatches to ensure optimum flexibility. Both truckload options have their place in freight shipping, and being able to manage both with a dependable trucking dispatch software will allow you to satisfy a number of clients and partner with a variety of third-party logistics providers.
An FTL means enough products can fill the entire truck load–usually as one dedicated shipment. Full truckloads tend to work out cheaper than others, mostly because they are less encumbered by size and weight restrictions. FTL shipments will arrive at destinations sooner since the truck is not making pickups or drop-offs along the way, and there is less handling involved because of the lack of stops–meaning there are no transfers where shipments can get disorganized or lost.
On the other hand, an LTL will commonly include more than one shipment. This is more cost-effective for smaller shipments, although they will usually require waiting until multiple small shipments are received so the truck is still running at close to maximum capacity and eliminating "empty trips". LTL shipping helps the consumer reduce costs by only paying for the portion of the trailer used–likewise, the shipper may be able to charge more for partial portions of space that will make up a full truckload, as opposed to offering an FTL rate to one customer.
A trucking dispatch software will allow for both load types by adding shipper and consignee details, adding freight details, assigning a driver, request a eSignature bill of lading, managing an invoice, and more. The dispatch software will be able to best determine which shipments to combine. With each truck potentially carrying shipments from multiple clients going into varying locations, it's important to have a software that can save you time on determining when this freight will arrive at it's destination and allow you to quote this to customers.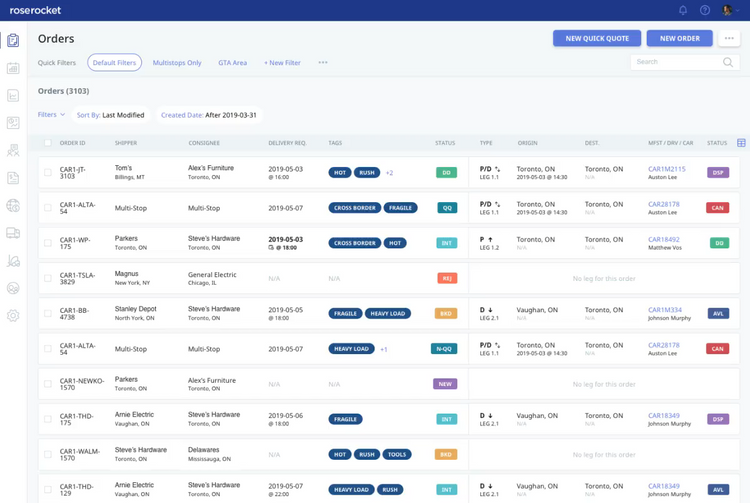 Improve Company Financials With Accurate Estimates and On-Time Invoices
Trucking dispatch software will include financial management tools that help the business provide estimates to customers, process invoices, manage receipts, and create IFTA reports.
The ability to create on-time invoices for your clients means less time spent calculating figures at a desk. Once a load is entered in via dispatch and a truck assigned, a rate or gross pay can be selected and the invoice populated. Customers may be assigned special rates depending on the type of load, their relationship with the company, and more.
Being able to adjust this info on the fly during a dispatch call can help your business speed up any needed processing. Once the dispatch call is complete, the staff member will have the ability to print or email invoices to customers.
Trucking dispatch software will also provide accurate estimates. By planning routes efficiently and monitoring routes driven through GPS capabilities, miles and rate estimates can become more accurate than ever before–letting your business pay drivers what they have truly earned. This means the software will provide insight into who has delivered a load and exactly how far they travelled.
For features not covered by the trucking dispatch software, integrating with an accounting software such as QuickBooks is an available option. These solutions will generally handle the bulk of the income and expense tracking and can pull any necessary data from your trucking dispatch software to avoid duplicate data entry.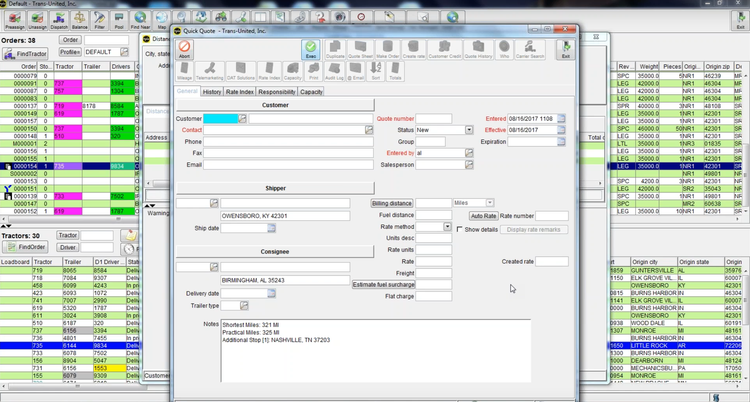 Track Drivers In Real-Time With GPS
GPS-tracking is becoming a must-have feature within trucking dispatch software. Also known as telematics, this feature relays information regarding driving behavior back to the dispatcher. Example data includes speed, engine start-up and shut-down times, idling time, and more. This information is useful for enforcing driving policies or eliminating unwanted behavior.
The most immediate benefits that GPS fleet tracking provides is optimized routes, improved security, and overall happier customers. By monitoring the location and status of drivers constantly, dispatch processes can be improved by ensuring they have the capacity to handle incoming loads, as well as give accurate timeframe estimates to customers. If traffic conditions may cause a delay, dispatch can re-route a driver on the fly–eliminating the need for the driver to figure out a detour on their own or input any information into their devices.
GPS tracking can also ensure deliveries are executed per any service-level-agreements (SLAs) regulations. By monitoring active transportation jobs, the business will be able to report if deliveries will be early, on time, or delayed. This can further improve carrier performance reporting and speed up contract negotiations in the future.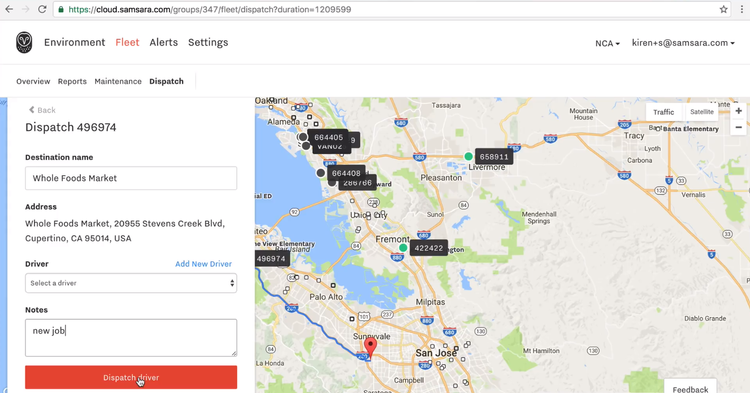 Does Trucking Dispatch Software Integrate With QuickBooks?
QuickBooks Pro and QuickBooks Online are generic accounting solutions that are intended for use by any industry. There is no trucking-specific version of QuickBooks available. As such, there is no dispatch feature available with a base version of QuickBooks. However, many trucking businesses have found success using QuickBooks as their primary accounting software when pairing it with an industry-specific dispatching and route management option.
Given the popularity of QuickBooks, many trucking dispatch solutions may offer integration. This allows you export invoices, bills, and more into QuickBooks–allowing you to keep accounts receivable and accounts payable in sync.