What is Animal Shelter Software?
Animal shelter software, sometimes referred to as pet or animal care software, assists all types of animal welfare organizations to manage animal control, organize adoption or fostering programs, issue pet licenses, and store medical records. Together, these tools allow you to optimize the services your shelter offers to animals and humans alike.
There may be some overlap between animal shelter and care software along with veterinary practice management software, though not all animal shelters are veterinary care centers and vice versa. There are adoption centers, wildlife facilities, livestock farms, and all types of animal rescue groups which can use shelter and care software to manage their day-to-day operations.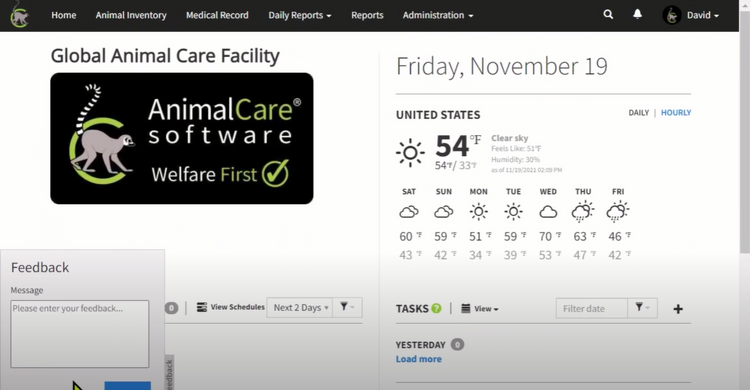 Features of Animal Care and Shelter Software
Animal intake management: Organize how animals are brought to your shelter for care, what requirements there are (if any), and what is needed for release or adoption
Case management: Create a case file for every animal which comes to your shelter, pass all information on to other staff, volunteers, or potential adopters and foster families
Medical records and pet licenses: Maintain digital health records for all animals passing through your shelter; if adopting out animals, provide physical licenses to new owners
Animal inventory: Keep real-time numbers on how many animals are at your facility at a time, categorized by species details and other pertinent information
Adoption and foster management: Keep records of potential adopters and foster homes for adoptable pets
Kennel management: Ensure kennel facilities are kept clean for boarded pets or rescued animals
Volunteer management: Recruit, track, and monitor potential volunteers to work at your shelter
Fundraising management: Organize and control fundraising efforts to raise donations for your facility
Best Animal Shelter Software Benefits
From small animal rescues to larger animal welfare facilities, adopting pet care and animal shelter software can streamline your operations in many ways:
More Time for Animals, Not Paperwork
Rescued animals need around the clock care. Time spent filing medical records or filling out case files is time not spent with the ones who need it most. Animal shelter software lets you automate a lot of paperwork, reducing the time necessary for each intake process or adoption.
Real-time automation modules further enhance your operations by digitizing paperwork. Digital medical records can instantly show which animals have received care, which need vaccinations or microchips, and even potential behavioral issues. Just knowing the temperament of an animal can improve how volunteers and staff approach new situations with the animal, such as enrichment or training classes.
Track Animals, Owners, and Volunteers
Once an animal arrives at your shelter, you'll need a way to keep track of its location. Otherwise, the animal might not receive the care it needs, such as checkups or grooming. With an all-in-one shelter management system, shelter managers can know where their next patients are, reducing the likelihood of missed appointments.
Animal care software includes tools for tracking animals staying at your facility to better coordinate between volunteers, fosters, or potential owners. For example, imagine a volunteer taking a rescue dog out for a walk and some exercise. Without software, the staff might not know where the dog is when it's supposed to be meeting with a potential foster family. Even a manual system, such as a clipboard attached to the kennel, can fail to indicate how long the dog has been away. With real-time software, everyone can review animal records to know where the dog is and where it's supposed to be.
Wearable tracking devices in collars are another way to monitor animal locations with RFID and GPS. And mobile apps on iOS and Android devices can even allow instant communication so volunteers can check in whenever an animal isn't in the right spot.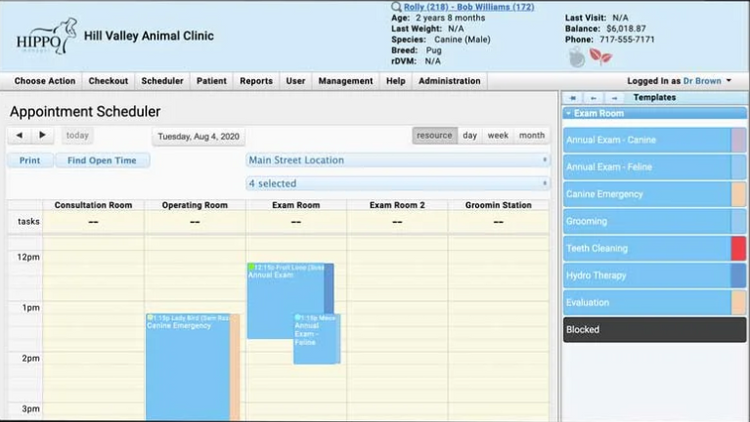 Raise More Funds for Animal Welfare
Fundraising tools provide a way to raise more money for your organization. Whether you are a non-profit pet adoption center or are a for-profit boarding kennel, the occasional fundraiser can temporarily increase your budget to allow for additional services.
For instance, a severe weather event might cause your shelter to temporarily house animals separated from their owners. Hosting an impromptu fundraiser, especially online over social media, can cover all the additional costs brought on by the emergency conditions and increased capacity.
Fundraisers don't necessarily have to be monetary either. Adopt-a-pet drives, educational programs, pop-up spay/neuter clinics, and more can all be organized through shelter management software. With greater outreach efforts, you can help more animals in your community than ever before, such as using social media to share upcoming adoptable animals with the community.
Animal Shelter Software Pricing
Animal shelters and rescue programs often have limited budgets. This is particularly true for nonprofit shelters which rely entirely on the generosity of others to run. Fortunately, there are plenty of affordable pricing options available when seeking animal shelter management software which includes the functionality you need, along with customer support and IT maintenance.
The price first depends whether you want a locally hosted or cloud-based solution. SaaS options can range between $20 to $1,300 per month, though some also charge per user or facility. This price is generally based on the size of your organization, as the more animals, staff, and volunteers you have, the more expensive your plan will be. A few also charge per adoption transaction, for as little as $1 per adoption.
Integration with other software or services can also increase the total cost. For instance, if your shelter provides animal boarding or grooming services, some software will have modules for managing those services. Petfinder, one of the most popular options for listing adoptions online, is compatible with many animal shelter software products, allowing you to easily update pet availability to prospective owners. Other upgrades include mobile app accessibility for working on the go, such as while on location rescuing an animal.
Animal Care Software by Facility
Animal care facilities can cover a wide range of services. Customizable animal shelter software can assist all, whether you operate a(n):
Animal rescue group
Municipal animal control center
State or federal wildlife department
Emergency veterinary center
Humane society
Rehoming and foster group
Kennel or stable
Livestock farm or ranch
Zoo and/or aquarium
Animal sanctuary
As long as your animal care center has an Internet connection, you can benefit from adding software to your day-to-day operations.