What Is Building Materials Software?
Building materials software helps synchronize supply, demand, and fulfillment of your building supply orders. Used specifically in the building materials industry, these solutions give your building materials business a single and unified platform for managing your building supply company, by fully integrating CRM/opportunity tracking, sales orders, pricing, procurement, inventory control, kitting and product configuration, manufacturing work orders, dispatch and delivery, and reporting.
Also known as lumber and building materials software (LBM software), pro dealers and distributors will use these systems to track lumber, millwork, building materials, and construction supplies. Whether you are a distributor, manufacturer, or warehousing business, building materials software helps accommodate your needs. The improvements to your business processes will let you achieve enhanced visibility into your production and distribution, streamline your supply chain, and get real-time insights into your operations.
A strong inventory management functionality is at the core of building materials software. This is to record details about the building materials and construction supplies being sold. LBM and hardware businesses need to receive inventory quicker and more accurately. When shipments come in, instead of checking products off on the packing slip, you can scan the PO and be done. It will also automatically add items to your inventory, or help reconcile orders if items are on backorder. This will free up your time to focus on other areas of your business.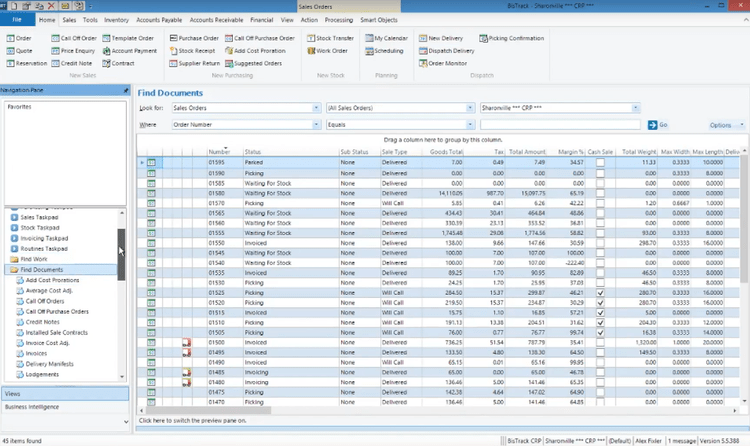 Features of Building Materials Software
Inventory Management: Manage stock counts of LBM specific products that your company builds, buys, stores, and sells. Manage inventory costs and know the location of items to aid in picking, packing, and shipping. Review seasonal purchasing trends to anticipate upcoming inventory trends. Provide customers with available inventory to reassure prompt delivery.
Purchasing: Create purchase orders issued to vendors when buying supplies or services. Includes information such as product type, quantity, and pricing. Link to inventory control to access exact stock quantities, movement history, seasonal trends, and supplier lead times.
Accounting: Includes a general ledger (GL) with accounts payable (AP) and accounts receivable (AR). Provides a summary of financial activities and drill-down capabilities into details. Includes invoicing, budgeting, and financial reporting.
Manufacturing: Automate your manufacturing and millwork processes, track job costs, and create work orders. Produce bill of materials, monitor material availability, costs, substitutes, or change orders based on your capacity.
Point of Sale: Handles customer order management and the check-out process for customers. Scan items, enter SKUs, item look-up, returns management, customer lookup, transaction history, loyalty rewards, discounts, and custom orders design work.
Customer Relationship Management (CRM): An integrated view of your customers and prospects so you can get the most out of your marketing, sales, and customer service efforts. Includes contact management, email integration, opportunity tracking, follow-up scheduling, and cross-selling.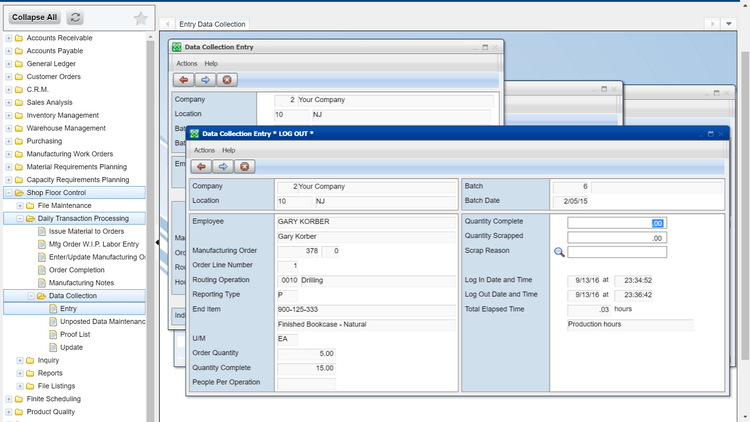 Benefits of Building Materials Software
To determine which building materials supply software is right for you, you'll need to ensure the software properly supports your sales cycle from quote to order to delivery. Real-time sales order processing, integrated CRM for prospect tracking, and integrated supply chain logistics for improve delivery management and warehouse management are just a few of the benefits available.
Grow Your Business
Lumber and building material software can grow your business by providing top of the line customer service to builders, contractors, and retail clients. It can also help simplify the everyday processes your employees may deal with, such as inventory management, dispatching, and any contract billing.
With a fully-integrated system, you can rely on one solution for order fulfillment, sales, delivery, inventory, and accounting. This seamless transition from one functionality to the next will ensure your employees are more productive and spending less time re-keying in data into multiple systems. The use of mobile apps will let your employees use a variety of devices to access data from any location.
Have The Products Your Customers Want
Stocking the right products starts with strong purchasing and inventory management functionality. The procurement tool within a building materials software can easily streamline communications with your vendors. This can lead to an automated ordering process, establishing stock level thresholds (so goods are automatically reordered when you hit a certain quantity), or any special requests you'll need to maintain for customers with unique needs.
From writing purchase orders to the receiving process to finally storing the product, your purchasing team can use the inventory functionality to ensure they are purchasing the right products for their locations and improving the distribution flow through your warehouses.
Inventory management will also let you monitor adjustments to purchase orders and receipts, track open work orders and WIP, and any kitting that is necessary. For larger companies, warehouse transfers and intercompany transfers may be commonplace, so you'll want to track lots and shelf life dates and ensure that your goods are being used or being sent to other areas of need in your business.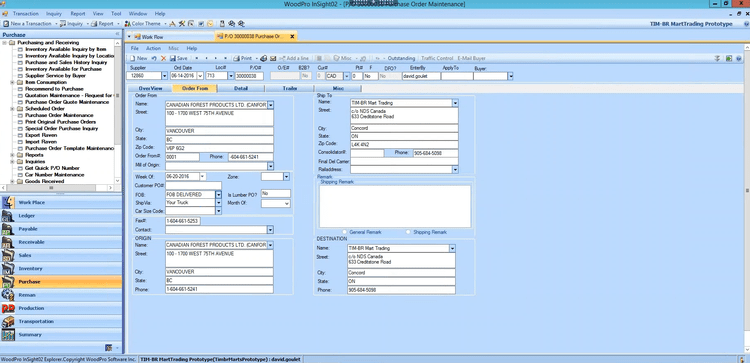 Enhance Customer Service and Increase Sales
Providing a fast and convenient way for customers to purchase your goods is the first step towards better customer service and increasing sales. This can be accomplished by providing no roadblocks to customers getting through the check-out process.
Whether through an eCommerce platform, an order management system, or an integrated point of sale, order entry functionality will let your staff look at customer invoices, look up previous purchase history, or place an order, all from one system. The functionality and ease of use offered by an integrated point of sale mean your staff can quickly answer questions about your items or previous orders, and also handle a simple reorder for a repeat customer.
Invoices can easily be printed, emailed, or faxed directly from the POS as part of the sales transaction. Mobile functionality will let your staff create a sales order no matter where they may be; whether on the sales floor, on the road, or taking an order over the phone, your staff will be able to exceed your customer's expectation by meeting their needs immediately and not requiring them to hang up and call later.