What is CAPA Software?
Corrective and preventive action software (CAPA software) is a continuous improvement tool that collects and analyzes data to identify and eliminate product quality issues, process inefficiencies, and equipment issues. Corrective action in software prevents nonconformities from recurring by eliminating the cause of a nonconformity, while the preventive action prevents nonconformance from occurring at all.
CAPA software provides risk assessments, alerting you to any potential issues that might arise. This allows you to make changes as needed before a problem occurs. When issues occur, the software will assist with root cause analysis to determine why the issue happened and what can be done to fix it.
CAPA software is used by any business that uses a quality control system. The most common use case for CAPA software is by manufacturers that need to ensure their processes and products meet regulatory standards for their industry.
CAPA management systems are typically integrated as part of a larger quality management system instead of being sold as a single standalone solution. The CAPA system can use data from various parts of the quality system including customer complaints, document management systems, and audit management systems.
Features of CAPA Software
| Feature | Description |
| --- | --- |
| Root Cause Analysis | Identifies the underlying problem with a product or process. |
| Corrective Action Planning | Define tasks that will correct noncompliance or issues with a product or process. |
| Risk Assessment | Identify potential problems with product quality and processes. Create preventive action plans to mitigate risk. |
| Reporting | Create reports on the entire CAPA process including errors reported, risk assessment results, CAPA workflow tasks completed, real-time equipment performance, customer complaints, and more. |
Benefits of CAPA Software
Identify Product and Process Issues with Root Cause Analysis
CAPA management software helps identify and define the underlying quality issue or process failure. The software will alert you in real-time when an issue occurs and provide you with details about what may have caused the problem. More details about the error can be recorded within the software in case the same issue recurs.
Root cause analysis assists personnel with the creation of corrective action plans. Knowing when, where, and why a problem occurred makes it easier to quickly correct it and reduce downtime. This information is then used as the base for corrective action planning.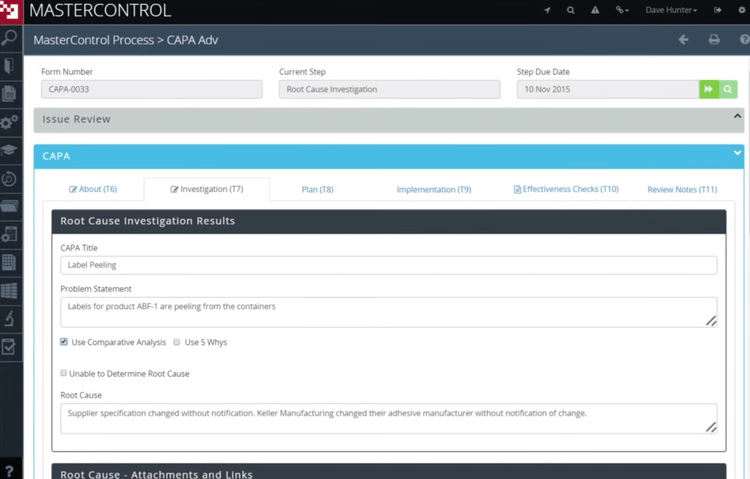 Create Plans to Effectively Fix Product Quality or Process Issues
Corrective action software facilitates the creation of corrective action plans. A corrective action plan is a set of instructions that need to be followed in order to correct an issue with product quality or performance. Information from a root cause analysis is most typically used to create a corrective action plan. CAPA software also allows you to assign qualified personnel to tasks with the corrective action plan.
Information from audits can also be used to create corrective action plans. If a process or product quality issue is discovered from an audit and doesn't meet regulatory requirements, the problem must be corrected immediately. The corrective action plan will define the steps that need to be taken to fix any issues and due dates for the corrections. CAPA software will document the actions taken for follow-up audits.
Corrective action plans are also useful outside manufacturing processes and product quality corrections. For example, corrective action plans can be made for employee performance improvements. The plan will define expectations and steps to take to improve performance.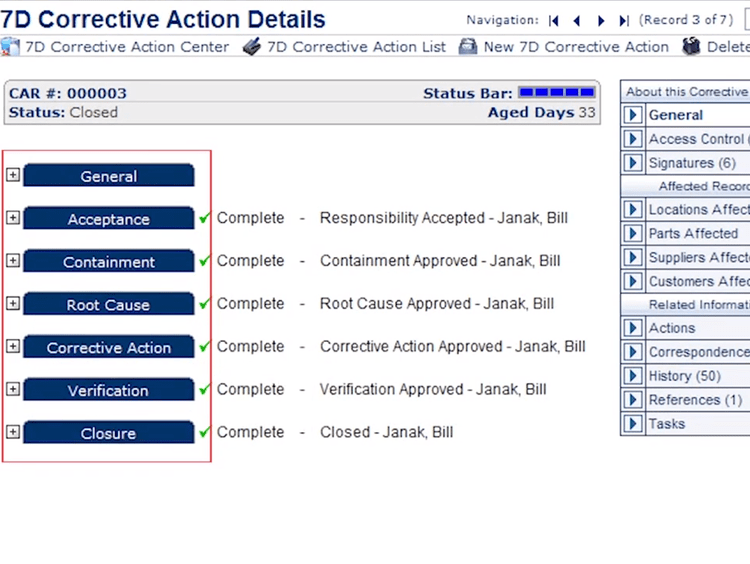 Reduce Risk and Prevent Quality Issues
CAPA software records data from risk assessments to determine if any problems will occur during or after the manufacturing process. The information gathered from the risk assessment can then be used to create preventive action plans. These plans define the steps to take to prevent a problem with a process or product from happening.
The software can monitor various types of risks including financial risks, operational risks, human resources risks, and more. When potential risks are found, the software will notify you to take preventive action. Risk assessments can be scheduled within the software to occur as frequently as you want.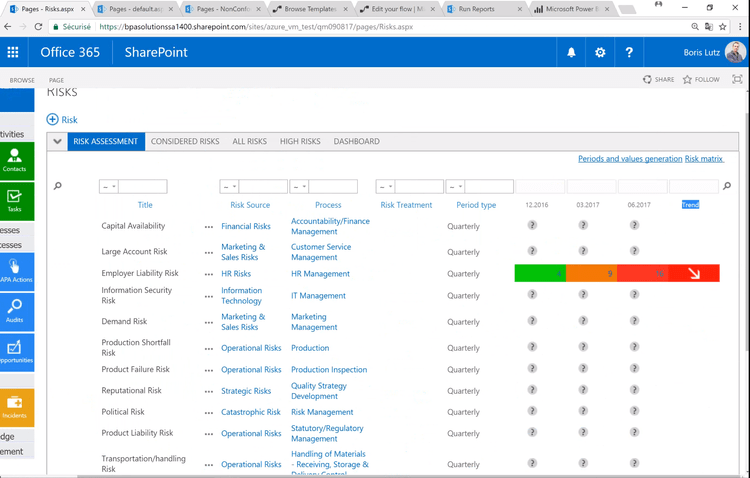 Gain Valuable Insights Into Quality Issues and Potential Risks
Reporting functionality in CAPA software gives businesses valuable insights into problems and potential risks that could negatively impact a company's ROI, compliance status, and reputation. A few of the areas reports can be run on include risk assessment results, root cause analysis results, corrective and preventive actions taken, equipment performance, and more. The information can be laid out in dashboards, providing you with an easy to use graphical representation of your data.
When your CAPA solution is tied together with a quality system, you can also run reports on other metrics like customer complaints and audit results. Having this information together in one system allows you to have better control over your CAPA processes.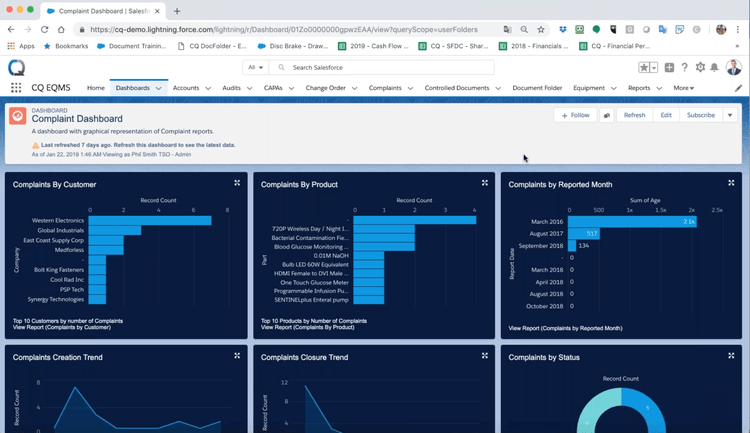 Maintain Regulatory Compliance for Your Industry
CAPA software helps manufacturers maintain regulatory compliance. Different CAPA solutions can be geared towards different industries like medical device manufacturers, life sciences, food and beverage manufacturers, and automotive manufacturers. Certain products need to meet specific quality standards in regards to physical makeup or size specifications. Packaging and labeling can be required and strictly regulated. CAPA software can help manufacturers take the proper steps to ensure their business is meeting all regulatory requirements. If a step is missed at any point in the manufacturing process, the system will alert you to take action before a problem occurs.
Some regulatory compliances that CAPA systems can assist with include:
ISO 9001
GMP
FDA Title 21 CFR Part 11
HAACP
IATF 16949
Cost of CAPA Software
We've seen CAPA software anywhere from $12/month/user to $2,000/month/user. Of course, there are many solutions that fall between this range. The cost of CAPA software varies greatly depending on a number of factors including the type of software, the number of users, and software deployment. Many solutions offer a free trial period for you to test out the product before committing.
On the lower end, a solution like iAudited starts at $12/month/user and helps with audit management, corrective action tracking, and team collaboration. This solution is meant for assisting businesses with their auditing process.
On the higher end, a full quality management system like Qualityze starts at $2,000/month/user and includes features like nonconformance management, CAPA management, change management, audit management, compliant management, and more. Full QMS solutions are ideal for businesses that need to manage all quality processes.