Reporting tools is a type of business intelligence tool that creates reports that let you view trends pertaining to company financials, sales, marketing, human capital management, and more. Reporting tools will give you the power to make tough decisions on underperforming departments or personnel, or the insight needed to duplicate a business process given its success.
Reporting tools create reports by having a designer upload information from datasets (such as accounting software or a CRM), which help create interactive reports such as income statements, cash flows, employee attendance, benefits administration, the status of leads generated, revenue by salesperson, and more.
Reporting tools help you prepare your data, upload your data, and build a report that provides real-time information to improve your business decision making.
Reports generated in reporting tools can be as basic as advanced financial statements that your general ledger can't create on its own (such as a profit and loss statement or a balance sheet), or as complicated as a certified payroll report or an executive dashboard that pulls data from multiple systems.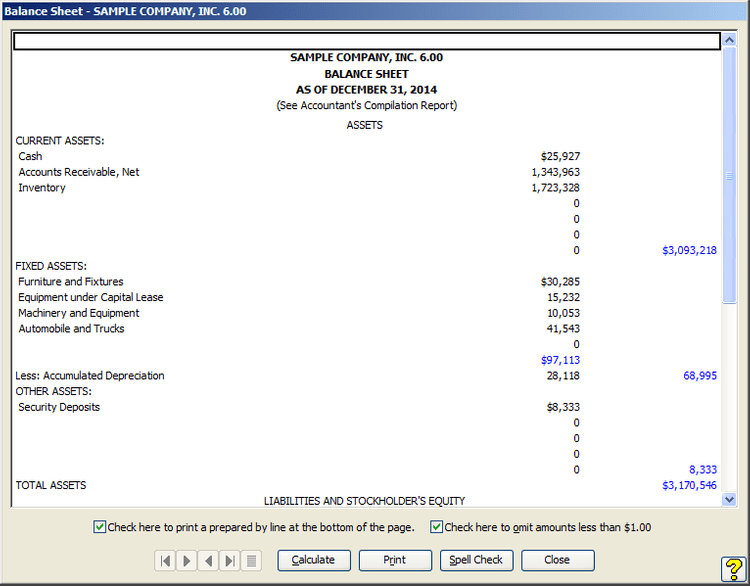 Features of Reporting Tools
| Feature | Description |
| --- | --- |
| Ad-Hoc Queries | A non-standard inquiry created to obtain information as the need arises. |
| Data Visualizations | Creates a visual means of enabling rapid consumption of key business data, primarily in the forms of charts, graphs, and plots. |
| Interactive Dashboards | A type of data visualization that displays key performance indicators (KPIs) and important data points to allow for quick visualization of the selected data. |
| Data Blending | Import data from multiple sources such as Excel spreadsheets, accounting software, and ERP systems. Export data to a third party file type such as a CSV or PDF file. |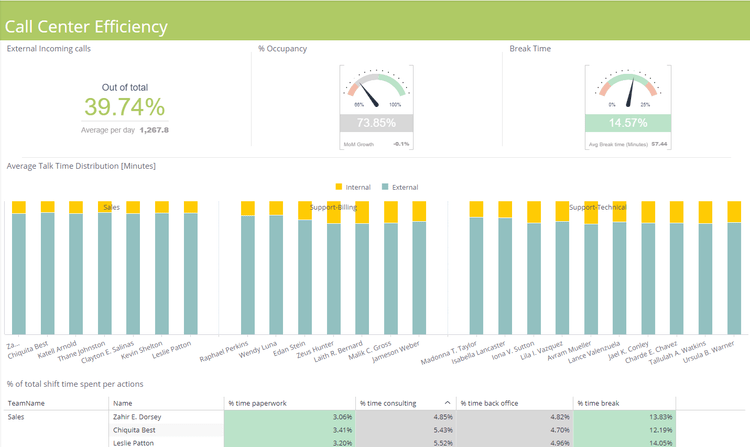 Benefits of Reporting Tools
Understand Your Data Better With Visualizations
Data is the main driving force behind most decisions. Reporting software can help provide the appropriate layer of abstraction to tell the necessary story with your data, in the form of a visual. Visualizations help communicate data easier in a way that can elicit the appropriate response from the target audience. For example, a spreadsheet that has sales data can help show quarterly sales to important decision-makers, but it can also help understand the motives behind why your sales may have increased or decreased lately.
Increase Productivity With Integrations
Reporting tools will operate as their own program, and in many cases may ask you to upload the data set you need to analyze. However, many reporting tools can now integrate or embed with your existing business software (such as an ERP solution) without much modification. This gives your business reporting capabilities directly into the financial or ERP program you use and can speed up the creation of any needed interactive reports.
Real-Time Analytics and KPIs
Real-time reporting gives you updated business intelligence based on your data analysis as they happen. Rather than waiting for reports to update over a predetermined length of time (such as with annual budgets or a monthly financial report), managers can see their exact figures as they change, in order to make more informed decisions at a quicker pace.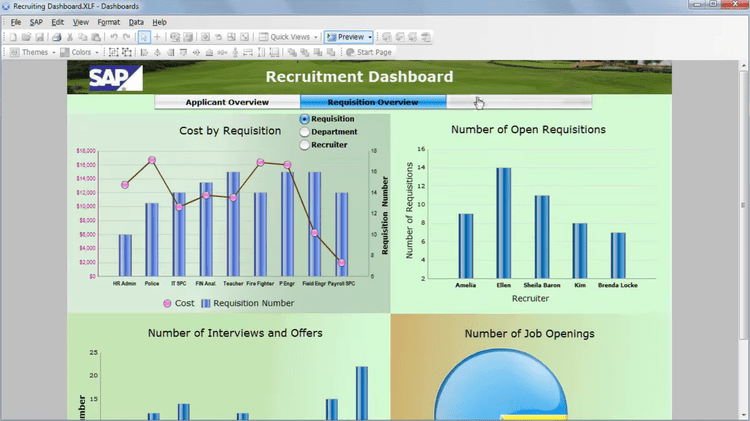 Reporting Tools for BI
At the core of any business intelligence software is the reporting functionality. BI reporting software provides a full view of your business with self-service analytics and reporting that can help you create interactive dashboards, visuals, KPIs, and more into easy to read reports for your business decision makers to understand.
Most BI tools have a strong reporting capability which offers drag-and-drop capabilities that basic end users can understand. This can let you adjust tables and data sources to your liken to see what type of report pops out.
Static vs Real-Time Reporting
You'll want to determine how complex your reporting tool needs to be. Most classic or basic reporting tools will provide static reporting capabilities, while advanced BI tools provide real-time analytics in your reporting or dashboards.
Static reporting provides information data that is current up to the date that the report was created. Static reporting is less likely to change over time and is thus used in more big-picture discussions, such as year-end budgets or monthly financial statements. These types of reports are more commonly found in on-premise reporting tools.
Static reporting is what is thought of in traditional reporting in the early days of spreadsheets and manual (paper) reports that are distributed out to employees. Static reports can become easily dated and have mostly been moved aside in reporting tools for real-time reports.
Real-time reports can be accessed from a variety of devices via the cloud with internet connections. These reports provide up to the minute details to key business data, such as sales levels, stock counts in your inventory, and more.
Real-time reporting software capabilities help decisions be made in seconds. For example, if your inventory counts are getting too low, your purchasing manager can be properly notified so that stock can be replenished. This can help you avoid having to turn down sales orders due to a longer-than-expected fulfillment window.
The above scenario is an example of how real-time reporting has an advantage over static reporting to increase the power of your brand and of your market performance.
When is Excel useful to be used as a reporting tool? Is it possible to continue to use Excel as the primary source of data and have another program create reports?
Given the presence of Excel in the workplace (there are 1.2 billion Office users as recent as 2016), many will want to utilize the solution for reporting purposes. An office that primarily uses Excel usually benefits from the following:
Familiarity with the program. Most people are familiar with the layout of spreadsheet software and have experience using one in college, at internships, or at another job. Because of this, there is little to no learning curve needed to get new employees properly recording data.
Templates and formulas to aggregate data. Excel has a few built-in features and provides a wizard tool to help you create what is necessary. Given the vast user base, there are many communities online dedicated to helping you learn advanced capabilities.
As low cost as you can get. Excel is included as a part of MS Office, which previously came with the purchase of a lot of new computers. Nowadays, business users can expect to spend $8.25/user/month for Outlook, Word, Excel, PowerPoint, and more.
However, Excel was intended to be a place to store your data, and not to operate as a reporting tool. Offices that grow a dependency on Excel or spreadsheets may eventually have to deal with:
Human error. When a dataset gets large enough, so does the chance for error. Missing a decimal place or typing a "0" instead of a "1" can drastically change your numbers and thus produce inaccurate reports.
Static data and collaboration issues: As previously mentioned, real-time data has plenty of benefits over static data, and companies looking to create reports as current as possible will have to deal with data potentially being outdated. Some cloud-based spreadsheets such as Google Docs can assign multiple end users editing privileges, which means if you have the spreadsheet pulled up on your computer, it will have the same data set as anyone else that may be viewing the file.
Many reporting tools will offer the import of Excel files (.CSV) or any other type of spreadsheet to create the reports you desire. They may also provide you the ability to use the familiar functionality of Excel directly within the program, or some type of hybrid approach where the reporting solution operates as an extension to Excel.
A level of integration can avoid the manual process of conversion, or avoid the process of tracking data in one program (your spreadsheet program) and reports in your reporting software. Not only that, but it provides little to no learning curve to letting your Excel-fluent employees create the reports they want.
While Excel can be a low-cost and useful tool, it doesn't mean it can truly be a "reporting tool" without the aid of the right software.