We're interested in understanding what motivates buyers at all organizations, including churches. That's why we commissioned an exclusive survey of church software buyers.
We reviewed our recent conversations with 270 churches in North America buying accounting software. Our study uncovered several interesting trends. Most notably, we saw a significant shift in attitudes toward cloud hosting in just one year.
Key findings:
Preference for cloud-hosted church software increased by 19 percent in 2017.
29 percent of church software buyers are replacing a "dated" system.
Staff size plays a significant role in budgets. Churches with over 20 staff members averaged near $40,000 budgets over three years.
25 percent of churches want to reconcile and verify cash deposits from donations.
Read on for more info:
Deployment Preferences: Shifting to the Cloud
Many large for-profit organizations are wary of cloud-based software. Concern for "data security" is the most common reason we hear from buyers. They believe hosting data offsite can make it more vulnerable.
For churches, though, accessibility is critical, says Joseph Scarano, CEO at Araize, Inc., a software developer for non-profits. Scarano says church software buyers "are looking to move their financial management applications to cloud-based systems to provide access to their data to more volunteers and church elders."
"They're finding that a Windows installation doesn't provide the anywhere, anytime access to the financial data they need," Scarano continues. "With a cloud solution, they can easily set up multiple users with varying degrees of access to manage key financial data."
Remarkably, attitudes toward deployment at churches have shifted significantly in one year. From 2016 to 2017, preference towards cloud-hosted software jumped from 20 to 39 percent.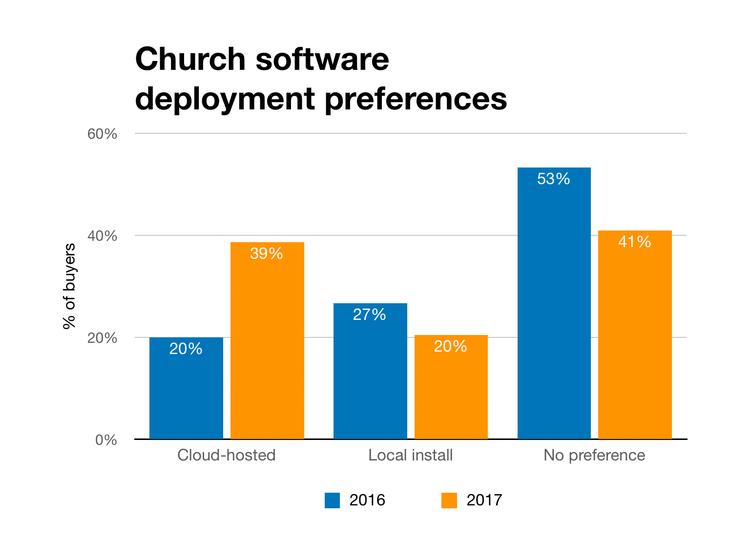 More Functionality
What about features beyond basic accounting needs? Churches have many of the same requirements as other nonprofits. For example, 29 percent need donor management and fundraising features.
Bank reconciliation (verify cash donations), membership tracking (communication and outreach), and attendance tracking (member participation) were also common requirements.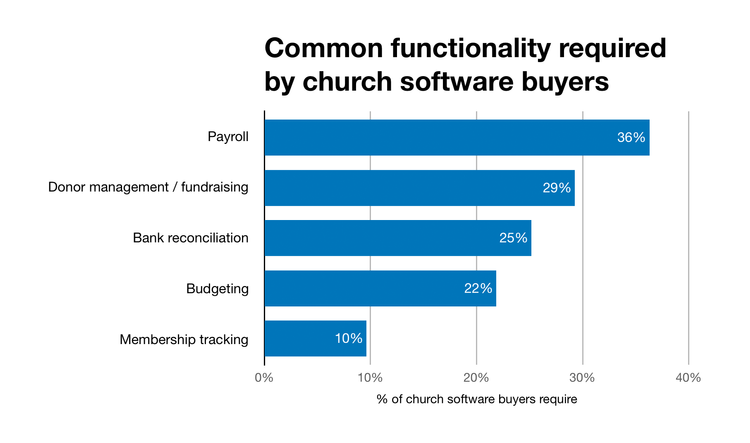 "[Church buyers want] a single solution that handles both membership and accounting to avoid duplicate entry of member donations in two different systems," says Scarano. "They want to eliminate reconciliation problems between accounting and member systems."
Purchase Motivations
We found that buyers were most motivated to replace an existing dated system. We suspect that churches are more likely to postpone technology purchases than other organizations. As we'll discuss later, churches often have tight budgets, so this motivation makes sense.
The longer organizations postpone tech upgrades, the more technical debt they have when upgrading. Technical debt varies most by workflow complexity, and product age.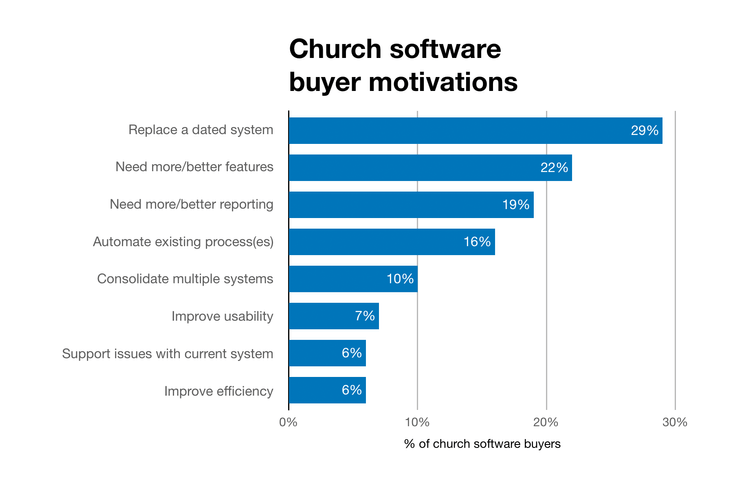 A desire for more and better features was also a common motivation. A diocese with over 70 churches on the West coast wanted to upgrade to a comprehensive system to track member demographics and keep a sacramental registry.
Meanwhile, a mid-sized parish of 1,500 members in Arkansas wanted an "easy way to pay bills, track budgets, and limit financial report access by user." Araize CEO Scarano explains, "we find a lot of churches move away from generic accounting apps like QuickBooks because of their fund reporting requirements."
What Products are Buyers Replacing?
Churches looking to buy new accounting software typically use a range of software types: 35 percent use general-market solutions like QuickBooks; 9 percent rely on software designed for religious institutions, including Shelby Systems; and 8 percent use legacy products such as ACS Membership Plus.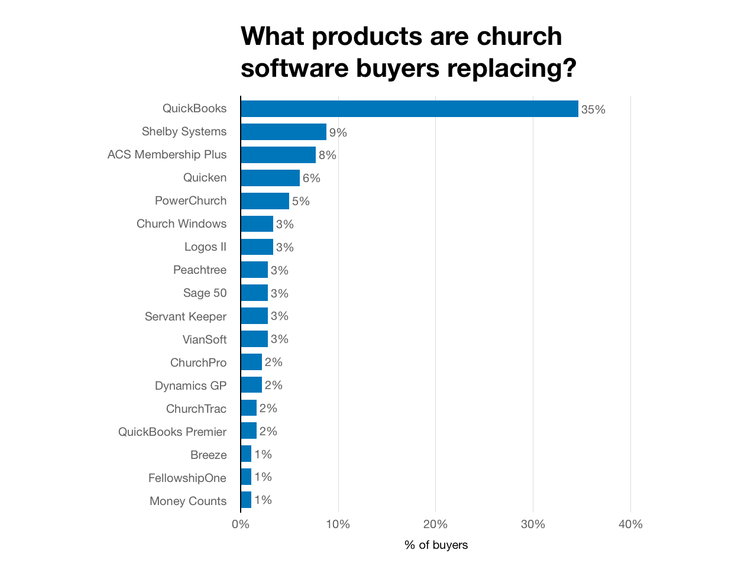 Demographics
Church treasurers were the most common users leading the search for new software. Spiritual leaders such as pastors, deacons and ministers were frequent to search.
Churches ranged from small operations to large multi-congregation networks. In our study, 79 percent of our software buyers came from parishes with fewer than 20 staff members. Thirteen percent from institutions with a single employee.
Larger organizations were a significant part of our sample as well. In fact, 21 percent of buyers came from groups with more than 20 employees. Another 10 percent were from institutions with more than 50 employees.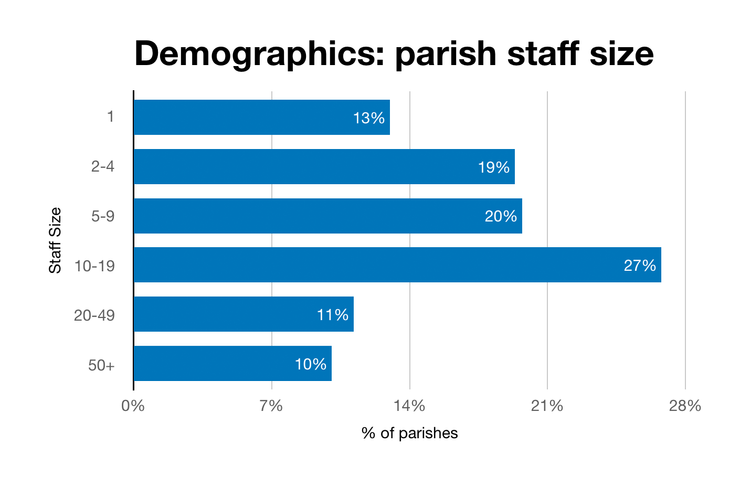 Budgets
The most significant predictor of budget we found was staff size. Churches with 20 or more staff members averaged around $40,000 budgets. Meanwhile, churches with fewer than ten employees were looking to spend less than $5,000.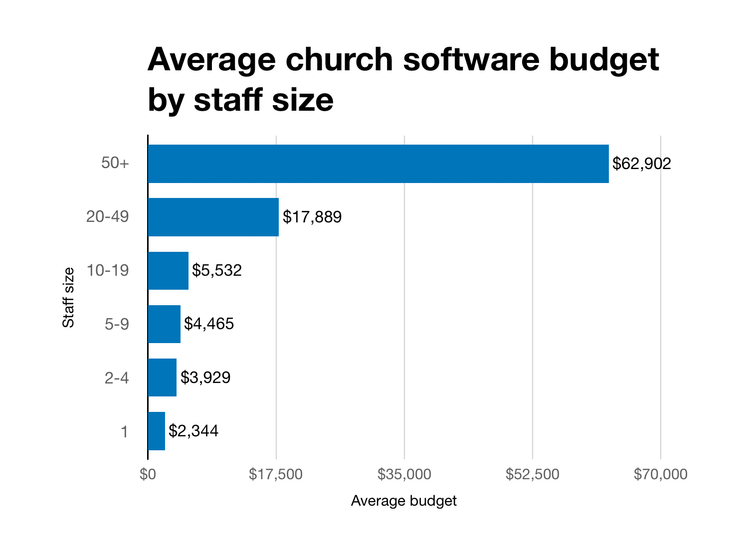 The majority (57 percent) of churches budgeted $5,000 or less. Three quarters wanted to spend less than $10,000. Church overall budgets are often tight, so naturally can be their tech budgets.