What is Commercial Property Management Software?
Commercial property management software provides financial and administrative tools needed to maintain commercial properties. Examples of properties managed with commercial property management software include office spaces, retail stores, hotels, malls, student housing, and medical centers.
Similar to residential property management software, commercial property management systems provide an all-in-one way to track rent payments, manage leases, and monitor the maintenance of their buildings and units. Beyond these core features, commercial property management solutions will include custom dashboards for increased analytics, provide instant CAM tax and insurance reconciliation, and provide a direct link with the property owners for inspection reports and proper funding of major renovations.
Property management software designed for commercial property management helps save time and money through automation. Workflows included can allocate and calculate appropriate charges for every lease type and reconcile expenses easily. The software can manage tenants with multiple leases and units, and also automate and pre-schedule escalations in rent.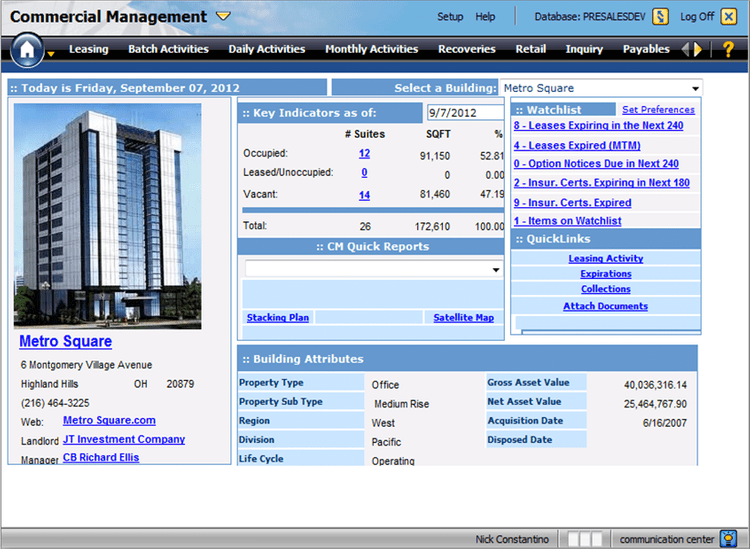 Features of Commercial Property Management Software
Owner Portal: Manage commercial properties of multiple owners. Provide an owner portal to give them access to property and unit inspection reports and financial statements. Lets owners pay property managers funds for needed repairs and renovations. Send ACH payments to owners seamlessly.
Tenant Portal: Access information online and give the ability to pay ren via online payments, submit maintenance requests, sign leases, and schedule rent increases through lease management.
Marketing: List vacancies online and determine appropriate rent to charge. Track lead follow-up to prioritize higher-value opportunities. Monitoring marketing spend and the return on investment. Enhance your brand via advertising in local areas.
Maintenance: Maintain common area maintenance (CAM), which helps you track the costs involved with maintaining public areas of your commercial properties. Let tenants submit online maintenance reports, keep a detailed history of requests, create work orders for your technicians and support staff, and store inspection data such as reports and photos.
Accounting: Get a detailed analysis of your financial data in a general ledger and evaluate expenses while finding new sources of income. Compare performance across properties and share reports with decision-makers and stakeholders.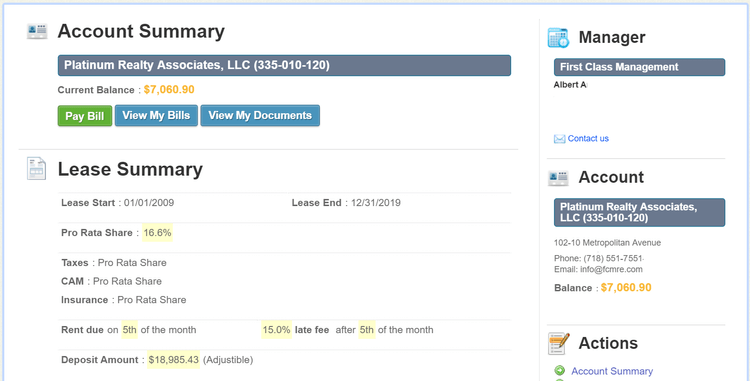 Benefits of Commercial Property Management Software
To be a successful commercial rental property business, you'll need to make sure you are organized. A user-friendly commercial property management software can help streamline your efforts and provide ease of use when it comes to the following benefits.
Improve Long-Term Cash Flow Through Quality Tenants
Commercial property management software can reward quality tenants with easy ways to pay their rent online, submit work order requests, review and sign leases, and more.
A huge goal of running any property management company is finding good renters. Vacant properties do not provide any revenue, and commercial vacancies can take longer to fill. However, this doesn't mean vacancies should be filled with anyone who can cut a rent check.
Tenants that pay their bills on time, have little to no issues and are willing to resign their leases consistently, provide the most uninterrupted stream of revenue for property managers and owners. Finding the right commercial tenant can lead to long-term gains, as they can become a dependable source of revenue. Commercial leases tend to be for longer periods of time, meaning picking a high-quality tenant that is financially solvent is even more important.
Commercial property management software can provide tenant screening as well as rate potential or current tenants by analyzing their leasing record, how often they run into issues, timeliness of payments, and more. This can help minimize past due accounts which leaves more time to focus on improving the quality of your properties rather than chasing down missed payments.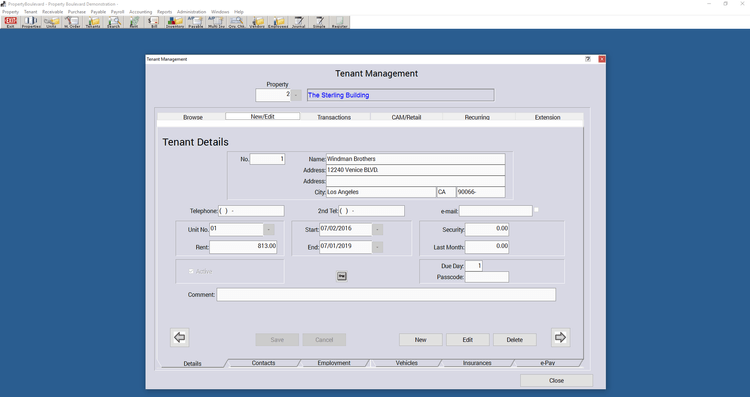 Handle Common Area Maintenance (CAM) Fees With Ease
Unique to commercial property management is common area maintenance charges or CAM. These are one of the net charges that tenants are responsible for under a triple net (NNN) lease. CAM is a component of your operating expenses that goes in with taxes and insurance. These expenses are shared by all tenants within a building. Tenants pay an estimated expense based on the budget each year and pay their proportionate share by the square footage they occupy in a building. These expenses help owners and landlords cover costs associated with the overhead of the common areas.
Commercial property management accounting software will track these expenses and also calculate the percentage owed by each tenant. The software will let you input the gross leasable area of a building, and divide that number from a tenant's square footage. This gives you the total percentage of the building that the tenant is responsible for. This percentage can be multiplied by the total estimated CAM to figure out a tenant's CAM expense.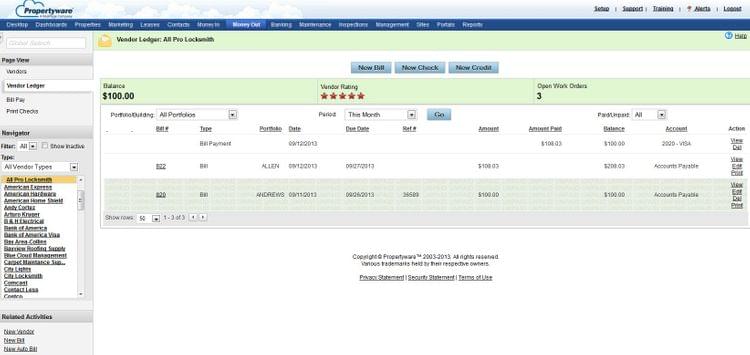 Respond Quickly To Needed Maintenance
Now that your maintenance fees are covered, you need to ensure you are actually providing necessary maintenance services when the issue comes about. Commercial property management software can ensure your properties are operating to their fullest potential and help avoid frustrated tenants.
Maintenance features included in most commercial real estate software include work orders that can be assigned to technicians and put into a schedule/workflow your employees can monitor. The software can see which maintenance staff members are following up effectively on maintenance and how efficient they are in their work.
Your business can even incorporate advanced maintenance workflows such as preventive and predictive maintenance. A number of your assets at these commercial properties can be tracked and scanned for performance trends and will help you create schedules, track procedures, set maintenance routines, balance workloads, and more.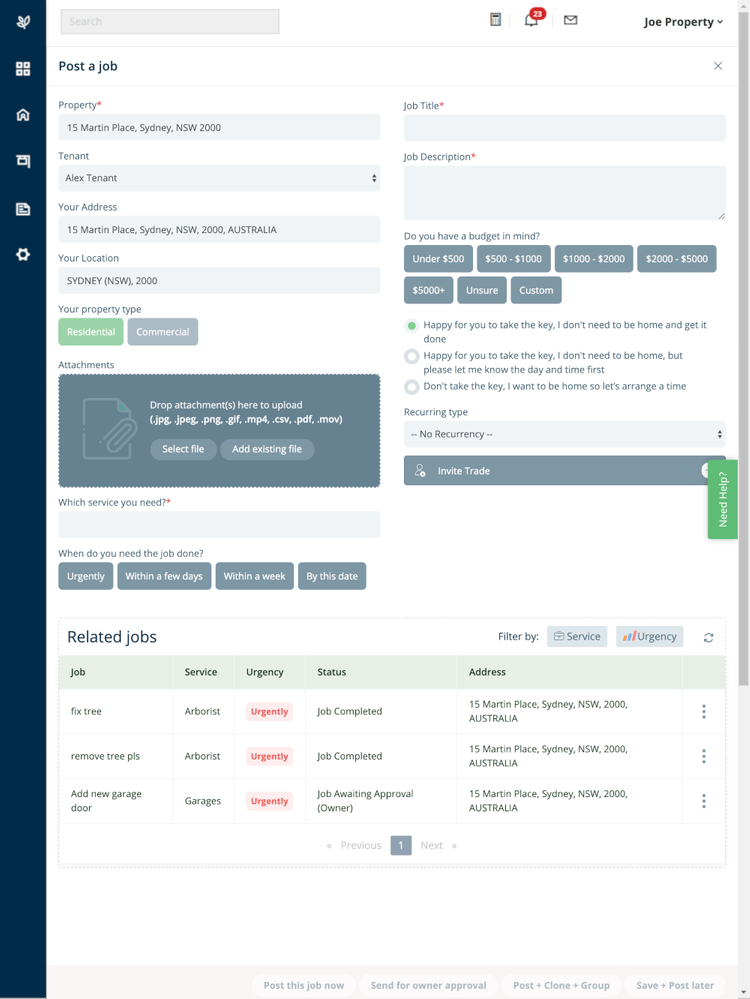 Commercial vs Residential Property Management Software
Residential property management is intended to manage single-family and multifamily homes. Tracking these properties tends to be more simplistic than managing commercial businesses. The same goes for the software that coincides with each type of property.
There are also far more residential units to be managed in the world than there are commercial units. Because of this, a majority of property management solutions on the market are intended to be used by residential property owners and managers.
However, some property management companies may exclusively work with commercial businesses or may handle a combination of both residential and commercial properties. Do these generic property management solutions work for your commercial real estate management business?
It's not recommended to use a residential system when working in a commercial environment. Unique to commercial properties are the different types of commercial leases available (more on this below). A commercial system will be able to manage the intricacies involved with these leases. Commercial property managers will want to keep a lookout for the features unique to the commercial industry, including (but not limited to):
Common area maintenance (CAM)
Rent increases
Specialized commercial reporting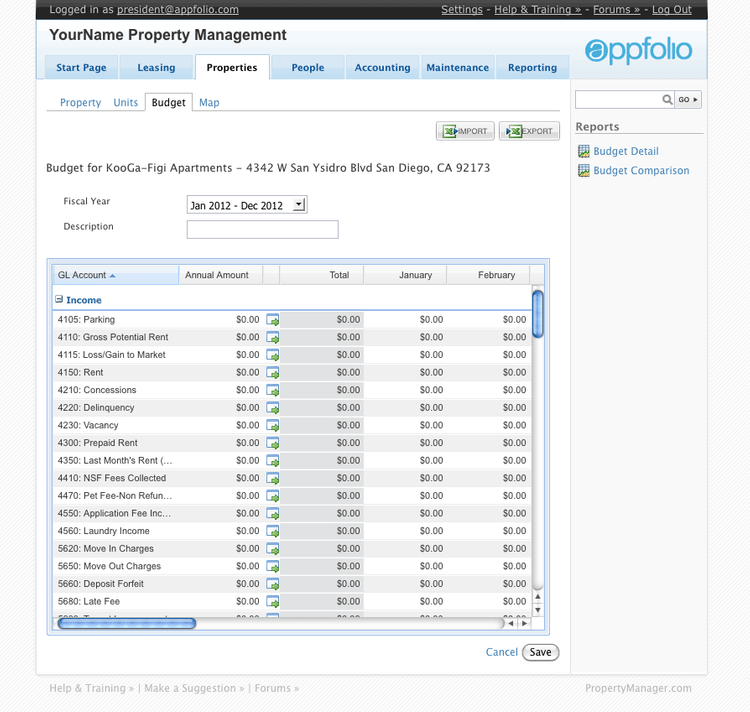 How to Manage Commercial Real Estate Industry Leases With Software
Commercial property management software can provide both lease administration and lease accounting functionalities for a number of different commercial leases. Proper management of commercial real estate leases can ensure financial projections are accurate. Commercial real estate leases are centered around their rent calculation methods:
Net: Small base rent; tenant is responsible for expenses
Gross: Tenant pays one lump sum; landlord is responsible for expenses
Expenses include taxes, insurance, maintenance, utilities, and janitorial services.
Net Leases
Net leases have more variable costs involved. The landlord can charge additional costs in addition to the required rent for the usual expenses that incur in managing the property. A triple net lease (NNN lease) is the most common for commercial properties. The triple net refers to the three "nets" a tenant is responsible for (property taxes, insurance, and common area maintenance). Common area utilities (such as the electric bill for the lobby) and the cost of paying an attendant or janitor are examples of fees that a landlord can charge under a triple net lease. NNN leases are usually thought of as being landlord-friendly.
Gross Leases
In a gross lease, the landlord collects a fixed rate from the tenant. The landlord than uses money from this fixe rate to pay for any expenses that come up. These leases are seen as more friendly for the tenant, as the landlord takes on more risk concerning potential expenses. However, a landlord can include a clause in the lease agreement that will let them increase rent to cover any unexpected increase in taxes or insurance.
How are these expenses and leases managed in a commercial property management software? A proper lease accounting feature will provide notifications of rent increases and handle all billing types such as CPI increases, percentage of rent calculation, recovery billing, late fees, recurring charges, and straight-line rents. Commercial real estate software will also provide lease administration, which includes capabilities to add new leases, make amendments, monitor lease history, and create custom fields for unique situations.
Using QuickBooks for Your Commercial Real Estate Property Management Needs
QuickBooks can be used to manage the accounting of a commercial property management business. While not a traditional property management software, QuickBooks is used effectively by commercial real estate companies across the globe.
QuickBooks will let you set up a company and handle tasks such as collecting rent, paying owners, and managing fees for maintenance. The developer of QuickBooks, Intuit, recommends using QuickBooks as a property management tool only for small to medium-sized properties. Larger properties and business offices may have issues with your trade organization, and may not be as robust as you would need.
As QuickBooks is not a traditional property management tool, it won't be as straightforward to set up properties, manage tenants, and create work orders. In fact, QuickBooks will only handle the financial side of things. Any non-accounting tasks such as maintenance or marketing will not be offered with QuickBooks.
There are many third-party resources that are available. These resources can help you learn and understand how to use QuickBooks to handle industry-specific features. This includes learning how to calculate rent escalations, how to produce a lease summary, how to do property management specific calculations via Excel exporting, categorize and calculate CAM vs non-CAM expenses, and more.