What Is Dashboard Software?
Dashboard software is a type of business intelligence software that creates dashboards from multiple data sources, which are visual representations of key performance indicators (KPIs). These business metrics are intended to help monitor current operations (business performance), provide tactical ways to achieve business goals, and analyze situations, employees, departments, and more, to determine how to better the health of your organization.
A dashboard has its name derived from the dashboard of a car vehicle, which shows an array of real-time data about the car's performance (such as a speedometer, odometer, and fuel gauge). In terms of business intelligence, a dashboard shows a company's current and historical performance. A BI dashboard will show whatever KPIs desired to identify trends, evaluate potential issues, and reduce costs.
Features of Dashboard Software
| Feature | Description |
| --- | --- |
| Key performance indicators (KPIs) | Anything that evaluates the success of an organization, activity, or employee. KPI's measure value and demonstrate how to achieve business objectives by reflecting the achievement of an important business outcome. |
| Data discovery | The process of collecting data from databases and consolidating it into a single data source or data set that can be instantly evaluated. |
| Drag-and-drop capabilities | Edit and customize dashboards with flexible chart-widgets and an arrangement created by you. Simply click on a chart or widget and drag it where it needs to be on the page. Change the size of any graphs or patterns by re-sizing them, and fit more data onto your dashboard. |
| Data visualizations | Patterns, trends, and correlations that place data sets into a visual context to help people understand. |
Types of Dashboard Software
There are three primary types of dashboard software: Operational, Strategic, and Analytical.
Other types of dashboards found in software, such as customizable or interactive dashboards describe more of a feature capability of the dashboard, rather than then capturing the intent of the dashboard.
Operational Dashboard Software
Operational dashboard software shows performance data in real-time through traditional visuals such as charts and graphs. Operational dashboards are intended to be easy to understand and digest. They are mostly used to provide an overview of operational processes in the business and are meant to be viewed continuously throughout the day. Because of this, the information on them is constantly changing and providing updated details. Operational dashboard software helps you view "at a glance" rather than providing drill-down capabilities (however this can be a capability if needed). They are best used to give alerts based on real-time data.
Operational dashboards are the classic dashboard most people think about when it comes to what you'd find in a quality business intelligence software or reporting tool. They are usually the type of dashboards displayed in operational settings, such as a manufacturing plant floor showing production output, or a call center showing the number of sales closed that day.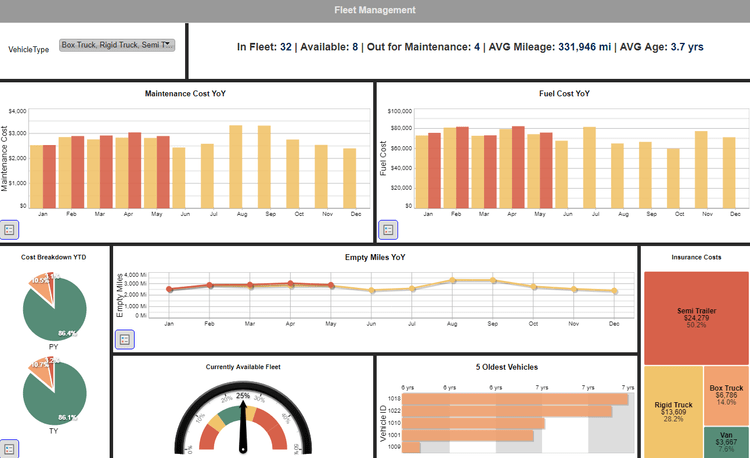 Strategic Dashboard Software
A strategic dashboard software is a reporting tool that is designed to monitor and track performance in relation to key performance indicators (KPIs). This is best used when monitoring long term strategies that can provide an enterprise-wide impact to the business. An example would be aligning the performance of separate departments to see if they are meeting the standards of your laid out corporate strategy.
While this information can be useful for the departments involved, strategic dashboards are generally used in "high-level" scenarios where you need a top-down view of a situation. Because of this, they can also be called "executive dashboards", as their primary business users would be executives or senior level employees.
Data in strategic dashboard software is meant to be viewed infrequently, and thus data is updated on a recurring (but irregular) basis.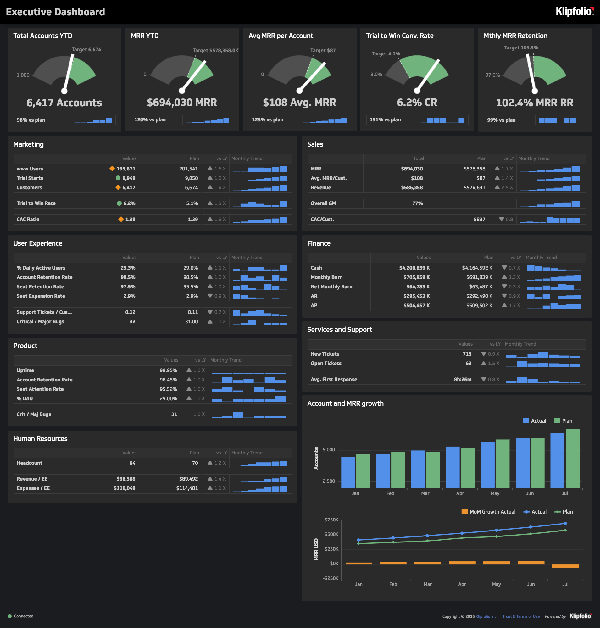 Analytical Dashboard Software
Analytical dashboard software contains a large amount of data analytics that help analysts identify trends to make informed decisions about the future. Analytical dashboards rely on historical data usage so that trends can be identified and compared with variables in order to create predictions, set goals, and eventually implement new business strategies.
Analytical dashboard software functionality is prevalent in most BI tools as they provide the most value to a data analyst. The need for real-time data is lessened, as trends and insights discovered are based on historical data. Business users will look to find options that have drill-down capabilities and ad-hoc querying due to the sheer volume of data they may be sifting through.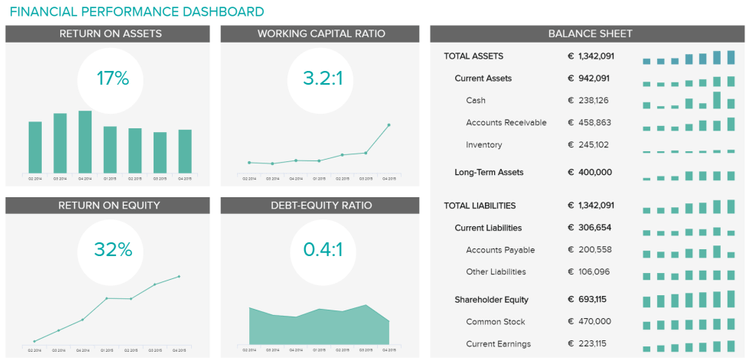 Interactive Dashboard Software
Interactive dashboard software provides exactly what it sounds like; dashboards that can be interacted with. The examples shown above show a still image of data, but anyone who has access to those dashboards directly in the dashboard software may have the ability to drill down deeper into the key metrics (providing that dashboard is interactive).
In short, interactive dashboard software will let you filter your view to whatever you want to get more insight on a specific area or dip deeper on a potential trend.
Custom Dashboards
Custom dashboard software provides any dashboard that is created outside of a generic template. Customized dashboards show the data that you want and are laid out in the manner that you desire. They are typically self-service and let the user have full control over what the intended audience can see.
If you've ever created a new spreadsheet in Google Sheets or Excel, you'd know that you have the option of choosing a blank template or choosing a generated template to start filling in your information. On one hand, the pre-packaged template that helps dig into your monthly leads generated report looks ok, but you wish you could tweak it slightly to emphasize sales captured from different data sources. The ability to customize your dashboard to share exactly the data you want (and eliminate unneeded info) is the core of any custom dashboard functionality and should be a part of most dashboard software tools.
Free Dashboard Software
Some of the most widely used free dashboard software options include:
Dasheroo has a variety of plans available offering access to their dashboard templates and metric alerts. Their free version requires no credit card or commitment, meaning you can use it as long as you have it. However, as it only allows you to create 1 dashboard with 8 insights, the free version is best used as a trial of the software rather than a long-term solution. Their paid version starts at $9/month.
InetSoft has a free visualization dashboard software that is a reduced version of their paid option, Style Scope. The software is cloud-based and offers a drag-and-drop designer to create some executive monitoring dashboards of interactive operational dashboards. InetSoft also provides free training via an online documentation library and videos. The software is intended to be used by individuals and is not recommended for commercial businesses.