What is E-Prescribing Software?
E-prescribing software, sometimes shortened to eRx software, allows medical professionals to digitally prescribe controlled substances and medications to their patients in a HIPAA compliant manner. Through this software, healthcare staff can create, review, and sign prescription orders remotely before sending them through to the patient's preferred pharmacy.
E-prescribing solutions are often used in tandem with electronic medical records (EMR) or electronic health records (EHR) software. In other cases, eRx may be integrated with a general medical practice management software to automate more services for healthcare facilities. However, e-prescribing solutions should not be mistaken for pharmacy software, which assist pharmacies with tracking inventory, sales, and processing prescriptions on-site. eRx is essentially a digital script pad which can be sent directly to pharmacies from the point of care, making life easier for both patients and healthcare providers.
E-Prescribing Software Features
e-Prescribing: Digitally create, sign, and prescribe medications and controlled substances to patients in a HIPAA compliant manner
Electronic Prior Authorization (ePA): Provide real-time approval to prescription orders based on formulary data, medication history, and insurance eligibility
Medication History: Keep the history of patient prescriptions on-hand for easy reference and for long-term drug and allergy interaction data
Records Management: Create and manage records on patients, prescriptions, and online refills
Drug Reference Database: Maintain up-to-date records of prescriptions and drug formulations to prevent negative interactions from changes
Medication Alerts: Get automated warnings on drug and allergy interaction when prescribing medication and controlled substances to patients
Reporting and Analysis: Gain a general overview of how your medical practice is performing, such as how many patients are seen each day or the rate specific prescriptions are being fulfilled
Patient Portal: Facilitate telemedicine communication between medical staff and patients through a customized landing page or mobile apps on iOS and Android; allow patients to view, create, and modify appointments, receive information on prescriptions, or pay bills
Best E-Prescribing Software Benefits
An e-prescribing system can offer a lot of useful benefits for healthcare providers, including:
Faster Prescriptions for Patients
The first benefit of eRx software is that an e-prescription can be made during a face-to-face or virtual visit, meaning patients can receive their prescription medication faster than ever before. Physicians can send digital prescriptions out to pharmacies immediately after an appointment, allowing the pharmacy to start their fulfillment process before the patient even arrives. This can significantly streamline waits for everyone, as there are fewer in-person appointments taking up valuable office time for medical staff and reduced travel time for the patients.
For some patients, this means gaining the ability to refill their prescriptions outside of restrictive office appointments. No traveling to a distant location just to spend five minutes with a doctor to confirm they still need their medication. Instead, an email or even text message sent through the patient portal can be enough to start the refill process. And if detailed medication history reveals someone may be abusing their prescription, their medical file can be flagged for future review before any refills are offered.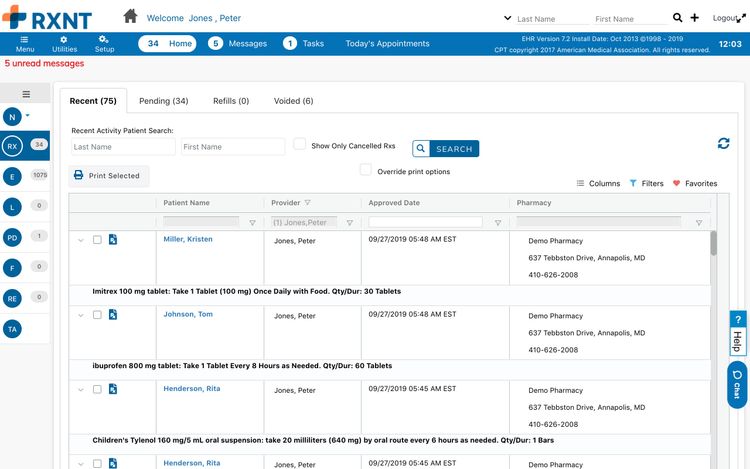 Easier Implementation of Telemedicine
Telemedicine services have become incredibly popular during the COVID-19 pandemic, as these virtual appointments encourage social distancing and limit unnecessary in-person contact between patients and medical staff. As a part of the growing telehealth movement, electronic prescription software acts as an effective and convenient method to provide prescriptions for medication and controlled substances to those who are otherwise unable to visit a healthcare facility, such as the elderly, infirm, or otherwise homebound.
E-prescribing software and telemedicine cut down on the physical trips patients have to make to see their primary and secondary providers. All prescriptions a patient has, whether from a GP or specialist, can be sent to the same preferred pharmacy without issue. With traditional script pads, a patient would have to keep track of which doctor prescribed what. Through software, the patient's medication history can be shared so the entire team can see what a patient is taking at any given time.
Finally, handwritten prescriptions carry another drawback: handwriting. Illegible scrawls are unfortunately common amongst medical professionals. A pharmacist misinterpreting a doctor's note can lead to the wrong drug dosage or medication altogether, endangering patient safety. Customizable electronic prescriptions eliminate those medication errors by using consistent fonts which are easier to read.
Maintain EPCS and HIPAA Compliance
All pharmaceutical interactions are tightly controlled by a variety of oversight regulations. The electronic prescribing of controlled substances is further monitored to ensure patient care and safety. The main two of concern with e-prescribing are the Electronic Prescriptions of Controlled Substances (EPCS) and Health Insurance Portability and Accountability Act (HIPAA). The first was created by the Drug Enforcement Agency (DEA) to control the distribution of schedules, controlled substances which have a higher likelihood of abuse and dependence. The second ensures patients privacy when receiving prescription medication.
The reason for EPCS is to prevent schedules from getting into the wrong hands. With paper prescription pads, it's possible to create a fake script for Schedule II-V controlled substances. EPCS compliant software allows medical professionals to safely e-prescribe controlled substances by reducing the likelihood of stolen or forged prescriptions. Software also maintains organized records of who is prescribed these substances, allowing for automated retrieval in the event of official audits.
The rise of digital telemedicine has led to some questions about maintaining patient privacy in accordance with a HIPAA-compliant policy. Since virtual patient interactions can happen anywhere, there are times where privacy isn't always possible on the patient end. HIPAA-compliant e-prescribing software keeps patient records as secure and private as possible.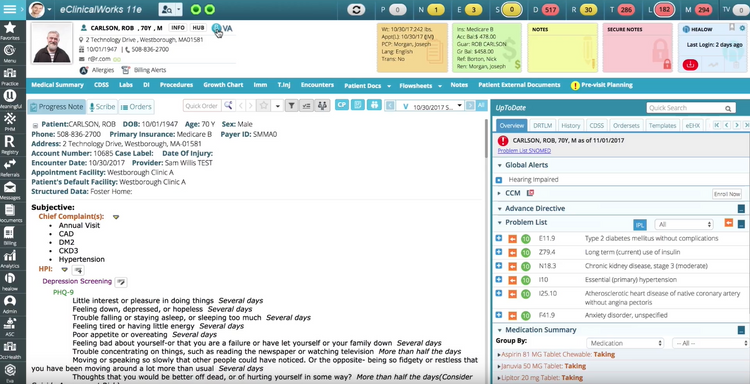 E-Prescribing Software Costs
Free e-prescribing software options are available, though offer limited functionality. SaaS pricing for cloud-based solutions starts at $30 per month and goes up to $629 per user per month. Implementation, training, and maintenance should also be considered when healthcare providers budget for e-prescribing software. While e-prescribing is often a feature of EHR solutions, many small, independent providers prefer having a standalone software due to lower costs.
E-Prescribing Trends
There have been a lot of changes in the availability of e-prescriptions in just the last decade. As mentioned before, the COVID-19 pandemic has led to a lot of medical practices adopting telemedicine and electronic prescribing practices. In fact, it's now being required in certain areas. For instance, Medicare Part D will require participants to offer e-prescribing by 2023. As such, most healthcare practices are moving to adopt more telehealth technology now, including e-prescribing software.
Patient-performed testing is another change seen in the wake of COVID-19. Instead of performing point of care or bedside testing at a medical facility, patients can now test themselves and transmit their samples digitally to a doctor for review. Based on those results, doctors can then electronically prescribe medications based on the official diagnosis. This at-home testing minimizes travel and possible exposure for both parties.
Changes in local and federal laws mean software has to keep up with the evolving standards. In terms of security, e-prescribing software designed to meet EPCS compliance requirements may include features such as two-step authentication or password protection. These security measures help to prevent electronic prescriptions from falling into the wrong hands, even if a phone with an installed patient portal or mobile app is stolen.