What Is Medical Practice Management Software?
Medical practice management software is a type of healthcare software that helps manage the day-to-day operations of a medical practice. Practice management systems are primarily used in medical offices to handle a combination of financial and administrative tasks, such as billing insurance companies via medical billing functions, storing patient demographics in electronic health records, and scheduling appointments.
Most medical practice management systems will ensure the receipt of revenues in a more efficient and profitable manner. With less time focused on the billing process, this can improve the overall patient experience through more reliable service and better communication. Practice management software will ultimately minimize the administrative challenges that stand in the way of delivering the best possible health outcomes to as many patients as possible.
Basic medical practice management software will handle the administrative tasks of running your office, while integrating with a separate electronic health records (EHR) software. Some advanced medical practice management systems will include EHR capability. This can sometimes be referred to as patient management software. Medical offices that outgrow the capabilities of a practice management system (such as large hospitals) may look into hospital management software.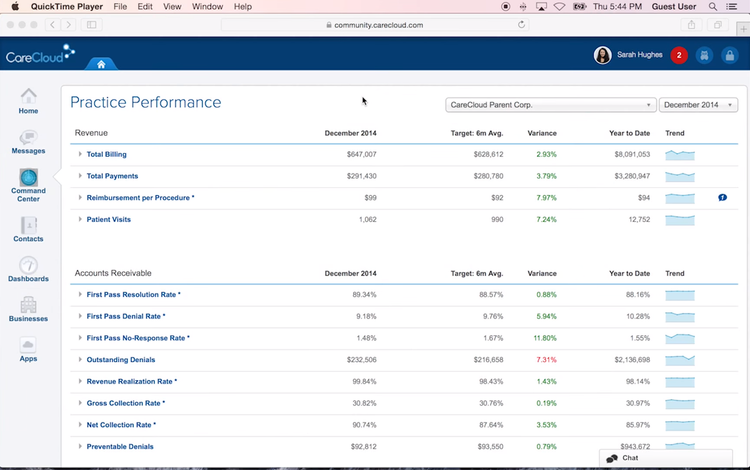 Features of Medical Practice Management Software
Appointment Scheduling: Schedule appointments for patients and assign physicians and/or specific rooms to each appointment to prevent doublebooking. Send out appointment reminders to patients to help avoid no-shows. Online scheduling is available via patient portals and can include the ability for patients to fill-in patient intake forms prior to arriving at the office.
Medical Billing: Generates and submits payment invoices to patients and their health insurance companies. Claim processing uses special HIPAA-compliant codes to indicate different procedures, diagnostics, and medications provided to the patient.
Revenue Cycle Management (RCM): Helps automate and streamline claims management, payment processing, and the overall revenue process of your healthcare organization in real-time.
Patient Registration: Ensure the validity and eligibility of the patient and their insurance. You'll be able to confirm insurance eligibility and coverage and adjust any information to reflect changes in coverage.
Electronic Health Records: Creates electronic data sets of electronic medical records (EMR) or patient information, such as charts of medical and treatment histories, diagnoses, medications, immunizations, allergies, and lab results.
Telemedicine: Provides remote clinical care by connecting patients and doctors in real-time via the use of video conferencing and the internet.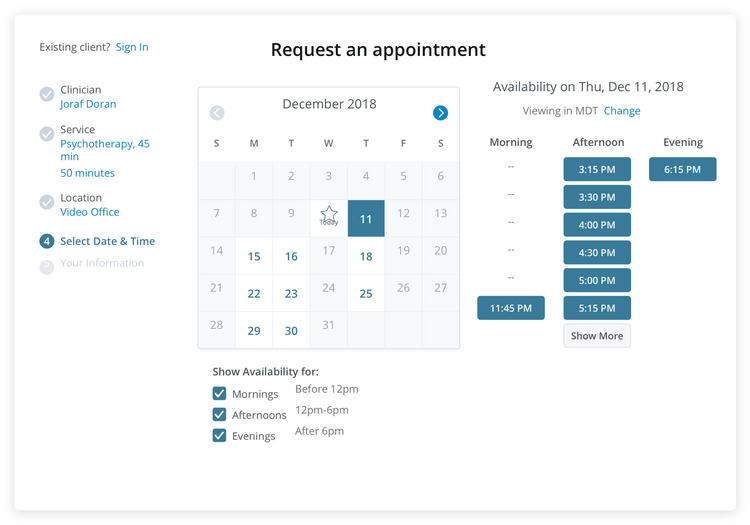 Benefits of Medical Practice Management Software
Implementing a reliable medical practice management software will make your medical practice that much more dependable. Patients will continue to want to utilize your services, keeping a flow of revenue into your practitioners hands. Some of the top benefits of practice management software include:
Improved Claims Management and Medical Billing
Because patients, private insurance companies, and public entities each may be payers, the amount of documentation and activity involved in capturing revenue is significant.
Medical care charges are often an unexpected and unbudgeted consumer expense. As a result, medical costs lead to a high number of collection issues. Write-offs of bad debt in the double digit percentages are not uncommon for medical practices. And this increases when there are major health issues in the community, like a pandemic.
Claims management and medical billing functionality is designed to shorten the length of AR cycles and minimize the number of instances of uncompensated care.
Medical billing software provides standardized workflows and automation features for managing:
Eligibility checks
Pre-authorizations
Co-pay collection
Claims submissions to billing clearinghouses or insurance providers
Denials
Patient billing statements
Collections activities.
Additionally, advanced features such as error-detection for claims submissions, automated collections communication management, and AR aging-related can not only decrease the labor cost involved in billing, but also boost revenue by reducing instances of uncompensated care.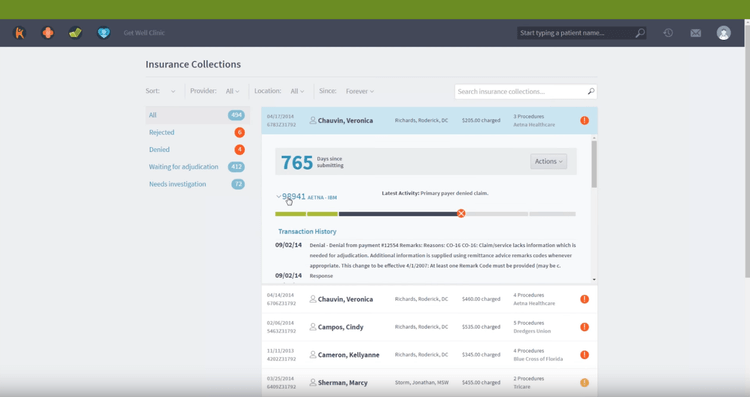 Keep Accurate Patient Details in Electronic Medical Records
EMR, or electronic medical records, helps create and store information on patients digitally. Charting capabilities are at the heart of EMR software, which can let you document diagnoses and procedures.
Contemporary EMR software provides a variety of features to help medical providers more quickly and accurately provide the necessary care for patients. Voice dictation, diagnosis and procedural coding databases, visual patient medical timelines, and health plan creation tools are becoming commonplace among EMR applications in medical practice management tools.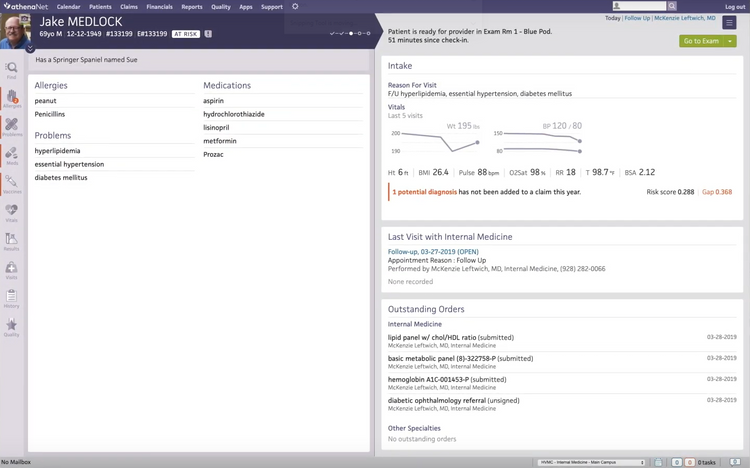 Increase Accuracy in Scheduling Appointments For Patients
Scheduling patient visits involves coordinating availabilities across multiple dimensions. This will ensure the availability of support staff, visiting rooms, and even needed medical equipment.
Given the complexity of health care scheduling, programs that work well for general purpose scheduling often lack the features required for a medical environment. These advanced features that can help meet the needs of health care providers include:
Check-in/check-out management
Support for recurring appointments
Overbooking capabilities
Color-coding
Filterable views to isolate schedules by provider, room, or appointment attributes
Automated alerts, reminders, and notifications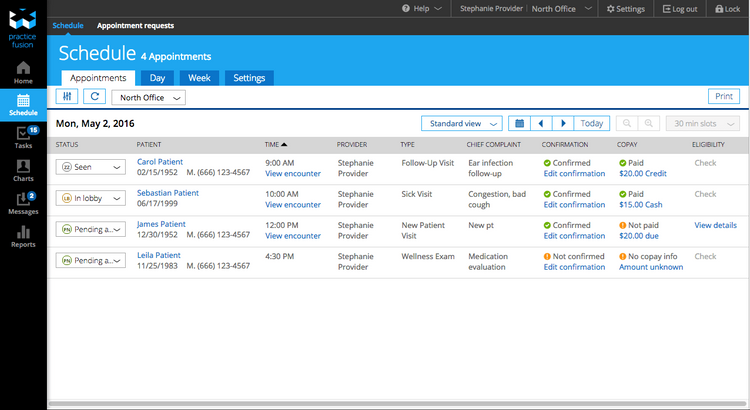 Improve Patient Communication
To ensure patients have access to their medical information, medical practice management software offers an efficient and automated approach for turning technical records into health management plans and reports. These formats are more digestible for patients who may lack a medical background.
The best way to share health data with patients is through patient communication features such as automated email communication and online patient portals.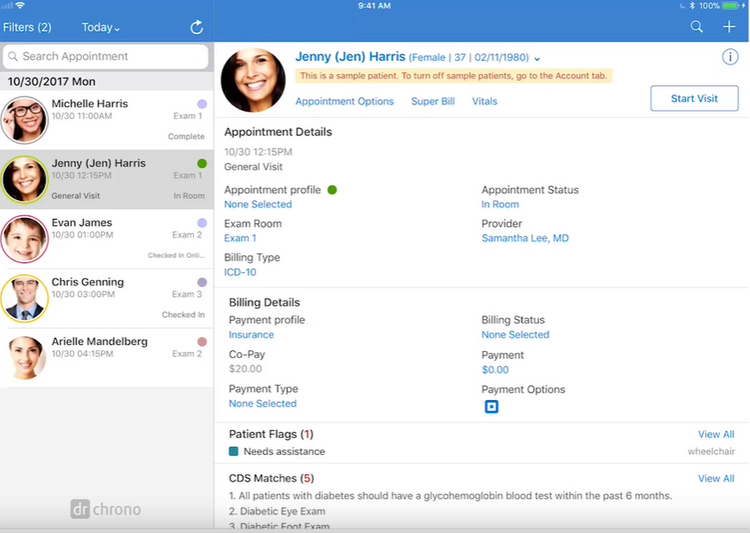 Medical Practice Management Software Pricing Guide
The cost of medical practice management solutions will vary depending on the size of your practice, the number of patients you see, the number of users that require concurrent access, and the level of included services such as support and hosting. It will also be dependent on the functionality included. For example, a simple practice management system that only schedules appointments will be far less expensive than a solution with included EHR and medical billing capabilities.
Smaller medical offices who only need 1-3 users can expect to spend anywhere from $3,000 to $10,000 upfront for a locally installed software. The costs begin to increase rapidly when you begin to expand your need for users and start to require more storage space for the number of patient records needed. For cloud-based medical practice management software, health care offices can expect to pay $39/month to $629/user/month.
Available Deployments For Medical Practice Management Software
Medical practices that desire an on-premise (locally hosted) software should expect larger costs upfront. This is because locally installed software tends to be something you purchase outright. This means you have to pay licensing fees upfront, in addition to any setup fees for implementation and training. This type of setup is common for health care offices that have data security concerns. However, this path does require a higher level of IT knowledge, and you'll usually need to have staff on-hand to maintain any hardware or servers required.
Web-based software (SaaS solutions) have become increasingly popular within the past decade. These solutions are accessible via web browsers and require little to no installation. This means that the solutions are accessible from any computer or mobile device with an internet connection. These solutions will have their data stored off-site, usually with the software developer or a third party that you pay for hosting. Web-based software will almost always have an on-going subscription cost.
Market Trends In Medical Practice Management Software
User permissions: Because of HIPAA regulations, the ability to set user permissions will be needed in medical practice management software to ensure records are held close to your company's chest. How granularly you need to set user permissions may affect which product is right for you.
Increased Levels of Customization: The ability to add fields, manage approvals, and configure workflows within your practice management solution is important to ensuring it is embraced by the user community.
Increased Accessibility via Mobile Devices: Many medical practice management solutions now support mobile interfaces to allow providers to manage their schedule, approve prescriptions, and conduct a variety of other tasks while out of the office.
The Rise of Telehealth: Due to the increased accessibility both practitioners and patients have with mobile technology, telehealth has emerged as a legitimate and downright necessary manner to see a health official. In times of crisis such as the coronavirus (COVID-19) pandemic, telecommunication technologies have allowed for long-distance patient and clinician contact. Telemedicine software provides an effective and convenient method to provide healthcare to those who are not able to get to a healthcare facility as easily as others, such as the elderly, the sick, or people who live in rural areas.